All about Botox and Dysport
As a board-certified plastic surgeon, I approach the use of Botox-type injectables with skill and precision not often seen. As with every aspect of my surgery practice, I focus on the specific needs of each patient. That holds true for the men and women who put their trust in me as they pursue their journey to slow the signs of aging.
This is an interesting Botox fact. There were about 7.4 million injections of Botox and 2.6 million dermal filler injections in 2018, according to the American Society of Plastic Surgeons. Together, these are the top two minimally invasive procedures in America.
What is Botox used for?
Cosmetic Botox and Dysport (as well as dermal fillers) are used in my practice to restore the fullness of the face as well as erasing or greatly reducing lines on our face. These lines are often the result of aging.
Over time, facial expressions can sometimes cause the skin to become saggy, smiling can create what are called "laugh lines," and so on. This is a very natural occurrence as we age.
Additionally, what causes facial wrinkles can be more than aging. Too much sun without proper UV protection and heredity are just two common factors.
For some, it doesn't bother them in the least, which is great. But for others, it not only makes us look older but older than we actually feel. And it can be disconcerting (or depressing) when we see these wrinkles on our face as we look in the mirror.
I am trained and qualified in using Botox for a myriad of uses, including medical conditions.
How to get rid of face wrinkles
This is where Botox and Dysport come into play. For many, these injectables present a way to avoid facelift surgery, which is a much more involved procedure.
The most well-known injectable substance to safely eliminate or reduce facial wrinkles is technically known as "botulinum toxin."This is commonly known as Botox®, but other popular injectable brands include Dysport®, Xeomin®, and Jeuveau®. Kybella® is also an injectable but its target isn't wrinkles. Kybella is used in the neck's "jowls" to dissolve fat in that area.
Botox injections are used to smooth crow's feet; resolve hyperhidrosis (excessive sweating under the arms); remove forehead furrows, frown lines, and fine lines; diminish lip lines; reduce neck bands; lift corners of the mouth; and soften square jawlines.
It should be noted that injectables cannot help every aging factor. They can't diminish saggy skin along the jawline, neck, chin, or brow.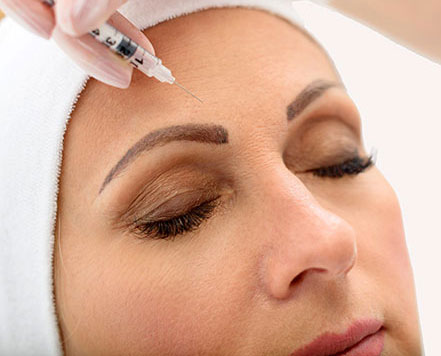 How long does Botox last?
Botox and other similar medicines are temporary treatments, with the typical procedure lasting between 3-4 months. In some individuals, Botox can last up to six months.
Many patients having their first injection notice that the effects do not last as long, but work for a longer duration after the second injection.
Botox vs Dysport, what's the difference?
The two brands of type A botulinum toxin I use are Botox and Dysport. The difference between Botox and Dysport is very minimal since they both utilize type A botulinum toxins to do their magic. (Xeomin is another botullinum toxin A product, but I don't generally use it.)
The slight differences are mainly found in the way the drugs are manufactured. They also exhibit modestly different potencies and possible differences in their duration or onset of effect.
For example, Dysport may have a little quicker onset than Botox and can "spread" a little more, covering a slightly larger area than Botox. This could be beneficial in a larger area like a forehead, but not where more exactness is required, like around eyelids. Dysport also requires more product to give the same effect as Botox.
Is Botox or Dysport better?
Determining if Botox or Dysport is better for you depends on, well, you! In our consultation, we will discuss which might be the better choice based on what you want to "correct" as well as any past experiences you may have had with either product. What is best for you, as an individual, is what is most important.
Treating both cosmetic and medical conditions with Botox
I am trained and qualified in using Botox for a myriad of uses, including medical conditions. Some medical and cosmetic uses of Botox include:
Botox for migraines. Botox blocks chemicals called neurotransmitters that carry pain signals from your brain. The injection acts as a roadblock stopping neurotransmitters from reaching the nerve endings in your head and neck.
Botox for TMJ. Injected into sore muscles, Botox relieves jaw tension.
Botox masseter. The masseter muscle is located on the side of your face connecting the cheekbone and lower jaw. When Botox is injected into the masseter muscle, it blocks the nerve signal. This treatment can manage teeth grinding and reduce pain from jaw tension.
Botox for facial wrinkles. The most common use for the botulinum toxin today!
Lip flip Botox. Botox is injected into the middle of your upper lip and the corners of your mouth. This relaxes the muscles around your lower lip making them flip up and out, giving the lips a robust appearance.
Eyebrow lift Botox. Injecting Botox into the muscles that raise and lower your eyebrows reverses the appearance of aging.
Botox under the eyes. Injections under the eyes reduce the appearance of lines and wrinkles, as well as lessening hollowness.
Botox for crow's feet. The muscles around the corners of your eyes become relaxed, smoothing out the wrinkles.
Botox for smoothing the neck. Horizontal wrinkles (what dermatologists call a Botox necklace), are reduced by small amounts injected into the muscles of the neck.
Botox skincare. Injections are sometimes used to reduce the amount of oil in the face and partially eliminate acne.
Botox for hair. Injections are made directly into the scalp. This approach has helped people who experience excessive sweating, making their hair stringy and unclean. Patients receiving these injections may not need to wash their hair as often. Though some people say this approach promotes hair growth, this has not been proven.
Botox side effects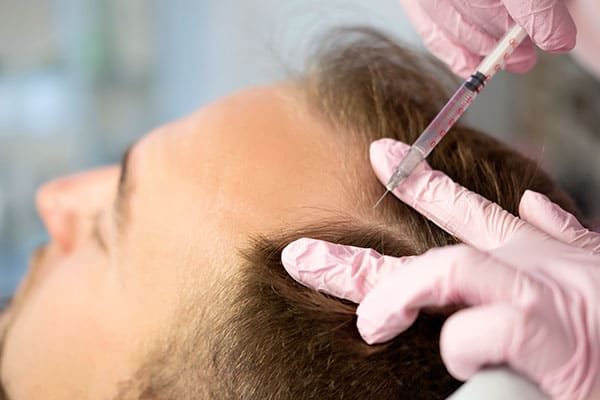 Though safe when applied by an experienced physician, Botox, and other brands of botulinum toxins, can have side effects. Most common are pain and swelling at the injection site, headache, droopy eye, crooked smile, and dry eye.
Possible serious complications include muscle weakness, vision problems, trouble speaking, breathing problems, and loss of bladder control.
Typically, there is almost no downtime after injection and patients may resume normal activities.
The injections are not recommended for women who are pregnant or plan to become pregnant.
ONLY trust your treatment to a board-certified plastic surgeon
Though this procedure is non-surgical and minimally invasive, there are still risks to be considered. It is for that reason that Dr. Saber is known in Encino and the Los Angeles area as the top injector plastic surgeon with specialized training and an in-depth understanding of facial anatomy. A graduate of Stanford University Medical School, the doctor took her residency at USC, followed by a fellowship in hand and microsurgery at NYU.
Some patients seen in our office have tried to get injections at a medspa or other nonmedical office that offers Botox treatments. To say those patients suffered months of dissatisfaction before coming to Dr. Saber for a remedy would be an understatement.
Botox frequently asked questions
How long does Botox last?
In general, Botox lasts between 4 and 6months. However, there are always exceptions to the rule, and some patients may find that it lasts longer, others a little shorter. It is also not uncommon for first-time Botox users to notice that the effects may not last as long initially but may last longer after the second treatment.
How long does Botox take to work?
Generally, it takes 2-4 for the muscles to weaken and for most (or all) movement to cease. However, you should expect to see the maximum results of your treatment two weeks after you receive it.
Can you get Botox while pregnant or breastfeeding?
Botox is a Category C drug by the FDA during pregnancy, which means that there have not been enough dedicated studies to prove whether it is safe or unsafe during pregnancy.
Although Botox has not been proven to be harmful to the fetus, it is important to understand that it also has not been proven to be 100% safe. For this reason, most patients and providers agree that it is best to defer BOTOX injections until after the baby has been delivered and the patient has finished breastfeeding.
Does Botox hurt?
You may feel a little pinch but it shouldn't hurt, especially if you want us to use topical numbing, which we suggest.
Can Botox cause headaches?
Botox-related headaches are very rare and are thought to be caused by the over-contraction of certain muscles in the face. For most patients, these headaches are mild and only last for a day or two. However, if you experience severe or prolonged headaches after Botox injections, please get in touch with your doctor.
Can you use HSA for Botox?
Botox treatments that are not medically necessary in most cases are not HSA-eligible. However, there are some cases in which Botox may qualify, such as treatment for migraines or dental procedures. Always check with your healthcare provider to see if your specific case qualifies.
Can someone be allergic to Botox?
Although it's not very common, it is possible to have an allergic reaction to Botox injections. There have been no cases of systemic reactions (body-wide) to Botox and no fatalities. Usually, any negative side effects of Botox will show up within the first week after the treatment.
Who can administer Botox injections?
You must be a physician, physician assistant, dentist, registered nurse, or another licensed healthcare practitioner to administer Botox injections.
We, of course, believe that the best providers would be licensed physicians with extensive plastic surgery experience. It is their understanding of the eyes, facial structures, facial muscles, skin, and underlying nerves that make them the best suited to give patients the best results possible safely.
What not to do right after Botox?
Do not rub or massage the treated area and avoid makeup if possible.
Avoid sleeping on your face the first night.
Do not exercise or partake in any strenuous activity for the next 12 hours.
Avoid excessive alcohol consumption for the next 24 hours.
Do not have any beauty treatments on your face, e.g., facials or facial massages, for two weeks, as this may cause the injected solution to spread to nearby muscles.
Avoid exposure to strong sunlight, very cold temperatures, and saunas for the first two weeks.
How often should you get Botox?
For most people, the ideal frequency for Botox injections is once every four to six months, depending on how long the effects last for you.
How long after Botox can you get a facial?
It's recommended to wait two weeks after getting Botox before getting a facial. Your skin needs time to heal, and facials can involve the rubbing and massaging of the area where Botox was injected. Doing so can cause the Botox to move, affecting the wrong areas in your face. Facials before Botox are fine.
How do you prepare for Botox?
You don't need to do anything special to prepare your body for Botox injections. It's good to know that many common medications, like aspirin and ibuprofen, can increase your chances of bruising. So, steer clear of taking any before your appointment.
How does Botox help migraines? And does insurance cover it?
Botox is injected around pain fibers involved in headaches and blocks the release of chemicals involved in pain transmission. This prevents the activation of pain networks in the brain.
Many insurance companies will cover some — or all — of the costs. This includes both Medicare and Medicaid plans.
Does Botox help TMJ?
Botox for TMJ can be highly effective. In patients suffering from TMJ disorder symptoms, Botox helps relax tense jaw muscles and alleviate pain.
Does Botox help with excessive sweating?
Botox injections block the nerve signals responsible for sweating, stopping the sweat glands from producing too much sweat. Retreatment is usually needed every four to six months as the nerves gradually regenerate. However, over time, patients may be able to go longer without treatment.
Why choose Dr. Saber for Botox and Dysport Injections in Encino?
Dr. Sepideh Saber, MD, FACS offers a more sensitive, female perspective for patients of all ages, genders, and orientations. Patients from all walks of life have praised not only their final outcomes but her caring, thoughtful approach to all types of appearance and health-related matters.
Dr. Saber graduated from Stanford University's world-renowned medical school and did her reconstruction and plastic surgery residency at the University of Southern California (USC). She then completed a fellowship at New York University (NYU) in the extremely challenging and delicate area of hand surgery, as well as microsurgery.
To request a consultation, call (877) 205-4100 or schedule a consultation online.
Dr. Saber takes her patients' safety very seriously. Her facility's Covid-19 patient safety procedures exceed all CDC and World Health Organization recommendations. Masks are required in our office at all times during the coronavirus pandemic.
The practice of Dr. Saber is located in Encino, CA for patients throughout the Los Angeles area. We are also convenient to Encino, Woodland Hills, Sherman Oaks, Calabasas, Burbank, Glendale, Hidden Hills, Agoura Hills, Northridge, North Hollywood, Malibu, Topanga, Canoga Park, Reseda, Valley Glen, Chatsworth, West Hills, Winnetka, Universal City, Bel Air, Beverly Hills, Downtown Los Angeles, Silverlake, and Echo Park.
What patients say about
Dr. Saber

…

I LOVED DR SABER!!! There are a few reasons why I chose her. One was because she's a female Doctor that was my goal who also did a good job (which I was able to confirm with all her before and after photos) and what sold me was my safety in mind. She made me feel like I was in the best hands ever along with Marlene who coordinated everything THANK YOU LADIES!
Dr Saber helped me get back the body I have always desired. I had a lot of stomach fat from weight gain and I lost weight so a lot of my weight was in my front lower and upper abdomen.
Now I have a super beautiful curvy body like an hourglass after a tummy tuck and lipo she did. She understood the assignment hahaha . I'm 32 years old no kids just wanted to enjoy my younger body looking and feeling beautiful and she really took good care of me. Even after hours I had an emergency due to my fault but she was there and got back to me very quickly and I'm very grateful. I also think her work says a lot because I stopped taking pain medication on the 3rd day after surgery and was fine with very minimal pain I was able to tolerate the healing process. Highly recommend going with her I just had a wonderful experience and would do it all over again if I had too. Maybe after I have kids. Thanks Dr Saber and team