Getting Rid of a Double Chin: Is Kybella Right for You?
The submental area. At first, it sounds like a Freudian psychoanalytic term; an element in a hierarchy of hypermental, mental, and submental.
But the submental area is actually the triangular space under the jaw, that place where chins go to multiply. And that's the site where Kybella, a recently developed cosmetic procedure, does its work.
What is Kybella?
There's nothing more grandmotherly than a double chin. And grandmotherly is the last look that many people want to project. That's why Kybella has found a welcoming market among those self-conscious women (and men) who really want to reduce their chin allotment down to one, but also want to avoid the surgery of a typical neck lift.
Until 2015, when Kybella became the only FDA-approved injectable treatment for submental fat reduction, liposuction was the gold standard for reducing a double chin. And liposuction remains the top choice for most of those seeking a cosmetic treatment that will turn a double chin into a taut chin.
But Kybella offers a non-surgical procedure, one that can be as effective as liposuction, and one that can be financially competitive with liposuction.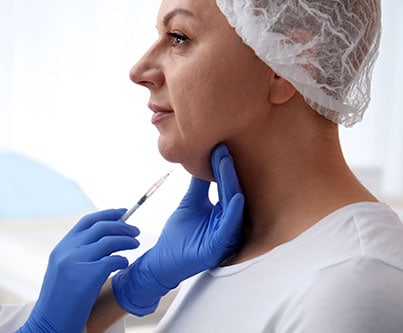 What is Kybella made of?
The active ingredient of Kybella is deoxycholic acid, a substance similar to the bile that the body naturally produces. Deoxycholic acid dissolves the membranes that hold fat cells together.
As those cell walls dissolve, the excess fat is metabolized and disposed of by the body's natural processes. The results last because the submental area's ability to store fat is permanently lost.
What is the Kybella injection process?
Individual human biologies are variable, and the number of treatments required for a significant amount of fat reduction is likewise variable. Most treatment plans require a commitment to a minimum of at least two Kybella treatments, and some cases may need up to four additional treatment sessions. Typically, each session is scheduled about a month apart.
Each treatment consists of approximately 20 separate injections. The specific injection sites are identified for the administering healthcare provider by a grid overlaid on the treatment area by a temporary tattoo.
Who is a good candidate for Kybella?
Allergan, which makes and markets both Botox and Kybella, advises that its clinical studies show that Kybella works best on younger patients, whose submental fullness is hereditary, rather than composed of dietary fat.
Resilient skin also helps qualify a candidate for Kybella. Check with your healthcare provider if you have any trouble swallowing and be sure to disclose any current medical conditions.
Kybella side effects
It's very important to me that my patients know all possible side effects (as well as possible outcomes!) before undergoing any procedure. We'll discuss your precise situation in more detail at your consultation, but the most common side effects of Kybella are swelling and bruising. They are inevitable but temporary. Swelling and bruising lessen with each successive treatment session. The application of an ice pack will also help reduce it.
Downtime is minimal with Kybella. Rarely, an injection will cause a minor nerve injury, but these are temporary and soon resolved.
Kybella vs liposuction, which one is better?
Rather than pit these two procedures against each other, it is better to understand how the two complement each other.
Put simply, each procedure has the uncanny ability to reduce a double chin. Most times, patients who ask me about Kybella injections are looking for results without undergoing surgery. Plus, there is almost no downtime with Kybella.
Liposuction is a surgery and requires anesthesia and time in the surgery center. But, in my professional opinion, liposuction tends to offer more accurate and predictable results than Kybella, making it worth the extra downtime and slight discomfort. Liposuction does have some temporary post-surgical swelling, some hidden incisions, and bandaging. Kybella requires no incisions or bandages.
Both procedures yield clear results. With liposuction, patients typically see a positive change within two weeks of their surgery, with full results taking six months to a year to fully manifest. Kybella usually takes about three months to obtain visible results.
Comparing the cost of the two becomes trickier. On its face (no pun intended), liposuction appears to be the more expensive of the two. After all, it is a more involved procedure and takes more time.
So Kybella is less expensive? The answer is perhaps. Kybella injections treatments usually involve more than one visit to the office. Depending on how severe your double chin is, you often have multiple injections for several months.
Many times, because of a larger number of injections, Kybella costs can be equal to liposuction surgery.
Kybella Frequently Asked Questions
How long does it take for Kybella to work?
A significant amount of fat reduction along the jawline will become noticeable a few weeks after the first treatment session. Most patients report that it is the second treatment that really turns the corner toward the contouring of a new chin profile.
Some cases have required up to six Kybella treatment sessions.
How much does Kybella cost?
On average, one Kybella treatment costs $1,200 to $1,800 per treatment. Your exact price will depend on your exact treatment plan.
We'll go over your expected costs, as well as any financing plans, during the initial consultation.
Is Kybella covered by insurance?
As a cosmetic procedure, Kybella is generally not covered by insurance.
So what's the bottom (jaw)line?
The results of double chin reduction through liposuction will be visible sooner than the results of Kybella treatment. But for those who want an improved chin profile without surgery, Kybella is a viable alternative. During your consultation, we'll go over both options and determine which is right for you.
Why you should only trust a Board-Certified Plastic Surgeon
Though this procedure is non-surgical, there are still risks to be considered. Any medical injection should be left to trained professionals. Being board-certified means your cosmetic surgeon has admitting privileges at a local hospital should rare complications arise.
While medspas may offer Kybella treatment, there is no assurance the person who performs the procedure is properly trained or certified. When it comes to your health and appearance, only work with someone you trust.
Why Choose Saber Plastic Surgery for Double Chin Reduction in the Los Angeles area?
Dr. Sepideh Saber, MD, FACS, is an American Board of Plastic Surgery-certified plastic surgeon practicing in the greater Los Angeles area. She graduated from Stanford University's world-renowned medical school and did her plastic surgery residency at the equally lauded University of Southern California (USC). She then completed a fellowship at New York University (NYU) in the extremely challenging and delicate disciplines of hand surgery and microsurgery.
Dr. Saber offers a more sensitive, female perspective for patients of all ages, genders, and orientations. Former patients from all walks of life have praised not only their treatment outcomes but her caring, thoughtful approach to a wide array of appearance and health-related matters.
To request a consultation, call 818-818-2939 or schedule a consultation online.
Dr. Saber takes her patients' safety very seriously. Her facility's Covid-19 patient safety procedures exceed all CDC and World Health Organization recommendations. Masks are required in our office at all times during the coronavirus pandemic.
The practice of Dr. Saber is located in Encino, CA for patients throughout the Los Angeles area. We are also convenient to Encino, Woodland Hills, Sherman Oaks, Calabasas, Burbank, Glendale, Hidden Hills, Agoura Hills, Northridge, North Hollywood, Malibu, Topanga, Canoga Park, Reseda, Valley Glen, Chatsworth, West Hills, Winnetka, Universal City, Bel Air, Beverly Hills, Downtown Los Angeles, Silverlake, and Echo Park.
What patients say about
Dr. Saber

…

I LOVED DR SABER!!! There are a few reasons why I chose her. One was because she's a female Doctor that was my goal who also did a good job (which I was able to confirm with all her before and after photos) and what sold me was my safety in mind. She made me feel like I was in the best hands ever along with Marlene who coordinated everything THANK YOU LADIES!
Dr Saber helped me get back the body I have always desired. I had a lot of stomach fat from weight gain and I lost weight so a lot of my weight was in my front lower and upper abdomen.
Now I have a super beautiful curvy body like an hourglass after a tummy tuck and lipo she did. She understood the assignment hahaha . I'm 32 years old no kids just wanted to enjoy my younger body looking and feeling beautiful and she really took good care of me. Even after hours I had an emergency due to my fault but she was there and got back to me very quickly and I'm very grateful. I also think her work says a lot because I stopped taking pain medication on the 3rd day after surgery and was fine with very minimal pain I was able to tolerate the healing process. Highly recommend going with her I just had a wonderful experience and would do it all over again if I had too. Maybe after I have kids. Thanks Dr Saber and team