Gender-affirming plastic surgery can be a huge step in a trans or nonbinary person's gender journey. However, not all trans women will pursue top surgery. If you're considering transgender breast augmentation, on the fence, or just curious about your options — we have all the information you need.
In addition to being a board-certified reconstructive and plastic surgeon, I am a member of WPATH (World Professional Association for Transgender Health) and USPATH (United States Professional Association for Transgender Health) and follow their standards of care.
What is transgender breast augmentation?
Also known as "male-to-female (MTF)" or "feminizing" top surgery, breast augmentation is a gender-affirming surgery for transfeminine patients. The objective is to create natural-looking breasts and improve the patient's self-esteem.
Breasts can be augmented with saline or silicone implants or fat grafting. The procedure can also include areola enhancement, adjusting nipple placement, chest contouring, and liposuction, depending on the patient's goals.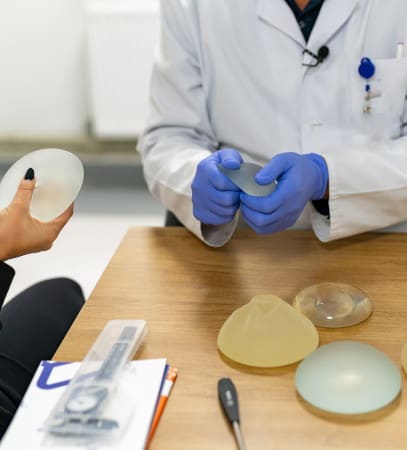 Breast implant vs fat transfer
Depending on your goals, we can use implants or fat-transfer breast augmentation. Breast implants are often preferred because of their predictability — we can control their exact shape and size.
But the benefit of fat transfer is it's a bit of a two-in-one procedure. For fat transfer breast augmentation, I use liposuction to remove fat from target areas of your body (ex. abdomen, thighs, buttocks, etc.), purify the fat, and then strategically inject it into your chest to increase breast size. Fat transfer involves smaller incisions than implants, but can only make a modest change in breast size.
Breast implants don't have an infinite lifespan and will someday need replacing, they also require larger incisions, albeit strategically placed to be less visible. However, you can achieve larger breasts with implants than with fat grafting.
How does MTF breast augmentation differ from "traditional" breast augmentation?
The breast augmentation procedure is mostly similar for cisgender and transgender women. The big difference is trans women generally have less starting breast tissue. For that reason, I generally require patients to complete a full year of hormone therapy before their breast augmentation. A year of estrogen is usually enough to start breast development and make your final results more natural-looking.
For women without sufficient breast growth, a preliminary surgical procedure may be required. We can place devices called tissue expanders in front of your chest muscles. Every few weeks you'll come in for a follow-up appointment to have saline injected into the tissue expanders. This process slowly stretches your chest skin and tissue to make room for the implants. (While this additional step is sometimes required by cisgender patients, especially following a mastectomy, it is more common for transgender patients.)
An alternative to the placement of tissue expanders is to place smaller breast implants, allow your skin to adjust to them, and then remove and replace them with larger implants down the line.
What to expect from breast augmentation surgery
The first step on the road to augmentation mammoplasty (breast augmentation) is a consultation. I meet with all my potential breast augmentation patients to go over their goals and medical history. With this information, I can determine if you're a good candidate for surgery. Also during this consultation, I will go over the procedure, post-op instructions, possible risks, and most likely results; it is very important to me that my patients are making fully-informed decisions.
On the day of your surgery, we will once again go over all post-surgery instructions — following these instructions will ensure you get the best results. During the procedure, you will be under general anesthesia, administered by a board-certified anesthesiologist.
For fat-grafting breast augmentation, I'll begin with a small incision at the "donor site" — the part of your body we're liposuctioning fat from — and remove the fat. The fat will then be purified and reinjected into your breasts. Over the next few months, the fat cells will incorporate and take their final shape.
For implants, I'll make an incision near the inframammary fold (creases under the breasts) or around the areola, depending on implant size; larger implants require larger incisions. The implants are then placed below or above the pectoral muscles, depending on our pre-discussed plan.
After I've closed the incisions, your breasts will be covered with gauze and you'll be fitted with a surgical bra.
Breast augmentation is an outpatient procedure, meaning you'll be able to go home the same day. However, you will need a friend or family member to drive you home.
How long is breast augmentation recovery?
You should take it easy for the first few days after surgery; sleep on your back and avoid putting any pressure on your breasts. Most patients can return to their normal activities after two weeks, but you'll have to avoid heavy lifting or strenuous activity for about six weeks.
As previously mentioned, it takes a few months for the final fat grafting results to be visible.
It will take about six to twelve weeks after implant placement for the final breast shape to be visible.
Are breast implants safe?
I would never perform a procedure if I didn't believe it to be safe and appropriate for my patients. There was a time when silicone implants were filled with a more liquid form of silicone that could leak and cause problems if the implant ruptured. Now we have more cohesive, i.e. gel-like or "gummy bear" implants.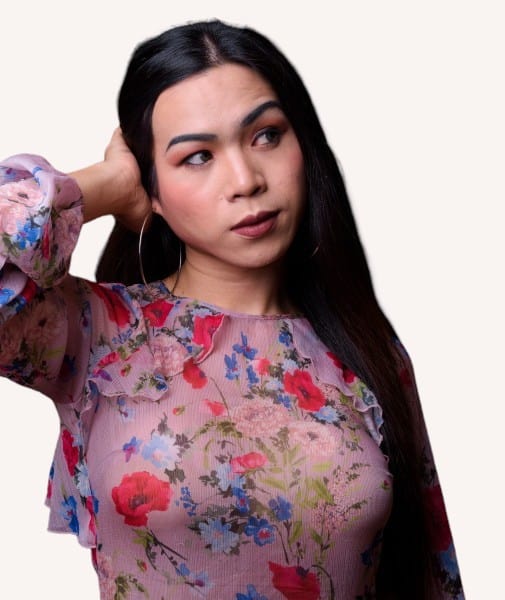 If the thought of silicone causes you concern, there are also saline implants available. These are filled with sterile salt water and are often cheaper than silicone implants. However, they have a risk of "rippling" and many people believe they don't feel as natural as silicone.
A known risk of either implant is capsular contracture. Your body will naturally form scar tissue around your implant, but in some patients, that scar tissue can become hard and constricting. This unnaturally tight tissue around the implant can cause changes in breast shape, pain, and (in the worst cases) implant rupture. If you notice changes in the shape or firmness of your breasts or start experiencing pain, talk to your doctor.
Is gender-affirming surgery covered by insurance?
Many insurance companies now offer some form of coverage for gender-affirming care. However, you should check your policy to see what requirements your insurance provider has. Generally, insurance companies require surgery to be "medically necessary" as supported by a letter from a mental health professional.
Talk to Dr. Saber for the best transgender plastic surgery in Encino
Access to gender-affirming plastic surgery improves mental health, quality of life, self-image, and overall well-being. That's why Dr. Sepideh Saber, M.D., is proud to provide a variety of cosmetic surgeries and procedures for trans and nonbinary patients. She brings not only years of plastic and reconstructive surgery experience, but a more sensitive female perspective.
If you're ready to pursue this step in your gender journey, schedule your free consultation today.
Call us at (877) 205-4100 or schedule a consultation online.
The practice of Dr. Saber is located in Encino, CA for patients throughout the Los Angeles area. We are also convenient to Encino, Woodland Hills, Sherman Oaks, Calabasas, Burbank, Glendale, Hidden Hills, Agoura Hills, Northridge, North Hollywood, Malibu, Topanga, Canoga Park, Reseda, Valley Glen, Chatsworth, West Hills, Winnetka, Universal City, Bel Air, Beverly Hills, Downtown Los Angeles, Silverlake, and Echo Park.
Dr. Saber takes her patients' safety seriously. The facility's Covid-19 patient safety procedures exceed all the CDC's coronavirus pandemic recommendations. Masks are always required in our institutes.
What patients say about
Dr. Saber

…

I LOVED DR SABER!!! There are a few reasons why I chose her. One was because she's a female Doctor that was my goal who also did a good job (which I was able to confirm with all her before and after photos) and what sold me was my safety in mind. She made me feel like I was in the best hands ever along with Marlene who coordinated everything THANK YOU LADIES!
Dr Saber helped me get back the body I have always desired. I had a lot of stomach fat from weight gain and I lost weight so a lot of my weight was in my front lower and upper abdomen.
Now I have a super beautiful curvy body like an hourglass after a tummy tuck and lipo she did. She understood the assignment hahaha . I'm 32 years old no kids just wanted to enjoy my younger body looking and feeling beautiful and she really took good care of me. Even after hours I had an emergency due to my fault but she was there and got back to me very quickly and I'm very grateful. I also think her work says a lot because I stopped taking pain medication on the 3rd day after surgery and was fine with very minimal pain I was able to tolerate the healing process. Highly recommend going with her I just had a wonderful experience and would do it all over again if I had too. Maybe after I have kids. Thanks Dr Saber and team