What is breast augmentation?
Breast augmentation (medically known as augmentation mammoplasty) is one of the most well-known cosmetic surgery procedures. It's a deeply personal decision and there are as many reasons to pursue breast enhancement as there are patients.
You may be looking for a fuller breast that's balanced with the rest of your body, to fill out your clothes with more feminine curves, to restore lost volume after pregnancy or weight loss, or even looking for reconstruction after surgery or trauma. As a female plastic surgeon in a largely male-dominated field, I pride myself on bringing a more compassionate approach to plastic surgery.
Whatever your goals, gender, or background, together we can plan your breast augmentation and self-confidence boost.
According to dictionary.com, mammoplasty is "reconstruction or alteration in size or contour of the female breast." Augmentation mammoplasty is surgery to increase breast size, while reduction mammoplasty (or breast reduction surgery) aims to decrease breast size. The primary goal of breast augmentation is to achieve a natural-looking fullness and projection of the breasts.
But other benefits include:
Balance of proportions between breasts and the rest of the body
Improvement of breast symmetry
Restoration of breasts deflated by age, pregnancy, or weight loss
Reconstruction after surgery such as a mastectomy, trauma, or to address a birth defect
An aspect of gender-affirming care
Boost in self-confidence
Breast augmentation is a well-known rejuvenation technique and is often included as part of a "mommy makeover."
What are some breast plastic surgery procedures?
There are two primary surgical procedures for breast augmentation: breast implants and fat transfer.
Based on your medical history, body shape, and goals, we'll discuss which option is best for you.
Breast implant plastic surgery
Breast implants are what most people think of when they hear "breast augmentation." The two basic types of implants are saline and silicone gel.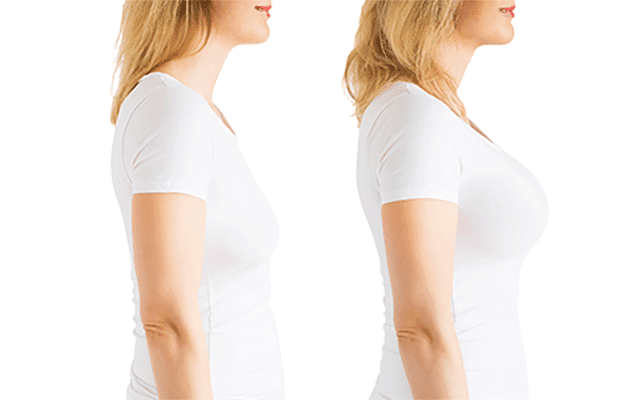 Saline breast implants (as the name implies) are filled with sterile salt water (saline). Some are inserted pre-filled and others are filled during the implantation procedure. Filling the implants during surgery allows adjustments to be made to the size. Many people are surprised to learn that saline breast implant shells are made of silicone.
Silicone implants are filled with silicone gel, and they tend to feel more natural than saline implants. You may have heard horrible stories about problems caused by leaking silicone implants. Older generation implants were filled with a more liquid type of silicone which had the potential to leak. Today's newer generation implants are what we call "form stable". They are sometimes also referred to as "gummy bear" implants. These highly cohesive implants retain their shape even if their outer shell breaks, so that the silicone does not spread all over the pocket.
Breast fat transfer procedure
Breast augmentation through fat transfer is a more natural enhancement for those looking for a smaller size increase. Excess fat is removed from elsewhere in the body (such as the thighs, abdomen, or hips) via liposuction. The fat cells are then purified and injected into the breast. This procedure combines breast augmentation with body contouring, making it a nice "two-for-one" for patients looking to increase breast size and lose stubborn fat.
The advantages of fat transfer over breast implants are:
smaller incisions
no foreign body
less need for future re-operation
However, it does also have disadvantages. One such disadvantage is the more modest enhancement. Only a limited amount of fat can be injected (and not all of the injected fat cells will survive) so at most fat transfer can only take patients up one to two cup sizes.
Non-Surgical Breast Augmentation
I get it, surgery can be scary. And people are becoming more aware of injectables for cosmetic procedures (everyone's heard of hyaluronic acid fillers such as Juvederm or polu-L-lactic acid fillers such as Sculptra). You may have even seen a medical spa (medspa) offering laser treatment or injectable services.
However, lasers or injectables are not FDA-approved for use in breast enhancing procedures. And you should always make sure you're working with a skilled cosmetic surgeon for any procedure for your own safety and best results.
Mommy Makeover
If you've had children, you know how pregnancy changes your body. Breast augmentation and/or a breast lift can be combined with liposuction, a tummy tuck, or other body contouring to achieve your post-pregnancy body goals.
During your consultation, we'll discuss what procedure(s) best suit your needs. I'll never recommend extra cosmetic surgeries if I don't believe they truly benefit my patients.
How is Breast Augmentation Performed?
The first step is always a consultation with me. At this time, we'll go over your goals and physique and decide what the best procedure is for your needs.
On the day of your surgery, you'll be given general anesthesia for your comfort. Then the incision will be made and the pre-discussed procedure performed. The details of your procedure will depend on whether you're having implants or fat transfer.
At the end, the incision will be closed with sutures and bandaged and you'll be sent home with recovery instructions.
Breast Implants Procedure
For breast augmentation with implants, the exact approach to surgery will differ depending on the type and size of the implant, location of the breast implant pocket, prior scars, and preference. I typically use one of two different incisions: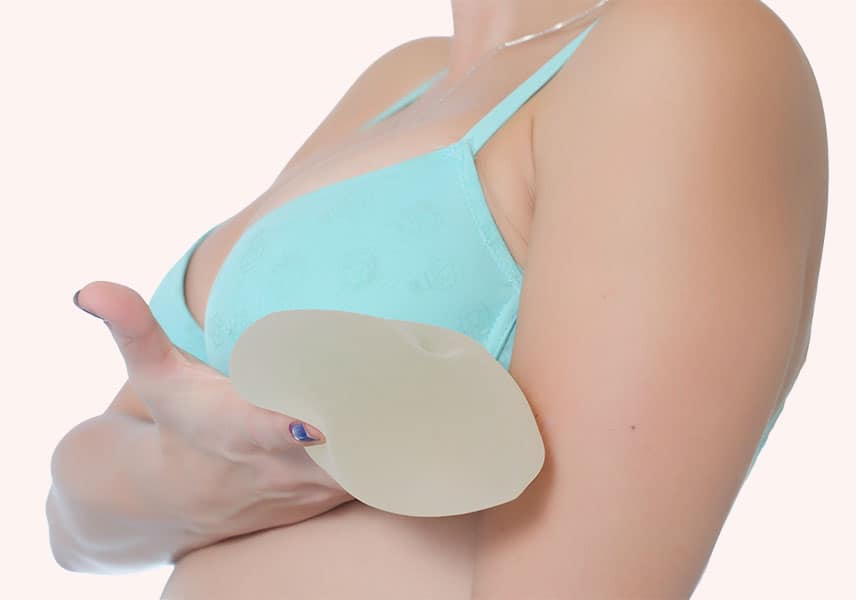 Inframammary, i.e., along the lower fold of the breast. This incision is typically well hidden in the lower breast crease and allows for accurate placement of implants of any size and shape. The incision may become visible when lifting the breasts or raising the arms in smaller swimsuits or lingerie.
Periareolar, i.e., around the areola. This incision is typically well camouflaged as it is strategically placed along the border of the areola. It allows for placement of saline or silicone implants although it may make the placement of larger silicone implants more challenging. There is also a slightly higher risk of capsular contracture (a hard tissue capsule that squeezes the implant) with this technique.
Once the incision is made, a pocket will be created in the breast area and the implant will be inserted.
There are also different locations a breast implant can be placed:
Submuscular Implant
We insert the breast implant beneath the pectoral muscle. Depending on its size, the implant will be partially or completely covered by the muscle. If there isn't sufficient breast tissue to cover the breast implant, this is the best location. It also decreases the risk of capsular contracture and allows for more ease in mammogram readings.

Subglandular Implant
For this placement, the implant goes on top of the muscle, but below the glandular tissue. Recovery is easier, but this isn't a good option for patients with smaller natural breasts. The contours of a moderately-sized implant may be visible or palpable or both due to insufficient breast tissue to cover the implant. This method may also lead to drooping of the natural breasts over time. However, it is suitable for a patient with a sufficient amount of natural breast tissue who is seeking a subtle to moderate-sized breast augmentation.
Fat Transfer to Breasts
First, I'll perform liposuction on the agreed-upon areas. The fat will be purified, and then injected into the breasts to achieve the desired size, volume, and shape.
Unlike with breast implants, large incisions are not required. We inject the fat into the breast rather than needing access under the tissue or muscle.
How long is breast augmentation recovery?
Immediately after surgery, your breasts will be covered with gauze and you will be fitted into a surgical bra. I'll give you your exact recovery instructions before your procedure.
Patients need to take it easy for the first few days, and shouldn't do any heavy lifting for up to six weeks after implantation. Most patients can return to a normal routine after two weeks.
You'll probably have some soreness and swelling, which most patients manage with over-the-counter pain medication or prescription medication as needed.
For fat transfer, it will take a few months for the fat cells to fully incorporate and the final results to be visible.
For implants, the final results will be visible in about six to twelve weeks.
Dr. Saber brings years of experience and a more sensitive, female perspective for patients of all ages, genders, and orientations.
Is breast plastic surgery safe?
Any surgical procedure comes with risks. Some possible complications of breast augmentation surgery include:
Breast pain
Changes in sensation in the nipple and breast
Scar tissue forming and hardening in the area around the implant
Scarring
Bleeding
Infection
Problems with the size or shape of the implants (for example, the breasts may not be symmetrical)
Impact on Mammography
If you are over the age of 40 or if you're younger but have a strong family history of breast cancer, we will obtain a mammogram prior to any breast surgery. After surgery, breast implants do not prevent you from obtaining your regular screening mammograms. Most facilities have experience with doing mammograms in women with breast implants. To help your doctor see as much breast tissue as possible, you may need to have a few extra pictures done during your mammography appointment. For those extra pictures, the implant is pushed back against the chest wall and the breast is pulled forward for better visualization. This does not impact the result of your breast augmentation.
Fat transfer to the breasts can sometimes lead to small areas of microcalcification within the breasts. These calcifications are not dangerous; however, they can be confusing because breast cancers can also show up as microcalcifications on a mammogram. In order to prevent unnecessary biopsies, you should inform your doctor about your prior breast procedures. An experienced radiologist is often able to easily distinguish changes on your mammogram from abnormalities related to breast cancer.
Who is a good candidate for an augmentation mammoplasty procedure?
The most important question I have to answer is if a surgical procedure is right for my patient. I will always be 100% honest when recommending (or not recommending) a surgery.
In general, good candidates for augmentation are:
In good health
Non-smokers
Realistic in their expectations
The FDA requires patients to be at least 18-years-old to get saline-filled implants and at least 22-years-old to receive silicone implants. The guidelines are less strict when it comes to breast reconstruction as compared to cosmetic breast enhancement.
It is very important for potential plastic surgery patients to have realistic goals. There are limits to what breast augmentation can achieve.
For instance, breast augmentation can't correct drooping breasts. If you are struggling with sagging breasts, a breast lift with or without a simultaneous augmentation may better suit your needs.
Breast Augmentation Frequently Asked Questions
How long will breast implants last?
Breast implants are not designed to last forever. You may need implant replacement if there are complications or your breast size and shape changes. The FDA recommends that recipients of silicone gel implants obtain an MRI three years after surgery, and then every two years thereafter to check for implant rupture. The FDA also estimates that breast implants should last about 10 years before they need removal or replacement.
How long does breast fat transfer last?
Fat transfer is permanent, but your breasts' appearance may continue to change.
The added fat will last forever unless you lose substantial weight. The natural fat also means your breasts will continue to be subject to weight fluctuation and aging.
Will insurance cover breast augmentation?
Generally, insurance doesn't cover cosmetic surgery. Check with your insurance provider to see if there are any coverage options.
How much does augmentation mammoplasty cost?
According to the American Society of Plastic Surgery, the average cost for breast augmentation in 2019 was $3,947 (which doesn't include anesthesia, operating room facilities, or other related expenses).
During your consultation, I'll give you an estimate of your total cost. No surprise bills!
Can you breastfeed with breast implants?
Although implants may affect a woman's milk supply, most women with implants can safely and successfully breastfeed their babies.
Do breast implants cause cancer?
While breast implants are not known to cause breast cancer, there is some evidence linking them to a higher chance of developing anaplastic large-cell lymphoma (ALCL) – a type of non-Hodgkin's lymphoma.
What are breast implants made of?
There are two types of FDA-approved breast implants: saline-filled and silicone gel-filled. Saline implants are filled with a saltwater solution, while silicone implants are filled with a gel. Both types of implants have a silicone outer shell and come in different sizes, shell thicknesses, and shapes.
Can you get a mammogram with breast implants?
Yes, even if you have breast implants, it's still important to get regular screening mammograms as recommended by medical professionals (unless you had a bilateral mastectomy). Not only will the mammogram screen for cancer, but it can also help identify other issues, such as a rupture or leakage. When you go in for your mammogram, be sure to tell the technologist that you have implants so that they can take the necessary precautions.
Why it's critically important to choose a Board-Certified Plastic Surgeon
All surgery comes with some risk, we all know this. But did you know that many doctors who perform plastic surgery are not American Board of Plastic Surgery-certified plastic surgeons?
For a surgeon to become board certified, they must have at least 14 years of higher education including special intensive training in reconstructive and cosmetic surgery.
This means that in the very unlikely event of a complication, it can be handled quickly and efficiently. Because board-certified plastic surgeons have full admitting privileges at local hospitals. Non-board-certified plastic surgeons do not, thus they cannot even treat you outside of their own surgery center. Additionally, Dr. Saber always works with leading board-certified anesthesiologists during her procedures to ensure patient safety (unfortunately this is not always the case with surgeons).
Aren't all doctors who perform cosmetic plastic surgery procedures board-certified?
Sadly, no. Many are not certified to do the cosmetic procedures they are performing. That can lead to significant problems for any patient who has complications. It can also mean that the surgeon who performed your procedure cannot even admit you to a hospital or provide any follow-up care at the hospital.
Dr. Saber's extensive training, board certification, and experience as a noted reconstructive surgeon serve as an assurance that her approach to surgery is ethical, safe, and effective.
Why choose Dr. Saber for Breast Augmentation in Encino?
Dr. Sepideh Saber, MD, FACS brings years of experience and a more sensitive, female perspective for patients of all ages, genders, and orientations. Testimonials from patients of all ages and from all walks of life have praised not only their outcomes but her caring, thoughtful approach to all types of appearance and health-related matters.
Dr. Saber graduated from Stanford University's world-renowned medical school and did her plastic and reconstructive surgery residency at the University of Southern California (USC). She completed her fellowship at New York University (NYU) in the extremely challenging and delicate areas of hand surgery and microsurgery.
To request a consultation, call (877) 205-4100 or schedule a consultation online.
Dr. Saber takes her patients' safety very seriously. Her facility's Covid-19 patient safety procedures exceed all CDC and World Health Organization recommendations. Masks are required in our office at all times during the coronavirus pandemic.
The practice of Dr. Saber is located in Encino, CA for patients throughout the Los Angeles area. We are also convenient to Encino, Woodland Hills, Sherman Oaks, Calabasas, Burbank, Glendale, Hidden Hills, Agoura Hills, Northridge, North Hollywood, Malibu, Topanga, Canoga Park, Reseda, Valley Glen, Chatsworth, West Hills, Winnetka, Universal City, Bel Air, Beverly Hills, Downtown Los Angeles, Silverlake, and Echo Park.
What patients say about
Dr. Saber

…

I LOVED DR SABER!!! There are a few reasons why I chose her. One was because she's a female Doctor that was my goal who also did a good job (which I was able to confirm with all her before and after photos) and what sold me was my safety in mind. She made me feel like I was in the best hands ever along with Marlene who coordinated everything THANK YOU LADIES!
Dr Saber helped me get back the body I have always desired. I had a lot of stomach fat from weight gain and I lost weight so a lot of my weight was in my front lower and upper abdomen.
Now I have a super beautiful curvy body like an hourglass after a tummy tuck and lipo she did. She understood the assignment hahaha . I'm 32 years old no kids just wanted to enjoy my younger body looking and feeling beautiful and she really took good care of me. Even after hours I had an emergency due to my fault but she was there and got back to me very quickly and I'm very grateful. I also think her work says a lot because I stopped taking pain medication on the 3rd day after surgery and was fine with very minimal pain I was able to tolerate the healing process. Highly recommend going with her I just had a wonderful experience and would do it all over again if I had too. Maybe after I have kids. Thanks Dr Saber and team