What is a neck lift?
A neck lift (lower rhytidectomy) is a cosmetic procedure that tightens loose neck skin and lax neck muscles for a more taut appearance on the lower face. Skin laxity — one of the signs of aging — is loose skin caused by a loss of collagen and elastin fibers.
Cosmetic surgeries to correct a sagging neck or jawline include:
Liposuction reduces fullness under the chin caused by excess fat.
Platysmaplasty fixes creases in the skin by tightening neck muscles and skin.
Cervicoplasty fixes a "turkey waddle" by removing excess skin in the neck, jowls, and jawline.
Why does my neck sag?
During the aging process, the platysma muscle (the muscle at the front of your neck) separates. This creates two broad, thin bands on either side of the neck. The muscle bands press against the skin, stretching and softening the jawline.
We lose skin tone as we age which, combined with changes in how our bodies store fat, creates the appearance of a sagging neck or "double chin."
While it's impossible to stop the natural process of aging entirely, neck lift surgery can help restore the neck and jawline to a more youthful appearance.
If you're looking to rejuvenate this area, neck lift surgery may be just what you need.
How effective is a neck lift?
Neck lifts can be very effective in rejuvenating the face, but may not address all your concerns. A neck lift may also not be the best choice for your aesthetic concerns. During your consultation, we'll review your goals and determine which plastic surgery procedure(s) will get your best results.
Many of my patients combine their neck lift with other facial rejuvenation procedures such as:
Brow lift
Chin implant
Eyelid surgery
How is a neck lift done?
Step one of any cosmetic surgery is an initial consultation with me. My team and I will go over your medical history and discuss your appearance goals and concerns. With this background, we'll build your custom treatment plan.
Before we agree to proceed with surgery, we'll go over realistic expectations for neck lift results and any potential risks. I always want my patients to make fully informed decisions.
On the day of your neck lift, you'll receive local anesthesia and either intravenous sedation or general anesthesia. I always work with leading board-certified anesthesiologists to ensure my patient's safety and comfort.
Neck lift surgical procedure
The procedure starts with small incisions behind your ears or along the hairline along the back of the neck. While each body scars differently, I do my best to conceal the incisions as much as possible.
Once the primary incisions are made, excess skin and fat can be removed and muscles tightened — depending on your treatment plan. I'll also perform any accompanying cosmetic procedures at this time, making as few incisions as possible.
What is the neck lift recovery time?
After surgery, you'll have bandages around your neck to keep down swelling as well as aftercare instructions. While the bruising will resolve over the first week, full recovery takes about two weeks.
During this time, you'll have to avoid strenuous activity, avoid straining your neck, and keep your head elevated (above your heart).
It may take a couple of months for residual stiffness to resolve and full results to become visible.
What is a mini neck lift?
A short scar neck lift (mini neck lift) improves neck contour without removing excess skin. A small incision is made under the chin to modify the underlying neck structure and create more surface area for the skin. This results in a sharper jawline and smoother neck with less-invasive surgery and quicker recovery time.
How long does a neck lift last?
Results from a neck lift will last 5 to 15 years. Maintaining the results requires a good skincare routine and a healthy lifestyle that includes:
Using sunscreen
Maintaining a healthy diet and weight
Not smoking
When properly cared for, the results will last longer.
How much is a neck lift?
The total cost of a neck lift will depend on the surgeon and what additional procedures are involved. According to the American Society of Plastic Surgeons 2020 statistics, the average neck lift cost is $5,774.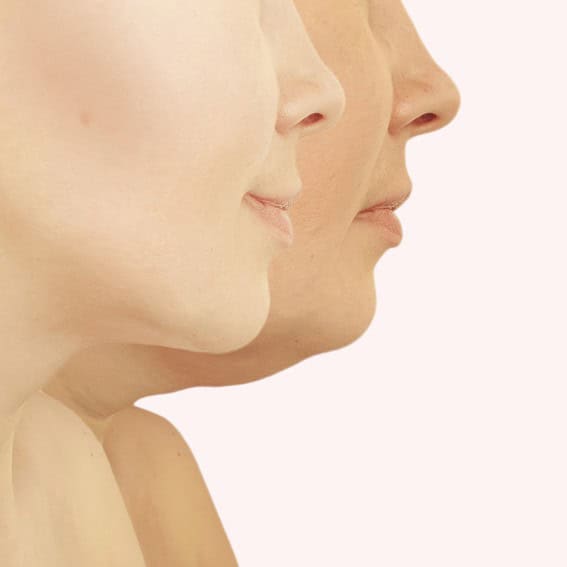 Is a neck lift safe?
All surgery comes with some risk, but with a skilled board-certified plastic surgeon complications are less likely. The most common risks are bleeding, hematoma, and infection.
Neck lifts and facial plastic surgery should always be performed by a board-certified plastic surgeon. This also includes nonsurgical procedures such as injectables such as Botox and dermal fillers.
My patients feel confident in the quality of their care because of my extensive training and experience in plastic and reconstructive surgery.
Am I a good candidate for a neck lift?
The most important question I answer is "Is this procedure right for me?" During your consultation, we'll go over your options as well as possible risks and benefits. Whether I believe you're a good neck lift candidate or not, I will always provide you with my honest, professional medical opinion.
A neck lift may be right for you if you:
Are self-conscious about the appearance of sagging skin around the lower face and neck.
Feel your neck makes you look older than you are.
Want to reverse the signs of aging.
Have realistic expectations about surgical outcomes.
Don't have medical conditions that contraindicate surgery.
The best candidates for a neck lift surgical procedure are healthy non-smokers who still have some skin elasticity.
Why choose Saber Plastic Surgery for neck lift cosmetic surgery?
Dr. Sepideh Saber is a board-certified plastic surgeon providing cosmetic procedures and surgeries from a more sensitive, female perspective for patients of all ages, genders, and orientations. She ensures that all questions are answered so that each patient can make a truly well-informed decision.

Keeping her patients safe remains her top priority. She employs the latest state-of-the-art techniques and performs her procedures in the top surgical centers and hospitals, where she enjoys full admitting privileges.
To request a consultation, please call (877) 205-4100 or schedule a consultation online.
Dr. Saber is located in Encino, CA for patients throughout the Los Angeles area. We are also convenient to Encino, Woodland Hills, Sherman Oaks, Calabasas, Burbank, Glendale, Hidden Hills, Agoura Hills, Northridge, North Hollywood, Malibu, Topanga, Canoga Park, Reseda, Valley Glen, Chatsworth, West Hills, Winnetka, Universal City, Bel Air, Beverly Hills, Downtown Los Angeles, Silverlake, and Echo Park.
What patients say about
Dr. Saber

…

I LOVED DR SABER!!! There are a few reasons why I chose her. One was because she's a female Doctor that was my goal who also did a good job (which I was able to confirm with all her before and after photos) and what sold me was my safety in mind. She made me feel like I was in the best hands ever along with Marlene who coordinated everything THANK YOU LADIES!
Dr Saber helped me get back the body I have always desired. I had a lot of stomach fat from weight gain and I lost weight so a lot of my weight was in my front lower and upper abdomen.
Now I have a super beautiful curvy body like an hourglass after a tummy tuck and lipo she did. She understood the assignment hahaha . I'm 32 years old no kids just wanted to enjoy my younger body looking and feeling beautiful and she really took good care of me. Even after hours I had an emergency due to my fault but she was there and got back to me very quickly and I'm very grateful. I also think her work says a lot because I stopped taking pain medication on the 3rd day after surgery and was fine with very minimal pain I was able to tolerate the healing process. Highly recommend going with her I just had a wonderful experience and would do it all over again if I had too. Maybe after I have kids. Thanks Dr Saber and team