What is an otoplasty?
Commonly referred to as ear pinning surgery, otoplasty is a cosmetic procedure during which prominent or protruding ears are reshaped, and unusual size or deformities are corrected. An otoplasty can be performed at any age if the ears have reached their full size, typically after the age of 5. Ear pinning may have a significant positive self-esteem effect for children or adolescents whose ear shape or size may lead to teasing and bullying by their classmates.
I've received tons of positive feedback from my Encino ear patients. Plastic surgery is great for reshaping ears to improve their appearance, as well as resolving unwanted birth defects or injuries.
Am I a good otoplasty candidate?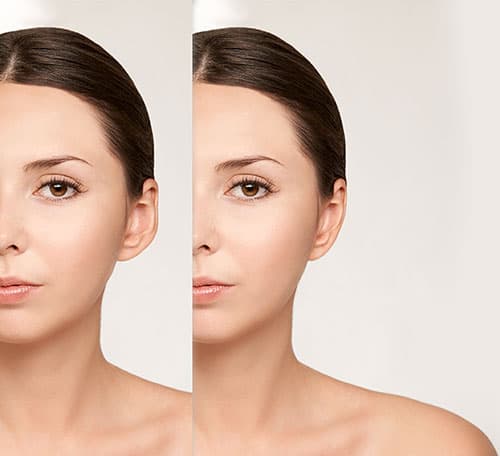 During your initial consultation for an otoplasty, we'll thoroughly review your medical history and examine what you expect from the cosmetic procedure. Here are some of the factors that go into moving ahead with a successful otoplasty:
Active smokers are not good candidates. In order to move forward with an otoplasty, the patient will have to abstain from nicotine for six weeks before the procedure. Smoking raises blood pressure, interferes with anesthesia, increases the risk of infection, and most importantly impairs the skin's and cartilage's ability to heal.
Because the procedure typically involves general anesthesia, the patient needs to be in general good health.
A prospective patient should have a sensible outlook on what the final result will look like. During your consultation, I'll be sure to go over your most likely outcomes.
Post-surgery, you must not sleep on your side for about two weeks and avoid touching or scratching your ears.
Ear pinning vs. otoplasty
There are several different procedures that are often lumped together under otoplasty. They include:
Ears pinned back
It is a misnomer to call ear pinning an otoplasty. Ear pinning is a cosmetic surgery that repositions protruding ears so they are closer to the head. During the outpatient surgery, I'll remove excess ear cartilage and skin to move the ears. You'll wear a compression bandage while the ears heal in their new position.
Earlobe repair
Earlobe repair is a kind of otoplasty procedure that mends torn earlobes. Earlobes can be ripped from injury or from wearing heavy earrings. Another cause is gauging, a body modification process where a person uses masses of increasing width to stretch their earlobes. This cosmetic outpatient procedure is customized for each patient, depending on their situation.
Ear reduction
As the name states, ear reduction is a surgical procedure for reducing the size of large ears to a more "natural" shape. I sometimes see patients with macrotia, a condition in which ears are naturally larger than normal. We can sculpt the entire ear or parts of it depending on your specific needs.
Dr. Saber offers a sensitive, female viewpoint for patients of all ages, genders, and orientations.
What happens during otoplasty surgery?
While the exact procedures will vary, they all follow similar steps:
Step 1: Anesthesia
Ear surgery can be done through a combination of local anesthesia plus IV sedation or with general anesthesia. I always work with board-certified anesthesiologists for optimal patient safety.
Step 2: Incision
When possible, I strategically place the incisions on the back of the ear. If incisions must be on the front of the ear instead, my goal is to blend them with the ear's natural creases. This way, we keep visible scarring to a minimum.
Step 3: Incision Closure
After the correction, we close the site with sutures and bandages. You'll receive a headband to wear during recovery. For most patients, the entire procedure takes about two hours.
Otoplasty recovery time
Post-surgery, patients usually feel some pain, discomfort, and swelling, which can be controlled with pain medication. Patients are advised to refrain from sleeping on their sides to avoid pressure on the ears. I also recommend patients remain at home during the one-week recovery time.
Ear Surgery Frequently Asked Questions
How much does ear pinning cost?
According to the American Society of Plastic Surgeons, an average ear pinning procedure costs about the same as an otoplasty, $3,220.
Does insurance pay for otoplasty?
The short answer is no. Insurance rarely pays for cosmetic surgery. However, if the otoplasty is being performed as the result of injury or deformity, insurance may cover the procedure.
Why it's critically important to choose a Board-Certified Plastic Surgeon
All surgery comes with some risk, we all know this. But did you know that many doctors who perform plastic surgery are not American Board of Plastic Surgery-certified plastic surgeons?
For a surgeon to become board certified, they must have at least 14 years of higher education including special intensive training in reconstructive and cosmetic surgery.
This means that in the very unlikely event of a complication, it can be handled quickly and efficiently. Because board-certified plastic surgeons have full admitting privileges at local hospitals. Non-board-certified plastic surgeons do not, thus they cannot even treat you outside of their own surgery center. Additionally, Dr. Saber always works with leading board-certified anesthesiologists during her procedures to ensure patient safety (unfortunately this is not always the case with surgeons).
Aren't all doctors who perform cosmetic plastic surgery procedures board-certified?
Sadly, no. Many are not certified to do the cosmetic procedures they are performing. That can lead to significant problems for any patient who has complications. It can also mean that the surgeon who performed your procedure cannot even admit you to a hospital or provide any follow-up care at the hospital.
Dr. Saber's extensive training, board certification, and experience as a noted reconstructive surgeon serve as an assurance that her approach to surgery is ethical, safe, and effective.
Why choose Dr. Saber for otoplasty in the Los Angeles and Encino areas?
Dr. Sepideh Saber, MD, FACS offers a sensitive, female viewpoint for patients of all ages, genders, and orientations. Patients from all walks of life have praised not only their outcomes but Dr. Saber's caring, thoughtful approach to all types of plastic surgery, appearance, and accessibility health-related matters.
Dr. Saber graduated from Stanford University's world-renowned medical school and did her reconstruction and plastic surgery residency at the University of Southern California (USC). She then completed a fellowship at New York University (NYU) in the extremely challenging and delicate area of hand surgery, as well as microsurgery.
To request a consultation, call (877) 205-4100 or schedule a consultation online.
The practice of Dr. Saber is located in Encino, CA for patients throughout the Los Angeles area. We are also convenient to Encino, Woodland Hills, Sherman Oaks, Calabasas, Burbank, Glendale, Hidden Hills, Agoura Hills, Northridge, North Hollywood, Malibu, Topanga, Canoga Park, Reseda, Valley Glen, Chatsworth, West Hills, Winnetka, Universal City, Bel Air, Beverly Hills, Downtown Los Angeles, Silverlake, and Echo Park.
Dr. Saber takes her patients' safety very seriously. Her facility's Covid-19 patient safety procedures exceed all CDC and World Health Organization recommendations. Masks are always required in our office during the coronavirus pandemic.
What patients say about
Dr. Saber

…

I LOVED DR SABER!!! There are a few reasons why I chose her. One was because she's a female Doctor that was my goal who also did a good job (which I was able to confirm with all her before and after photos) and what sold me was my safety in mind. She made me feel like I was in the best hands ever along with Marlene who coordinated everything THANK YOU LADIES!
Dr Saber helped me get back the body I have always desired. I had a lot of stomach fat from weight gain and I lost weight so a lot of my weight was in my front lower and upper abdomen.
Now I have a super beautiful curvy body like an hourglass after a tummy tuck and lipo she did. She understood the assignment hahaha . I'm 32 years old no kids just wanted to enjoy my younger body looking and feeling beautiful and she really took good care of me. Even after hours I had an emergency due to my fault but she was there and got back to me very quickly and I'm very grateful. I also think her work says a lot because I stopped taking pain medication on the 3rd day after surgery and was fine with very minimal pain I was able to tolerate the healing process. Highly recommend going with her I just had a wonderful experience and would do it all over again if I had too. Maybe after I have kids. Thanks Dr Saber and team