You've been doing everything right, exercising, eating right, and losing weight. But…
Despite everything, you just can't get that flat, toned tummy you've been working so hard for.
Or maybe you've recently given birth and just want your pre-pregnancy body back! Growing a human being in your body definitely stretches out your midsection (as those stretch marks prove) in addition to weakening your abdominal wall.
Unfortunately, all the diet and exercise in the world can't improve skin laxity. Weight fluctuations, genetics, age, stress, and more can make our skin looser, such that it will no longer adhere to the stomach muscles underneath.
Fortunately, I'm here to help. When you have loose skin you can't work off, a tummy tuck may be just what you need to get that ideal waistline.
What is a tummy tuck?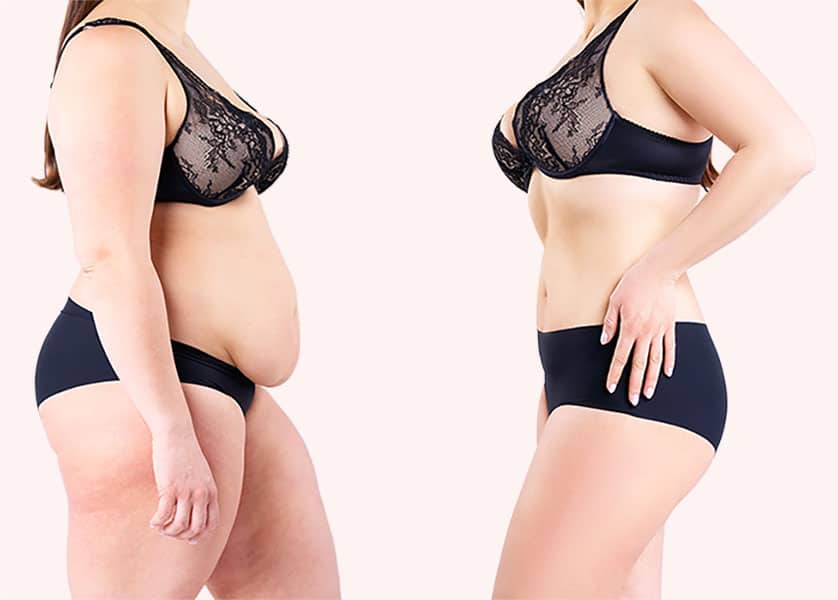 I'm sure you've at least heard of a tummy tuck. Also known as abdominoplasty, it's a well-known cosmetic surgery procedure. According to the American Society of Plastic Surgeons, the number of tummy tuck surgeries performed in the US almost doubled from 2000 to 2019. The surgical procedure reduces excess skin, tissue, and fat around the abdomen as well as tightening abdominal muscles. These steps, when added together, give the tummy tuck patient the smooth, toned abdomen they can't get from exercise and diet alone.
This uptick in tummy tucks includes men, too! We can snip away that excess skin, tighten those abs (if needed), and show off that toned tummy you've worked so hard for. I believe my more compassionate female perspective benefits plastic surgery patients of all genders.
Tummy Tuck vs Liposuction
Liposuction is not a substitute for a tummy tuck, although the two may go together (we often combine them in our mommy makeover procedure).
Liposuction removes excess fat from beneath the skin and is useful for body contouring. Fat deposits are sucked out, allowing the skin to contour to the toned muscle beneath rather than the excess fat. Excess skin is not removed during liposuction and the procedure will not impact the underlying muscles.
However, as previously mentioned, weight fluctuations can decrease skin laxity. So, a tummy tuck may still be required after liposuction to get optimum results. If you're already at your ideal weight and just need some body contouring, a tummy tuck can be performed to remove excess abdominal skin independent of liposuction.
…for best results, delay your tummy tuck until you're at your ideal weight.
Mommy Makeover
What was that "mommy makeover" thing I mentioned?
As you know, pregnancy and breastfeeding take a toll on the body. When tummy tuck surgery alone isn't going to address all of your goals, multiple cosmetic surgery procedures can be combined to help restore that pre-pregnancy bod or keep you looking younger.
I'll work with you to customize the procedure to suit your goals, but a typical mommy makeover consists of:
And you don't have to call yourself "mommy" to get a "mommy makeover"! I'm here to help my cis and trans patients achieve their individual body goals.
Mini Tummy Tuck
If a patient only has loose skin at the lower abdomen (100% below the belly button), we can do a smaller, less invasive procedure. A mini tummy tuck makes a smaller incision and only removes a small amount of skin and fat.
Unlike in a full tummy tuck, I won't perform any muscle tightening above the belly button, and the belly button will remain unchanged. I will, however, tighten the muscle below the belly button.
If you only want a small improvement and less downtime, a mini tummy tuck may be appropriate. During your initial consultation, we'll discuss and evaluate your needs and decide what procedure best suits your situation.
Who is a good candidate for a tummy tuck?
The most important question I have to answer is if a procedure is right for a patient. During your consultation, I will be completely honest on whether I think a tummy tuck is right for you.
The best candidates for abdominoplasty are:
close to their ideal body weight
bothered by stubborn fat deposits or loose skin in their abdominal area
finished having children
not planning on losing a lot of weight
not actively smoking or otherwise consuming nicotine
Significant weight gain or pregnancy after a tummy tuck can reverse your hard-earned results. In addition, for best results, delay your tummy tuck until you're at your ideal weight. As we've mentioned, significant weight loss may leave you with excess skin that needs removal.
Ideal candidates choose to undergo cosmetic surgery for their own goals, not due to external pressure.
Tummy Tuck Procedure
First things first: you'll set up a consultation with me and my expert team. There, you'll go over your goals and I will evaluate your abdominal muscles, skin laxity, and amount of fat in the abdominal area. This information will all be used to achieve your best results.
On the day of your surgery, you'll arrive at our surgical facility and be settled in for your procedure. I'll make the necessary incisions. Then, the excess tissue and skin will be removed and the underlying muscles will be tightened. When the process is complete, the incision will be closed with sutures and bandaged.
We'll provide you will aftercare instructions and make sure you know your recovery restrictions ahead of time.
The Fleur-de-Lis Tummy Tuck
A traditional standard tummy tuck only involves a horizontal incision across the lower abdomen (generally under the belly button). In contrast, the fleur-de-lis abdominoplasty also has a vertical incision in the middle of the abdomen.
Unlike a traditional tummy tuck, this additional incision allows the surgeon to remove excess loose skin and fat from both the upper abdomen and lower abdomen, resulting in a more dramatic transformation.
The extended ‌fleur-de-lis abdominoplasty is particularly effective for individuals who have a significant amount of skin laxity, excess skin, and fat in their midsection.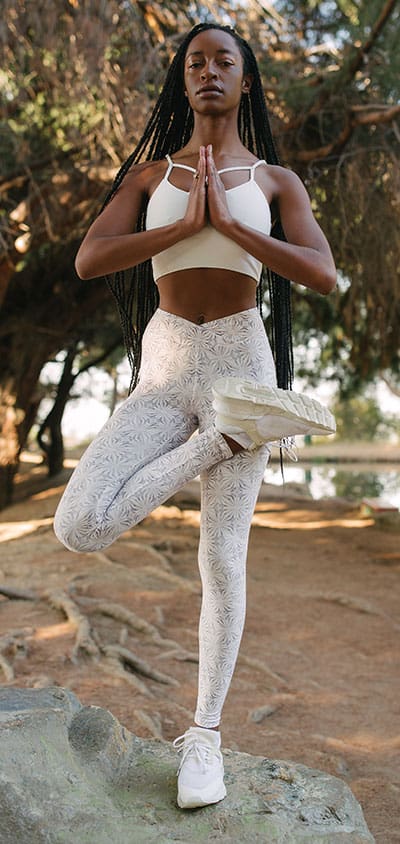 Tummy Tuck Recovery
You'll receive a special compression garment to wear post-surgery. The compression helps reduce swelling, support your muscles, and help your body adjust to its new contours. The longer you wear the garment, the less swelling will build up and the faster the swelling will resolve.
Many patients find it more comfortable to sleep with their back supported or to bend their back slightly forward when walking.
For the first two weeks post-surgery you should rest and recover, avoiding heavy physical activities. But! Starting the very first day after your procedure, you should still be doing light activity (such as walking) to help avoid blood clots or complications.
Six weeks out from surgery, you should be able to fully resume normal activity, although there may be some discomfort. Until the six-week mark, you should be avoiding heavy lifting and strenuous physical activity.
Most tummy tuck patients get fully back to their normal lives after three months.
What are the risks of tummy tuck surgery?
Surgery does come with risks, but I always take extra steps to ensure your safety. During your consultation, we will fully discuss all risks and benefits to help you make a fully informed decision.
Our surgery center uses state-of-the-art surgical techniques, and we work with a leading, board-certified anesthesiologist to ensure maximum safety.
Some of the risks (as with any surgery) are:
Bleeding
Anesthesia risks and side effects
Infection
Allergic reaction
Tummy Tuck Results
Obviously knowing the nitty-gritty of your surgery is helpful. But what we really want are results!
To make sure you're getting the best tummy tuck in the Los Angeles area, check out the tummy tuck before and afters in our gallery!
Tummy Tuck Frequently Asked Questions
Does a tummy tuck hurt?
Tummy tuck surgery is performed under general anesthesia, so you won't experience pain during the procedure.
During recovery, there will be some discomfort, bruising, and swelling. This pain should subside over the first week of your recovery.
Will I have tummy tuck scars?
Where there's an incision there's a scar. Different patients heal differently, so your individual level of scarring may vary.
In general, fresh scars will look red and more apparent to begin with, but will heal and become less visible as they mature and change over time. The scars will never fully disappear, but the incision can be placed at the bottom of your abdomen, where it can be easily hidden by underwear or swimsuit botttoms.
Does insurance cover a tummy tuck?
Insurance does not generally cover cosmetic surgery. However, if your tummy is causing health problems (for instance, back pain), you may be able to get insurance to cover it. You should check with your primary care provider and insurance company to see what your coverage options are.
How long does a tummy tuck last?
While the excess skin that has been surgically removed will never come back, substantial weight gain or loss may cause the tightened abdominal skin to lose pliability.
Why it's critically important to choose a Board-Certified Plastic Surgeon
All surgery comes with some risk, we all know this. But did you know that many doctors who perform plastic surgery are not board-certified plastic surgeons?
For a surgeon to become board certified by the American Board of Plastic Surgery, they must have at least 14 years of higher education including special intensive training in reconstructive and cosmetic surgery.
This means in the very unlikely event of a complication, it can be handled quickly and efficiently. Because board-certified plastic surgeons have full admitting privileges at local hospitals. Non-board-certified plastic surgeons do not, thus they cannot even treat you outside of their own surgery center. Additionally, Dr. Saber always works with leading board-certified anesthesiologists during her procedures to ensure patient safety (unfortunately this is not always the case with surgeons).
Aren't all doctors who perform cosmetic plastic surgery procedures board-certified?
Sadly, no. Many are not certified to do the cosmetic procedures they are performing. That can lead to significant problems for any patient who has complications. It can also mean that the surgeon who performed your procedure cannot even admit you to a hospital or provide any follow-up care at the hospital.
Dr. Saber's extensive training, board certification, and experience as a noted reconstructive surgeon serve as an assurance that her approach to surgery is ethical, safe, and effective.
Why choose Dr. Saber for your Tummy Tuck in the Los Angeles area?
Dr. Sepideh Saber, MD, FACS graduated from Stanford University's world-renowned medical school and took her plastic surgery residency at the University of Southern California (USC). She then completed a fellowship at New York University (NYU) in the extremely challenging and delicate areas of hand surgery and microsurgery.
Dr. Saber offers a more sensitive, female perspective for patients of all ages, genders, and orientations. Former patients from all walks of life have praised not only their outcomes but her caring, thoughtful approach to all types of appearance and health-related matters.
To request a consultation, call 818-818-2939 or click here to schedule a consultation online.
Dr. Saber takes her patients' safety very seriously. Her facility's Covid-19 patient safety procedures exceed all CDC and World Health Organization recommendations. Masks are required in our office at all times during the coronavirus pandemic.
The practice of Dr. Saber is located in Encino, CA for patients throughout the Los Angeles area. We are also convenient to Encino, Woodland Hills, Sherman Oaks, Calabasas, Burbank, Glendale, Hidden Hills, Agoura Hills, Northridge, North Hollywood, Malibu, Topanga, Canoga Park, Reseda, Valley Glen, Chatsworth, West Hills, Winnetka, Universal City, Bel Air, Beverly Hills, Downtown Los Angeles, Silverlake, and Echo Park.
What patients say about
Dr. Saber

…

I LOVED DR SABER!!! There are a few reasons why I chose her. One was because she's a female Doctor that was my goal who also did a good job (which I was able to confirm with all her before and after photos) and what sold me was my safety in mind. She made me feel like I was in the best hands ever along with Marlene who coordinated everything THANK YOU LADIES!
Dr Saber helped me get back the body I have always desired. I had a lot of stomach fat from weight gain and I lost weight so a lot of my weight was in my front lower and upper abdomen.
Now I have a super beautiful curvy body like an hourglass after a tummy tuck and lipo she did. She understood the assignment hahaha . I'm 32 years old no kids just wanted to enjoy my younger body looking and feeling beautiful and she really took good care of me. Even after hours I had an emergency due to my fault but she was there and got back to me very quickly and I'm very grateful. I also think her work says a lot because I stopped taking pain medication on the 3rd day after surgery and was fine with very minimal pain I was able to tolerate the healing process. Highly recommend going with her I just had a wonderful experience and would do it all over again if I had too. Maybe after I have kids. Thanks Dr Saber and team
Stories

from Our Blog We Think You'll Like