Stubborn fat deposits are the worst
When you've worked your "you-know-what" off trying to get rid of stubborn excess fat and it's not making a big enough difference, what are you doing wrong?
Sometimes, you aren't doing anything wrong, but you have discovered that not all areas of your body will respond sufficiently to weight loss, diet, and exercise. So now what? Liposuction might be the answer.
What is Liposuction?
Liposuction (also called "Lipo" and "lipoplasty") is a cosmetic procedure that removes fat that you can't seem to get rid of. Lipo uses a suction technique to remove the fat from specific areas of the body that holds onto fat deposits that diet and exercise do not satisfactorily reduce or eliminate.
Liposuction can also be part of larger cosmetic procedures, such as "mommy makeovers," breast augmentation, and neck lifts, to name just a few.
Though many prospective liposuction patients perceive the cosmetic procedure as being specifically for women, the opposite is true. Men also find success with liposuction…
Using my Stanford University training, I consistently achieve natural-looking body contouring for my patients with liposuction in all applicable areas of the body. Plus, I do it in the safest and most efficient manner possible.
According to the International Society of Aesthetic Plastic Surgery, liposuction is one of the most popular plastic surgery procedures worldwide, performed 1.7 million times in 2018 alone. In fact, in the United States alone liposuction procedures spiked 32% between 2014 and 2018.
What parts of the body can Liposuction be safely used on?
Common treatment areas that a plastic surgeon commonly performs liposuction on include: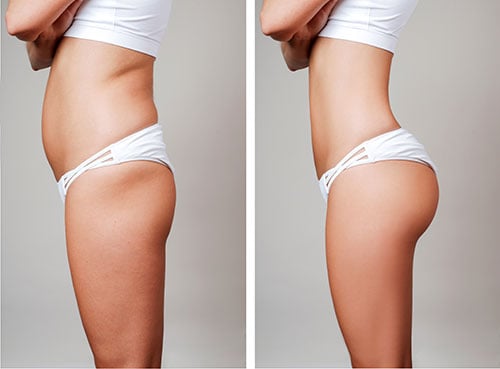 Abdomen and Flanks ("Love Handles")
Arms
Axilla and bra line
Thighs and knees
Back
Hips
Buttocks
Chest
Breasts
Neck and jawline
Calves and ankles
Liposuction also shapes (contours) these areas, hence why it's known as "body contouring.
Are you a good candidate for liposuction?
Though many prospective liposuction patients perceive the cosmetic procedure as being specifically for women, the opposite is true. Men find success with liposuction in treating gynecomastia (reducing fatty breasts) and as an addition to facelifts or other plastic surgeries.
Ask yourself if any of the following body descriptions pertain to you:
You have fat accumulations that do not respond to diet and exercise.
Your basic skin elasticity is good, with limited sagging skin. (Liposuction demonstrates the best result when the skin has enough tone to adapt to the body's new shape.)
What liposuction cannot do
It's important to have realistic expectations as you explore the possibilities of liposuction. So keep in mind that liposuction is not a miracle cure and won't help some problems.
If it's loose skin you want to address, be advised that liposuction is not your best method. Liposuction targets fat removal, not sagging skin or obesity. Other options that may be more effective include a tummy tuck or body lift.
A liposuction procedure is not an effective method for losing a large amount of weight. The procedure may help you look thinner and fitter, but that does not translate to a different reading on the scale. Liposuction candidates should be satisfied with their weight before surgery.
What happens during a liposuction procedure?
First, you'll check into a surgery center for the outpatient procedure. Before your surgery, you'll be administered sedation, general anesthesia, or local anesthetic by a board-certified anesthesiologist.
I'll make small incisions in your natural skin creases to keep scarring to a minimum. A thin cannula is then inserted into the incisions to suction out the fat from unwanted areas. That process is repeated throughout the desired areas of your body, so the final result looks natural and well-balanced.
Liposuction techniques
During your consultation, we'll discuss the types of liposuction and decide which one is appropriate for your situation.
Tumescent liposuction, or traditional liposuction: is the most common form of liposuction. It is safe, effective, and has a short recovery time. This procedure starts with an injection of local anesthetic and epinephrine into the treatment area. The solution makes the fatty layer firmer and easier to sculpt and constricts the blood vessels to reduce blood loss.
Power-assisted liposuction: The surgeon uses a special cannula that moves in a quick back-and-forth motion to break down the fat cells before suctioning them out. The advantage of this procedure is the smaller incision that targets the specific areas of the body without damaging the surrounding tissue. Unlike traditional suction-assisted liposuction, the cosmetic surgeon does not have to manually move the cannula; this makes the procedure faster and more efficient. Dr. Saber now uses a PAL Lipo Machine in-office, eliminating the need and expense of a procedure being done at a surgery center.
Ultrasonic-assisted liposuction (lipoplasty or UAL): Sometimes used in conjunction with traditional liposuction, ultrasound-assisted liposuction (or ultrasonic liposuction) utilizes sound waves to break down fat cells in the target area. This makes the fat easier to extract. While this type of liposuction is precise, it does have an increased risk of scarring.
Laser-assisted liposuction, or SmartLipo: This procedure uses a high-intensity laser inserted through a small access site to break down body fat. The laser energy liquefies fat deposits without damaging the surrounding tissue. When the fat is liquified, removing it is easy.
Vibration amplification of sound energy (VASER): This liposuction breaks apart fat cells and loosens them from your deeper tissues. Then, the fat cells can be more effectively removed.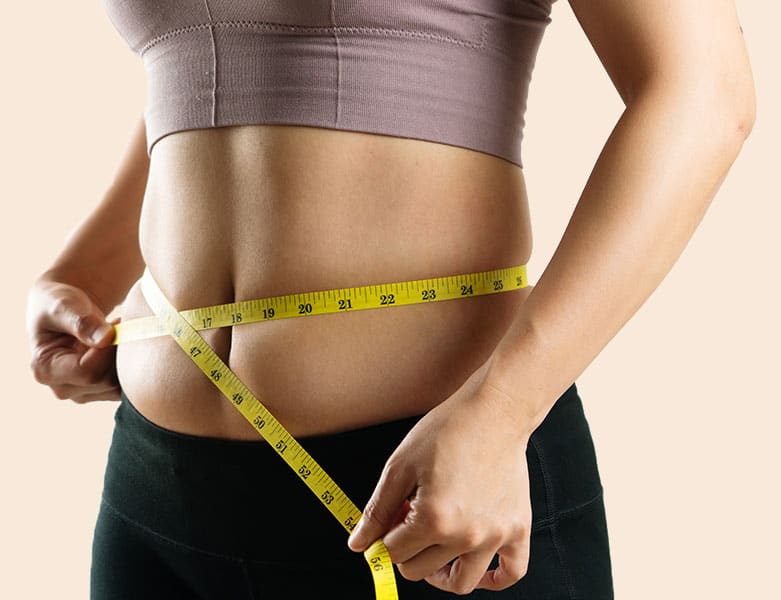 Is liposuction safe?
Like any surgical procedure, there are risks. Possible side effects include:
Bleeding
Infection
blood clots
adverse reaction to anesthesia
I'll go over any potential risks prior to your surgery as well as answer any questions. It's important that my patients feel comfortable and make fully informed decisions.
To avoid complications, the following people should avoid liposuction:
smokers
patients with weakened immune systems
people with saggy or excess skin
patients on blood thinning medications
people with a history of cardiovascular disease, deep vein thrombosis, diabetes, or seizures
Good candidates for liposuction will be within 30% of their ideal weight and have good skin elasticity.
Read more about liposuction and how to reduce your risk of complications.
What is the post-surgery Liposuction recovery process like?
After a liposuction procedure, patients typically notice swelling and bruising in the treated areas. You'll receive compression garments, a prescription for pain medication, and prophylactic antibiotics for a smooth recovery.
Several days after liposuction surgery you will return to the office for a follow-up appointment.
Most patients return to work after a few days and resume light activities within two weeks. During the months after your procedure, swelling will lessen, and the final results will come into focus. Any scarring fades during that time.
Liposuction Frequently Asked Questions
Q: Should I lose weight before liposuction?
A: I get this question from patients quite often, and my answer is you should if you are not at, or almost at, your desired body weight. Liposuction is ideal for reducing localized fat deposits, rather than removing massive amounts of weight (in most cases).
Q: Does insurance cover liposuction?
A: Because liposuction is considered cosmetic surgery, most insurance companies do not cover it. But check with your insurance provider for your exact coverage options.
Q: How much does liposuction cost?
A: Though there are several factors dictating the cost of liposuction, the average cost as of 2019 was around $3600, according to the American Society of Plastic Surgeons.
However, that figure represents only part of the total price. Other factors include operating room charges, anesthesia, medical tests, and prescriptions.
During your consultation, we'll go over your expected costs. No surprise bills!
Why choose a Board-Certified Surgeon?
Aren't all doctors who perform cosmetic plastic surgery procedures board-certified? Sadly, the answer is "no," as many are not certified to do the cosmetic procedures they are performing. And that can lead to significant problems for any patient who has any complications. It can also mean that the surgeon who performed your procedure cannot even admit you to a hospital or provide any follow-up care at the hospital.
Plastic surgery is a specialty and requires an average of 14 years of higher education, including specific training in reconstructive and cosmetic surgery, according to the American Board of Plastic Surgery.
Dr. Saber's extensive training, board certification, and experience as a noted reconstructive surgeon serve as an assurance that her approach to surgery is ethical, safe, and effective.
Why choose Dr. Saber for your Liposuction in the Los Angeles area?
Dr. Sepideh Saber, MD, FACS, is a Los Angeles plastic surgeon who is board-certified by the American Board of Plastic Surgery.
She graduated from Stanford University's world-renowned medical school and did her plastic surgery residency at the University of Southern California (USC). Then, she completed a fellowship at New York University (NYU) in the extremely challenging and delicate area of hand surgery as well as microsurgery.
Dr. Saber offers a more sensitive, female perspective for patients of all ages, genders, and orientations. Former patients from all walks of life have praised not only their outcomes but her caring, thoughtful approach to all types of appearance and health-related matters.
To request a consultation, call 818-818-2939 or schedule a consultation online.
The practice of Dr. Saber is located in Encino, CA for patients throughout the Los Angeles area. We are also convenient to Encino, Woodland Hills, Sherman Oaks, Calabasas, Burbank, Glendale, Hidden Hills, Agoura Hills, Northridge, North Hollywood, Malibu, Topanga, Canoga Park, Reseda, Valley Glen, Chatsworth, West Hills, Winnetka, Universal City, Bel Air, Beverly Hills, Downtown Los Angeles, Silverlake, and Echo Park.
What patients say about
Dr. Saber

…

I LOVED DR SABER!!! There are a few reasons why I chose her. One was because she's a female Doctor that was my goal who also did a good job (which I was able to confirm with all her before and after photos) and what sold me was my safety in mind. She made me feel like I was in the best hands ever along with Marlene who coordinated everything THANK YOU LADIES!
Dr Saber helped me get back the body I have always desired. I had a lot of stomach fat from weight gain and I lost weight so a lot of my weight was in my front lower and upper abdomen.
Now I have a super beautiful curvy body like an hourglass after a tummy tuck and lipo she did. She understood the assignment hahaha . I'm 32 years old no kids just wanted to enjoy my younger body looking and feeling beautiful and she really took good care of me. Even after hours I had an emergency due to my fault but she was there and got back to me very quickly and I'm very grateful. I also think her work says a lot because I stopped taking pain medication on the 3rd day after surgery and was fine with very minimal pain I was able to tolerate the healing process. Highly recommend going with her I just had a wonderful experience and would do it all over again if I had too. Maybe after I have kids. Thanks Dr Saber and team