What is a rhinoplasty?
Rhinoplasty, more commonly referred to as a "nose job," is one of the oldest and most frequently performed plastic surgeries. Cosmetic surgery can be daunting, but I seek to bring a compassionate, female perspective.
Here, we're going to go over the types of rhinoplasty and answer some commonly asked nose job questions.
What does Rhinoplasty mean?
In common parlance, rhinoplasty is just a nose job. The word comes from the Greek "rhinos" (meaning "nose") and "plassein" (meaning "to shape").
So "rhinoplasty" just means "shaping the nose."
What is a Nose Job?
A nose job is facial plastic surgery designed to change the size and/or shape of the nose. The surgical procedure can be cosmetic or functional (or both!).
Changing the appearance of the nose can have great emotional benefits for the patient, increasing their self-confidence. Reshaping the nose for functional purposes brings relief of breathing problems.
See the great results of our actual patients in our photo gallery!
Rhinoplasty for Cosmetic Purposes
For many individuals, the shape or appearance of their nose can be a source of lifelong anxiety. This is not surprising given that the nose is the single most central and prominent facial feature. Whether it's a bump on the bridge, enlarged nostrils, or issues of asymmetry in relation to the rest of the face, rhinoplasty can help patients achieve a facial appearance that makes them feel more comfortable and confident.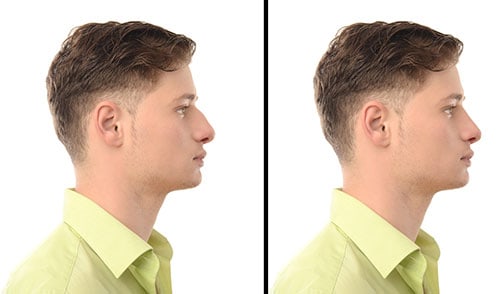 The patient may experience self-consciousness due to being born with a prominent nose or due to a nose misshapen by trauma or disease.
In many cases, a less pronounced nose can foster a more youthful appearance. Interestingly, this is because the nose never stops growing as we age. Therefore, most people unconsciously associate a smaller nose with a younger age.
Rhinoplasty has gotten a bit of a bad rep due to "bad celebrity nose jobs" giving celebrities small, pinched noses. My goal (and the goal of any skilled cosmetic surgeon) is to make your nose blend seamlessly with the rest of your face.
Septoplasty for Medical Purposes
Septoplasty is often used to correct breathing issues that are caused due to the misalignment of the nasal septum or due to enlarged nasal turbinates (nasal passages that help warm and moisten the air flowing through the nose). These problems can include difficulty breathing and/or excessive snoring and can also complicate sleep apnea and its treatment.
Septoplasty corrects cartilage placement, thus enabling better breathing.
Septorhinoplasty – A Little Bit of Both
Sometimes patients who require nasal surgery to address a deviated septum, enlarged turbinates, or similar issues decide to also address the nose's appearance. Since this is a rare instance when insurance may cover plastic surgery, it represents a great opportunity to combine medical and cosmetic procedures.
Is Rhinoplasty Right for You?
Individuals looking to enhance the appearance or shape of their nose as well as those struggling with nasally-based breathing issues are often good candidates for rhinoplasty. However, as with any surgery, not everyone is a candidate. While nose surgery can improve a nose's appearance and flatter the entire face, it's important to maintain reasonable expectations.
Before your procedure, I'll take a thorough look at your situation to ensure the procedure can be performed safely and effectively. I will never recommend a procedure if I don't think it will benefit my patient. When I tell you that you are or are not a good candidate, I'm being completely honest.
For those seeking facial rejuvenation, a nose job in addition to other cosmetic surgery procedures (for instance: liposuction or a neck or facelift) can help create a more youthful appearance.
What is a Rhinoplasty Procedure?
That depends! There are multiple types of rhinoplasty surgery depending on the patient's needs and goals. During your consultation with your plastic surgeon, they'll decide which procedure is best for you.
Primary Rhinoplasty
If you've never had nasal surgery before, your nose job will be "primary rhinoplasty" (as opposed to "revision rhinoplasty" which we'll discuss later.)
Rhinoplasty is a highly delicate surgical procedure as every millimeter of change impacts the appearance of your nose.
There are two techniques for rhinoplasty surgery: open and closed.
Open vs Closed Rhinoplasty
Open rhinoplasty involves a small incision in the skin over the columella (the bit of cartilage between your nostrils). This procedure may result in a small scar that is typically barely visible due to the shape of the nose and placement of the incision. The benefit of open rhinoplasty is that it allows the cosmetic surgeon to better see the underlying structures.
Open rhinoplasty is also beneficial when extensive nasal tip reconstruction is needed.
Closed rhinoplasty does not require cutting into the columella, so it usually translates to faster recovery. Closed rhinoplasty also decreases post-operative discomfort and avoids leaving a scar. However, this surgical procedure also limits the rhinoplasty surgeon's freedom during the procedure and forces them to work through a much smaller opening.
Changing the appearance of the nose can have great emotional benefits for the patient…
Septoplasty
As previously mentioned, septoplasty is a nasal surgery to help patients with a deviated septum.
Your septum is the cartilage that separates the nasal passages. A deviated septum is a structural abnormality of this cartilage that can cause breathing problems.
Revision Rhinoplasty
Unfortunately, not all plastic surgeons are created equal and, with how common nose jobs have become, bad surgery results do happen. Revision rhinoplasty (or secondary rhinoplasty) is a corrective plastic surgery.
If another surgeon's rhinoplasty left subpar results or damaged the nose, my team and I will do our best to fix it.
Ethnic Rhinoplasty
This particular version of the surgical procedure improves the look of the nose while keeping it in balance with the rest of the facial features. Ethnic rhinoplasty often requires more subtle reshaping to suit the patient's ethnic identity.
Asian, African American, Hispanic, Middle Eastern, and Caucasian patients have needs as diverse as their backgrounds. Certain nasal anatomy traits and skin thickness variations exist among different ethnic groups; a skilled surgeon must take these into account when planning the rhinoplasty procedure.
Non-Surgical Rhinoplasty
Also known as liquid rhinoplasty, non-surgical rhinoplasty creates minor adjustments to the nose without the need for surgery.
This rhinoplasty procedure consists of injecting dermal fillers under the skin to correct asymmetry, fill dips, and create a straighter-looking nose. A facial plastic surgeon may also add fillers to the chin to balance out a larger nose.
However, this rhinoplasty procedure is not permanent, and the fillers must be repeated every year or so. This can be a great option for patients who only need small adjustments or want to see what their new nose will look like before committing to rhinoplasty surgery.
How is a Nose Job performed?
The first step of any plastic surgery procedure is the consultation. We'll review your medical history, desired outcome, and go over any questions or concerns you may have. You will always be fully aware of any risks and expected benefits before agreeing to a procedure.
Dr. Saber offers a more sensitive, female perspective for patients of all ages, genders, and orientations.
For your comfort, you will be sedated or under general anesthesia during your surgery. Then, I will perform your rhinoplasty surgery (open, closed, septoplasty, etc) as discussed during the consult.
During the procedure, we'll work toward the most appealing and symmetric aesthetic outcome by reshaping nasal bones, cartilage, and skin envelope as needed. For septoplasty, the septal positioning will be adjusted to relieve breathing problems. If the turbinates are enlarged or enflamed, the surgeon will reduce the size to improve breathing.
Once enhancements are complete, I carefully close the incisions to provide the best results and minimal visible scarring.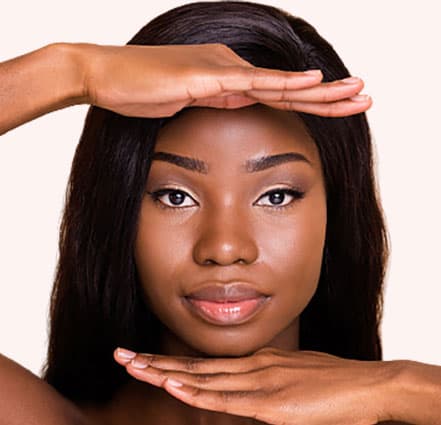 Is a nose job safe?
All surgeries come with minor risk. However, complications from rhinoplasty are very uncommon. I always work with a board-certified anesthesiologist during surgery for patient safety.
Risks may include:
Bleeding
Infection
Difficulty breathing
Asymmetry
How long is Nose Job Recovery?
Unlike minor procedures like Botox, a nose job does have a more significant recovery time. Your doctor will advise you on your exact recovery time, but at minimum, you'll have a nasal splint to wear for the first few days. The splint supports and protects the nose while it heals.
I'll go over all post-op care instructions with you before surgery and make sure you understand them.
You may experience swelling, bleeding, or drainage for a few days post-surgery in addition to some bruising around the eyes. Gauze can be used to absorb blood or drainage from the nose and should be changed regularly.
When the swelling subsides, the changes to your appearance will gradually take shape. You may immediately appreciate the improvement, but the final results will take several months to fully manifest.
Two to three weeks after your rhinoplasty surgery you can resume daily activities. However, strenuous exercise and activity should be avoided for the first three to six weeks.
Nose Job Frequently Asked Questions
What's the age for a nose job?
Common rhinoplasty patients are teenagers who have grown self-conscious about their appearance. However, a nose job should not be performed until the nose has reached its adult size (about age 15 or 16 for girls, 16 to 17 for boys).
The other common group of rhinoplasty patients is slightly older. Either people who've been concerned about their nose's appearance for a while or older adults who've suddenly noticed their nose is larger or droopier than it used to be.
Is a nose job painful?
The anesthetic and/or sedation will keep you pain-free and comfortable during your surgery.
During recovery, you will probably have some discomfort. While you'll be provided with a prescription pain medication, most rhinoplasty patients are able to manage post-operative pain with over-the-counter pain medication.
Will insurance cover rhinoplasty?
In general, insurance won't cover cosmetic surgery. However, if your surgery is to solve a deviated septum or other medical concern, it may be covered.
Discuss your medical concerns with your primary care provider and talk to your insurance provider about your coverage options.
How much does a nose job cost?
According to the American Society of Plastic Surgeons, the average rhinoplasty cost in 2019 was $5,409 (excluding anesthesia, operating room fees, and other related expenses).
We will determine the total cost of your procedure after evaluation and consultation. You will be made aware of the estimated cost before your surgery. No surprise bills!
How long does a nose job last?
While it can take up to a year to see the final results, a nose job can last a lifetime. Although, subtle changes from aging and gravity sometimes necessitate a second procedure to recorrect the shape and size of the nose
Why it's critically important to choose a Board-Certified Plastic Surgeon
All surgery comes with risk; we all know this. But did you know that many doctors who perform plastic surgery are not board-certified plastic surgeons?
For a surgeon to become board certified, they must have at least 14 years of higher education including special intensive training in reconstructive and cosmetic surgery.
This means that in the very unlikely event of a complication, it can be handled quickly and efficiently. Board-certified plastic surgeons have full admitting privileges at local hospitals. Non-board-certified plastic surgeons do not, thus they cannot even treat you outside of their own surgery center. Additionally. Dr, Saber always works with leading board-certified anesthesiologists during her procedures to ensure patient safety (unfortunately this is not always the case with surgeons).
Aren't all doctors who perform cosmetic plastic surgery procedures board certified?
Sadly, no. Many are not certified to do the cosmetic procedures they are performing. That can lead to significant problems for any patient who has complications. It can also mean that the surgeon who performed your procedure cannot even admit you to a hospital or provide any follow-up care at the hospital.
Dr. Saber's extensive training, board certification, and experience as a noted reconstructive surgeon serve as an assurance that her approach to surgery is ethical, safe, and effective.
Why choose Dr. Saber for the Top Rhinoplasty in the Los Angeles area?
Dr. Sepideh Saber, MD, FACS, offers a more sensitive, female perspective for patients of all ages, genders, and orientations. Patients from all walks of life have praised not only their final outcomes but her caring, thoughtful approach to all types of appearance and health-related matters.
Dr. Saber graduated from Stanford University's world-renowned medical school and did her reconstruction and plastic surgery residency at the University of Southern California (USC). She then completed a fellowship at New York University (NYU) in the extremely challenging and delicate area of hand surgery, as well as microsurgery.
To request a free consultation, call (877) 205-4100 or schedule a consultation online.
Dr. Saber takes her patients' safety very seriously. Her facility's Covid-19 patient safety procedures exceed all CDC and World Health Organization recommendations. Masks are required in our office at all times during the coronavirus pandemic.
The practice of Dr. Saber is located in Encino, CA for patients throughout the Los Angeles area. We are also convenient to Encino, Woodland Hills, Sherman Oaks, Calabasas, Burbank, Glendale, Hidden Hills, Agoura Hills, Northridge, North Hollywood, Malibu, Topanga, Canoga Park, Reseda, Valley Glen, Chatsworth, West Hills, Winnetka, Universal City, Bel Air, Beverly Hills, Downtown Los Angeles, Silverlake, and Echo Park.
What patients say about
Dr. Saber

…

I LOVED DR SABER!!! There are a few reasons why I chose her. One was because she's a female Doctor that was my goal who also did a good job (which I was able to confirm with all her before and after photos) and what sold me was my safety in mind. She made me feel like I was in the best hands ever along with Marlene who coordinated everything THANK YOU LADIES!
Dr Saber helped me get back the body I have always desired. I had a lot of stomach fat from weight gain and I lost weight so a lot of my weight was in my front lower and upper abdomen.
Now I have a super beautiful curvy body like an hourglass after a tummy tuck and lipo she did. She understood the assignment hahaha . I'm 32 years old no kids just wanted to enjoy my younger body looking and feeling beautiful and she really took good care of me. Even after hours I had an emergency due to my fault but she was there and got back to me very quickly and I'm very grateful. I also think her work says a lot because I stopped taking pain medication on the 3rd day after surgery and was fine with very minimal pain I was able to tolerate the healing process. Highly recommend going with her I just had a wonderful experience and would do it all over again if I had too. Maybe after I have kids. Thanks Dr Saber and team
Stories

from Our Blog We Think You'll Like