What is a facial fat transfer?
Facial Fat transfer, also known as "facial fat grafting," is a cosmetic procedure that adds facial volume using fat from your own body. This procedure can have a rejuvenating effect on the:
cheeks
the area around the nostrils
nasolabial folds
temples
lips
under eye bags and eye hollows
chin and jawline
Sometimes fat grafting can be combined with a facelift. With a facelift, we remove excess skin and tighten creases on the face — reducing signs of aging. While facial fat transfer can create a more youthful appearance by restoring fullness to the face, it can't work miracles if there is an excessive amount of sagging skin. Removing excess skin in some parts of the face and restoring fullness to other areas can achieve more natural-looking results.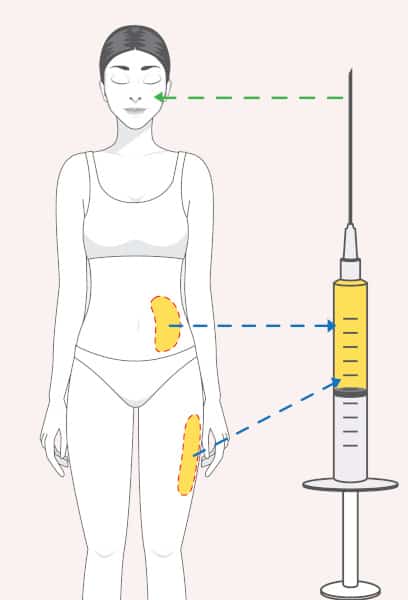 How is facial fat grafting performed?
We harvest excess fat using liposuction from parts of the body such as the abdomen, flanks, and thighs — making it almost a two-in-one procedure. Your own fat is then cleaned and placed into small syringes for transfer into areas of the face that require volume repletion.
The fat transfer procedure is a form of permanent filler (unlike temporary dermal fillers such as Juvederm and Restylane). In addition, autologous fat transfer reduces the chances of allergic reactions since the fat comes from your own body. While allergic reactions to dermal fillers are rare, they are possible because a foreign substance is injected under the skin.
According to Stanford University doctors, the injected fat's retention is approximately 60% — the rest of the fat cells are resorbed by the body and don't remain long-term.
What happens during the facial fat transfer procedure?
Before the procedure, I will examine your face to see which areas may benefit from a facial fat transfer. During this consultation, we will also review your goals and medical history and set realistic expectations.
Once we've settled on the look we're going for, I'll determine how much fat will need to be harvested from another area of the body and which area we will be taking the fat from.
Facial fat transfer is an outpatient procedure — meaning you'll go home the same day. We can achieve sedation via local anesthesia with oral sedation, IV sedation, or under general anesthesia. I always work with board-certified anesthesiologists for maximum patient safety when using IV sedation or general anesthesia.
No matter your form of sedation, the first step is to make small incisions into the donor area. A cannula — a thin tube — is inserted into the incision and sucks out the necessary amount of fat.
I then process the harvested fat in a centrifuge and transfer it to smaller syringes. I'll then perform fat injections to the target facial regions to reverse volume loss — usually in the deep tissues, to minimize the risk of contour irregularity.
The grafted fat will then join the blood supply in the face, and about 60% of the fat will survive. However, assuming your weight stays stable, the fat will last forever.
Facial fat grafting recovery time
Depending on your goals, I may inject small amounts of Botox into specific parts of the face to minimize the resorption of the newly transferred fat. You may notice mild decreases in muscle function as Botox freezes the muscles, but this is temporary.
Mild to moderate facial swelling is expected, as is moderate pain and swelling at the fat-harvested area. I will advise over-the-counter pain medications or prescribe stronger ones depending on your needs.
You will receive compression bandages after surgery. These should be worn consistently (24/7, except for breaks for showers) for two weeks. You will experience bruising at the liposuction site, which usually resolves within two to three weeks.
Typically, this procedure does not require any suture removal. Depending on your comfort level, you may return to work (desk job) after three to seven days. You may begin to gradually resume physical activity two weeks after surgery.
Bruising should resolve within two weeks, but it will take about nine months to see the final results.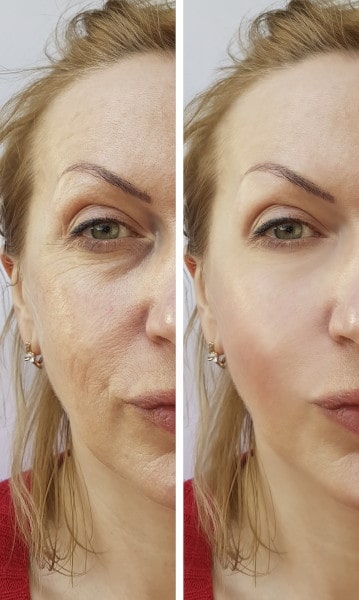 Are you a good candidate for fat transfer to the face?
The ideal candidates for facial rejuvenation include people who have a strong desire to minimize the effects of aging – whether it's sunken areas, furrows, creases, wrinkles, deep lines, or a combination of these features. A facial fat transfer can also augment and volumize the lips.
Facial fat transfers also treat a condition called lipoatrophy, which refers to the loss of the layer of fat on the face that gives shape to the cheeks and jawline. In addition, a facial fat transfer can reintroduce pleasing contours to your face by filling depressions.
Let your surgeon know about any existing medical conditions or medications you take, such as blood thinners. Do not smoke. If applicable, your cosmetic surgeon must also note what supplements you take. This information will help determine if you're a fit candidate for a facial fat transfer.
Why trust Dr. Saber for your facial fat transfer?
When undergoing any surgery — medical or cosmetic — you want to prioritize your health and safety. That's why patients in the Encino area go to board-certified plastic surgeon Dr. Sepideh Saber. Dr. Saber has years of experience, including a specialization in highly delicate hand surgery.
She brings that training and talent to all of her plastic surgery patients. In addition, she has admitting privileges at local hospitals. Meaning that if an unlikely complication arises, you will immediately receive the care you need, and she can lead the care team.
To request a consultation, call (877) 205-4100 or schedule a consultation online.
Dr. Saber takes her patients' safety very seriously. Her facility's Covid-19 patient safety procedures exceed all CDC and World Health Organization recommendations. Masks are required in our office at all times during the coronavirus pandemic.
The practice of Dr. Saber is located in Encino, CA, for patients throughout the Los Angeles area. We are also convenient to Encino, Woodland Hills, Sherman Oaks, Calabasas, Burbank, Glendale, Hidden Hills, Agoura Hills, Northridge, North Hollywood, Malibu, Topanga, Canoga Park, Reseda, Valley Glen, Chatsworth, West Hills, Winnetka, Universal City, Bel Air, Beverly Hills, Downtown Los Angeles, Silverlake, and Echo Park.
What patients say about
Dr. Saber

…

I LOVED DR SABER!!! There are a few reasons why I chose her. One was because she's a female Doctor that was my goal who also did a good job (which I was able to confirm with all her before and after photos) and what sold me was my safety in mind. She made me feel like I was in the best hands ever along with Marlene who coordinated everything THANK YOU LADIES!
Dr Saber helped me get back the body I have always desired. I had a lot of stomach fat from weight gain and I lost weight so a lot of my weight was in my front lower and upper abdomen.
Now I have a super beautiful curvy body like an hourglass after a tummy tuck and lipo she did. She understood the assignment hahaha . I'm 32 years old no kids just wanted to enjoy my younger body looking and feeling beautiful and she really took good care of me. Even after hours I had an emergency due to my fault but she was there and got back to me very quickly and I'm very grateful. I also think her work says a lot because I stopped taking pain medication on the 3rd day after surgery and was fine with very minimal pain I was able to tolerate the healing process. Highly recommend going with her I just had a wonderful experience and would do it all over again if I had too. Maybe after I have kids. Thanks Dr Saber and team
Stories

from Our Blog We Think You'll Like