Your face is the first thing people notice about you, so it can be difficult when you're not comfortable with aspects of your face. While makeup contouring can get you part of the way, it isn't perfect or permanent.
Luckily, there is a more permanent fix for trans women looking to achieve a more feminine appearance: cosmetic surgery. Multiple procedures fall under the umbrella of "facial feminization surgery" or "male-to-female (MTF) facial surgery."
What is facial feminization surgery?
Gender-affirming facial feminization — or facial feminization surgery (FFS) — is not just one procedure but a whole catalog of possible procedures. Basically, it is a set of surgical procedures designed to alter the facial features of transgender women or non-binary individuals who desire a more feminine appearance.
This type of surgery can help alleviate gender dysphoria, the distress experienced by people when their gender identity does not match the physical features of their body.
Additionally, cisgender women with more angular faces or "masculine" features sometimes choose FFS. No matter the patient's gender, my goal remains the same: making changes that fit naturally with the rest of your facial features.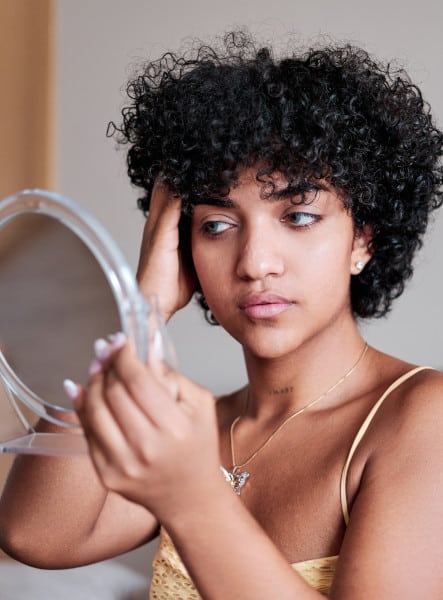 How does facial feminization surgery work?
Step one is a consultation with me. We'll review your medical history and goals. I will also want to know if you're currently undergoing any hormone therapy. Estrogen changes how your body distributes fat, which may be enough to reach your appearance goals, depending on your underlying facial structure.
During the consultation, I'll recommend the procedures to help you reach your aesthetic goals and review expected results and potential risks.
Your treatment plan may include a combination of the following FFS procedures:
Chin contouring
If you're worried about having a prominent or more square-shaped chin, there are a few options. Chin reduction (genioplasty) surgery involves shaving down or trimming the chin bone — making it smaller and potentially rounder.
Chin implants are also available. Depending on your chin shape and facial structure, implants can create a rounder chin without impacting the bone.
Facial fat transfer
Rounding out facial features can go a long way toward feminizing a face. While chin and cheek implants are good options for some people, the face can also be rounded out with fat grafting.
With this facial feminization procedure, we remove fat from elsewhere in the body (abdomen, thighs, buttocks, neck, etc.), purify it, and strategically inject it into the face. This fat can be used for cheek augmentation, chin, and jawline contouring, and to improve volume around the nose, temples, and lips.
Feminizing facelift and neck lift
Facelifts are especially useful for older patients or patients who have lost a lot of weight. Our body's collagen production slows as we age, causing our skin to lose elasticity. A surgical facelift removes sagging skin and tightens the skin and tissues. We can restore a youthful appearance while smoothing out your facial contours.
A neck lift further rejuvenates the face by removing excess skin around the neck. Reshaping the soft tissues of the neck and face can create a younger, more feminine appearance.
Lip lift and augmentation
Many women want fuller lips. Luckily, there are multiple ways to achieve this with or without a surgical procedure.
A lip lift surgically moves the upper lip closer to the nose. This makes the top lip look fuller, gives more definition to the Cupid's bow and rebalances the lower third of your face.
A lip flip uses Botox to relax the muscles around your mouth temporarily. The corners of the mouth flip upward, creating a fuller, more youthful appearance for about three to four months.
Lip fillers are a quick method of lip augmentation. Fillers artificially fill out the lips for about 12 to 18 months.
Neck/jaw liposuction
Liposuction removes excess fat deposits. This can be useful for the neck and jawline, removing excess fat and reshaping your facial contours. This can also be combined with fat grafting — the fat is removed from your neck or jawline and added elsewhere in the face to create a balanced look.
Nose job
Rhinoplasty (commonly called a nose job) can make drastic facial changes on its own. Because your nose is the center point of your face, nose reshaping can balance out your entire face. Noses come in various shapes and sizes, and no one-size-fits-all approach exists. However, many people think a smaller, thinner, or more upturned nose is more "feminine."
For a non-permanent option, I can also do a liquid rhinoplasty. Liquid rhinoplasty uses dermal fillers to adjust the shape and contour of the nose. It's suitable for patients seeking a minor change or wanting to "preview" their nose before permanent reshaping.
Surgical hairline advancement
Women's hairlines generally fall lower on the forehead than men's. In addition, if you're transitioning later in life, you may already struggle with a receding hairline.
Hairline lowering is a facial plastic surgery that pulls the scalp farther down the forehead, shortening the forehead and reversing a receding hairline. This can be combined with hair transplantation to fill out thinning hair. A brow lift can be added to raise the browline and shorten/balance the forehead.
Other FFS procedures
While we can achieve wonderful results using cosmetic surgery, some patients express interest in more advanced changes. A craniofacially-trained plastic surgeon can change the underlying bone structure of the face.
Forehead contouring surgically files down or removes the bony ridge above the eyes.
Mandible contouring can be performed surgically by shaving down or moving the jaw bone.
A tracheal shave shaves down the thyroid cartilage to minimize the appearance of the Adam's apple.
Is facial feminization surgery worth it?
For patients struggling with gender dysphoria, facial feminization procedures can make a world of difference. There are also less-invasive options, such as Botox and dermal fillers, that can create great results.
While all plastic surgery comes with some discomfort, FFS has high satisfaction rates and improved quality of life. When working with a skilled, trusted surgeon, you can achieve natural-looking results with little to no visible scarring.
I never rush or pressure my patients into surgery, and I will never recommend a procedure unless I think you'll be satisfied with the results. During our initial consultation, we'll review your appearance goals and set realistic expectations.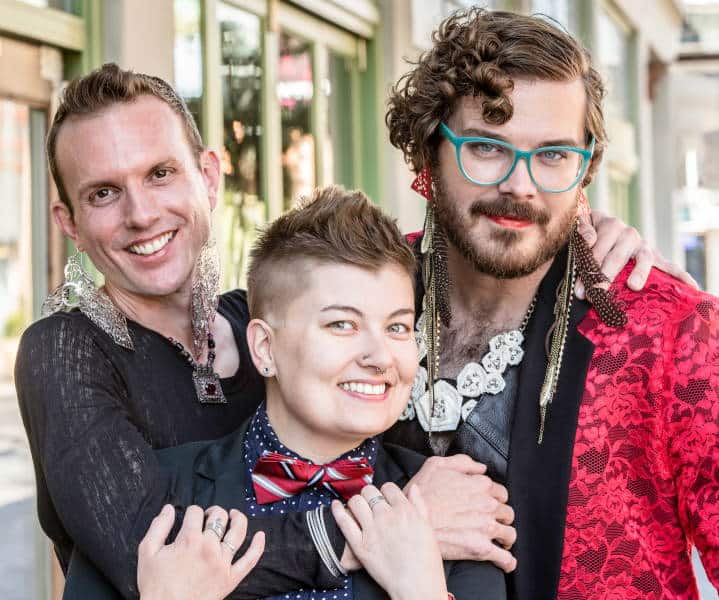 A personal note about facial feminization surgery
It's important to remember that not all transgender individuals desire or pursue FFS. FFS is a personal decision that should be made in consultation with a qualified healthcare provider. The decision to undergo FFS should be made after careful consideration of the risks, benefits, potential outcomes, personal preferences, and circumstances. It is critically important that my patients make decisions that are best for themselves, first and foremost, and not at anyone else's urging.
Looking for gender-affirming plastic surgery near Los Angeles? Choose Dr. Saber
As a board-certified plastic surgeon and member of the World Professional Association for Transgender Health (WPATH), Dr. Saber takes pride in helping nonbinary and transgender patients on their gender journeys. This page is for those planning gender-affirming surgery or interested in their options.
An expert in plastic and reconstructive surgery, Dr. Sepideh Saber offers a more compassionate female perspective on cosmetic surgery. Her list of satisfied patients includes people from all walks of life and gender identities.
While she does not perform genital surgery, she happily offers top surgery and body contouring (masculinizing and feminizing) for trans and nonbinary patients.
Scheduled your consultation today. Call us at (877) 205-4100 or schedule a consultation online.
The practice of Dr. Saber is located in Encino, CA, for patients throughout the Los Angeles area. We are also convenient to Encino, Woodland Hills, Sherman Oaks, Calabasas, Burbank, Glendale, Hidden Hills, Agoura Hills, Northridge, North Hollywood, Malibu, Topanga, Canoga Park, Reseda, Valley Glen, Chatsworth, West Hills, Winnetka, Universal City, Bel Air, Beverly Hills, Downtown Los Angeles, Silverlake, and Echo Park.
Dr. Saber takes her patients' safety seriously. The facility's Covid-19 patient safety procedures exceed all the CDC's coronavirus pandemic recommendations. Masks are always required in our healthcare facilities.
What patients say about
Dr. Saber

…

I LOVED DR SABER!!! There are a few reasons why I chose her. One was because she's a female Doctor that was my goal who also did a good job (which I was able to confirm with all her before and after photos) and what sold me was my safety in mind. She made me feel like I was in the best hands ever along with Marlene who coordinated everything THANK YOU LADIES!
Dr Saber helped me get back the body I have always desired. I had a lot of stomach fat from weight gain and I lost weight so a lot of my weight was in my front lower and upper abdomen.
Now I have a super beautiful curvy body like an hourglass after a tummy tuck and lipo she did. She understood the assignment hahaha . I'm 32 years old no kids just wanted to enjoy my younger body looking and feeling beautiful and she really took good care of me. Even after hours I had an emergency due to my fault but she was there and got back to me very quickly and I'm very grateful. I also think her work says a lot because I stopped taking pain medication on the 3rd day after surgery and was fine with very minimal pain I was able to tolerate the healing process. Highly recommend going with her I just had a wonderful experience and would do it all over again if I had too. Maybe after I have kids. Thanks Dr Saber and team
Stories

from Our Blog We Think You'll Like