Are Cosmetic Injectables Actually Safe?

A Plastic Surgeon's Guide


Choosing just the right injectable treatment can seem overwhelming. You may have questions about safety, possible side effects, and how one product compares with another. You may also have concerns about the reversibility of the process. Let's take a closer look at cosmetic injectables and dermal fillers.

The concept of taking fat from one part of the body and injecting it into another place is not something new. At the end of the 19th century, a surgeon removed fat tissue from a patient's upper arm and reinjected the tissue into the patient's face to lessen the appearance of a scar. Over time, artificial substances were developed for use in place of fatty tissue.
Botox and Fillers: what you need to know
Botox and dermal fillers deliver similar results as they are both used in treating wrinkles on the face. Because they aren't surgical procedures, these injectable treatments give great, long-lasting results with no downtime.
However, different injectables behave differently in the body and are used to obtain different goals. Your injector will choose the best treatment option for you based on your goals.
About Botox
Botox® Cosmetic is a muscle relaxant neurotoxin and works by paralyzing the muscle near unwanted facial wrinkles. Typically, these lines are around the eyes and mouth. Once the facial muscles around these areas are relaxed, the doctor will smooth the skin, giving the patient a more youthful appearance.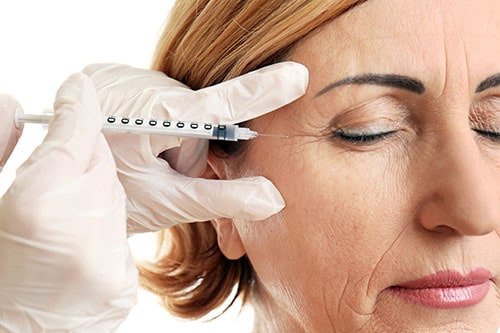 Although it's best known as a treatment to smooth wrinkles, Botox has many uses throughout the body. Botox can be useful for:
Hyperhidrosis (excessive sweating)
Crow's feet
Frown lines
Forehead lines
Controlling muscle spasms
Strabismus (an eye-alignment issue)
Is Botox Safe?
As far as the long-term effects of Botox, according to the National Institutes of Health, "there are no long-term or life-threatening adverse effects related to botulinum toxin treatment for any cosmetic indications." Botox has an excellent safety record with long-term use.
Dysport vs. Botox
Like Botox, Dysport was approved for medical use in many other applications before cosmetic purposes. The products work in similar ways and contain the same active ingredient, but Botox was approved by the FDA for cosmetic use in the U.S. back in 2002, with Dysport receiving the same designation in 2009.
Although the two products contain the same active ingredient, they differ in concentration. Botox is nearly three times more concentrated than Dysport. Many surgeons have a preference for use based on the location being treated.
About Dermal Fillers
While Botox is often used to smooth out fine lines near the delicate muscles of the face, injectable fillers are usually the product of choice for treating volume loss throughout the face. Another common cosmetic procedure is the application of dermal fillers to give the lips a more defined shape or add plumpness.
The appearance of scar tissue caused by burns, acne, or other wounds is significantly reduced by treatment with dermal fillers. For these cases, dermal fillers are injected directly under the skin to lessen the scar's appearance and improve the skin's smoothness.
As we age, our body's natural collagen production slows and our skin loses elasticity. Dermal fillers reverse the signs of aging by restoring volume along the nasolabial folds (smile lines), jawline, and anywhere else volume loss has resulted in wrinkles.
…different injectables behave differently in the body and are used to obtain different goals.
Dermal fillers are made of different substances, and there are many dermal filler brands, with some performing better than others in specific applications. While there are some more common dermal filler brands, your surgeon is the best authority for determining which type of filler will work best for your needs.
Hyaluronic Acid Fillers
Hyaluronic acid (HA) is a group of sugar molecules naturally found in tears and other tissues. This substance also helps in joint lubrication and is a significant ingredient in maintaining the correct moisture balance in the skin.
Juvederm® brand products (including Voluma, Vollure, and Volbella) are FDA-approved hyaluronic acid fillers. They're generally best for the "lower third" of the face, such as marionette lines, lip lines, and lip augmentation.
Belotero® and Restylane® brand products are also FDA-approved HA fillers.
Calcium Hydroxylapatite filler
For nearly 20 years, calcium hydroxylapatite (CaHA) has been one of the world's most popular and well-studied cosmetic filler substances. Many physicians consider this completely biodegradable gel the gold standard in volume restoration and midface rejuvenation.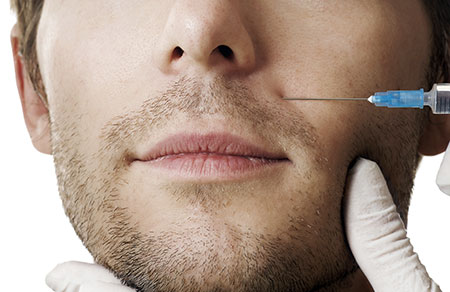 The unique properties of CaHA fillers provide the skin with increased viscosity and elasticity while providing a natural-looking "plump" that works exceptionally well near the temples and chin, where the filler behaves much like a liquid implant. The material is found naturally in human bones and is considered long-lasting but non-permanent.
Known for producing results that look very natural, CaHA is routinely used to address more profound and pronounced lines and creases of the face. This filler does not spread and tends to remain in place for up to a year.
Radiesse® brand products are FDA-approved for use in cosmetic treatment.
Are Dermal Fillers Safe?
Everyone wants to look their best. You may have considered getting dermal fillers to help improve the appearance of your skin. But, are dermal fillers safe?
Yes, dermal fillers have been proven to be safe. In fact, according to the American Society for Aesthetic Plastic Surgery (ASAPS), they are one of the most popular minimally invasive procedures. With over 11 million procedures performed in 2016 alone, it is clear that people trust dermal fillers to deliver beautiful results
One place where dermal fillers can be problematic is in the area above your nose, in between your eyes, and up into your forehead area. This area contains many blood vessels that, if injected into improperly, can cause blindness. This is why it is critically important to choose a doctor with extensive understanding and experience working with your body's cardiovascular system. Since Dr. Saber is a reconstructive surgeon, in addition to a plastic surgeon, her knowledge of this area is extraordinarily deep, assuring her patients safe procedures.
Kybella Injections
Many cosmetic surgeons use Kybella to treat double chins and provide a better contour for the lower part of the face. The active ingredient in Kybella works by killing the fat cells in the injected area.
How does Kybella work? Kybella contains deoxycholic acid, a class of injectable medications that break down cells in fatty tissue. It is found naturally in the body and assists with the breakdown of fatty substances in the intestine. After use, the dead fat cells and the deoxycholic acid flush the body through the lymphatic system.
Your injector will choose the best treatment option for you based on your goals.
Poly-L lactic acid fillers (Sculptra)
Injectable poly-L lactic acid (under the brand name Sculptra) restores volume to the face by stimulating your body to produce new collagen. The effects take a few months to appear as your body naturally replaces lost volume.
Choose Saber Plastic Surgery for Cosmetic Injectables in the Los Angeles Area
The world of cosmetic injectables and dermal fillers is constantly changing. When you schedule a consultation with board-certified plastic surgeon Dr. Sepideh Saber, she'll go over all the options to choose what best fits your goals.
Dr. Saber offers a more sensitive, female perspective for patients of all ages, genders, and orientations. Former patients from all walks of life have praised not only their treatment outcomes but her caring, thoughtful approach to a wide array of appearance and health-related matters.
To request a consultation, call 818-643-6991 or click here to schedule a consultation online.
Dr. Saber takes her patients' safety very seriously. Her facility's Covid-19 patient safety procedures exceed all CDC and World Health Organization recommendations. Masks are required in our office at all times during the coronavirus pandemic.
The practice of Dr. Saber is located in Encino, CA. We are convenient to patients in the Los Angeles area and Burbank, Pasadena, South Pasadena, San Marino, La Canada Flintridge, La Crescenta, North Hollywood, Altadena, Alhambra, San Gabriel, Rosemead, Monterey Park, East Los Angeles, Commerce, Huntington Park, West Hollywood, and Downtown Los Angeles.

Latest posts by Dr. Sepideh Saber
(see all)