What is lip enhancement?
Lip augmentation is a type of cosmetic surgery performed to increase the lip's fullness. More than any other cosmetic surgery, successful lip augmentation is dependent on the skill of the plastic surgeon.
As a Stanford-trained and board-certified plastic surgeon, I'm skilled in facial rejuvenation. The rejuvenating effect is obtained through augmenting the appearance of your lips and adjusting their character to best accentuate the face.
Patients of all ages look and feel their absolute best after their procedure.
Are lip fillers and augmentation permanent?
There are essentially two types of lip augmentation using injectables. One is more temporary, while the other has lasting results and is a more permanent lip augmentation.
Types of lip injections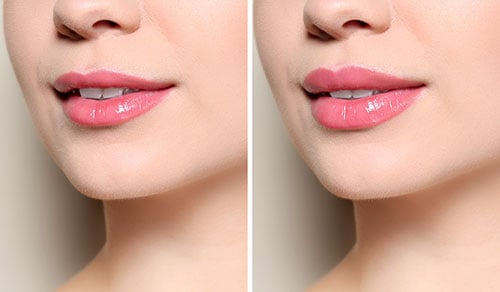 There are a few techniques we can use to improve the appearance of your lips. You may have seen a local medical spa (or "med spa") advertising injectables. However, for your safety and to guarantee the best outcomes, I must recommend only trusting your cosmetic procedures to board-certified professionals.
Dermal lip fillers
Dermal fillers are injections that typically last from six months to a year and plump up thin lips. The most common form of lip augmentation employs collagen or one of several hyaluronic acid fillers. You may know fillers by their better-known brand names such as Juvederm, Restylane, and HylaForm. The lips and surrounding area are numbed with a local anesthetic. Then, we inject lip fillers in and near the lips. The procedure is brief, between 15 and 30 minutes; patients are free to go home the same day.
Fat injections
Fat grafting is a form of augmentation that takes fat from another part of the patient's body and injects it back into the lips. With facial fat grafting, we take fat from the abdomen or any other desired area, purified, and then transfer it to the lips. While this option requires liposuction to obtain the fat, the results are permanent and typically do not require further touch-ups. The procedure is performed using lidocaine for numbing and takes between 30 and 90 minutes.
Upper lip lift
While an upper lip lift is not actually an augmentation procedure, it nevertheless smoothes out fine lines and creates the appearance of a fuller, more youthful upper lip. Sometimes known as a lip-flip, the in-office cosmetic surgery procedure shortens the space between the nose and upper lip. The procedure causes the lips to look fuller and increases how much your upper teeth show when the lips are at rest. It is performed using Botox or surgically for a lasting effect.
Lip Augmentation and Lip Fillers Recovery
The exact length of your recovery will depend on what procedure you had.
Dermal filler recovery
Patients can resume most activities immediately, although I usually recommend refraining from intense physical activity for one to two days to reduce any swelling or bruising.
Fat injection recovery
The area the fat was extracted from will be sore and bruised for a few weeks. The face will be swollen for a week. Some patients prefer not to socialize until the face regains a more "natural" appearance If at all possible, we recommend taking about two weeks off of work while the face heals.
Upper lip lift recovery
There will be significant swelling in the lip for a few days after the procedure. Discomfort can usually be eased with prescription pain medication or over-the-counter pain relievers.
How much does lip augmentation cost?
The exact price depends on your procedure, but an approximate range is:
Dermal fillers and upper lip lift: $650 – $4,000
Fat grafting: $3,000 – $6,000
It is important to keep in mind that lip enhancement is a cosmetic procedure and rarely paid for by insurance.
Dr. Saber offers a sensitive, female perspective for patients of all ages, genders, and orientations.
Why it is critically important to choose a Board-Certified Plastic Surgeon
All surgeries come with some risk. But did you know that many doctors who perform plastic surgery are not board-certified plastic surgeons?
For a surgeon to become board certified, they must have at least 14 years of higher education including special intensive training in reconstructive and cosmetic surgery.
This means that, in the very unlikely event of a complication, it can be handled quickly and efficiently. Because board-certified plastic surgeons have full admitting privileges at local hospitals. Non-board-certified plastic surgeons do not, thus they cannot even treat you outside of their own surgery center. Additionally, Dr. Saber always works with leading board-certified anesthesiologists during procedures to ensure patient safety. Unfortunately, this is not always the case with cosmetic surgeons.
Aren't all doctors who perform cosmetic plastic surgery procedures board-certified?
Sadly, no. Many are not certified to do the cosmetic procedures they are performing. That can lead to significant problems for any patient who has complications. It can also mean that the surgeon who performed your procedure cannot even admit you to a hospital or provide any follow-up care at the hospital.
Dr. Saber's extensive training, board certification, and experience as a noted reconstructive surgeon serve as an assurance that her approach to surgery is ethical, safe, and effective.
Why choose Dr. Saber for lip fillers in the Los Angeles area or Encino?
Dr. Sepideh Saber, MD, FACS, offers a sensitive, female perspective for patients of all ages, genders, and orientations. Patients from all walks of life have praised not only their outcomes but Dr. Saber's caring, thoughtful approach to all types of plastic surgery, appearance, and health-related matters.
Dr. Saber graduated from Stanford University's world-renowned medical school and did her reconstruction and plastic surgery residency at the University of Southern California (USC). She then completed a fellowship at New York University (NYU) in the extremely challenging and delicate area of hand surgery, as well as microsurgery.
To request a complimentary consultation, call (877) 205-4100 or click here to schedule online.
The practice of Dr. Saber is located in Encino, CA for patients throughout the Los Angeles area. We are also convenient to Encino, Woodland Hills, Sherman Oaks, Calabasas, Burbank, Glendale, Hidden Hills, Agoura Hills, Northridge, North Hollywood, Malibu, Topanga, Canoga Park, Reseda, Valley Glen, Chatsworth, West Hills, Winnetka, Universal City, Bel Air, Beverly Hills, Downtown Los Angeles, Silverlake, and Echo Park.
Dr. Saber takes her patients' safety very seriously. Her facility's Covid-19 patient safety procedures exceed all CDC and World Health Organization recommendations. Masks are always required in our office.
What patients say about
Dr. Saber

…

I LOVED DR SABER!!! There are a few reasons why I chose her. One was because she's a female Doctor that was my goal who also did a good job (which I was able to confirm with all her before and after photos) and what sold me was my safety in mind. She made me feel like I was in the best hands ever along with Marlene who coordinated everything THANK YOU LADIES!
Dr Saber helped me get back the body I have always desired. I had a lot of stomach fat from weight gain and I lost weight so a lot of my weight was in my front lower and upper abdomen.
Now I have a super beautiful curvy body like an hourglass after a tummy tuck and lipo she did. She understood the assignment hahaha . I'm 32 years old no kids just wanted to enjoy my younger body looking and feeling beautiful and she really took good care of me. Even after hours I had an emergency due to my fault but she was there and got back to me very quickly and I'm very grateful. I also think her work says a lot because I stopped taking pain medication on the 3rd day after surgery and was fine with very minimal pain I was able to tolerate the healing process. Highly recommend going with her I just had a wonderful experience and would do it all over again if I had too. Maybe after I have kids. Thanks Dr Saber and team