What is a thigh lift?
Sometimes when people reach their desired weight after maintaining a strict diet and exercise, they notice their thighs do not look as soft and attractive as they would like. Or, perhaps, the skin on their thighs has begun to sag with age, losing its youthful luster.
What can be done to address this issue? Maybe a thigh lift is the solution you have been looking for.
Thigh lifts do more than remove excess fat; removing fat does not address the poor skin elasticity that occurs as we age. Yes, we often pair liposuction with thigh lifts to remove fat. However, the light lift is necessary for skin tightening and giving patients the thigh reshaping and contour they desire.
Who is a good candidate for a thigh lift?
Thigh lift procedure patients should be healthy, at a relatively stable weight, and have realistic expectations. A thigh lift procedure is an outpatient procedure, performed under general anesthesia.
I have many years of experience performing every type of thigh lift and body contouring procedure. Patient reviews from all over the greater Los Angeles area have said that I'm the top cosmetic surgeon in Encino, CA — and they have the beautiful thighs to prove it.
What are the different types of thigh lifts?
Depending on what you are trying to accomplish with your thigh lift, we can consider several types of the procedure. These are:
Mini thigh lift
During this type of body lift, I'll only work on the upper third of your inner thigh. The aim is to tighten loose skin in the treatment area. This surgery works best for patients who only have sagging skin on their upper thighs. I make a tiny incision along the inner groin area, which I use as an access site for liposuction and to remove excess skin. The result is a leaner, softer, and more-toned inner thigh.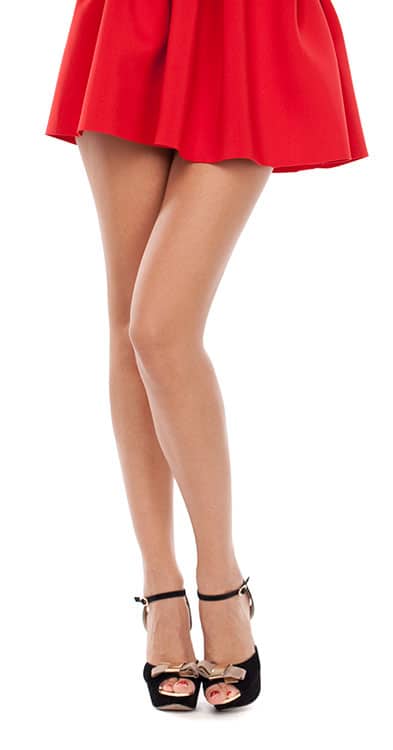 This cosmetic surgery, often known as an inner thigh lift, removes surplus skin and fat near the inner portion of the upper thigh. This achieves stunning results with patients who can't seem to get rid of the fat in this troublesome area. The surgery removes sagging skin that may develop with age or weight loss. I'll place a tiny incision in your groin crease from the front to the back of the thigh — any scarring will be minimal. The result: the inner thigh looks lifted, toned, and tightened.
Vertical thigh lift
This thighplasty lifts the upper, middle, and lower areas of the thigh. It is effective for patients that have loose skin around the entire thigh. Because I must make an incision that runs from the inner thigh down to the inner knee, the scar won't be covered with underwear. I only really recommend this procedure for patients with extreme areas of loose skin.
Spiral thigh lift
This cosmetic procedure allows me to approach your inner thighs from the front and back, so your thighs have an even and toned appearance. An incision is made along your groin crease on the front and along the buttocks crease on the back. This essentially recreates the entire inner thigh crease as excess skin and fat are removed and the inner thigh is lifted. The procedure often includes liposuction to remove excess pockets of fat, and sometimes even includes fat transfer to augment regions along the buttocks and thighs.
Outer thigh lift (lateral thigh lift)
This surgery eliminates fat and excess skin on the outside of the thigh. Doctors commonly perform this procedure alongside a buttock lift. The incision goes from the upper border of the buttocks, wrapping around to the upper border of the hips. The scar is large but usually covered by underwear. After liposuction removes excess fat, we pull up and remove excess thigh skin. The result: a defined lower body with a leaner, firmer, and smoother appearance on the outer thighs to beam rejuvenation.
Why it's critically important to choose a Board-Certified Plastic Surgeon
All surgery comes with some risk, we should all know this. But did you know that many doctors who perform plastic surgery are not board-certified plastic surgeons?
When a surgeon is board-certified, it means they have at least 14 years of higher education including special intensive training in reconstructive and cosmetic surgery.
It also means that in the very unlikely case of a complication, it can be handled quickly and efficiently because they have full admitting privileges at local hospitals. Non-board-certified plastic surgeons do not, thus they cannot even treat you. Additionally, Dr. Saber always works with leading board-certified anesthesiologists during her procedures to ensure patient safety, this is not always the case with all surgeons.
Aren't all doctors who perform cosmetic plastic surgery procedures board certified?
Sadly, no. Many are not certified to do the cosmetic procedures they are performing. And that can lead to significant problems for any patient who has any complications. It can also mean that the surgeon who performed your procedure cannot even admit you to a hospital or provide any follow-up care at the hospital.
Dr. Saber's extensive training, board certification, and experience as a noted reconstructive surgeon serve as an assurance that her approach to surgery is ethical, safe, and effective.
Thigh Lift Frequently Asked Questions
Will there be a scar?
Any incision comes with at least some scarring.
A scar will never completely disappear. However, thigh lift scars fade with time and are minimally apparent after one year.
What does a thigh lift cost?
The usual cost of thigh lift surgery is $5,171, according to 2019 statistics from the American Society of Plastic Surgeons. This cost is only part of the total price – not included are anesthesia, operating room facilities, or other related expenses. My staff and I will let you know your final cost before your procedure.
Will insurance cover a thigh lift?
Insurance doesn't generally cover cosmetic surgery. Check with your insurance provider to see if you have any coverage options.
Why choose Dr. Saber for a thigh lift in the Los Angeles area?
Dr. Sepideh Saber, MD, FACS, offers a sensitive, female viewpoint for patients of all ages, genders, and orientations. Patients from all walks of life have praised not only their final outcomes but her caring, thoughtful approach to all types of appearance and health-related matters.
Dr. Saber is an accomplished cosmetic plastic surgeon and is an expert at procedures such as neck lift, rhinoplasty, facelift, breast reduction, mommy makeover, breast implant, abdominoplasty, arm lift, and tummy tuck.
Dr. Saber graduated from Stanford University's world-renowned medical school and did her reconstruction and plastic surgery residency at the University of Southern California (USC). She then completed a fellowship at New York University (NYU) in the extremely challenging and delicate area of hand surgery, as well as microsurgery.
To request a consultation, call (877) 205-4100 or schedule a consultation online.
The practice of Dr. Saber is located in Encino, CA for patients throughout the Los Angeles area. We are also convenient to Encino, Woodland Hills, Sherman Oaks, Calabasas, Burbank, Glendale, Hidden Hills, Agoura Hills, Northridge, North Hollywood, Malibu, Topanga, Canoga Park, Reseda, Valley Glen, Chatsworth, West Hills, Winnetka, Universal City, Bel Air, Beverly Hills, Downtown Los Angeles, Silverlake, and Echo Park.
Dr. Saber takes her patients' safety very seriously. Her facility's Covid-19 patient safety procedures exceed all CDC and World Health Organization recommendations. Masks are required in our office at all times during the coronavirus pandemic.
What patients say about
Dr. Saber

…

I LOVED DR SABER!!! There are a few reasons why I chose her. One was because she's a female Doctor that was my goal who also did a good job (which I was able to confirm with all her before and after photos) and what sold me was my safety in mind. She made me feel like I was in the best hands ever along with Marlene who coordinated everything THANK YOU LADIES!
Dr Saber helped me get back the body I have always desired. I had a lot of stomach fat from weight gain and I lost weight so a lot of my weight was in my front lower and upper abdomen.
Now I have a super beautiful curvy body like an hourglass after a tummy tuck and lipo she did. She understood the assignment hahaha . I'm 32 years old no kids just wanted to enjoy my younger body looking and feeling beautiful and she really took good care of me. Even after hours I had an emergency due to my fault but she was there and got back to me very quickly and I'm very grateful. I also think her work says a lot because I stopped taking pain medication on the 3rd day after surgery and was fine with very minimal pain I was able to tolerate the healing process. Highly recommend going with her I just had a wonderful experience and would do it all over again if I had too. Maybe after I have kids. Thanks Dr Saber and team