Pregnancy, childbearing, and breastfeeding are hard on the body
There is no doubt that creating a new life takes its toll, and I know this from firsthand experience. Even the healthiest, most athletic parent can find their body forever changed post-pregnancy. You may find yourself with loose skin, stretch marks, stubborn pockets of unwanted fat, and loss of your pre-pregnancy silhouette.
And don't let the name discourage you! You don't have to call yourself "mommy" to benefit from a "mommy makeover"! My team and I are here to help all patients achieve their body goals. Mommy makeover surgery consists of a mix of plastic surgery procedures, and we custom tailor each one to the needs of the patient.
What does a mommy makeover include?
There's no set formula for a mommy makeover; each surgery is as unique as the patient receiving it. During your initial consultation, we'll discuss your goals and problem areas and create a treatment plan with a combination of procedures.
Mommy makeover surgery may include the following parts:
Tummy Tuck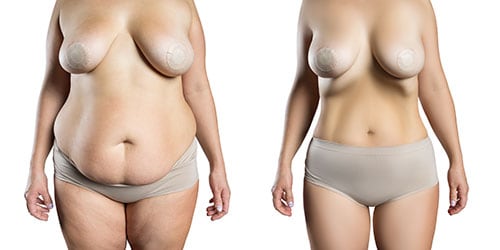 Abdominoplasty (or a "tummy tuck") removes excess skin and fat from the abdomen, restoring your toned, smooth tummy. Pregnancy can weaken the abdominal wall and lead to separation of the abdominal muscles. During a tummy tuck, I can tighten up the abdominal muscles creating a contoured stomach with a stronger core.
Liposuction
Liposuction is a body contouring procedure that's useful for removing stubborn fat deposits from one or more areas of the body that aren't responding to diet and exercise. By inserting a cannula (small tube) into the problem areas, we can extract the excess fat and restore your body contours.
Breast Enhancement
The weight fluctuations of pregnancy can cause loss of breast volume, sagging, or even asymmetry. Depending on your needs, you may benefit from:
Breast augmentation – This surgical procedure enhances the size and shape of the breasts through saline or silicone breast implants or fat transfer.
Breast reduction – Reduction removes excess fat and breast tissue to make the breasts smaller, lighter, and firmer.
Breast lift -As we age, skin loses elasticity. A breast lift procedure restores the firmness and perkiness of the breasts.
Brazilian Butt Lift
Weight loss after giving birth can result in a deflated-appearing derrière. A Brazilian butt lift takes excess fat from other problem zones through liposuction and transfers it to the buttocks to improve its appearance.
Labiaplasty
If you've been considering vaginal rejuvenation or labiaplasty, when you're finishing having children is a great time. Labiaplasty reshapes the labia minora to improve appearance and comfort.
How is a Mommy Makeover procedure performed?
The first step of any plastic surgery is a consultation with me. We'll go over your medical history and goals as well as expected results and possible risks. It's important to me that my patients are able to make fully informed decisions before choosing cosmetic surgery.
Mommy makeovers are typically outpatient procedures although in some cases, I prepare my patient to stay for one night. The total operation time depends on the combination of procedures being performed, but we'll go over the expected time during your consultation.
On the day of your surgery, you'll be given general anesthesia, then the previously agreed-upon procedures will be performed.
The incisions will be made in creases and easily concealed areas when possible. When I'm finished, I close the incisions in multiple precise layers to achieve the best result.
Are there non-surgical options?
Most people don't like surgery, and many people don't have the time to take off for recovery. The use of injectables (such as Botox and fillers) can be useful if the patient is looking for less extreme changes. During your consultation, we can discuss any non-surgical options that may meet your needs.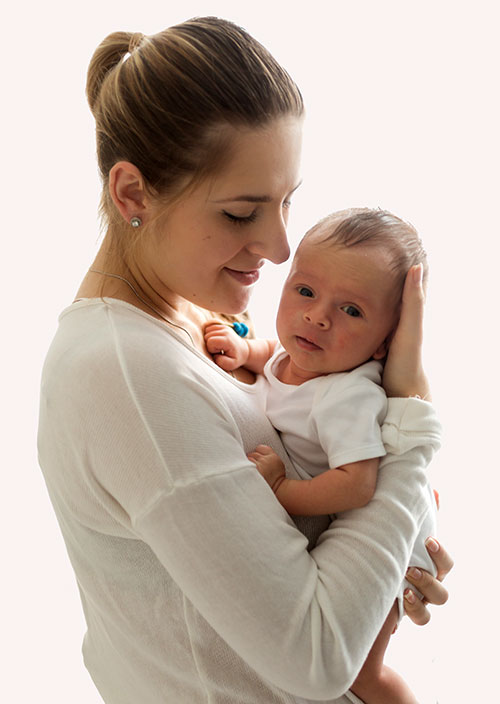 Mommy makeover risks
All surgery comes with some risk. With a skilled, board-certified plastic surgeon, these risks can be minimalized.
I'll go over potential risks for your exact treatment plan during your consultation. While most mommy makeover procedures are complication-free, risks include
bleeding
infection
breast implant complications
scarring
an adverse reaction to anesthesia
What's the recovery for a Mommy Makeover?
The exact recovery time and process will depend on which surgeries make up your unique mommy makeover surgery. In general, your incisions will be wrapped and bandaged and you'll have special compression garments to reduce swelling. You'll probably have temporary drainage tubes as well.
You'll be sore for a few days to a week; most patients manage their pain and swelling with prescribed pain medication and ice packs. Make sure you have a family member or friend to help you around the house while you're recovering. You'll have to avoid heavy lifting or strenuous activity for at least six weeks; this includes carrying babies and children over 10 pounds.
However, you will still need to get up and walk around during recovery. Keeping moving prevents blood clots.
I'll see you regularly for follow-ups to monitor your recovery. For some procedures, residual swelling can last for up to six months.
Luckily, with a healthy lifestyle and stable weight, your mommy makeover results will last a lifetime.
Even the healthiest, most athletic parent can find their body forever changed post-pregnancy.
Who's a Good Candidate for a Mommy Makeover?
This is the most important question I have to answer for every patient. During your consultation, I will evaluate with you the most likely benefits of your surgery. If I don't 100% believe this surgery will give you the results you want, I won't recommend it for you.
The best candidates for mommy makeover surgery are:
generally healthy.
non-smokers (or willing to quit).
done having children as a future pregnancy can cause a separation of the abdominal muscles.
done breastfeeding as the breast ducts undergo enlargement and increased blood vessel activity during this time, which can increase the risk of infection during breast surgery.
at a stable weight.
realistic in their expectations.
It is recommended that you wait for a minimum of 4 to 6 months after the birth of your last child before undergoing a mommy makeover. This allows you to spend time bonding with your baby, as after the surgery you will not be able to lift your child for at least 4 to 6 weeks to avoid putting a strain on your stitches.
Mommy Makeover Frequently Asked Questions
Q: Is mommy makeover covered by insurance?
A: Insurance companies generally won't cover cosmetic surgery. If you need excess skin or tissue removal for medical reasons, your insurance may cover some of it. You should consult with your primary care provider or insurance company if you have medical concerns.
Q: How much does a mommy makeover cost?
A: The exact cost will depend on your exact treatment plan. The average overall cost ranges from $9,000 to $20,000, but I'll give you an estimate of your exact costs during your consultation. No surprise bills!
We're also happy to discuss financing options.
Why it's critically important to choose a Board-Certified Plastic Surgeon
All surgery comes with some risk, we all know this. But did you know that many doctors who perform plastic surgery are not board-certified plastic surgeons?
For a surgeon to become board certified, they must have at least 14 years of higher education including special intensive training in reconstructive and cosmetic surgery.
This means that in the very unlikely event of a complication, it can be handled quickly and efficiently. Because board-certified plastic surgeons have full admitting privileges at local hospitals. Non-board-certified plastic surgeons do not, thus they cannot even treat you outside of their own surgery center. Additionally, Dr. Saber always works with leading board-certified anesthesiologists during her procedures to ensure patient safety (unfortunately this is not always the case with surgeons).
Aren't all doctors who perform cosmetic plastic surgery procedures board-certified?
Sadly, no. Many are not certified to do the cosmetic procedures they are performing. That can lead to significant problems for any patient who has complications. It can also mean that the surgeon who performed your procedure cannot even admit you to a hospital or provide any follow-up care at the hospital.
Dr. Saber's extensive training, board certification, and experience as a noted reconstructive surgeon serve as an assurance that her approach to surgery is ethical, safe, and effective.
Why choose Dr. Saber for Mommy Makeover Surgery in the Los Angeles area?
Dr. Sepideh Saber, MD, FACS, offers a more sensitive, female perspective for patients of all ages, genders, and orientations. Patients of all ages and from all walks of life have praised not only their final outcomes but her caring, thoughtful approach to all types of appearance and health-related matters.
Dr. Saber graduated from Stanford University's world-renowned medical school and did her reconstruction and plastic surgery residency at the University of Southern California (USC). She then completed a fellowship at New York University (NYU) in the extremely challenging and delicate area of hand surgery, as well as microsurgery.
To request a consultation, call (877) 205-4100 or schedule a consultation online.
Dr. Saber takes her patients' safety very seriously. Her facility's Covid-19 patient safety procedures exceed all CDC and World Health Organization recommendations. Masks are required in our office at all times during the coronavirus pandemic.
The practice of Dr. Saber is located in Encino, CA for patients throughout the Los Angeles area. We are also convenient to Encino, Woodland Hills, Sherman Oaks, Calabasas, Burbank, Glendale, Hidden Hills, Agoura Hills, Northridge, North Hollywood, Malibu, Topanga, Canoga Park, Reseda, Valley Glen, Chatsworth, West Hills, Winnetka, Universal City, Bel Air, Beverly Hills, Downtown Los Angeles, Silverlake, and Echo Park.
What patients say about
Dr. Saber

…

I LOVED DR SABER!!! There are a few reasons why I chose her. One was because she's a female Doctor that was my goal who also did a good job (which I was able to confirm with all her before and after photos) and what sold me was my safety in mind. She made me feel like I was in the best hands ever along with Marlene who coordinated everything THANK YOU LADIES!
Dr Saber helped me get back the body I have always desired. I had a lot of stomach fat from weight gain and I lost weight so a lot of my weight was in my front lower and upper abdomen.
Now I have a super beautiful curvy body like an hourglass after a tummy tuck and lipo she did. She understood the assignment hahaha . I'm 32 years old no kids just wanted to enjoy my younger body looking and feeling beautiful and she really took good care of me. Even after hours I had an emergency due to my fault but she was there and got back to me very quickly and I'm very grateful. I also think her work says a lot because I stopped taking pain medication on the 3rd day after surgery and was fine with very minimal pain I was able to tolerate the healing process. Highly recommend going with her I just had a wonderful experience and would do it all over again if I had too. Maybe after I have kids. Thanks Dr Saber and team