How to get rid of neck fat
It is said that "aging is not for the faint of heart." This notion becomes particularly true when you observe sagging and new lines on your neck and face. So, it should be no surprise that I often get asked "is there a way to get rid of neck fat."
Fortunately, the answer is "yes." There are a few procedures for neck rejuvenation, with neck liposuction being the most effective by far, along with Kybella (an injectable treatment).
Neck lipo is a surgical procedure for fat reduction that can be done as a stand-alone procedure or in concert with other cosmetic procedures such as a facelift, tummy tuck, or a mommy makeover.
I can use liposuction to remove fat cells and restore your neck's natural features to make you look younger and slimmer.
What is Neck Lift Liposuction?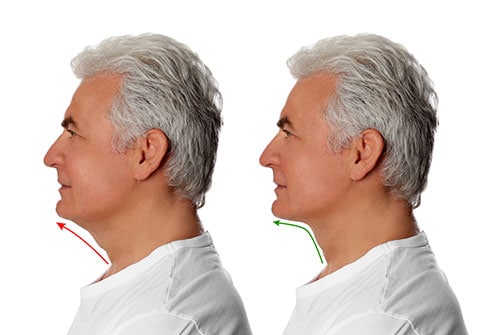 Neck liposuction (also known as neck lipo) is a very effective FDA-approved cosmetic procedure to get rid of excess fat and cellulite. Liposuction uses a suction technique to remove fat from the chin and neck that patients have trouble eliminating with traditional diet and exercise.
Typically, I'll perform neck fat removal liposuction while the patient is under local anesthesia, so the area is numb and there is no pain. You will feel relaxed and we invite you to bring your own music (or listen to ours).
With years of body contouring experience, I can remove fat deposits in your neck and lower chin quickly and safely. There is one small incision hidden under your chin and, in some cases, an additional one behind your ears, then I insert a liposuction cannula to remove unwanted fat and contour your chin and neck.
The result: beautiful facial features such as a sharply defined jawline and reshaped double chin. These enhancements are permanent if you maintain your current weight and are completely natural-looking.
What are the risks with neck liposuction?
All surgeries carry some amount of risk. During you'll consultation, I'll discuss any potential risks with you. Possible rare risks include:
Infections
Scarring
Bleeding
Nerve injury
Because the neck lipo procedure usually uses local anesthetic (not general anesthesia), patients are breathing on their own, which greatly reduces surgical risks.
Neck liposuction … is a very effective FDA-approved cosmetic procedure to get rid of excess fat and cellulite.
It's critically important to choose a Board-Certified Facial Plastic Surgeon
When someone is board certified it means they have at least 14 years of higher education including special intensive training in reconstructive and cosmetic surgery.
Board-certified plastic surgeons have full admitting privileges at local hospitals; in the rare case of a complication, it can be handled quickly and efficiently. Non-board-certified plastic surgeons do not have these privileges. In fact, they can't even treat you outside of their own surgical centers.
Neck Liposuction Frequently Asked Questions
Q: Who is a good candidate for neck lipo?
A: Neck liposuction removes fat but does not alter excess skin (also called turkey neck) and is not used for weight loss. With that in mind, a neck lipoplasty is recommended for patients ages 20 to 50. Younger people have better skin elasticity, which is essential for the skin to contract efficiently and consistently after liposuction.
Q: What is neck lipo recovery time?
A: Following a neck liposuction procedure, patients are given a supportive chin strap to wear for about four days over the treatment area. Patients can expect some mild swelling and bruising after neck liposuction, which is usually gone within two weeks.
There is minimal downtime. Patients typically return to work and resume full activity after a week or two, tops.
Q: How much does neck liposuction cost?
A: The price range for neck lipo is $1,000 to $4,000. That price does not include anesthesia, operating room facilities, or other related expenses.
During your consultation, we'll go over all expected costs.
Why choose Dr. Saber for Neck Liposuction in the Los Angeles area?
Dr. Sepideh Saber, MD, FACS, offers a more sensitive, female perspective for patients of all ages, genders, and orientations. Patients from all walks of life have praised not only their final outcomes but her caring, thoughtful approach to all types of appearance and health-related matters.
Dr. Saber graduated from Stanford University's world-renowned medical school and did her reconstruction and plastic surgery residency at the University of Southern California (USC). She then completed a fellowship at New York University (NYU) in the extremely challenging and delicate area of hand surgery, as well as microsurgery.
To request a consultation, call (877) 205-4100 or schedule a consultation online.
Dr. Saber takes her patients' safety very seriously. Her facility's Covid-19 patient safety procedures exceed all CDC and World Health Organization recommendations. Masks are required in our office at all times during the coronavirus pandemic.
The practice of Dr. Saber is located in Encino, CA for patients throughout the Los Angeles area. We are also convenient to Encino, Woodland Hills, Sherman Oaks, Calabasas, Burbank, Glendale, Hidden Hills, Agoura Hills, Northridge, North Hollywood, Malibu, Topanga, Canoga Park, Reseda, Valley Glen, Chatsworth, West Hills, Winnetka, Universal City, Bel Air, Beverly Hills, Downtown Los Angeles, Silverlake, and Echo Park.
What patients say about
Dr. Saber

…

I LOVED DR SABER!!! There are a few reasons why I chose her. One was because she's a female Doctor that was my goal who also did a good job (which I was able to confirm with all her before and after photos) and what sold me was my safety in mind. She made me feel like I was in the best hands ever along with Marlene who coordinated everything THANK YOU LADIES!
Dr Saber helped me get back the body I have always desired. I had a lot of stomach fat from weight gain and I lost weight so a lot of my weight was in my front lower and upper abdomen.
Now I have a super beautiful curvy body like an hourglass after a tummy tuck and lipo she did. She understood the assignment hahaha . I'm 32 years old no kids just wanted to enjoy my younger body looking and feeling beautiful and she really took good care of me. Even after hours I had an emergency due to my fault but she was there and got back to me very quickly and I'm very grateful. I also think her work says a lot because I stopped taking pain medication on the 3rd day after surgery and was fine with very minimal pain I was able to tolerate the healing process. Highly recommend going with her I just had a wonderful experience and would do it all over again if I had too. Maybe after I have kids. Thanks Dr Saber and team