Trying to get rid of a double chin?
The shape and size of the chin greatly impact the overall shape and balance of the face. If you're unhappy with your chin shape or profile, chin contouring can help!
Chin contouring is a plastic surgery procedure that reshapes the chin for a more balanced facial appearance.
I get many patients asking how to reduce their double chin or get rid of a sagging chin and neck. Chin contouring (sometimes paired with other cosmetic surgery procedures) can resolve many concerns with your facial appearance.
What is Chin Contouring Plastic Surgery?
Chin surgery (also known as genioplasty or mentoplasty) reshapes the chin through chin augmentation, chin reduction, or reshaping the existing chin bone. The goal is to create a more balanced facial appearance with a chin that complements your existing features.
Chin contouring can help with facial symmetry, define the appearance of the jawline, or improve the appearance of a double chin. Depending on the individual patient's needs, I can either use a chin implant to enhance the chin or perform reduction surgery on the bone.
How to Reduce Double Chin?
I get asked a lot about how to get rid of a double chin. According to the American Society for Dermatologic Surgery as many as 68% of people have a double chin they're unsatisfied with.
The exact solution will be different for everyone as the exact cause of a double chin is different for everyone. It can be caused by hereditary factors, weight, anatomy, and even airway positioning. During your initial consultation, I'll perform an examination and go over your medical history to determine the underlying cause and best treatment for you.
If the cause is excess fat, neck liposuction may be helpful in reducing the double chin. Chin contouring can also help reduce the appearance of a double chin.
What are genioplasty procedures?
There are two primary methods of genioplasty (chin contouring): sliding genioplasty and chin implants. The goal of all genioplasty procedures is to restore or improve facial harmony.
Sliding genioplasty
A sliding genioplasty (also known as an osseous genioplasty) cuts part of the chin bone. This loose part of the bone can then be slid forward, backward, or side-to-side to create the desired facial appearance.
Once the desired outcome is achieved, the cut piece of bone is secured in place by screws.
Chin Implant Surgery
Implants are a common chin augmentation procedure. Commonly made of shaped silicone, implants can be inserted into the chin area to give it more projection or reshape the chin. Implants can better bring your chin into harmony with your other facial features.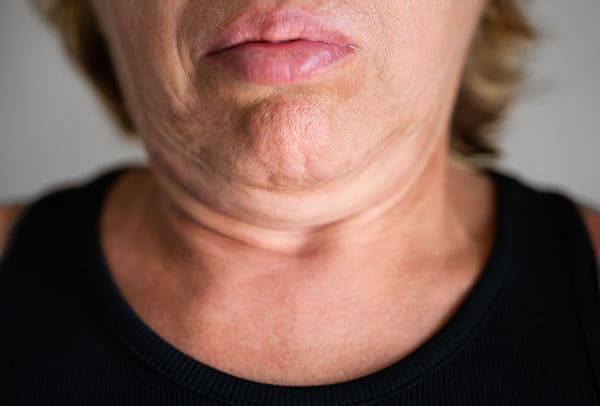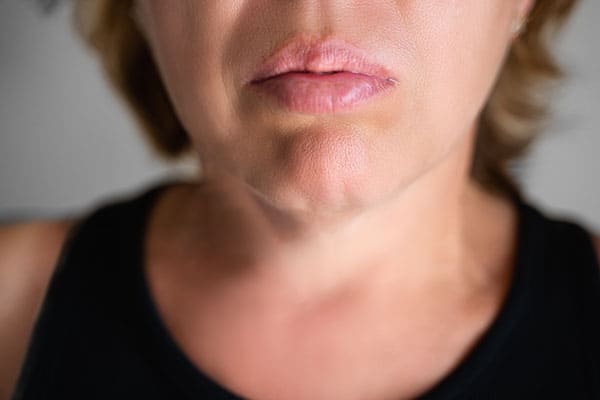 There are some other procedures that improve the balance of the chin with the rest of the face. They include:
Neck Lift
While a neck lift does not directly impact the chin, it can correct a double chin. Adjustments to the neck can also improve the appearance of the chin, depending on the patient's needs.
Chin Reduction
For a more prominent chin, some of the bone can be shaved down or removed to decrease the chin's projection.
Chin Fat Injection
Fat removed from elsewhere on the body using liposuction can be run through a centrifuge and then reused. The fat is injected into the soft tissues of the chin for subtle enlargement.
What about nonsurgical chin contouring?
I get it, a lot of people don't like surgery. It can be stressful, you don't want a shorter recovery time, or maybe you only want a minor chin enhancement.
There are some non-surgical options we can discuss, depending on your goals.
Hyaluronic acid filler is an FDA-approved injectable biodegradable filler. This injectable filler can be used to fill out the chin or perform minor chin augmentation.
Mentoplasty vs Genioplasty
It's tricky keeping track of all the different technical and casual names for these surgical procedures.
Fortunately, mentoplasty and genioplasty both just refer to chin surgery.
Chin contouring … can resolve many concerns with your facial appearance.
How is chin plastic surgery performed?
Step one is always a consultation with me. We'll go over your goals and the potential benefits and risks of the procedure. It's very important to me that my patients are given everything they need to make fully informed decisions.
During your consultation, we'll also go over your medical history and examine the underlying bone structure of your face. I'll work with you to balance your appearance goals with natural-looking results. If you're considering other facial plastic and reconstructive surgery, we'll discuss it at this time as well. Sometimes patients want a couple of facial plastic surgery procedures done and we can do them all at once.
Chin contouring is generally an outpatient procedure. On the day of your surgery, you'll be given local anesthesia with sedation or general anesthesia for your comfort.
For chin implants, a small incision will be made beneath the chin or inside the lower lip. The implant will either be affixed to the jawbone or left in the pocket made during surgery.
For sliding genioplasty, a similar incision will be made inside the lower lip. Then, a bit of bone will be sawed off, moved into the correct position, and then secured with screws.
For either procedure, the incision will then be closed with sutures.
Chin Contouring Frequently Asked Questions
What is genioplasty recovery time?
For the first few days after surgery, you'll be given antibiotics to prevent infection. You'll also be on a liquid or soft food diet. You'll be sent home with specific recovery instructions, which I'll go over with you before your procedure.
By the second week of recovery, you should be back to normal activities. However, you should avoid strenuous activity or contact sports until about six weeks after your surgery.
You may experience some tightness or a stretching feeling in and around your jaw, but this will gradually disappear within a week or two.
Is Genioplasty safe?
Every surgery comes with some risk, which I will go over with you during your consultation. This is also why it's important to work with a board-certified plastic surgeon! My high level of training decreases your risk of infection, nerve injury, or facial asymmetry. 
A common risk during surgery is anesthesia side effects. That's why I always work with leading, board-certified anesthesiologists for my patient's comfort and safety.
How much does chin plastic surgery cost?
To give you a ballpark, the American Society of Plastic Surgeons reports the average cost for chin surgery in 2019 was $2,449 (not including anesthesia, operating room facilities, or other related expenses). 
I will share you with the estimated cost of your procedure after your consultation.
Am I a good candidate for genioplasty?
One of the most important questions I have to honestly answer is whether a procedure is right for my patient.
Ideal genioplasty candidates will have good occlusion (meaning their upper and lower teeth meet properly) and be in generally good health. Good chin augmentation candidates are those with small chins but no significant overbite. If the root of your problem is an overbite, you may benefit more from jaw adjustment.
Some patients have a weak chin because their jaw sits too far back. These patients may benefit from a consultation with an orthodontist as they may better benefit from jaw repositioning. If you're unsure what's impacting your chin size, schedule a consultation with me and we can look into it!
Some patients considering rhinoplasty (nose surgery) may also benefit from chin augmentation. Some plastic surgeons will suggest genioplasty in addition to rhinoplasty or a facelift to create facial balance. For some, chin augmentation may be suitable without rhinoplasty as the size of the chin can impact the perceived size of the nose.
During your consultation, we'll discuss what procedure will get you the best results without pushing extra, unnecessary procedures.
If I don't think the "improved appearance" will make a positive difference in your life, I will tell you that honestly. However, if I think the increased confidence and quality of life improvement outweigh the short-term discomfort of surgery, I will tell you that as well.
Why it's critically important to choose a Board-Certified Plastic Surgeon
All surgery comes with some risk, we all know this. But did you know that many doctors who perform plastic surgery are not board-certified plastic surgeons?
For a surgeon to become board certified, they must have at least 14 years of higher education including special intensive training in reconstructive and cosmetic surgery.
This means that in the very unlikely event of a complication, it can be handled quickly and efficiently. Because board-certified plastic surgeons have full admitting privileges at local hospitals. Non-board-certified plastic surgeons do not, thus they cannot even treat you outside of their own surgery center. Additionally, Dr, Saber always works with leading board-certified anesthesiologists during her procedures to ensure patient safety (unfortunately this is not always the case with surgeons).
Aren't all doctors who perform cosmetic plastic surgery procedures board-certified?
Sadly, no. Many are not certified to do the cosmetic procedures they are performing. That can lead to significant problems for any patient who has complications. It can also mean that the surgeon who performed your procedure cannot even admit you to a hospital or provide any follow-up care at the hospital.
Dr. Saber's extensive training, board certification, and experience as a noted reconstructive surgeon serve as an assurance that her approach to surgery is ethical, safe, and effective.
Why choose Dr. Saber for Chin Surgery in the Los Angeles area?
Dr. Sepideh Saber, MD, FACS offers a more sensitive, female perspective for patients of all ages, genders, and orientations. Patients from all walks of life have praised not only their final outcomes but her caring, thoughtful approach to all types of appearance and health-related matters.
Dr. Saber graduated from Stanford University's world-renowned medical school and did her reconstruction and plastic surgery residency at the University of Southern California (USC). She completed her fellowship at New York University (NYU) in the extremely challenging and delicate areas of hand surgery and microsurgery.
To request a consultation, call (877) 205-4100 or schedule a consultation online.
The practice of Dr. Saber is located in Encino, CA for patients throughout the Los Angeles area. We are also convenient to Encino, Woodland Hills, Sherman Oaks, Calabasas, Burbank, Glendale, Hidden Hills, Agoura Hills, Northridge, North Hollywood, Malibu, Topanga, Canoga Park, Reseda, Valley Glen, Chatsworth, West Hills, Winnetka, Universal City, Bel Air, Beverly Hills, Downtown Los Angeles, Silverlake, and Echo Park.
What patients say about
Dr. Saber

…

I LOVED DR SABER!!! There are a few reasons why I chose her. One was because she's a female Doctor that was my goal who also did a good job (which I was able to confirm with all her before and after photos) and what sold me was my safety in mind. She made me feel like I was in the best hands ever along with Marlene who coordinated everything THANK YOU LADIES!
Dr Saber helped me get back the body I have always desired. I had a lot of stomach fat from weight gain and I lost weight so a lot of my weight was in my front lower and upper abdomen.
Now I have a super beautiful curvy body like an hourglass after a tummy tuck and lipo she did. She understood the assignment hahaha . I'm 32 years old no kids just wanted to enjoy my younger body looking and feeling beautiful and she really took good care of me. Even after hours I had an emergency due to my fault but she was there and got back to me very quickly and I'm very grateful. I also think her work says a lot because I stopped taking pain medication on the 3rd day after surgery and was fine with very minimal pain I was able to tolerate the healing process. Highly recommend going with her I just had a wonderful experience and would do it all over again if I had too. Maybe after I have kids. Thanks Dr Saber and team