What are facial fillers?
As a leading cosmetic plastic surgeon in Encino, I consider the application of facial fillers (also known as derma fillers) an art form. When patients come to me seeking help to stave off the signs of aging, dermal fillers are often a great solution.
As we age, facial tissues tend to become thinner, and fine lines appear from a lack of facial volume in areas such as the nose, cheek, and mouth. Applying dermal fillers replaces lost volume and smooths out wrinkles, restoring a youthful appearance
Injectable dermal fillers are gel-like materials introduced under the skin to fill out the volume, smooth lines, and generally soften or enhance facial outlines.
What's the difference between dermal fillers and Botox?
Let's start at the beginning and look at the one similarity between Botox and dermal fillers: both are cosmetic procedures consisting of medicine applied by syringe. That's where any likeness ends.
Botox acts by freezing the muscles to stop lines and wrinkles that result from facial expressions. Treatments mostly focus on areas around the eyes, forehead, and upper face.
Dermal fillers, as previously mentioned, use medicine to plump up places that may have lost volume through aging. They are often used around the cheeks, mouth, and lips.
While Botox results typically four months, dermal filler outcomes last for varying times, depending on which substance is used.
Because they have different uses, doctors often prescribe a combination of the two. Millions of these combined procedures take place each year and are considered safe.
What are facial fillers made of?
There are several types of dermal fillers, which vary in substance and where they work best. The two main components for the FDA-approved fillers I use are:
Injectable Hyaluronic Acid (HA). HA is a natural substance that is found in your skin, and is responsible for keeping your skin curvy and hydrated. Most HA fillers contain lidocaine to reduce discomfort before and after your treatment. HA is sold under the brand name Juvéderm Sculptra Aesthetic.
Calcium Hydroxlapatite (CaHA). CaHA is natural matter found in your bones. This type of dermal filler contains microscopic calcium particles in a soft gel. In addition to being thicker, it helps stimulate natural collagen growth. It is usually used for deep lines and creases and is marketed under the brand name Radiesse®.
Facial fillers that improve your appearance that I use in my practice include:
Juvéderm Plus XC
Juvederm Plus XC is a thick filler that is used for deep creases around the mouth.
Juvéderm Voluma
Juvederm Voluma filler injections provide volume in the cheek area.
Juvéderm Ultra Plus XC
Juvederm Ultra XC is used around the mouth and cheek region for volume.
Juvéderm Volbella XC
Jevederm Volbella XC plumps lip lines.
Juvéderm Vollure XC
Juvederm XC is used for facial volume and causes less discomfort when applied than other brands.
Restylane and Restylane-L
Restylane and Restylane-L are deep injections used for moderate to severe facial wrinkles and lips.
Restylane Silk
Restylane Silk plumps up the lips and vertical lines above the lips.
Restylane Lyft
Restylane Lyft adds fullness to cheeks midface and back of hands.
Restylane Refyne
Restylane Refyne is used on the side of the nose and corners of the mouth toward the chin.
Restylane Defyne
Restylane Defyne corrects deep lines and wrinkles improving chin projection.
Sculptra Aesthetic
Sculptra Aesthetic gradually replaces lost collagen in the face.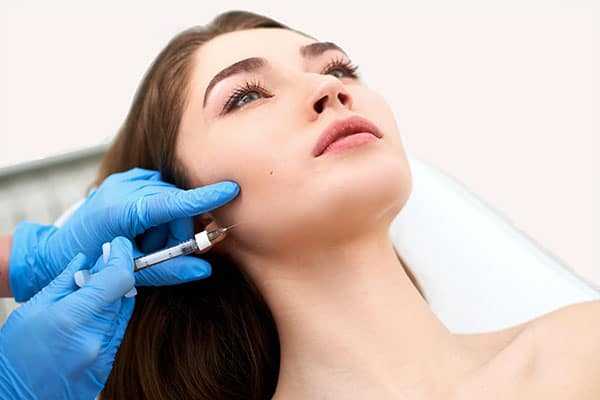 What are the best dermal fillers?
It is almost impossible to say that one dermal filler is the best because most are designed for different treatment areas. Some for the face, jawline, lip augmentation, and smile lines. Others are for cheeks, chin, and the mid-face, while some target nasolabial folds, the hands, and, of course, aim to eliminate or smooth wrinkles.
How long do dermal fillers last?
The answer to this question is contingent upon what product is being used. I will guide you through this choice during our free consultation. For first-timers, we might want to start with a smaller dose and then add more once we see how your body responds. In this way, we get the perfect dose for the best outcome.
Specifically, HA dermal fillers are the most short-term option. Lip injections typically wear off faster than those in folds around the nose. HA injections usually last between six and 18 months.
Dermal fillers made of a synthetic substance last a bit longer because they are not absorbed in the body. Some can even last years.
Are there side effects with facial fillers?
All FDA-approved dermal fillers are considered safe, but sometimes a reaction can occur. Possible side effects include:
Rash and itching
Bruising or swelling
Over-correction of wrinkles
Wound infection and scarring
Filler can be felt under the skin
Blindness (very rare)
Death of skin cells where dermal fillers have been applied
Women who are pregnant or are considering becoming pregnant should refrain from dermal filler treatments.
What dermal fillers cannot do
Minimally invasive dermal filler treatments are temporary and should not be compared to a facelift, which is major cosmetic surgery.
Each year more than one million people opt to undergo this rejuvenation treatment. Undergoing dermal filler treatment costs less than a facelift and allows patients to look younger with no downtime.
ONLY trust your filler treatments to a board-certified plastic surgeon
Though this procedure is non-surgical and minimally invasive, there are still risks to be considered. It is for that reason that Dr. Saber is known in Encino and Los Angeles as the top injector plastic surgeon. She has specialized training and an in-depth understanding of facial anatomy. A graduate of Stanford University Medical School, the doctor took her residency at USC, followed by a fellowship in hand and microsurgery at NYU.
Even though dermal fillers are a non-surgical procedure, they require special, advanced training. You must allow an expert to help you roll back the years.
Some patients seen in our office have tried to get injections at a medspa (medical spa) or another nonmedical office that offers dermal filler treatments. To say those patients underwent months of dissatisfaction before coming to Dr. Saber to remedy the inferior results or even mistakes, would be an understatement.
Why Choose Dr. Saber for Dermal Fillers in Encino?
The practice of Dr. Saber is located in Encino, CA for patients throughout the Los Angeles area. We are also convenient to Encino, Woodland Hills, Sherman Oaks, Calabasas, Burbank, Glendale, Hidden Hills, Agoura Hills, Northridge, North Hollywood, Malibu, Topanga, Canoga Park, Reseda, Valley Glen, Chatsworth, West Hills, Winnetka, Universal City, Bel Air, Beverly Hills, Downtown Los Angeles, Silverlake, and Echo Park.
Dr. Saber performs a full range of treatments and procedures including breast augmentation, laser hair removal treatments, rhinoplasty, ear surgery, facelift, as well as many more.
To request a consultation, call 818-818-2939 or schedule a consultation online.
Dr. Saber takes her patients' safety seriously. The facility's Covid-19 patient safety procedures exceed all the CDC's coronavirus pandemic recommendations. Masks are always required in our institutes.
What patients say about
Dr. Saber

…

I LOVED DR SABER!!! There are a few reasons why I chose her. One was because she's a female Doctor that was my goal who also did a good job (which I was able to confirm with all her before and after photos) and what sold me was my safety in mind. She made me feel like I was in the best hands ever along with Marlene who coordinated everything THANK YOU LADIES!
Dr Saber helped me get back the body I have always desired. I had a lot of stomach fat from weight gain and I lost weight so a lot of my weight was in my front lower and upper abdomen.
Now I have a super beautiful curvy body like an hourglass after a tummy tuck and lipo she did. She understood the assignment hahaha . I'm 32 years old no kids just wanted to enjoy my younger body looking and feeling beautiful and she really took good care of me. Even after hours I had an emergency due to my fault but she was there and got back to me very quickly and I'm very grateful. I also think her work says a lot because I stopped taking pain medication on the 3rd day after surgery and was fine with very minimal pain I was able to tolerate the healing process. Highly recommend going with her I just had a wonderful experience and would do it all over again if I had too. Maybe after I have kids. Thanks Dr Saber and team