Getting gender-affirming top surgery can be an emotionally fraught decision. On the one hand, it is a major step towards combating gender dysphoria and feeling comfortable in your skin. On the other hand, surgery is a big deal!
Many of my trans patients come with similar worries, including but not limited to:
What if the results aren't what I expected?
How bad will the scarring be?
Is breast removal surgery dangerous?
As a board-certified plastic surgeon and member of WPATH (World Professional Association for Transgender Health) and USPATH (United States Professional Association for Transgender Health), it's my job to answer questions, address concerns, and provide satisfying, natural-looking plastic surgery results.
What types of top surgery are there?
There are three broad categories of gender-affirming chest reconstruction surgeries:
chest masculinization
breast augmentation
beast reduction
For information on chest feminization surgery, check out our page on breast augmentation.
For female-to-male (FTM) top surgery, there are several options.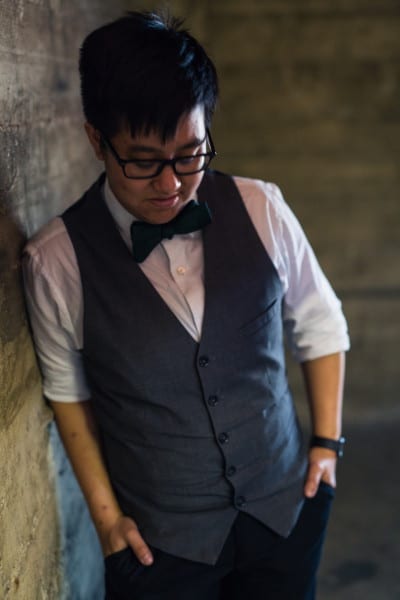 Double-incision top surgery with nipple grafts
The most common and most invasive procedure, double-incision surgery involves making long incisions on the chest that allow me to remove excess fat and breast tissue. This is the best option for men with larger breasts.
Because of the amount of skin being removed, the nipple and areola will also be removed, reshaped and resized if desired, and then reattached in a natural-looking position (free nipple graft).
Periareolar top surgery
Trans men with smaller chests may benefit from this surgical procedure. Rather than a long incision for each breast, a circular incision is made around the border of the areola, followed by a larger circular incision around the first one.
Breast tissue is then removed through this circular area of removed skin and any liposuction or contouring is performed. I'll then pull together the edges of the two incisions, flattening the chest while retaining nipple nerves and sensation.
Keyhole top surgery
Patients with very small chests and tight skin may qualify for this chest surgery procedure. With this technique, no extra skin is removed. We make a small incision along the bottom border of the areola, perform any necessary liposuction and breast tissue removal, then close the incision.
While the areola can be resized with this technique, the nipple is not detached and cannot necessarily be moved to a new position.
Transgender men aren't the only patients who benefit from chest surgery. Gender-diverse and nonbinary people often seek a smaller or flatter chest to better align with their gender identity. Also referred to as "non-flat top surgery," breast reduction reduces breast size without completely flattening the chest.
However, breast reduction as a gender-affirming procedure can be more challenging than breast reduction for cis women. Often trans and nonbinary patients seeking breast reduction want more tissue removed than my cis patients. I have had requests to "go down from a DDD to an A cup, not completely flat, but no bounce."
Removing large amounts of tissue and skin is more technically challenging and increases the risk of NAC (nipple-areola complex) loss.
Top surgery vs. mastectomy: what's the difference?
A mastectomy is a surgical procedure that removes all or part of the patient's breast tissue. While chest masculinization surgery does include a complete mastectomy, it also includes:
Nipple and areola adjustment
Men generally have smaller NACs that sit more laterally on the chest. Top surgery for transmasculine people often includes resizing and repositioning the nipple and areola to look more natural on your flat chest.
Chest contouring
The major difference between a mastectomy and chest masculinization is the contouring. Using liposuction, I can remove fat from around the entire chest — not just from the breast. By removing fat from strategic areas, we can make the entire chest more traditionally masculine (i.e. flat, toned, and rectangular).
What is the process for top surgery?
Step one for any reconstructive or gender-affirming surgery is a consultation with me. During your consultation, we'll discuss your goals, medical history, and any currently ongoing treatments (such as medications or hormone therapy). It's important to me that my patients have the information they need to make a fully-informed decision. So we'll also go over recommended surgical techniques, expected results, and potential risks.
To prepare for your consultation, talk to your primary care provider about any new or existing medical concerns that might impact your eligibility for surgery. WPATH's standards of care criteria require a letter of support from a mental health professional as well.
On the day of your surgery, we will once again go over your procedure details and make sure you're equipped with all your aftercare instructions. A board-certified anesthesiologist will administer general anesthesia and then I'll proceed with your surgery.
In most cases, you will go home the same day — although you will need a friend or family member to drive.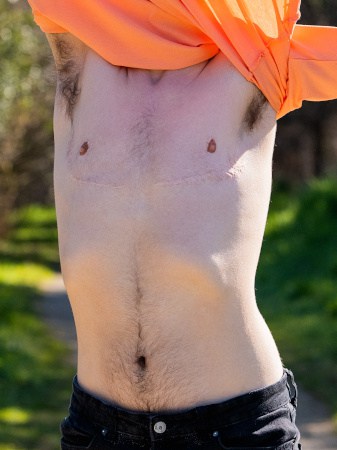 What is top surgery recovery time?
After surgery, your chest will be wrapped in bandages and you'll have to wear a compression vest to reduce swelling. You'll also have drains to collect fluid moving to the injured area. Draining these fluids improves healing and prevents infection.
The first week of recovery is usually the hardest. You won't be able to shower during this time and will need to empty your drainage bags regularly. During your follow-up, we'll remove your drainage tubes and check your healing progress.
While you can return to light activity and desk work when you feel comfortable, you'll have to avoid lifting your arms above shoulder height or carrying heavy objects for four to six weeks.
Depending on your body's healing process, it may take a few months for swelling to fully resolve. While this can be frustrating for many people, the wait will be worth it.
Is top surgery covered by insurance?
Most health insurance companies (especially here in California) do have coverage options for gender-affirming care. However, your insurance provider may require proof of the procedure being "medically necessary," such as a letter from a mental health professional who specializes in transgender care.
Check with your insurance company to see what procedures are covered and what requirements need to be met.
Get the best gender-affirming plastic surgery with Dr. Saber
Not only is Dr. Sepideh Saber an expert in plastic and reconstructive surgery (including the highly delicate field of microsurgery), but she also brings a more sensitive female perspective to plastic surgery. Access to gender-affirming plastic surgery improves mental health, quality of life, self-image, and overall well-being.
For this reason, the practice of Dr. Saber also offers facial surgeries, body contouring, and breast augmentation for trans and nonbinary patients.
To request a free consultation, call (877) 205-4100 or schedule a consultation online.
The practice of Dr. Saber is located in Encino, CA for patients throughout the Los Angeles area. We are also convenient to Encino, Woodland Hills, Sherman Oaks, Calabasas, Burbank, Glendale, Hidden Hills, Agoura Hills, Northridge, North Hollywood, Malibu, Topanga, Canoga Park, Reseda, Valley Glen, Chatsworth, West Hills, Winnetka, Universal City, Bel Air, Beverly Hills, Downtown Los Angeles, Silverlake, and Echo Park.
Dr. Saber takes her patients' safety seriously. The facility's Covid-19 patient safety procedures exceed all the CDC's coronavirus pandemic recommendations. Masks are always required in our institutes.
What patients say about
Dr. Saber

…

I LOVED DR SABER!!! There are a few reasons why I chose her. One was because she's a female Doctor that was my goal who also did a good job (which I was able to confirm with all her before and after photos) and what sold me was my safety in mind. She made me feel like I was in the best hands ever along with Marlene who coordinated everything THANK YOU LADIES!
Dr Saber helped me get back the body I have always desired. I had a lot of stomach fat from weight gain and I lost weight so a lot of my weight was in my front lower and upper abdomen.
Now I have a super beautiful curvy body like an hourglass after a tummy tuck and lipo she did. She understood the assignment hahaha . I'm 32 years old no kids just wanted to enjoy my younger body looking and feeling beautiful and she really took good care of me. Even after hours I had an emergency due to my fault but she was there and got back to me very quickly and I'm very grateful. I also think her work says a lot because I stopped taking pain medication on the 3rd day after surgery and was fine with very minimal pain I was able to tolerate the healing process. Highly recommend going with her I just had a wonderful experience and would do it all over again if I had too. Maybe after I have kids. Thanks Dr Saber and team