Could Botox Relieve Anxiety?
About Botox and Mental Health
IMPORTANT NOTE: Let me take a moment to remind you that I am not a psychiatrist, and I do not use Botox to treat anxiety (because I, of course, do not treat mental health).
But I do use Botox a lot in my practice, and it is exceedingly important that I keep abreast of all the potential side effects of its use. That way I can fully inform my patients about the pros and cons of every procedure I perform. I personally find this news about Botox to be fascinating as well as promising, so I wanted to share it with you.
Botox Has Many Uses
People usually think of Botulinum toxin (Botox) as a treatment for wrinkles, frown lines, and other signs of aging. Botox, an FDA-approved drug, has beneficial effects for many conditions, each with different injection sites. Botox is commonly used to treat excessive sweating, muscle spasms, misaligned eyes, and chronic migraines.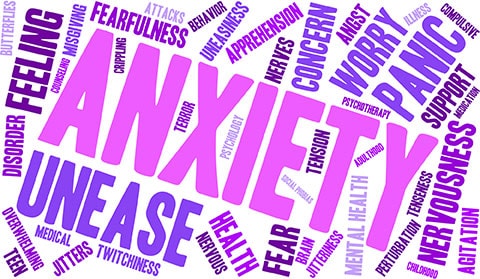 And someday, it could be used to reduce incident anxiety.
Anxiety is a condition in which people experience difficulties with daily activities due to excessive feelings of worry or fear. Anxiety attacks the central nervous system by sending an alarm to the hormone release center in your brain.
New research looking at Botox-side effect reports suggests that Botox decreases feelings of anxiety. Patients undergoing Botox injections reported less stress than people undergoing different treatments for the same conditions.
Botox for Anxiety and Depression
Clinical trials in 2012 and 2017 focused on the association between Botox, depression, and related disorders such as anxiety. Studies show that people who had depression and underwent Botox treatment experienced fewer depressive symptoms.
The new study from late 2021, published in Scientific Reports, conducted by researchers from Skaggs School of Pharmacy and Pharmaceutical Sciences at the University of California, San Diego, and two physicians from Germany, specifically looked at patients with anxiety. They examined the FDA's Adverse Effect Reporting System (FAERS) database. Nearly 40,000 people reported to FAERS the side effects they experienced after Botox treatment.
"A large number of diverse adverse effects are being reported to the FDA, and the main objective usually is to find those harmful side effects that had not been identified during clinical trials," said Ruben Abagyan, Ph.D., professor of pharmacy at the University of California, San Diego, and one of the researchers. "Why don't we do the opposite? Why don't we find beneficial effects?"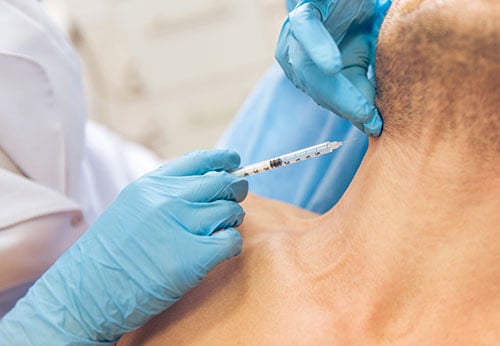 Abagyan and the other researchers compared the reported anxiety risk of patients who underwent Botox to a control group. The anxiety risk was 22-72% lower for patients who'd received Botox treatment for the following:
cosmetic use for facial muscles
facial and head muscles for migraine
upper and lower limb injections for spasticity
torticollis (a rare condition where the neck muscles cause the head to twist to one side)
Although the U.S. Food and Drug Administration (FDA) has not yet approved Botox for depression or anxiety treatment, studies show a link between Botox injections and improved mental health symptoms.
The Relation Between Botox and Anxiety
The primary theory for why Botox might be useful to treat depression and anxiety disorders is facial expression. While it's true that we smile because we're happy or frown because we're sad, the opposite could also be true; we're so glad because we smile, we're sad because we frown.
The amygdala is associated with emotional processing and facial expressions, and mood. A 2014 study provides strong evidence that the amygdala is sensitive to facial feedback (what your face is doing.) Botox temporarily paralyzes facial movement at the injection sites, hindering your ability to frown or furrow your brow and potentially making you feel happier by extension.
And someday, [Botox] could be used to reduce incident anxiety.
Is There Such a Thing As Botox Anxiety?
While there is no evidence suggesting that Botox causes anxiety, many people have questioned Botox injections' side effects and long-term effects. Perhaps the only way Botox would cause anxiety is the nerves building up before the first Botox appointment.
However, as we've been discussing, most research shows that Botox reduces anxiety.
Some side effects of Botox include:
Muscle stiffness
Nausea
Diarrhea
Swelling, pain, or redness in the injection site
Pain in neck muscles or back
Itching
Spasticity
Rash
Fatigue
Ear ringing
Flu symptoms
Dry mouth
Incontinence
While the above symptoms may seem alarming, these symptoms are less common. Many people who have had a Botox treatment say that their face feels weird for a few hours, but there's usually nothing to worry about.
FAQs About Botox Injections
Are Botox injections safe?
Botox injections are very safe when induced by a professional with experience in Botox treatment.
People who should not get Botox treatment include those who experience:
Bleeding problems
Eye problems such as glaucoma
Heart disease
Diabetes
Seizures
Nerve disorders
Breathing problems like asthma
Allergies to other medications
Speak to your injector about any concerns you have before the appointment.
How long does Botox last?
There is no sure way to know how long Botox lasts as it depends on your age, wrinkle depth, and elasticity of your skin. However, Botox treatment typically lasts four to six months.
Some people wonder if they'll see immediate results. Unfortunately, the results are not immediate. It generally takes about two weeks before seeing a physical difference. Always ask your provider if you're concerned about the length of time it takes to show up.
Does crying affect Botox?
No, crying will not affect the results of Botox. Doctors recommend using your frown muscles after injection to help the Botox do its job efficiently.
After your Botox treatment, it's best to relax for the remainder of your day while sitting upright for approximately four hours. However, because Botox doesn't require any immediate care, you'll be able to return to your normal activities as usual.
Will my eyebrows go back to normal after Botox?
Yes, your eyebrows will return to normal roughly five weeks after a Botox treatment.
Many people experience droopy or peaked eyebrows after a Botox injection. The reason for peaked eyebrows after Botox is that your practitioner has injected the frontalis muscle, making the outer eyebrows seem lifted in appearance.
The reason for droopy eyebrows after Botox is because your practitioner has injected the toxin into the circular areas of your eye, which pulls the eyebrows down.
Either way, your eyebrows will return to normal within six weeks after the Botox treatment.
Bottom Line: How Botox Relieves Anxiety
While Botox is not a replacement for antidepressants, anxiolytic (anti-anxiety) medications, or proper mental health treatment, it could be beneficial to your existing treatment plan.
Botox treatment for anxiety is okay if you use other methods such as meditation to calm or reduce your anxiety symptoms. It is not good to use Botox as your exclusive anxiety or depression treatment.
The anxiety risk was 22-72% lower for patients who'd received Botox treatment
Why Saber Plastic Surgery for Botox Injections?
Dr. Sepideh Saber, MD, FACS, is an American Board of Plastic Surgery-certified Los Angeles plastic surgeon. In addition to plastic surgery, she is also highly skilled in the application of Botox, dermal fillers, and other injectable cosmetic treatments.
She graduated from Stanford University's world-renowned medical school and did her plastic surgery residency at the University of Southern California (USC). She then completed a fellowship at New York University (NYU) in the extremely challenging and delicate area of hand surgery and microsurgery.
Dr. Saber offers a more sensitive, female perspective for patients of all ages, genders, and orientations. Former patients of all ages and from all walks of life have praised not only their outcomes but her caring, thoughtful approach to all types of appearance and health-related matters.
To request a consultation, call 818-818-2939 or schedule a consultation online.
Dr. Saber takes her patients' safety very seriously. Her facility's Covid-19 patient safety procedures exceed all CDC and World Health Organization recommendations. Masks are required in our office at all times during the coronavirus pandemic.
The practice of Dr. Saber is located in Encino, CA, for patients throughout the Los Angeles area. We are also convenient to Encino, Woodland Hills, Sherman Oaks, Calabasas, Burbank, Glendale, Hidden Hills, Agoura Hills, Northridge, North Hollywood, Malibu, Topanga, Canoga Park, Reseda, Valley Glen, Chatsworth, West Hills, Winnetka, Universal City, Bel Air, Beverly Hills, Downtown Los Angeles, Silverlake, and Echo Park.

Latest posts by Dr. Sepideh Saber
(see all)