Don't Sweat It:
Botox for Hyperhidrosis is Here
Can Botox Help You Sweat Less?
We humans sweat for two reasons. Firstly, as a cooling mechanism – the presence of sweat on a person's skin cools them through evaporation. This sort of cooling sweat is produced by our eccrine glands, which are located over the entire body and concentrated in areas like the armpits, palms of the hands, forehead, and soles of the feet.
The second type of sweat production is a response to emotional pressure. Stress sweat is produced by our apocrine glands, which are larger than the eccrine glands. The apocrine glands are mostly located in the armpits, groin, and upper chest. These glands produce sweat in response to a stressful challenge, such as the sweat accompanying stage fright, a.k.a. "flop sweat."
What is hyperhidrosis?
About 2% of Americans suffer from a condition known as hyperhidrosis. These folks sweat excessively, and they do so irrespective of the usual sweat triggers. They sweat when it's cool, and they sweat when they're calm. They sweat whether they're happy or sad, and when they're under no stress at all. And they sweat a lot. They sweat nearly continuously. They produce at least four times as much sweat as an ordinary person.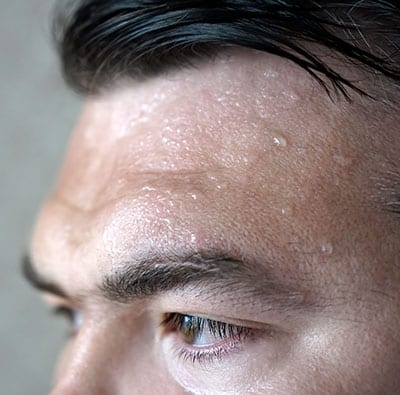 As you can readily imagine, hyperhidrosis inflicts a hugely negative impact on a person's quality of life. For example:
How do you shake someone's hand when you know you will leave the other person's hand dripping with your sweat?
How do you kiss your date when your forehead is sopping?
How do you type a memo when your slippery wet fingers keep sliding off the keys?
To its victims, hyperhidrosis can feel like a plague comparable to the bugs, frogs, and pestilence that Moses inflicted upon the Egyptians.
Hyperhidrosis isn't physically harmful but can be physiologically devastating
Until 2004, hyperhidrosis continued to be one of the most frustrating conditions known to dermatologists. When compared to other dermatology conditions, hyperhidrosis does very little physical harm as it merely makes its victims "very leaky." As long they stay hydrated, they remain systemically healthy,
However, from a practical and emotional viewpoint, severe hyperhidrosis is devastating. Metaphorical rivers of sweat form daunting barriers to both relationships and careers.
What causes excessive sweating?
There are two kinds of excessive sweating, "primary hyperhidrosis" and "secondary hyperhidrosis."
Primary hyperhidrosis is idiopathic, which is medical jargon for "nobody knows its cause." But we know that something generates overactivity of the hypothalamic regulatory center in the brain and that the sympathetic nervous system transmits overactivity to the sweat glands, where it results in copious sweating.
What we know about primary hyperhidrosis:
It generally starts in childhood or early adolescence
Primary hyperhidrosis may persist throughout a person's life or diminish with age
There's often a family history
Sweating tends to decrease at night, and almost always disappears when a patient is asleep
Secondary hyperhidrosis, as the name "secondary implies," is caused by some other underlying medical condition. Some of the conditions that cause secondary hyperhidrosis are:
Substance abuse
Obesity
Diabetes
Menopause
An overactive thyroid
Chronic anxiety disorder
Respiratory failure
Endocrine tumors
Parkinson's disease
A brain tumor
Focal hyperhidrosis is localized, i.e., concentrated in specific areas of the body (armpits, palms, soles, face). Hyperhidrosis can also be generalized – affecting most or all of the body.
Primary and secondary hyperhidrosis are often accompanied by irritant dermatitis and skin infections. The hands of those with palmar hyperhidrosis are prone to a blistering type of dermatitis. Additionally, the feet of those with plantar hyperhidrosis are prone to podiatric infections.
What is the treatment for hyperhidrosis?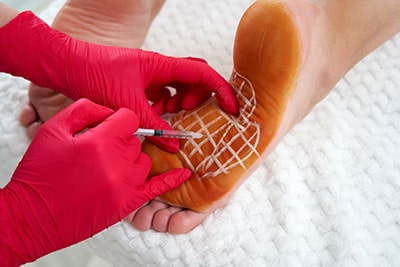 There are several treatment methods to mitigate hyperhidrosis. They begin with the simpler modes, such as extra-strength antiperspirant, usually containing aluminum chloride. Some oral medications block acetylcholine, the chemical that triggers the sympathetic nervous system to over-stimulate the sweat glands.
These treatments are generally of limited effectiveness and often accompanied by significant side effects. Side effects can include itching, irritation, dry mouth, blurred vision, constipation, and/or stomach cramps.
For the most severe cases of hyperhidrosis, a doctor may use microwaves to destroy sweat glands or surgically remove them.
Hyperhidrosis surgery
Endoscopic thoracic sympathectomy (ETS) is one type of hyperhidrosis surgery; it's only used in the most severe cases involving the palms or armpits. Small incisions are made in the affected area, and the nerves that control sweating are cut. ETS is an effective treatment because the severed nerves can no longer transmit the signals that cause excessive sweating.
There are of course potential negative side effects from ETS. One such unwanted result is excessive compensatory sweating in other areas, such as the face and neck. This side effect usually occurs after eating and is called gustatory sweating. Other complications of ETS can include damage to the nervous system that results in a permanently drooping eyelid.
Botox injections for hyperhidrosis to the rescue!
In 2004, the FDA approved the neurotoxin Botulinum Toxin Type A (named Botox by Allergan, its manufacturer) for the treatment of underarm hyperhidrosis. Clinical studies show that Botox decreases underarm sweating 82 – 87%.
The injection of botulinum toxin is also used for other hyperhidrosis locations, including the hands and feet.
Botox (and its close European relative, Dysport) is easy to use and has quickly become the medical equivalent of duct tape – it works for almost everything.
Today Botox is used for a myriad of conditions, including:
Spasticity
Cervical dystonia
Eye muscle disorder 
Drooling
Overactive bladder
and more!
And, of course, Botox continues to fulfill its most prominent role as an aesthetic eraser of facial wrinkles and frown lines.
How is Botox for hyperhidrosis administered?
Botox treatments can be accomplished in a physician's office and the drug administration takes relatively little time. Trained and experienced healthcare providers can inject both underarms in under 15 minutes. There are no consequent restrictions of work or leisure activities, aside from avoiding intensive exercise or using a sauna on the day of the injections. Underarms and the forehead are the easiest areas to treat and get the best results.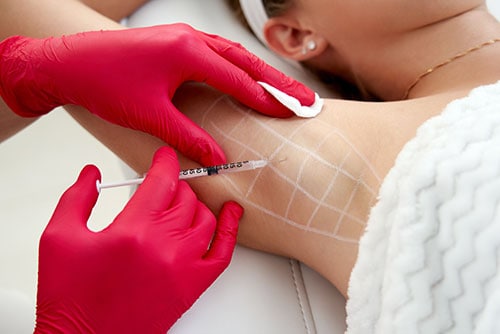 During the procedure, a very fine needle is used to inject tiny amounts of Botox just under the skin in a grid pattern covering the area of excessive sweating, with about 25 individual injection sites spaced around 1 – 2 cm apart. Follow-up appointments are recommended about two weeks after the initial procedure.
The beneficial effects of Botox will usually last from 6 to 14 months, and the treatments can be repeated with no harmful accumulative effects. The cost varies geographically, but treatment for both underarms usually costs around $1,000. There is no doubt that hyperhidrosis treatment is medically necessary, so most insurance plans should cover the injections.
Potential side effects of Botox for hyperhidrosis
Side effects of Botox treatment for hyperhidrosis are usually brief and mild. There is some pain, but a local anesthetic can reduce that side effect. There can be some residual muscle weakness around the injection area, but that is also temporary.
Why Choose Saber Plastic Surgery for Botox treatment for hyperhidrosis?
Dr. Saber is a highly respected board-certified plastic and reconstruction surgeon who offers a more sensitive, female perspective for patients of all ages, genders, and orientations. Patients from all walks of life have praised not only their treatment outcomes but her caring, thoughtful approach to a wide array of appearance and health-related matters.
A graduate of Stanford University's world-renowned medical school, she did her plastic surgery residency at the University of Southern California (USC). She then completed a fellowship at New York University (NYU) in the extremely challenging and delicate hand surgery and microsurgery disciplines.
To request a consultation, call 877-205-4100 or schedule a consultation online.
Dr. Saber takes her patients' safety very seriously. Her facility's Covid-19 patient safety procedures exceed all CDC and World Health Organization recommendations. Masks are required in our office during the coronavirus pandemic.
The practice of Dr. Saber is located in Encino, CA, for patients throughout the Los Angeles area. We are also convenient to Woodland Hills, Sherman Oaks, Calabasas, Burbank, Glendale, Hidden Hills, Agoura Hills, Northridge, North Hollywood, Malibu, Topanga, Canoga Park, Reseda, Valley Glen, Chatsworth, West Hills, Winnetka, Universal City, Bel Air, Beverly Hills, Downtown Los Angeles, Silverlake, and Echo Park.

Latest posts by Dr. Sepideh Saber
(see all)