Male Breast Reduction Surgery
"Man boobs." A crude term for a perfectly normal occurrence. There are many places on the human body that fat naturally accumulates; one of those places is the chest.
But it isn't just fat that can cause men to have larger breasts. According to the National Institutes of Health (NIH) up to 65% of men middle-aged and older are affected by gynecomastia.
What are the causes of Gynecomastia?
Gynecomastia is a hormonal condition. According to the NIH, up to 70% of boys in early to mid-puberty will experience gynecomastia due to natural hormonal changes. During puberty and aging, the estrogen to testosterone ratio shifts. An increase in estrogen or decrease in testosterone can cause gynecomastia.
Increased breast tissue can also be caused by certain drugs, including anabolic steroids.
How do I know my gynecomastia won't go away on its own?
Most cases of gynecomastia caused by puberty will resolve themselves. It only persists past age 17 in 20% of men.
If you're an adult man with enlarged breasts that aren't caused by fat, it may be gynecomastia and it won't be going away on its own. Once breast gland tissue has formed, it requires surgical excision to be resolved.
If your gynecomastia is caused by the use of certain drugs, breast growth can reappear after surgery if the drug use is continued.
Gynecomastia vs Fat
Gynecomastia is a condition in which men or boys have enlarged glandular tissue in the breast. It will sometimes go away over time, but more severe or persistent cases do require treatment to get rid of.
Fat deposits can also create the appearance of enlarged breasts in men. But unlike gynecomastia, fat can be reduced through diet and exercise.
Gynecomastia is usually equal but may be asymmetric or in only one breast. A breast self-exam will generally demonstrate a tender, firm, palpable, disc-like mound of tissue under the nipple and areola area.
If the tissue is hard, fixed, peripheral to the nipple, or accompanied by nipple discharge, skin changes, or enlarged lymph nodes, it might be breast cancer. In this instance, you should see your doctor for a proper evaluation.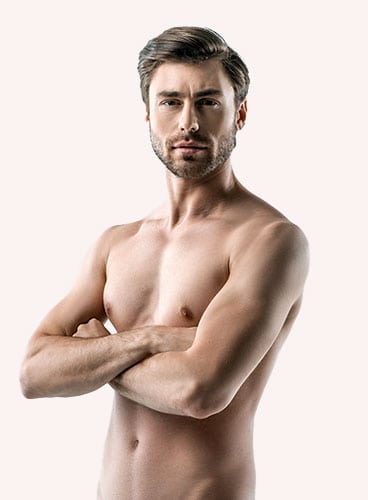 Gynecomastia Surgery
Whether the cause is excess fat, enlarged breast tissue, or excess skin left after weight loss, plastic surgery can help. If you're self-conscious or insecure about your chest, my team and I are here for you. Many men have benefited from the more sensitive, considerate approach a female plastic surgeon provides.
There are multiple gynecomastia treatment options depending on your exact needs.
Gynecomastia Surgery
Whether the cause is excess fat, enlarged breast tissue, or excess skin left after weight loss, plastic surgery can help. If you're self-conscious or insecure about your chest, my team and I are here for you. Many men have benefited from the more sensitive, considerate approach a female plastic surgeon provides.
There are multiple gynecomastia treatment options depending on your exact needs.
If you've been struggling with enlarged breasts for a while and are struggling with self-esteem, self-image, or embarrassment, schedule a consultation now.
Liposuction
Breast enlargement due to fat deposits (also known as pseudogynecomastia) can be efficiently treated with liposuction. Excess fat will be removed while still leaving breast gland tissue to maintain natural chest contours, but will otherwise have a more flat, traditional male chest.
Gynecomastia Surgery
If, during your consultation, I determine the cause of your larger chest to be excess breast tissue, we'll schedule you for gynecomastia surgery (or male breast reduction surgery). This procedure involves surgical excision of the excess glandular tissue (and excess fatty tissue and extra skin if necessary) leaving you a flatter, more masculine chest.
Male Chest Contouring
Removing extra breast tissue and using liposuction to remove unwanted fatty tissue both create a flatter, firmer chest. However, we can also do some sculpting of the chest wall to create a traditionally masculine-looking chest.
Contouring is often a part of "top surgery"; after surgical removal of the breast tissue, a surgeon will create a more masculine chest contour.
How is men's chest reduction performed?
As I've previously mentioned, there are two ways of reducing the size of the male chest: liposuction or tissue excision. Sometimes, a combination of both is required.
In either case, we'll meet for an initial consultation to discuss your goals, perform an evaluation, and go over the possible risks and results of the surgical plan. I'll give you all the information you need and answer any and all questions. It's very important to me that my patients make fully informed decisions.
Male breast reduction is typically an outpatient procedure. On the day of your surgery, you'll either receive local anesthesia and sedation or general anesthesia. I always work with a leading board-certified anesthesiologist to ensure patient safety.
Liposuction can be performed through small incisions, but tissue excision will require larger incisions around the areola or in your chest's natural creases. Once the incisions are made, the fat and/or glandular tissue will be removed and I'll do some reshaping for a flattering and natural chest contour.
If necessary, stretched, sagging skin will be removed. We can also reposition your nipples to maintain a natural look.
Gynecomastia Surgery Recovery and Results
Soreness and swelling are common after your cosmetic surgery, however, recovery is relatively quick. Most patients return to normal activities within the first week after surgery. However, strenuous activity should be avoided for three to six weeks. Before and after your surgery I will go over your specific recovery plan (including how long to rest).
You'll receive a compression garment to wear for several weeks. This helps reduce swelling and ensure optimal results. Post-op soreness and discomfort can be managed with over-the-counter pain medication.
After recovery, your chest will look symmetrical, natural, and well contoured. And the results should be permanent – the excess fat, glandular tissue, and skin removed are gone for good. However, some activities can lessen your results.
To maintain your new chest contour:
Maintain a healthy lifestyle
Avoid significant weight fluctuations (weight gain can cause fat to once again accumulate in the chest area)
Avoid drugs that influence testosterone levels
Am I a good candidate for male breast reduction surgery?
This is the most important question I have to answer. I will always be completely honest about whether I think a surgery is suitable for my patients.
To be a good candidate for gynecomastia surgery you should be:
Healthy
A non-smoker
Not taking any drugs or supplements that could cause breast tissue re-growth
Maintaining a stable weight
Healthy men are the best candidates for gynecomastia surgery. An exam or screening may be required to rule out certain rare underlying conditions such as endocrinologic or hormonal imbalances, tumors of the adrenal or pituitary gland, the testes, or the breasts, as well as cirrhosis of the liver and other conditions.
If you've been struggling with enlarged breasts for a while and are struggling with self-esteem, self-image, or embarrassment, schedule a consultation now. Together, we can go over your goals and determine if plastic surgery is the solution for you.
Gynecomastia Frequently Asked Questions
Can exercises reduce men's chest fat?
Surprisingly, doing extra chest exercises can actually make gynecomastia worse. Because gynecomastia isn't caused by fat and has nothing to do with the chest muscles, exercise won't reduce enlarged male breasts at all. In fact, building up the chest muscles can make a chest overdeveloped by breast tissue more prominent.
On the bright side, once you've had your breast reduction surgery, your nice, built up pecs will be more visible.
Does men's chest reduction leave scars?
Where there's an incision, there's a scar. Most incisions required for male breast reduction procedures are small and will fade over time. I do my best to make the scars as minimal and well-concealed as possible. Our goal is to improve your self-esteem after all!
For breast tissue removal the scar will usually be under the areola. For large breast removal the scars may extend across each side of your chest. We do our best to hide these scars in a crease for better concealment.
Does insurance cover male breast reduction?
Generally, insurance doesn't cover cosmetic surgery. However, some insurance companies will cover treatment of gynecomastia if it is related to health problems. Make sure you check with your primary care provider and insurance company to see what your health and coverage options are.
How much does male breast reduction surgery cost?
According to the American Society of Plastic Surgeons, the average cost for gynecomastia surgery is $4,123 (plus anesthesia, operating room facilities, and other related expenses).
I will go over your estimated costs with you well before your surgery so you won't have any surprises.
Why it's critically important to choose a Board-Certified Plastic Surgeon
All surgeries come with some risk; we all know this. But did you know that many doctors who perform plastic surgery are not board-certified plastic surgeons?
For a surgeon to become board certified, we must have at least 14 years of higher education including special intensive training in reconstructive and cosmetic surgery.
This means that in the very unlikely event of a complication, it can be handled quickly and efficiently. Board-certified plastic surgeons have full admitting privileges at local hospitals. Non-board-certified plastic surgeons do not, thus they cannot even treat you outside of their own surgery center. Additionally, I always work with leading board-certified anesthesiologists during my procedures to ensure patient safety. Unfortunately, this is not always the case with cosmetic surgeons.
Aren't all doctors who perform cosmetic plastic surgery procedures board-certified?
Sadly, no. Many are not certified to do the cosmetic procedures they are performing. That can lead to significant problems for any patient who has complications. It can also mean that the surgeon who performed your procedure cannot even admit you to a hospital or provide any follow-up care at the hospital.
Dr. Saber's extensive training, board certification, and experience as a noted reconstructive surgeon serve as an assurance that her approach to surgery is ethical, safe, and effective.
Why choose Dr. Saber for your Male Breast Reduction in the Los Angeles area?
Dr. Sepideh Saber, MD, FACS, is a board-certified plastic surgeon. She graduated from Stanford University's world-renowned medical school and took her plastic surgery residency at the University of Southern California (USC). She then completed a fellowship at New York University (NYU) in the extremely challenging and delicate areas of hand surgery and microsurgery.
Dr. Saber offers a more sensitive, female perspective for patients of all ages, genders, and orientations. Former patients from all walks of life have praised not only their outcomes but her caring, thoughtful approach to all types of appearance and health-related matters.
To request a consultation, call 818-818-2939 or schedule a consultation online.
Dr. Saber takes her patients' safety very seriously. Her facility's Covid-19 patient safety procedures exceed all CDC and World Health Organization recommendations. Masks are required in our office at all times during the coronavirus pandemic.
The practice of Dr. Saber is located in Encino, CA for patients throughout the Los Angeles area. We are also convenient to Encino, Woodland Hills, Sherman Oaks, Calabasas, Burbank, Glendale, Hidden Hills, Agoura Hills, Northridge, North Hollywood, Malibu, Topanga, Canoga Park, Reseda, Valley Glen, Chatsworth, West Hills, Winnetka, Universal City, Bel Air, Beverly Hills, Downtown Los Angeles, Silverlake, and Echo Park.
What patients say about
Dr. Saber

…

I LOVED DR SABER!!! There are a few reasons why I chose her. One was because she's a female Doctor that was my goal who also did a good job (which I was able to confirm with all her before and after photos) and what sold me was my safety in mind. She made me feel like I was in the best hands ever along with Marlene who coordinated everything THANK YOU LADIES!
Dr Saber helped me get back the body I have always desired. I had a lot of stomach fat from weight gain and I lost weight so a lot of my weight was in my front lower and upper abdomen.
Now I have a super beautiful curvy body like an hourglass after a tummy tuck and lipo she did. She understood the assignment hahaha . I'm 32 years old no kids just wanted to enjoy my younger body looking and feeling beautiful and she really took good care of me. Even after hours I had an emergency due to my fault but she was there and got back to me very quickly and I'm very grateful. I also think her work says a lot because I stopped taking pain medication on the 3rd day after surgery and was fine with very minimal pain I was able to tolerate the healing process. Highly recommend going with her I just had a wonderful experience and would do it all over again if I had too. Maybe after I have kids. Thanks Dr Saber and team