Are you self-conscious about your saggy or puffy eyelids?
Are droopy eyelids impacting your ability to see clearly? Blepharoplasty (the medical term for eyelid surgery) has medical and cosmetic applications for adjusting your eyelids.
Eyelid surgery is common (in 2016 it was the fourth most popular cosmetic surgery procedure) but, like any surgery, comes with risks. There may be less invasive options to achieve your goals. If you're curious about blepharoplasty, read the information I've put together for you, and then schedule a consultation! We'll go over what your best treatment option is.
An eyelid lift may be recommended to improve some vision problems (which I'll discuss below). It's also a great cosmetic procedure for a more youthful appearance.
What is blepharoplasty?
As I mentioned, blepharoplasty is the technical name for eyelid surgery. It's a facial plastic surgery designed to improve the appearance of the eyes by adjusting the lower lids, upper lids, or both.
As a cosmetic surgery, blepharoplasty can remove loose or excess skin, address droopy eyelids, or minimize dark circles, fine lines, and puffiness. A study from the American Academy of Otolaryngology – Head and Neck Surgery Foundation has shown an improvement in confidence and quality of life after eyelid surgery.
Blepharoplasty might be the right option for you if sagging or droopy eyelids keep your eyes from fully opening or pull down your lower eyelids. Removing excess skin and tissue can both improve your vision and make your eyes appear younger.
Eyelid surgery may be an option for patients with:
Baggy or droopy upper eyelids
Excess upper eyelid skin that interferes with peripheral vision
Excess skin on the lower eyelids
Bags under eyes
If facial rejuvenation is your primary goal, it might benefit you to undergo blepharoplasty at the same time as a facelift or skin resurfacing. We'll discuss your goals and what type of surgery best fits your needs during your consultation. Do note, I will never push my patients to get unnecessary surgery.
What types of eyelid plastic surgery are available?
I don't expect patients to come in knowing exactly what procedure they need. That's what we have consultations for! But it can be helpful for people to know what options are out there.
Medical Blepharoplasty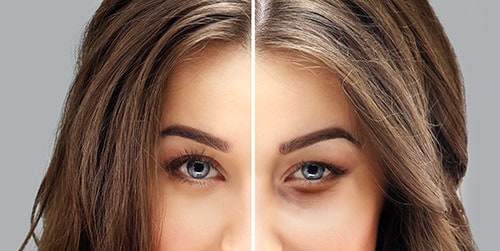 Slackness of the upper eyelid skin can limit peripheral vision. Excess lower eyelid skin or slack eye muscles can also negatively impact a patient's ability to see clearly. Excess skin on the eyelids rubbing together can cause irritation; in addition, the forehead muscles can become strained lifting the sagging excess skin.
When performed by a skilled ophthalmologist or plastic surgeon, eyelid surgery can not only improve the appearance of the eyes but also your vision.
Reconstructive Surgery
I actually completed my residency at USC in reconstructive surgery. Eyelid reconstruction is a surgical procedure that corrects eyelid defects caused by trauma, surgical resection of tumors, congenital conditions, or other surgical procedures. Unlike elective eyelid surgery done for cosmetic reasons, reconstructive surgery is important for restoring the proper function of the eyelid.
Upper Eyelid Plastic Surgery
Upper eyelid blepharoplasty (as the name implies) is surgery only on the upper eyelid. The medical term for an upper eyelid that droops is ptosis. Ptosis can be congenital (present at birth) or caused by aging or weakening of muscles and tendons that hold the eye open.
During upper eyelid surgery, the surgeon removes and sculpts skin, fat, and muscle in the upper eyelid. This type of surgery can restore the function of the eye or provide a more rounded, open appearance.
Lower Eyelid Plastic Surgery
Lower blepharoplasty (as the name implies) is surgery only on the lower eyelid. Lower eyelid surgery is usually a cosmetic procedure focusing on correcting loose skin, excess fat, and wrinkles of the lower eye area.
As you age, your skin and the tissues below your skin lose elasticity. This can make the lower eyelid appear baggy, wrinkled, and puffy. This type of surgery focuses on making the undereye smoother, creating a more youthful look. Tightening the skin can also help reduce the appearance of dark circles under the eye.
If you need fat removed or redistributed from below the eye but don't have excess skin, you may benefit from a transconjunctival blepharoplasty. In this procedure, the incision is made inside the lower eyelid, leaving no visible scar.
Double Eyelid Plastic Surgery
In double eyelid surgery, a crease is made in the upper eyelid, creating a wider, larger-looking eye. This procedure has gained a lot of popularity in East Asia and is most often referenced in relation to blepharoplasty as a whole.
Blepharoplasty Surgery
While I mentioned upper and lower eyelid surgery separately, they can be performed simultaneously. Depending on the overall appearance and function of the eye, a patient may need surgery performed on both eyelids.
Brow Lift Plastic Surgery
Some patients who come to me looking for eyelid surgery actually have eyebrow ptosis! Lifting droopy eyebrows will actually improve the appearance of the eyes in these cases.
This is why it's important to have a consultation with a skilled surgeon. We can evaluate the root of your appearance concerns and select the right surgical procedure for your needs.
What's the best nonsurgical eyelid lift?
Surgery isn't fun. Some people don't have the time for a longer recovery or just don't need as drastic a change. For those patients, nonsurgical options may be sufficient.
Nonsurgical procedures include:
Botox can be used to reduce the appearance of fine lines and wrinkles but does require touch-ups every 4-6 months. Unlike eyelid surgery, Botox can improve the appearance of crow's feet. With proper injection technique, it can also raise your brows and give you a more youthful appearance.
Dermal fillers are injectables that fill in wrinkles and creases. Under eye fillers can be used to improve the appearance of tear troughs, the hollowness under your eyes which is caused by a deep crease between the lower eyelid and the upper cheek. Fillers require more future injections to maintain the results.
Laser skin resurfacing removes the upper layer of skin using a laser. The idea is that new, smooth skin cells will grow back, improving the appearance of the eyes. There may be redness and peeling for up to 10 days after treatment.
Dr. Saber offers a more sensitive, female perspective for patients of all ages, genders, and orientations.
How is the blepharoplasty procedure performed?
Step one is always a consultation with me and my team. We'll go over your goals and medical history and discuss your expectations. I will always explain the most likely results and possible risks so you can make an informed decision on whether eyelid surgery is right for you.
You'll receive pre-op instructions on over-the-counter and/or prescription medications to avoid and any other changes to make leading up to surgery to ensure your best outcome.
Blepharoplasty is an outpatient procedure that takes about two hours, depending on the patient's exact procedure. On the day of the surgery, you'll receive anesthesia. I always work with a board-certified anesthesiologist to ensure patient safety. Depending on your procedure and comfort, you'll either receive local anesthesia and sedation or general anesthesia.
Small incisions will be made to extract excess skin and/or fat. I always try to place incisions along natural creases or the lash line to make the scars are less noticeable until they fade away. The incisions will be closed with tiny sutures which will usually stay in place for a few days to a week.
What is the blepharoplasty recovery timeline?
You'll receive a general eyelid surgery recovery timeline before your surgery along with important recovery instructions. However, exact recovery time varies from patient to patient.
After surgery, patients commonly experience some swelling, bruising, dry eyes, and slight irritation. Discomfort can be managed with ice packs, ointments, eye drops, and medication. Instructions will be given to you in advance of your procedure.
You'll be asked to avoid strenuous activity for at least a week and avoid rubbing your eyes. It will also be important to wear sunglasses or otherwise protect your eyes from sun exposure.
Bruising and swelling should subside in about 10 to 14 days at which point most patients return to their regular activities. Scars will fade over time, but the exact timeline varies from person to person.
It typically takes about four to six weeks for the improvements to become completely visible.
Is blepharoplasty worth it?
This is the most important question I have to answer for every patient. For some, the years taken off their appearance is certainly worth the minor discomfort of surgery. But if I don't think blepharoplasty will give you the results you want, or results that outweigh the discomfort and risk, I will honestly tell you so.
All surgery comes with some risk, but a board-certified plastic surgeon decreases the risk of major complications.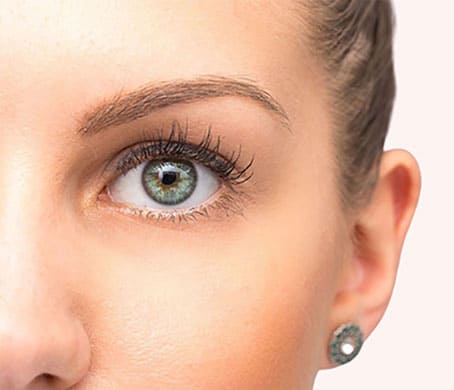 Possible risks of eyelid surgery include:
Infection and bleeding
Dry, irritated eyes
Difficulty closing your eyes or other eyelid problems
Noticeable scarring
Injury to eye muscles
Skin discoloration
Temporarily blurred vision or, rarely, loss of eyesight
Who is a good candidate for blepharoplasty?
The best candidates for eyelid surgery are:
Generally healthy
Non-smokers (or willing to quit)
Free of major eye conditions
Ideal candidates will also have realistic expectations.
Most blepharoplasty candidates are 35 or older. However, if baggy or droopy eyelids run in your family, you may decide to have it done sooner.
If you are experiencing any eye conditions (such as dry eye syndrome or glaucoma) you should consult with your ophthalmologist before seeking cosmetic surgery.
Eyelid Surgery Frequently Asked Questions
How long after blepharoplasty can I wear makeup?
A common question I get, especially from my female patients, is when they can return to their preferred makeup routine.
While you may feel better and less bruised after about 10 days, you'll need to wait at least two weeks before wearing makeup again. This gives the incisions time to fully close.
How long does blepharoplasty last?
Why put yourself through all that discomfort if the results aren't going to last?
The results of blepharoplasty can last for many years; for some, the results will last a lifetime. You will of course continue to age and the effects may diminish with time. However, you'll always benefit from the years taken off your appearance.
Is blepharoplasty covered by insurance?
Insurance generally doesn't cover cosmetic surgery. If you're having blepharoplasty surgery to correct a medical or vision problem, it may be covered. Check with your insurance provider to see what your coverage options are.

How much does eyelid lift cost?
The average cost for the surgical procedure is $3,026. This doesn't include anesthesia, medications, and operating room facility costs. I will go over your expected cost ahead of time; no surprise bills!
How long does eyelid surgery last?
Upper eyelid surgery typically lasts about 10 years and a lower eyelid lift lasts a lifetime.
Why it's critically important to choose a Board-Certified Plastic Surgeon
All surgery comes with some risk, we all know this. But did you know that many doctors who perform plastic surgery are not board-certified plastic surgeons?
For a surgeon to become board certified, they must have at least 14 years of higher education including special intensive training in reconstructive and cosmetic surgery.
This means that in the very unlikely event of a complication, it can be handled quickly and efficiently. Because board-certified plastic surgeons have full admitting privileges at local hospitals. Non-board-certified plastic surgeons do not, thus they cannot even treat you outside of their own surgery center. Additionally, Dr. Saber always works with leading board-certified anesthesiologists during her procedures to ensure patient safety (unfortunately this is not always the case with surgeons).
Aren't all doctors who perform cosmetic plastic surgery procedures board-certified?
Sadly, no. Many are not certified to do the cosmetic procedures they are performing. That can lead to significant problems for any patient who has complications. It can also mean that the surgeon who performed your procedure cannot even admit you to a hospital or provide any follow-up care at the hospital.
Dr. Saber's extensive training, board certification, and experience as a noted reconstructive surgeon serve as an assurance that her approach to surgery is ethical, safe, and effective.
Why choose Dr. Saber for Blepharoplasty in the Los Angeles area?
Dr. Sepideh Saber, MD, FACS offers a more sensitive, female perspective for patients of all ages, genders, and orientations. Patients of all ages and from all walks of life have praised not only their final outcomes but her caring, thoughtful approach to all types of appearance and health-related matters.
Dr. Saber graduated from Stanford University's world-renowned medical school and did her reconstruction and plastic surgery residency at the University of Southern California (USC). She completed her fellowship at New York University (NYU) in the extremely challenging and delicate areas of hand surgery and microsurgery.
To request a consultation, call (877) 205-4100 or schedule a consultation online.
Dr. Saber takes her patients' safety very seriously. Her facility's Covid-19 patient safety procedures exceed all CDC and World Health Organization recommendations. Masks are required in our office at all times during the coronavirus pandemic.
The practice of Dr. Saber is located in Encino, CA for patients throughout the Los Angeles area. We are also convenient to Encino, Woodland Hills, Sherman Oaks, Calabasas, Burbank, Glendale, Hidden Hills, Agoura Hills, Northridge, North Hollywood, Malibu, Topanga, Canoga Park, Reseda, Valley Glen, Chatsworth, West Hills, Winnetka, Universal City, Bel Air, Beverly Hills, Downtown Los Angeles, Silverlake, and Echo Park.
What patients say about
Dr. Saber

…

I LOVED DR SABER!!! There are a few reasons why I chose her. One was because she's a female Doctor that was my goal who also did a good job (which I was able to confirm with all her before and after photos) and what sold me was my safety in mind. She made me feel like I was in the best hands ever along with Marlene who coordinated everything THANK YOU LADIES!
Dr Saber helped me get back the body I have always desired. I had a lot of stomach fat from weight gain and I lost weight so a lot of my weight was in my front lower and upper abdomen.
Now I have a super beautiful curvy body like an hourglass after a tummy tuck and lipo she did. She understood the assignment hahaha . I'm 32 years old no kids just wanted to enjoy my younger body looking and feeling beautiful and she really took good care of me. Even after hours I had an emergency due to my fault but she was there and got back to me very quickly and I'm very grateful. I also think her work says a lot because I stopped taking pain medication on the 3rd day after surgery and was fine with very minimal pain I was able to tolerate the healing process. Highly recommend going with her I just had a wonderful experience and would do it all over again if I had too. Maybe after I have kids. Thanks Dr Saber and team