The stereotypical plastic surgery patient is a young Hollywood starlet or a middle-aged woman trying to regain her youth. However, people of all ages and genders benefit from the growing popularity of cosmetic surgery.
Men struggling with excess skin or body fat, feeling self-conscious about their appearance, or looking to reverse the signs of aging all see the benefits of men's plastic surgery. In fact, male plastic surgery has been on the rise in recent years.
Some male plastic surgery procedures are more popular among men than others, and many cosmetic procedures have different objectives depending on the patient's gender.
I always provide honest, compassionate, specialized care for my male patients.
Some of the more common plastic surgeries for men include: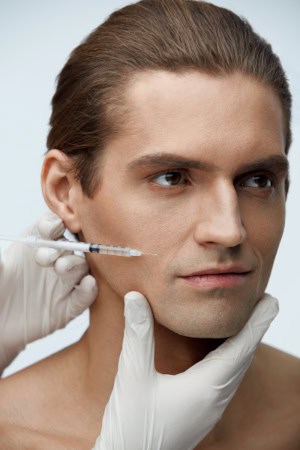 Botox for men
There's a reason Botox® is one of the most popular cosmetic procedures in the country — it's effective, quick, and requires no downtime. Men turn to Botox for the same reason women do: to reduce fine lines, wrinkles, and facial creases. Botox is a great cosmetic treatment for busy men who want to look younger, but don't want to take time out for surgery.
Beyond its cosmetic uses, Botox also has medical uses! Botox also helps with mental health, migraines, excessive sweating, and muscle spasms.
Dermal fillers for men
Dermal fillers are injectable gel-like materials that add volume and fullness to specific areas of the face. Unlike fat grafting, injectables are temporary, most lasting 6 to 18 months before being absorbed by the body.

Dermal fillers can be used to:
decrease wrinkles around the eyes and forehead
create fuller lips
increase cheek volume
fill out nose wrinkles
improve chin appearance
Many of my male patients like dermal fillers because they are quick, provide long-lasting results, and require no downtime.
Eyelid surgery for men
Eyelid surgery (blepharoplasty) is one of the most popular men's facial plastic surgery procedures. It can be performed on the upper eyelids, lower eyelids, or both. Everybody's skin sags more as we age, which can cause esthetic and functional problems.
There are many problems eyelid surgery can treat, including:
loose or sagging skin that impairs vision
fatty deposits that make the eyelids look puffy
bags under the eyes
drooping lower eyelids
excess skin and wrinkles of the lower eyelid
Sagging eyelids can make people look tired and old. In men, sagging upper eyelids can also make them look angry. Removing excess skin creates a more alert, youthful look and can even improve your ability to see.
What is a brow lift?
A brow lift — while different from eyelid surgery — does offer similar results. A brow lift involves an incision just above the brow. From there, the skin above the eyes is pulled up, making you look more alert and youthful.
In men, a brow lift can also eliminate the appearance of anger that comes from low, furrowed brows.
Fat grafting for men
Fat grafting is almost a two-in-one surgical procedure. I use liposuction to strategically remove fat from other parts of the body and then use that same fat to improve the appearance of other areas. For women, I typically use this technique for Brazilian Butt Lifts or breast augmentation.
My male patients generally use fat grafting to remove excess fat from their abdomen or chest to enhance the size of their calves, biceps, or shoulders. Unlike implants, there is no risk of rejection with fat grafting because the fat comes from your own body. In addition, fat grafting lasts practically forever while implants eventually need removal and replacement.
Gynecomastia surgery
Gynecomastia surgery (or male breast reduction) flattens and enhances chest contours.
Some men have over-developed breast tissue caused by hormonal imbalance, and this is called gynecomastia. Male breast reduction removes excess fat and skin to create a flatter, more masculine chest. When treating gynecomastia, I also remove the excess breast tissue.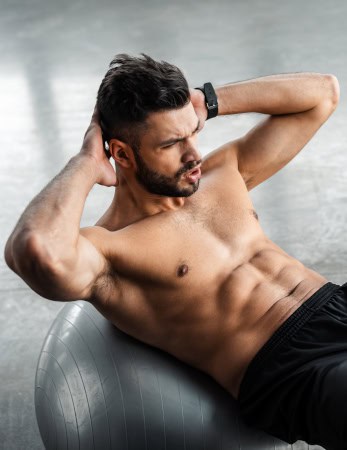 Liposuction for men
Liposuction is one of the most popular cosmetic surgeries in the country, and it's easy to see why. With liposuction, we can remove stubborn fat deposits from almost any part of the body.
Liposuction can remove excess fat deposits from:
thighs
hips and buttocks
waist and "love handles"
arms
chin, neck, and cheeks
abdomen
chest
Men generally want more angular features than women. Society associates strong angles and straight lines with men, while women are traditionally more soft and curved. With strategic fat removal, we can improve body contours and create a narrower waistline, flatter chest, more defined arm and leg muscles, and more.
Male chin implant
As a society, we've decided that a strong chin equals "manliness." Some men are self-conscious about their small or round chin. A chin implant can also resolve double chin in some patients.
Well-shaped and skillfully placed chin implants can provide natural-looking facial enhancement, balancing out the entire face.
Male facelift
A facelift (rhytidectomy) is a cosmetic procedure designed to make your face look younger. As we age, our body's collagen production naturally slows down, causing our skin to lose elasticity. In addition, we lose fat as we get older.
These factors combine to create loose, sagging facial skin and the stereotypical look of "old age."
For men who want a more youthful appearance, a facelift can do wonders, which is why it is also one of the most requested facial plastic surgery for men. With one surgical procedure, I can pull your skin tighter, remove excess skin, tighten your face's underlying muscles, and (if previously agreed upon) remove, contour, or implant fat. Removing fat from the face can create a smoother appearance; fat grafting can fill out hollows in the face and improve facial contours.
Facial fat grafting for men
A possible complementary procedure for a male facelift is fat grafting. We remove fat from another part of the body, purify it, and inject the fat into the face. This grafted fat fills in sunken and hollow parts of the face (typically in the cheeks and around the eyes).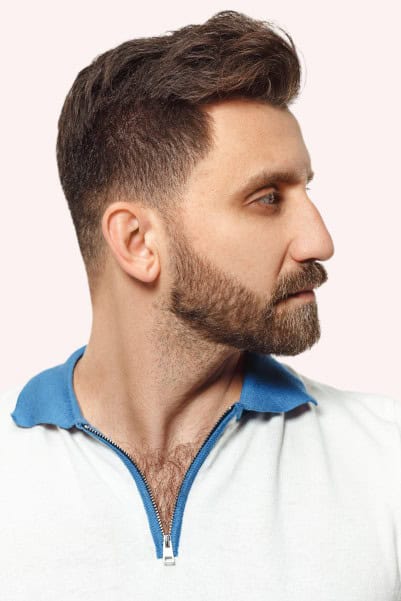 Male rhinoplasty
The nose is the central feature of the face; if your nose is out of balance with the rest of your facial features it can throw off the entire face. Rhinoplasty — colloquially called a "nose job" — can reshape and/or resize the nose to better fit your facial structure. A nose job can correct bumps on the nose, the width of your nose, and even the angle of the nose tip.
Rhinoplasty can also be functional! A septoplasty surgically corrects breathing problems caused by physical malformations of the nose — such as a deviated septum.
What's liquid rhinoplasty?
Men looking for a small or temporary change often turn to liquid rhinoplasty. Using dermal fillers, I can reshape or rebalance the nose temporarily.
This technique doesn't work for patients who want major or drastic changes. However, if you only need a small correction or want to "try before you buy," this injectable procedure might suit your needs.
Neck lift for men
Available with or without a facelift, a neck lift improves signs of aging along the jawline and neck. Like a facelift, we remove sagging skin to reduce signs of aging and remove jowls. When combined with neck liposuction, we achieve even more dramatic rejuvenation.
Tummy tucks men
Sometimes weight loss just isn't enough to get the body you want. Unfortunately, exercise won't reduce excess skin. That's where a tummy tuck (abdominoplasty) comes in.
With abdominoplasty, we remove sagging skin from the abdomen, bring in the waistline, and improve contour and muscle definition. Many of my patients combine their tummy tuck with liposuction to remove stubborn fat and reveal those abdominal muscles they've been working so hard on.
Why choose Dr. Saber for male plastic surgery in the Los Angeles area?
Dr. Sepideh Saber, MD, FACS, is a board-certified plastic surgeon offering care for patients throughout the Los Angeles area.
Dr. Saber graduated from Stanford University's world-renowned medical school and did her reconstruction and plastic surgery residency at the University of Southern California (USC). She completed her fellowship at New York University (NYU) in the extremely challenging and delicate areas of hand surgery and microsurgery.
To request a consultation, call (877) 205-4100 or schedule a consultation online.
The practice of Dr. Saber is located in Encino, CA offers cosmetic surgery for men throughout the Los Angeles area. We are also convenient to Encino, Woodland Hills, Sherman Oaks, Calabasas, Burbank, Glendale, Hidden Hills, Agoura Hills, Northridge, North Hollywood, Malibu, Topanga, Canoga Park, Reseda, Valley Glen, Chatsworth, West Hills, Winnetka, Universal City, Bel Air, Beverly Hills, Downtown Los Angeles, Silverlake, and Echo Park.
What patients say about
Dr. Saber

…

I LOVED DR SABER!!! There are a few reasons why I chose her. One was because she's a female Doctor that was my goal who also did a good job (which I was able to confirm with all her before and after photos) and what sold me was my safety in mind. She made me feel like I was in the best hands ever along with Marlene who coordinated everything THANK YOU LADIES!
Dr Saber helped me get back the body I have always desired. I had a lot of stomach fat from weight gain and I lost weight so a lot of my weight was in my front lower and upper abdomen.
Now I have a super beautiful curvy body like an hourglass after a tummy tuck and lipo she did. She understood the assignment hahaha . I'm 32 years old no kids just wanted to enjoy my younger body looking and feeling beautiful and she really took good care of me. Even after hours I had an emergency due to my fault but she was there and got back to me very quickly and I'm very grateful. I also think her work says a lot because I stopped taking pain medication on the 3rd day after surgery and was fine with very minimal pain I was able to tolerate the healing process. Highly recommend going with her I just had a wonderful experience and would do it all over again if I had too. Maybe after I have kids. Thanks Dr Saber and team