Plastic Surgery Virtual Second Opinions:
Should You Talk to a Second Surgeon?
Cosmetic plastic surgery, whether to fix the shape of your nose, enhance your breasts, lift your butt, or slim your waist, is exciting. These elective surgeries can help you feel more confident and stunning, but they are still medical procedures with risks and complex factors.
Before scheduling your cosmetic surgery, you may want to get a second opinion. Keep reading to find out why a second opinion is so valuable.
What is a second opinion?
A second opinion is when you've received a diagnosis, prognosis, and or treatment plan from one doctor but want to seek the advice of another doctor who either practices within the same specialty or is even more subspecialized in your area of concern. Second opinions are common in surgical subspecialties such as orthopedic, pediatric, reconstructive, or cosmetic surgery.
If the doctor you first consulted recommends a complex surgical treatment plan, it is never a bad idea to seek out a second opinion either for confirmation of the plan or for possible alternate options. Your first doctor should never feel offended if you seek out a second opinion; in fact, a confident and competent specialist will often encourage you to seek out a second opinion before signing up for complex surgical procedures. With confirmation from a second expert, you can feel reassured and comfortable with your plan.
What happens during second opinion consultation?
When you seek a second opinion, the second specialist will review your medical records and discuss any medical problems. They may offer the same treatment plan as your first doctor, but in some cases, they may tell you something completely different.
People often seek second opinions to validate their original diagnosis and treatment plan or because they may not feel comfortable with their first doctor's assessment. In some cases, patients may not feel very comfortable with the doctor themself — and that is perfectly fine. It is important to be able to connect with your surgeon, feel heard and understood, and have an easy line of communication both ways.
Why would I want a second opinion for plastic surgery?
When seeking a second opinion concerning plastic surgery, consider your relationship with your current doctor as well as the doctor's surgical expertise, and past experience. People at med spas and private practices may offer cosmetic procedures with tons of pricing specials and discounts, but, as they say, you get what you pay for.
Unfortunately, too many "plastic surgeons" aren't board-certified or even qualified to perform surgery. And even those who are trained and certified may not have extensive experience in the surgery you want. For example, reconstructive surgery to correct deformities or more delicate procedures like hand surgery need different skills than a simple breast augmentation.
Getting a second opinion before cosmetic surgery gives you more confidence in your surgeon and your expected surgical outcome. Your surgeon should go over the surgical procedure, their experience with it, and your expected results.
Top reasons to get a second opinion on plastic surgery
There are plenty of reasons to want a second opinion before undergoing surgery.
Seeking an opinion is low risk
Seeking a surgery second opinion is basically risk-free. If you don't agree with your second doctor's plan, you can happily return to your current doctor or even move on to a third one. And many reliable plastic surgeons offer free consultations!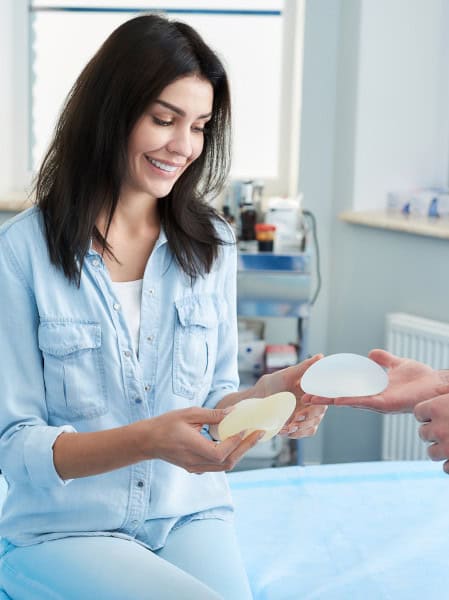 You only have one body
You only have one body; the last thing you want is to live with a wonky rhinoplasty (nose job) or to undergo revision abdominoplasty to fix a bad tummy tuck. We've all seen the horrifying shows on TV that display the nightmares of cosmetic surgeries gone wrong. Even though you're probably excited about your operation, it's always wise to take some extra time to get a second opinion.
You don't click with your doctor
Sometimes, you and your doctor don't click, and that's okay! When planning something as sensitive as cosmetic surgery, it helps to feel comfortable with your doctor. So, don't be afraid to look for a doctor you feel more comfortable with.
A second opinion gives you peace of mind
The average person doesn't typically have extensive medical knowledge, so all you have to go on is the advice and information from your doctor. No matter how much you love and trust your doctor, getting a second opinion from another reputable cosmetic surgeon can give you more confidence that you're making a fully informed decision.
The operation is risky
Some plastic surgery operations are common and straightforward, but others have more risks. For more delicate procedures like breast reconstruction and scar revision, it's even more helpful to seek a second opinion.
How do I get a second opinion?
It's usually pretty easy. Find a reputable board-certified plastic surgeon and schedule a consultation! To make peace of mind more accessible, Dr. Saber (and many other plastic surgeons) also offer virtual consultations.
Virtual second opinions allow patients to get insight into their treatment options before committing to plastic surgery. In-person consultations are also helpful for letting your prospective surgeon get a better vision of your starting point and aesthetic goals.
Cosmetic Surgery Second Opinion FAQs
Should I seek more than two doctors' opinions?
If both the doctors you've consulted concerning your operation are reputable and said similar things, you likely don't need a third, fourth, or fifth opinion. If one of the two doctors seems unreliable, you may want a third opinion, but consulting more than two or three doctors is usually unnecessary and may just introduce more confusion and uncertainty.
Are in-person second opinions better than virtual ones?
If your condition requires medical tests before finalizing the treatment plan, you'll need to see a doctor in person. But there is no real benefit of in-person versus virtual consultations for going over your goals and options.
Should I tell my doctor(s) I'm seeking a second opinion?
The best doctors and surgeons will welcome a second opinion and even encourage it. There is nothing wrong with telling the current and new doctors you are seeking a second opinion, and it may even give them more insight into your needs and wants.
In 90% of cases, when my patients seek a second opinion, they return to me for treatment. However, in cases where my patient feels more comfortable with another surgeon, I'm still happy for them! It's important that a patient feel comfortable and aren't coerced into a procedure.
Does insurance cover second opinions?
Some insurance policies will cover second opinions, but plastic surgery often isn't covered. Check with your insurance provider ahead of time to see what they'll cover.
However, many surgeons provide free consultations, so there isn't a large financial risk to seeking a second opinion.
Can you get a second opinion after surgery?
Yes, you can get a second opinion after the surgery. If your results are not what you expected, a second surgeon may be able to revise the results. However, revision cosmetic surgeries are more complicated than primary surgeries, so it is better to seek a second opinion before the surgery.
Should you get a second opinion?
So, should you get a second opinion before surgery? Do you need one? Second opinions for cosmetic surgery are not always necessary, but we recommend getting one. A second opinion has many benefits, including peace of mind and decreased risk of surgery regret.
Many cosmetic procedures are permanent, so better to take your time now and talk to another doctor than rush into the surgery and regret it later.
Why choose Dr. Saber for your plastic surgery second opinion?
Dr. Sepideh Saber is a board-certified plastic surgeon practicing in the greater Los Angeles area. This Stanford University graduate offers a sensitive female perspective to patients of all genders and ages. For her, each plastic surgery is an opportunity to understand a patient's ideals, values, and priorities. This individualized approach helps her provide her patients with the safest and most satisfactory experience.
To request a consultation, call (877) 205-4100 or schedule a consultation online.
The practice of Dr. Saber is located in Encino, CA for patients throughout the Los Angeles area. We are also convenient to Encino, Woodland Hills, Sherman Oaks, Calabasas, Burbank, Glendale, Hidden Hills, Agoura Hills, Northridge, North Hollywood, Malibu, Topanga, Canoga Park, Reseda, Valley Glen, Chatsworth, West Hills, Winnetka, Universal City, Bel Air, Beverly Hills, Downtown Los Angeles, Silverlake, and Echo Park. Online consultations are also available.

Latest posts by Dr. Sepideh Saber
(see all)