Men's Cosmetic Surgery:

More Popular Than Ever

There was a time — and it wasn't that long ago — that cosmetic surgery was viewed as the purview of women. My, how times have changed. In the past two decades, cosmetic procedures performed on men have increased by almost 30%, according to the American Society of Plastic Surgeons.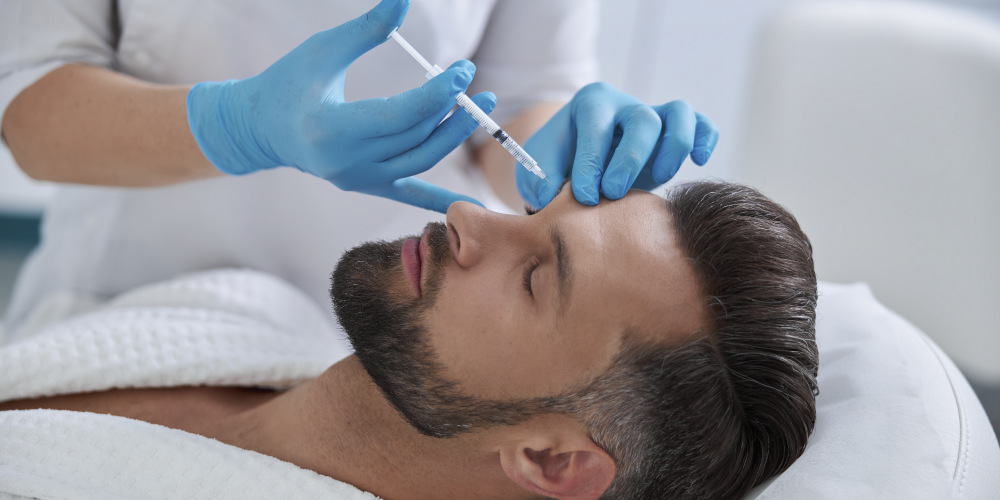 Why has plastic surgery for men grown?
About 20 years ago a noted plastic surgeon in New York City installed a rear door to his office so patients could sneak out the back after their appointment; surgical procedures were done on the QT (secretly). These days, cosmetic surgery is more mainstream, eliminating the need to sneak out the back door..
Indeed, men are increasingly aware of how they look, and how people view them. With the average age of male plastic surgery averaging 49 years old, this group now composes almost 20% of all plastic surgeries.
A recent study by JAMA Facial Plastic Surgery found that there is a direct correlation between the association of male plastic surgery and perceptions of attractiveness, masculinity, likeability, and trustworthiness.
"The tendency to judge facial appearance is likely rooted in evolution, as studies suggest evaluating a person based on appearance is linked to survival — our animal instinct tells us to avoid those who are ill-willed and we know from previous research that personality traits are drawn from an individual's neutral expressions," according to the study's principal Michael J. Reilly, MD, an associate professor of otolaryngology at Georgetown's School of Medicine.
In addition, men's overall perception of plastic surgery has changed. It's no longer viewed as narcissistic to want to look your best. Part of this trend can be attributed to the growth of commercial niches such as men's grooming and self-care.
Looking good matters in the workplace
It's no secret that men are competitive. But these days, many feel that they must be bold to remain relevant as younger men come up through the workplace ranks. In many cases, the younger you look, the better chance you have of staying marketable in an increasingly ageist office.
Significant others support male cosmetic surgery
A little nudge from a man's loved one can go a long way toward considering cosmetic surgery. Because cosmetic surgery is also growing among women, men can see the results available to them.
Social media and dating sites
What man would want to appear on TikTok or Tinder not looking their best? For better or worse, we have become a hyper-visual society. Why not use every tool available to you to get the appearance you want?
Most common male plastic surgery procedures
No plastic surgery is gender exclusive, but some are more popular than others. Most common among men are:
Eyelid rejuvenation
Also known as blepharoplasty, this type of plastic surgery adds or removes fat from the eye area to change its appearance. Blepharoplasty can entail upper or lower eyes modification or both. Eyelid surgery has traditionally been performed with a scalpel; new technology now enables lasers to be used. Eyelid lifts using lasers are less invasive and allow for quicker recovery times.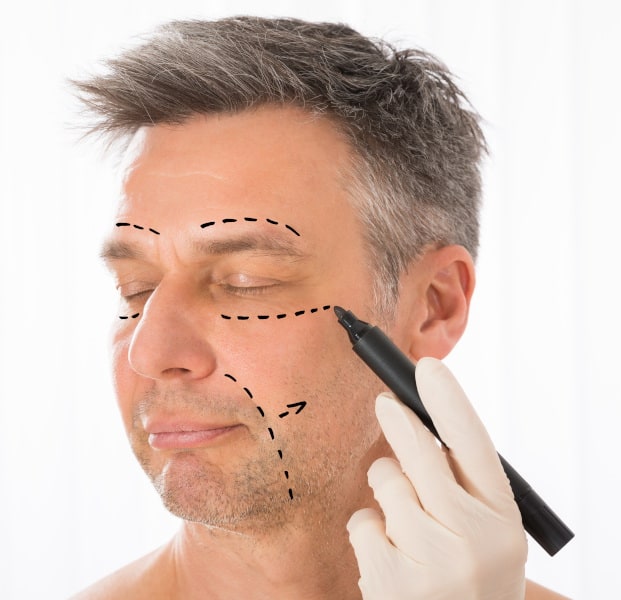 Neck lift
A neck lift reshapes the neck and jaw for men who have loose skin, extra fat deposits, or poor definition in these areas. A "typical" male appearance includes a strong jaw and prominent chin. Many male patients come to me seeking more pronounced, masculine features.
Rhinoplasty
Rhinoplasty is a fancy way of saying nose job. The number one plastic surgery for men, a rhinoplasty improves the nose structure and aesthetics and enhances proper breathing. In addition, the nose comes into better proportion with the other facial features.
Chin augmentation
This popular, straightforward surgery can dramatically alter a small or weak chin. The outpatient procedure balances the facial features and strengthens the jawline. Chin augmentation also enhances the appearance of other male face cosmetic surgeries — such as rhinoplasty.
Liposuction and body contouring
Liposuction — a form of body contouring — is one of the most popular plastic surgeries. This procedure removes areas of excess fat from targeted areas of the body. Other body contouring plastic surgeries remove excess skin as well — especially after weight loss.
Liposuction for men usually focuses on double chins, love handles, abdominal fat, and enlarged breasts (gynecomastia).
Abdominoplasty (a tummy tuck) contours the stomach — revealing that hard-earned six-pack. Tummy tucks among men doubled between 2018 and 2020
Gynecomastia surgery
Gynecomastia (male breast reduction) is another word for enlarged breast tissue and is typically due to an imbalance of testosterone and estrogen hormones. Some types of medications and diseases can also cause breast tissue to swell. For men who feel self-conscious about their breast size, breast reduction surgery may be an effective solution.
Hair transplant
For men who have healthy hair on the back and sides of their heads, a hair transplant may be a viable option for reversing baldness. During this surgery, the cosmetic surgery takes pieces of scalp from places where the hair still grows. These are transplanted to the bald parts of the scalp. Considered a safe option, hair grafts typically grow in three to four months.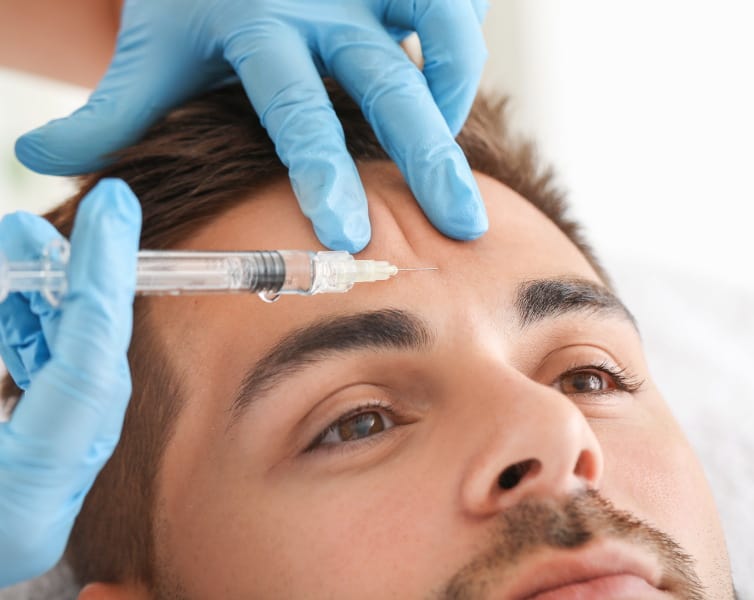 Cosmetic injectables
Men in the United States get more than half a million botulinum toxin injections every year. Indeed, Botox is one of the most popular anti-aging procedures for men. The most common sites where men have Botox injections are:
Crow's feet in corner of the eyes.
Between the eyebrows.
On the forehead to reduce creases.
Laugh lines around the mouth.
Dermal fillers such as Juvederm have also gained popularity among men for filling in facial creases.
Facelift (rhytidectomy)
A facelift is the surgical removal of wrinkles; it's a very popular surgery for achieving a more youthful appearance. The surgery typically involves the removal of excess facial skin.
Why trust Dr. Saber with your male plastic surgery?
Dr. Saber, MD, FACS is the best board-certified plastic surgeon in Encino. She offers a sensitive, female perspective for patients of all ages, genders, and orientations. Former patients of all ages and from all walks of life have praised not only their outcomes but her caring, thoughtful approach to all types of appearance and health-related matters.
Dr. Saber graduated from Stanford University's world-renowned medical school. She took her plastic surgery residency at the University of Southern California (USC), then completed her fellowship at New York University (NYU) in the extremely challenging and delicate area of hand surgery (as well as microsurgery).
Dr. Saber takes her patients' safety very seriously. Her facility's Covid-19 patient safety procedures exceed all CDC and World Health Organization recommendations. Masks are always required in our office during the coronavirus pandemic.
To request a consultation, call 818-818-2939 or schedule a consultation online.
The practice of Dr. Saber is located in Encino, CA for patients throughout the Los Angeles area. We are also convenient to Encino, Woodland Hills, Sherman Oaks, Calabasas, Burbank, Glendale, Hidden Hills, Agoura Hills, Northridge, North Hollywood, Malibu, Topanga, Canoga Park, Reseda, Valley Glen, Chatsworth, West Hills, Winnetka, Universal City, Bel Air, Beverly Hills, Downtown Los Angeles, Silverlake, and Echo Park.

Latest posts by Dr. Sepideh Saber
(see all)