Treatment for 3rd-degree burns
A half-million people end up in the emergency rooms and regional burn centers each year seeking care for potentially life-threatening burn injuries. Each day, more than 300 pediatric burn patients receive emergency treatment for their burns, according to the Cleveland Clinic.
However, not all burn injuries warrant inpatient hospitalization at a burn center. Dr. Saber is noted throughout the Greater Los Angeles area as a cutting-edge plastic and reconstructive surgeon; she is skilled in addressing all aspects of the painful recovery process outside of the burn center.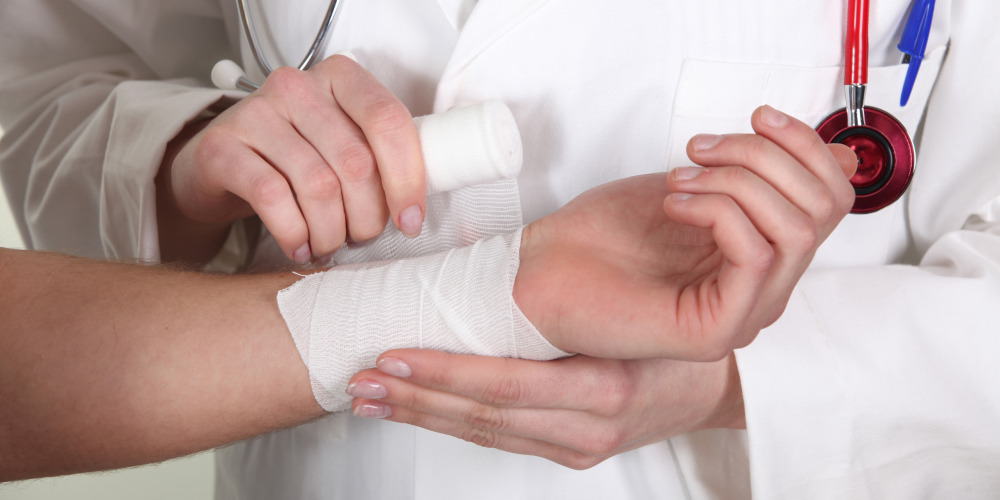 She strictly follows the burn center referral criteria to make sure that a critically injured patient is treated at a multidisciplinary, academic burn treatment center with access to intensive care. Should the patient not require a transfer, Dr. Saber will form a personalized medical and/or surgical treatment plan for optimal patient care.
Our outpatient, hospital-based practice approaches each burn patient with a complete list of services to get them back to the life they lived before their accident.
1. Wound care
The first step Dr. Saber takes with a new burn patient is to evaluate the percentage of total body surface area (percent TBSA) of burn involvement as well as the degree of the burn. Should the patient not require a burn center referral, she will form a customized burn care plan for the patient.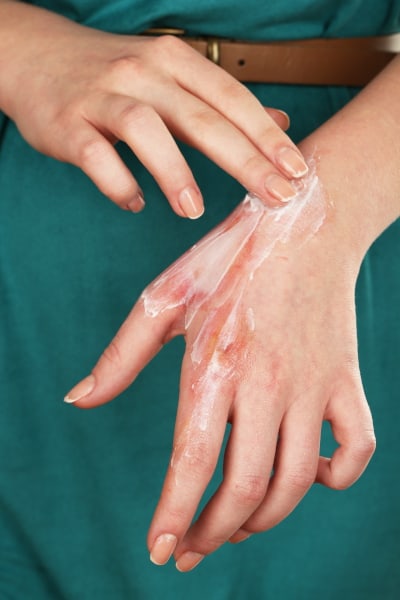 This often-painful process may involve bandages (dressings) that need to be changed daily. Dressing changes are typically coordinated with pain medication to make the patient as comfortable as possible.
Bandages are soaked in the sink or shower and the wounds are washed gently with water. The dressing is reapplied with fresh creams and custom-made bandages, taking into account the need for drainage.
Dr. Saber also uses advanced wound care products that do not require daily dressing changes and can be left on until the burn has healed.
Debridement
Debridement is a process of removing dead tissue to speed healing; wounds that contain non-living tissue take far longer to heal. In addition, the dead tissue may become infected with bacteria, produce an unpleasant odor, and worsen the tissue damage.
Surgical debridement is performed at the bedside or operating room, depending on the amount of dead tissue that must be removed and the patient's ability to tolerate the procedure.
Escharotomy
If indicated, Dr. Saber surgically divides the inelastic burnt tissue – the eschar. This is called an escharotomy, a procedure that is done in order to prevent compartment syndrome. Compartment syndrome is a painful condition that occurs when the inelastic eschar prevents the inflamed underlying muscles and structures from expanding, causing pressure build-up, loss of circulation, and, therefore, loss of tissue viability.
A circumferential eschar around a limb can act as a tourniquet, cut off the blood supply to the limb, and result in loss of the extremity. Even more severe, a circumferential eschar surrounding the torso can compromise the chest wall and can hinder ventilation.
In patients with severe chest and abdominal burns, this process of keeping the skin vital is especially important. If the skin lacks vitality, breathing can become compromised and the mortality rate climbs to almost 75%. A successful escharotomy allows the volume of the tissues underneath the burned area to expand and prevents further injury.
Fasciotomy surgery
A fasciotomy is an emergency healthcare procedure used to decrease pressure and reduce the risk of muscle or nerve death. Though the surgery is performed most commonly in the forearm, deep posterior calf, or top of the leg, it can be accomplished in the hand, foot, thigh, or buttock as well.
2. Skin grafts
A larger area of third-degree burn tissue is treated with skin grafts once complete debridement has been achieved. This surgical procedure removes dead skin and replaces it with healthy skin from another part of the patient's body.
The area of the patient's donor site (where the skin graft is coming from) is similar to a superficial second-degree burn. The grafted area is bandaged with an advanced wound dressing and left in place for a week or two. During this healing period, Dr. Saber will be attentive to any signs of infection to ensure proper wound healing.
Local tissue rearrangement
Also known as local flaps, tissue rearrangements may be required to cover deeper wounds or defects that have exposed important structures such as bone, tendons, nerves, or vessels. This procedure, which can be performed on any part of the body, promises better cosmetic results because the donor tissues and the tissues immediately surrounding the wound or lesion have the same features.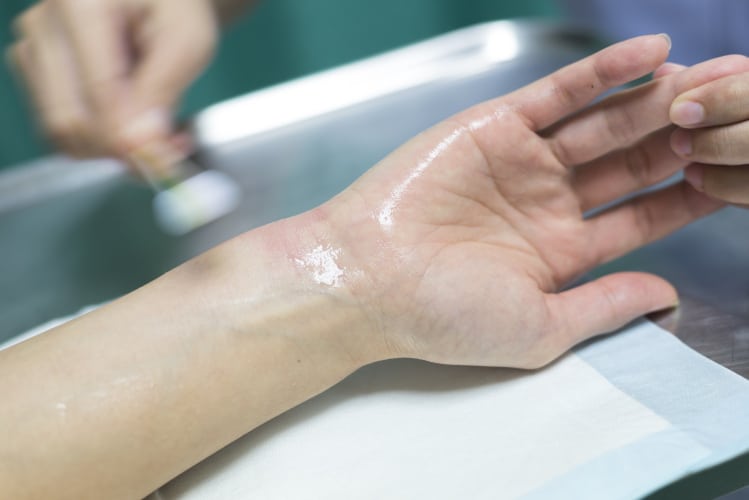 Muscle flaps
The upsides of a muscle flap are they have good blood flow and excellent infection-fighting ability. Moreover, they are elastic and can fill in dead space. They can be elevated to accommodate a second surgery, and also maintain their nerve endings.
The downside is that there may be donor site pain, scarring, or other issues depending on where the flap was taken from.
Skin flaps
A skin flap is a local rearrangement of skin surrounding the burned area that is still receiving appropriate blood flow. This flap is raised and re-positioned to cover the wound left behind after the burn injury.
3. Release of scar tissue and contractures
Scar contractures or burn scar bands appear when the skin pulls tightly together during the final stage of wound healing. Scar contractures may occur as a result of major surgery, a wound, or burn injury. The contracted skin and underlying soft tissues may appear warped or constricted because the skin has pulled itself together tightly. Scar revision can both restore function and improve appearance.
Tight scar contractures may have to be surgically released in order to decrease the risk of tight and hypertrophic or overly thick scars.
Dr. Saber will apply medical-grade silicone and compression garments to the scar. Silicone gel or tape reinforces a healthy wound-healing response by optimizing the amount of moisture and oxygen present at the scar site.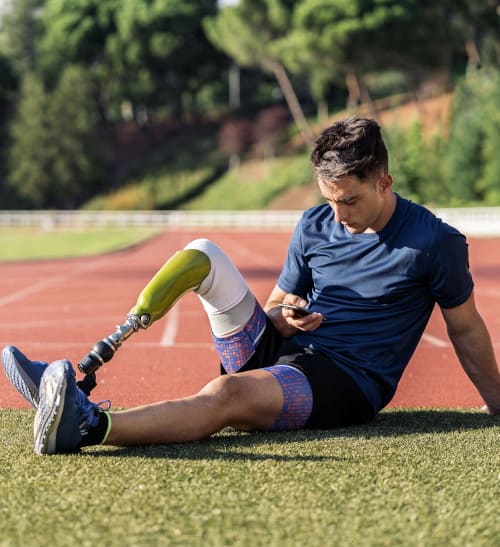 4. Amputation
In rare circumstances, the burn survivor may need a limb amputated. This most often occurs because of loss of blood or destruction of a body part.
Amputation of fingers is more common than in higher limbs. High voltage electrical burns can destroy underlying tissues and require amputation. Most patients undergoing an amputation adjust well to the emotional and physical effects of the procedure.
Why Dr. Saber is the best plastic surgeon for burn injury treatment in Los Angeles?
Board-certified plastic surgeon Dr. Sepideh Saber, MD, FACS, offers a more sensitive, female perspective for patients of all ages, genders, and orientations. Patients from all walks of life have praised not only their final outcomes but her caring, thoughtful approach to all types of appearance and health-related matters.
Dr. Saber graduated from Stanford University's world-renowned medical school and did her reconstruction and plastic surgery residency at the University of Southern California (USC). She then completed a fellowship at New York University (NYU) in the extremely challenging and delicate area of hand surgery, as well as microsurgery.
To request a free consultation, call (877) 205-4100 or schedule a consultation online.
Dr. Saber takes her patients' safety very seriously. Her facility's Covid-19 patient safety procedures exceed all CDC and World Health Organization recommendations. Masks are required in our office at all times during the coronavirus pandemic.
The practice of Dr. Saber is located in Encino, CA for patients throughout the Los Angeles area. We are also convenient to Encino, Woodland Hills, Sherman Oaks, Calabasas, Burbank, Glendale, Hidden Hills, Agoura Hills, Northridge, North Hollywood, Malibu, Topanga, Canoga Park, Reseda, Valley Glen, Chatsworth, West Hills, Winnetka, Universal City, Bel Air, Beverly Hills, Downtown Los Angeles, Silverlake, and Echo Park.
What patients say about
Dr. Saber

…

I LOVED DR SABER!!! There are a few reasons why I chose her. One was because she's a female Doctor that was my goal who also did a good job (which I was able to confirm with all her before and after photos) and what sold me was my safety in mind. She made me feel like I was in the best hands ever along with Marlene who coordinated everything THANK YOU LADIES!
Dr Saber helped me get back the body I have always desired. I had a lot of stomach fat from weight gain and I lost weight so a lot of my weight was in my front lower and upper abdomen.
Now I have a super beautiful curvy body like an hourglass after a tummy tuck and lipo she did. She understood the assignment hahaha . I'm 32 years old no kids just wanted to enjoy my younger body looking and feeling beautiful and she really took good care of me. Even after hours I had an emergency due to my fault but she was there and got back to me very quickly and I'm very grateful. I also think her work says a lot because I stopped taking pain medication on the 3rd day after surgery and was fine with very minimal pain I was able to tolerate the healing process. Highly recommend going with her I just had a wonderful experience and would do it all over again if I had too. Maybe after I have kids. Thanks Dr Saber and team