Each year, about 200 million incisions are made worldwide, with about 170,000 in the US resulting in scar revisions. Scarring is a natural part of your body's healing process, but sometimes trauma, injury, or surgery can result in large or unsightly scars. By the time most patients call upon Dr. Saber for a professional approach to their scar disfiguration, they have likely tried the use of cosmetics, clothing styles, and hairstyle modifications, but still feel self-conscious.
Dr. Saber has a track record of successful scar revisions because she understands the patient's goals, areas of dissatisfaction, and limitations, and sets realistic expectations for scar revision results. Scar revision surgery attempts to minimize the patient's scar so it blends with the surrounding skin.
Treatment options include:
NOTE: Though scar revision plastic surgery can be extremely effective, scars can never be completely eradicated. Avoid sun exposure after scar revision to avoid darkening of scar tissue.
Scar revision procedures
Many people feel self-conscious about the appearance of their scars; Dr. Saber has extensive experience in using surgical scar revision to restore confidence. She employs several surgical techniques to reduce the appearance of the scar and alleviate itching.
Note: most plastic surgeons will wait six months to a year from the initial development of the scar before intervention to see if the scar flattens out on its own.
Listed here are several types of scars patients come to her with and how she treats them.
Contracted scars
Contracted scars (contracture scars) occur when an area of skin is lost or damaged. They can also occur when there is a straight-line scar across a joint or webspace, or in response to traumatic injuries and burns. The scar tissue pulls on skin, fascia (connective tissue), and muscle, limiting movement and causing pain. This tension can affect muscles, joints, and tendons and result in a lessening of movement.
To revise contracture scars, the scar tissue is incised, released, and rearranged with nearby tissues, or local skin flaps. A skin flap has its own blood supply and can be brought in to cover a scarred area that does not have sufficient blood supply. The contracted and scarred area is thereby replaced with nearby healthy skin and soft tissue.
There are different types of skin flap techniques, such as advancement flaps, rotation flaps, or transposition of local tissues in the form of a z-plasty. If the surrounding healthy tissue does not have enough reach to replace the contracted scar, the scarred tissue can be excised, i.e. cut and removed to decrease pulling. A skin graft can then be applied to the scarred area. Care is taken during any surgical scar revision to limit the formation of new scars.
Hypertrophic (raised) scars
A hypertrophic scar, also known as a raised scar, is an abnormal response during wound healing. Extra collagen (connective tissue) grows within the original wound area resulting in a raised scar.
With normal healing, the top layer of skin heals unobtrusively, with deeper wounds the body responds by making collagen to heal the wound. Collagen is thicker than the rest of your skin and becomes a scar.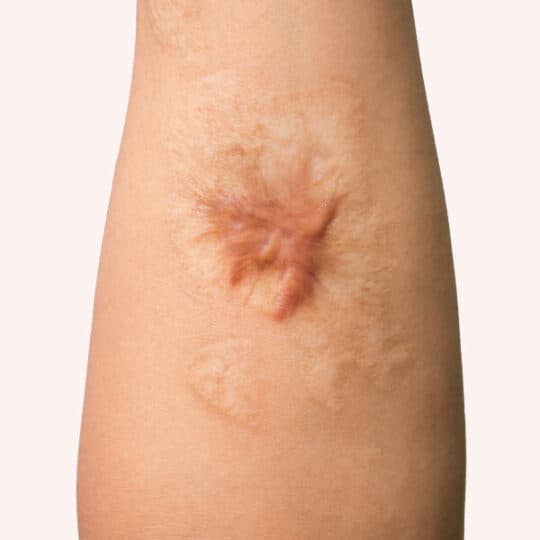 These types of scars are typically found on areas of the body where the skin is tight, such as the back, chest, shoulders, upper arms, and some joints.
Genetics plays a large role in determining how your body forms scars. However, some types of injury increase your likelihood of hypertrophic scarring:
Second- and third-degree burns
Acne scarring
Inadequate healing due to infection
Surgical incisions
Common scar surgical removal treatments for hypertrophic scars include:
Steroid injections. This procedure flattens the scar tissue and reduces pain, discoloration, and itching. Several shots may be required.
Laser skin resurfacing. The doctor targets blood vessels in the scar to prevent scar growth. The technique can also be used to lighten the redness of the scar as well as reduce pain, itch, and hardness. Sometimes a fraction of laser strength is used on scars that are limiting the range of motion over joints that have not previously responded to treatment.
Bleomycin or 5-FU (fluorouracil) injections. The medicine flattens the scar and reduces itching and pain by damaging the overgrown cells. This procedure is commonly combined with laser therapy and corticosteroid injection to reduce the size of the scar.
Cryotherapy. Liquid nitrogen is carefully utilized to freeze and destroy scar tissue.
Surgery. In some cases, the best option is to cut the scar out or to redirect the lines of tension. Surgery is usually recommended as a last resort after other treatment modalities have failed because the surgery itself can result in scarring.
Keloid scars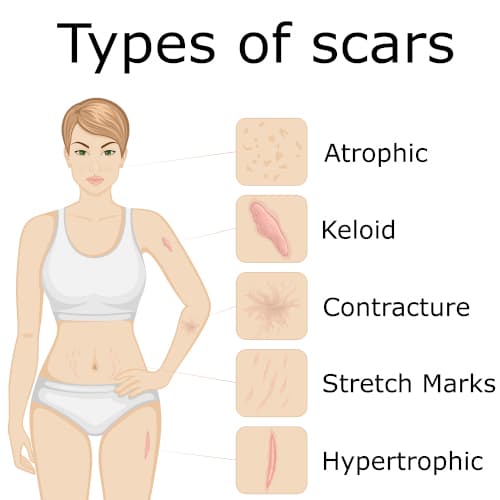 Keloid scars are smooth, hard growths formed by extra scar tissue; sometimes they can become larger than the original wound. They are commonly found on the chest, shoulders, earlobes, and cheeks.
In some cases, keloids can grow back larger than before after removal because they're caused by the body's healing process. Doctors typically recommend using moisturizing oils, silicon pads, pressure dressings, or injections as the first line of treatment to keep the tissue soft. Most keloids tend to flatten over time, even without treatment.
However, keloid scars can cause significant physical and emotional distress; and in many cases, combining surgical excision of the keloid with a meticulous, no-tension closure technique as well as injection of cortisone into the wound bed at the time of closure can significantly decrease the chance of recurrence.
Painful and hypersensitive scars
Sometimes scar tissue forms under the skin as a result of internal wounds, surgeries, or underlying diseases. This scarring can be quite painful and also affect the surrounding joints.
Painful scarring can often be alleviated with desensitization therapy. Other techniques entail:
Scar excision – surgical removal of the scar tissue followed by closure of the wound or coverage with a skin graft
Neuroma excision – surgical removal or relocation of damaged nerve endings that cause painful signals just below the surface of the skin
Topical anti-inflammatory or anesthetic creams
Corticosteroid injections to reduce pain and inflammation
Compression wraps to reduce inflammation
Silicone gel sheets
Deep tissue massage to reduce inflammation and encourage movement
Physical therapy to loosen stiff muscles or joints
Nerve blocks to lessen or prevent the transmission of pain signals to the brain
Unsightly scars
Any scar can become unsightly, but some of the most common appearance complaints are caused by hypertrophic scars, stretch marks, and keloids. Injections, laser treatments, and surgery may be helpful for unsightly scars depending on what type of scar they are.
Why Dr. Saber is the best choice for Scar Revision in Los Angeles
Dr. Sepideh Saber, MD, FACS and the Valley Institute of Hand & Reconstructive Surgery offers a more sensitive, female perspective for patients of all ages, genders, and orientations. Patients from all walks of life have praised not only their outcomes but her caring, thoughtful approach to all types of appearance and health-related matters.
Dr. Saber, a plastic and reconstructive surgery expert earned her medical degree from Stanford University's world-renowned medical school and did her reconstruction and plastic general surgery residency at the University of Southern California LAC+USC medical center). She then completed a fellowship at New York University (NYU) in the extremely challenging and delicate area of hand surgery, as well as microsurgery.
To request an in-person or virtual consultation, call (877) 205-4100 or schedule a consultation online.
The Valley Institute of Hand & Reconstructive Surgery and Dr. Saber is located in Encino, CA for patients throughout the Los Angeles County area. We are also convenient to Encino, Woodland Hills, Sherman Oaks, Calabasas, Burbank, Glendale, Hidden Hills, Agoura Hills, Northridge, North Hollywood, Malibu, Topanga, Canoga Park, Reseda, Valley Glen, Chatsworth, West Hills, Winnetka, Universal City, Bel Air, Beverly Hills, Westwood (by UCLA), Downtown Los Angeles, Silverlake, and Echo Park.
The plastic surgery practice of Dr. Saber, also in Encino, is a cosmetic surgery practice that specializes in numerous procedures including breast augmentation, breast reconstruction, liposuction, mommy makeovers, rhinoplasty, body contouring, and facelifts, to name a few.
What patients say about
Dr. Saber

…

I LOVED DR SABER!!! There are a few reasons why I chose her. One was because she's a female Doctor that was my goal who also did a good job (which I was able to confirm with all her before and after photos) and what sold me was my safety in mind. She made me feel like I was in the best hands ever along with Marlene who coordinated everything THANK YOU LADIES!
Dr Saber helped me get back the body I have always desired. I had a lot of stomach fat from weight gain and I lost weight so a lot of my weight was in my front lower and upper abdomen.
Now I have a super beautiful curvy body like an hourglass after a tummy tuck and lipo she did. She understood the assignment hahaha . I'm 32 years old no kids just wanted to enjoy my younger body looking and feeling beautiful and she really took good care of me. Even after hours I had an emergency due to my fault but she was there and got back to me very quickly and I'm very grateful. I also think her work says a lot because I stopped taking pain medication on the 3rd day after surgery and was fine with very minimal pain I was able to tolerate the healing process. Highly recommend going with her I just had a wonderful experience and would do it all over again if I had too. Maybe after I have kids. Thanks Dr Saber and team