Female Surgeons

Greatly Benefit Men Seeking Plastic Surgery


A January 13 article from AskMen discusses the most popular cosmetic procedures that men are currently obtaining. Board-certified plastic surgeon Dr. Sepideh Saber says that the article reflects a long-term trend with roots going back to the later 20th century. More men are realizing they shouldn't feel embarrassed or ashamed for caring about their appearance.

As a result, there has been a trend of men increasingly obtaining all types of procedures, with facelifts and rhinoplasty being two of the most popular procedures.
Women plastic surgeons offer a more understanding approach to the mixed feelings faced by men.
Of course, while many men might know intellectually there's nothing wrong with male plastic surgery, that doesn't mean some aren't still a bit anxious. Many male patients worry about their peers perceiving them as vain or less masculine for seeking cosmetic enhancement.
For patients of any gender feeling unsure or nervous, female plastic surgeons may be able to better ease patients' unease. Female surgeons often have a more sensitive methodology.
Sensitive and thoughtful female plastic surgeons offer a different approach that can be helpful to men and women. In a largely male-dominated field, female plastic surgeons understand the pressures that come with being a minority in their profession. (Not to mention the perseverance required to achieve as much as their male counterparts.)
Female plastic surgeons with board certification not only demonstrate dedication and competitiveness, but also excellence in the field that patients are likely to benefit from.
It's becoming more acceptable for men to care about their appearance.
When it comes to appearance issues, some men may put more trust in the opinion of a female surgeon as opposed to the more clinical approach taken by many male surgeons. While an empathetic and sensitive attitude is not exclusive to female plastic surgeons, cultural conditioning means that it may come more naturally to a female plastic surgeon as compared to often highly competitive male plastic surgeons.
Cosmetic treatments and plastic surgery may not be talked about very much among men, particularly those in their middle years. Societal standards of masculinity (or other personal reasons) can prevent men from considering cosmetic surgery.
However, a good plastic surgeon will lend an understanding and sympathetic ear while working with all types of patients to help them achieve their personal appearance goals.
Why do men get plastic surgery?
The AskMen article attributed a recent rise in male plastic surgery to the Covid-19 pandemic. More time spent at home gives more time to reflect on their appearance and research cosmetic procedures.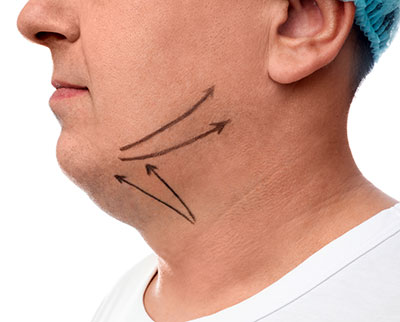 But men were exploring cosmetic surgery even before the stay-at-home orders.
An August article from Robb Report cited societal pressures to look young and fit as a cause for growing male cosmetic surgeries. Male patients seek skin and facial rejuvenation to create a sense of virility and vitality (versus the idea that female patients seek "beauty.")
According to the cosmetic surgery patient they spoke to, the societal stigmas are changing. It's becoming more acceptable for men to care about their appearance. While it was once "narcissistic" it now falls under the umbrella of "self-care."
Male Plastic Surgery Procedures
Obviously, cosmetic surgery is not exclusive to any particular gender. Botox, neck lifts, tummy tucks, and eyelid surgery (medically known as blepharoplasty) are common cosmetic procedures for men and women.
Also available to all patients are procedures that help with body sculpting. Male liposuction, for example, helps men achieve their weight loss goals. Pairing the excess fat removal of liposuction with body contouring procedures can help male patients achieve the fit, toned look they desire.
While diet and exercise are key to health and weight loss, sometimes you need a little extra help getting rid of those love handles. Plus, significant weight loss can leave you with excess skin. In this case, your plastic surgeon may recommend a tummy tuck to remove the excess skin and leave you with a nice, flat abdomen.
Male Breast Reduction
A common source of self-consciousness for men are the crudely named "man boobs." Just about everyone has heard of breast augmentation, but maybe a bit less well-known is breast reduction surgery. This surgical procedure is available to anyone looking to lose a bit of excess fat or breast tissue.
Gynecomastia vs Fat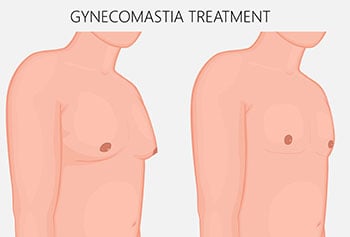 There are actually two potential causes of larger male breasts: gynecomastia and fat.
Gynecomastia is an enlargement or swelling of male breast tissue caused by a hormonal imbalance between estrogen and testosterone. Increased estrogen leads to increased breast growth. Gynecomastia surgery creates a more defined chest through breast tissue excision. Depending on the amount of tissue to be removed, your surgeon may also remove excess skin to achieve an ideal, flat chest.
Male breast reduction combines liposuction with skin excision to create the flat chest the patient desires. As with a tummy tuck, liposuction removes tricky fat, and extra skin is cut away if needed.
Why choose Dr. Saber for your Los Angeles plastic surgery?
Dr. Sepideh Saber, MD, FACS is a Los Angeles plastic surgeon who is board-certified by the American Board of Plastic Surgery.
She graduated from Stanford University's world-renowned medical school. She did her plastic surgery residency at the University of Southern California (USC), then completed a fellowship at New York University (NYU) in the extremely challenging and delicate area of hand surgery (as well as microsurgery).
Dr. Saber offers a more sensitive, female perspective for patients of all ages, genders, and orientations. Former patients of all ages and from all walks of life have praised not only their outcomes but her caring, thoughtful approach to all types of appearance and health-related matters.
To request a consultation, call 818-818-2939 or schedule a consultation online.
Dr. Saber takes her patients' safety very seriously. Her facility's Covid-19 patient safety procedures exceed all CDC and World Health Organization recommendations. Masks are required in our office at all times during the coronavirus pandemic.
The practice of Dr. Saber is located in Encino, CA for patients throughout the Los Angeles area. We are also convenient to Encino, Woodland Hills, Sherman Oaks, Calabasas, Burbank, Glendale, Hidden Hills, Agoura Hills, Northridge, North Hollywood, Malibu, Topanga, Canoga Park, Reseda, Valley Glen, Chatsworth, West Hills, Winnetka, Universal City, Bel Air, Beverly Hills, Downtown Los Angeles, Silverlake, and Echo Park.

Latest posts by Dr. Sepideh Saber
(see all)