Lower extremity reconstruction, a practical guide
An integral part of plastic surgery, lower extremity reconstruction is centered on treating wounds and defects secondary to trauma, sarcoma (cancer) surgery, deformity, or chronic disease. These "lower extremities" encompass hips to toes.
The overall goal for lower extremity reconstruction plastic surgery is to cover defects and open wounds in the leg, allowing patients to continue their active life with the use of their leg(s), return to work, and avoid amputation.
One potential complication of this reconstructive surgery is lymphedema – or fluid build-up in the soft tissue.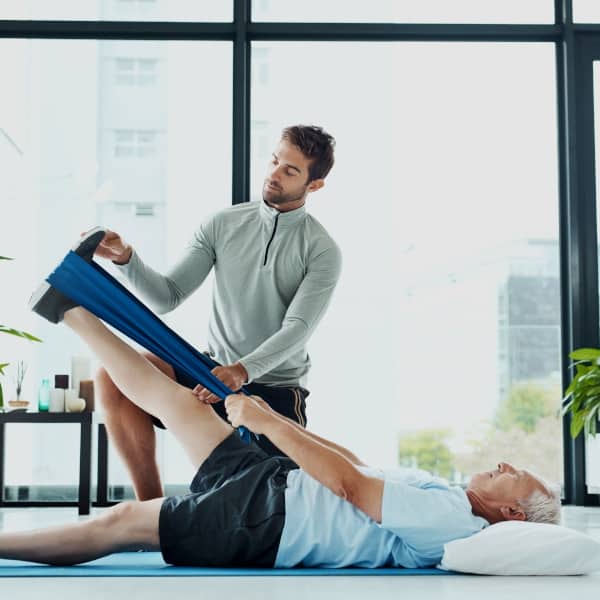 Why would I need lower extremity reconstruction surgery?
Typical reconstruction cases often result from:
lower extremity trauma
a non-healing wound (which often occurs in patients with diabetes)
an illness that causes soft tissue or bone loss
tumor excision
peripheral nerve damage
It is critical to address open wounds immediately. An exposed bone that is not covered by soft tissue is at risk for osteomyelitis, bone necrosis, or sepsis. Osteomyelitis is a major cause of limb amputation.
Open wounds on the lower extremities may also cause acute pain, which makes it difficult or impossible to walk or continue daily activities. Exposed tendons in the leg may become dry and die, and exposed blood vessels are at risk of rupture.
Dr. Saber possesses the orthopedic technical skill to repair bones, tendons, muscles, blood vessels, nerves, and skin. Though some patients can be healed after only one surgery, those with more complex cases often need several follow-up surgeries.
Lower limb reconstruction
The following is a partial list of lower-limb reconstruction surgical procedures performed by Dr. Saber.
Skin flaps, muscle flaps, and local tissue rearrangement for the reconstruction of larger open wounds
Lower extremity flap coverage uses the tissue adjacent to the wound to cover moderate defects in the legs such as exposed bones, blood vessels, and tendons. Unlike a skin graft, a flap is transferred with an intact blood supply and remains connected to its origin.
Skin flaps are used when the injury has lost tissue and is too big for the edges to be brought together correctly. The flap is fed by the same blood supply where it was taken until new blood vessels grow. A flap provides the benefit of supplying tissue of similar appearance and thickness so the cosmetic result is superior to a skin graft.
Vascularized skin flaps typically heal faster than skin grafts. Plus, you don't have to create a separate wound on another part of the body.
Skin grafts
For a skin graft, the doctor takes healthy skin from one part of the patient's body (donor site) and transplants it to the site of injury. After just a few days, the graft develops blood vessels and connects to the skin around it. Skin grafts are particularly effective when patients suffer from burns, wounds, disease, or infection.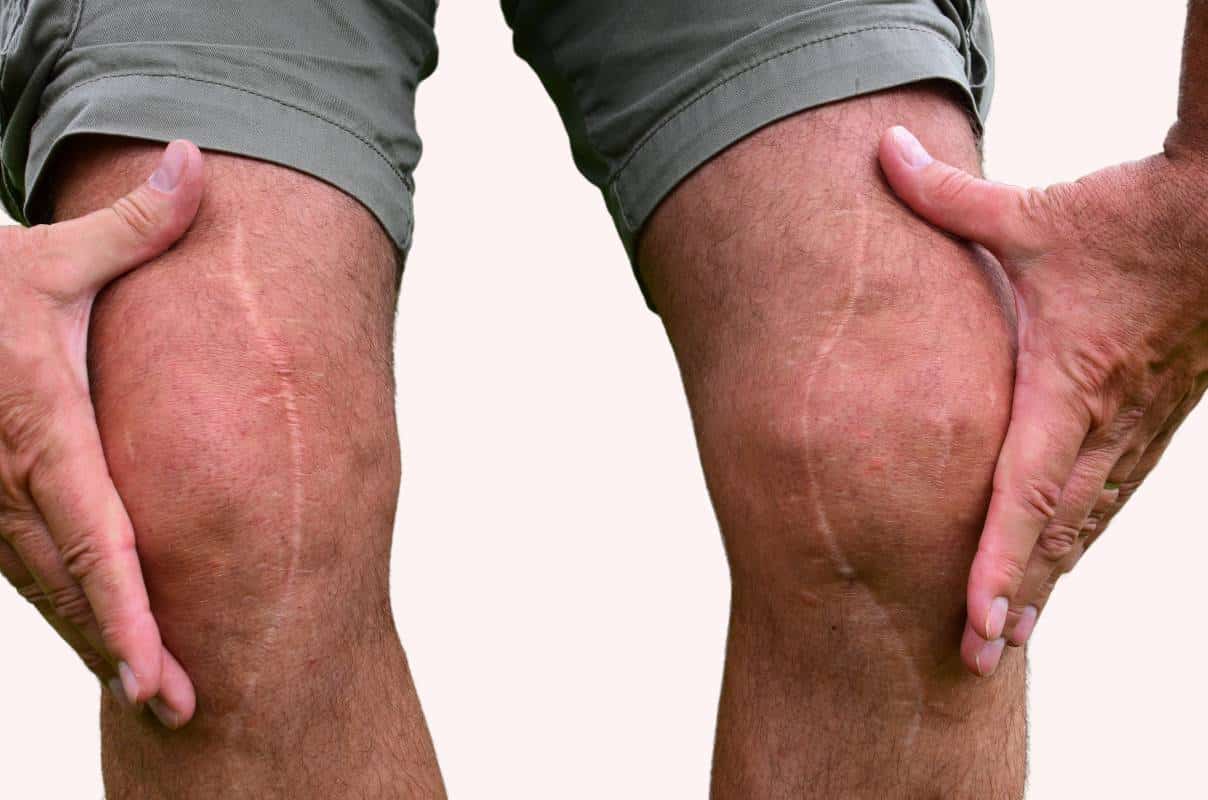 Though most plastic surgeons use healthy skin from a person's body (autograft), if there is not sufficient healthy skin, the surgeon may use skin from a cadaver (allograft). It should be noted that animal skin grafts are usually temporary until the patient grows new, healthy skin.
Skin for a skin graft often comes from:
Abdomen
Back and chest
Buttocks or groin
Collarbone
Forearm
Inner thigh, outer thigh, and hip
Sometimes, there isn't enough healthy skin on a person's body to use for the procedure. If this happens, a provider may take the skin from a cadaver (allograft). If a cadaver cannot be readily found, doctors also may use the skin from an animal, such as a pig (xenograft).
Surgical soft tissue coverage of exposed knee prosthesis
In recent years, with an aging population, total knee arthroplasty (knee replacement) has become more prevalent, which makes complications inevitable. Sometimes, a lower extremity injury can leave a prosthetic knee exposed. Physicians have discovered that it is possible to save the knee with lower extremity free tissue transfer, even if an infection has set in.
Case reports confirm that a free flap over the exposed knee prostheses has a high limb salvage rate – often alleviating the need for amputation.
Surgical soft tissue coverage of exposed fractures, hardware, bone, tendons, synthetic conduits/mesh, or neurovascular structures
Open fractures are extra worrisome because not only is the bone damaged, the body's protective skin barrier is broken and the risk of infection is high. Between 3.5 and 6 million fractures occur in the United States each year, with about 3% of those being open fractures. There are different treatment options depending on the status of the soft tissues surrounding the fracture site. The goals of treating an open fracture are to prevent infection, knit the bones, restore function, and cover the wound with soft tissue reconstruction. Important aspects of wound healing are rapid surgical timing, wound closure, a tetanus shot, and wound irrigation.
Why Dr. Saber is the best plastic surgeon for Lower Extremity Reconstruction in Los Angeles?
Dr. Sepideh Saber, MD, FACS, offers a more sensitive, female perspective for patients of all ages, genders, and orientations. Patients from all walks of life have praised not only their final outcomes but her caring, thoughtful approach to all types of appearance and health-related matters. 
Dr. Saber graduated from Stanford University's world-renowned medical school and did her reconstruction and plastic surgery residency at the University of Southern California (USC). She then completed a fellowship at New York University (NYU) in the extremely challenging and delicate area of hand surgery, as well as microsurgery.
To request a free consultation, call (877) 205-4100 or schedule a consultation online.
Dr. Saber takes her patients' safety very seriously. Her facility's Covid-19 patient safety procedures exceed all CDC and World Health Organization recommendations. Masks are required in our office at all times during the coronavirus pandemic.
The practice of Dr. Saber is located in Encino, CA for patients throughout the Los Angeles area. We are also convenient to Encino, Woodland Hills, Sherman Oaks, Calabasas, Burbank, Glendale, Hidden Hills, Agoura Hills, Northridge, North Hollywood, Malibu, Topanga, Canoga Park, Reseda, Valley Glen, Chatsworth, West Hills, Winnetka, Universal City, Bel Air, Beverly Hills, Downtown Los Angeles, Silverlake, and Echo Park.
Studies of Interest
Hidalgo DA, Carrasquillo IM. The treatment of lower extremity sarcomas with wide excision, radiotherapy, and free-flap reconstruction. Plast Reconstr Surg. 1992;89(1):96-102.
Nahabedian MY, Mont MA, Orlando JC, Delanois RE, Hungerford DS. Operative management and outcome of complex wounds following total knee arthroplasty. Plast Reconstr Surg. 1999;104(6):1688-1697. doi:10.1097/00006534-199911000-00012
What patients say about
Dr. Saber

…

I LOVED DR SABER!!! There are a few reasons why I chose her. One was because she's a female Doctor that was my goal who also did a good job (which I was able to confirm with all her before and after photos) and what sold me was my safety in mind. She made me feel like I was in the best hands ever along with Marlene who coordinated everything THANK YOU LADIES!
Dr Saber helped me get back the body I have always desired. I had a lot of stomach fat from weight gain and I lost weight so a lot of my weight was in my front lower and upper abdomen.
Now I have a super beautiful curvy body like an hourglass after a tummy tuck and lipo she did. She understood the assignment hahaha . I'm 32 years old no kids just wanted to enjoy my younger body looking and feeling beautiful and she really took good care of me. Even after hours I had an emergency due to my fault but she was there and got back to me very quickly and I'm very grateful. I also think her work says a lot because I stopped taking pain medication on the 3rd day after surgery and was fine with very minimal pain I was able to tolerate the healing process. Highly recommend going with her I just had a wonderful experience and would do it all over again if I had too. Maybe after I have kids. Thanks Dr Saber and team
Stories

from Our Blog We Think You'll Like