Dr. Sepideh Saber has made an exceptional career assisting patients in overcoming facial traumas by expertly performing facial reconstruction plastic surgery. Known as a premier reconstructive plastic surgeon in Encino, the doctor is recognized for her caring approach to plastic surgery and her patients' appreciation for her greatly skilled work.
As a sensitive female physician and board-certified plastic surgeon, Dr. Saber maintains the highest standards and is known for her extraordinary ability and track record of successful outcomes.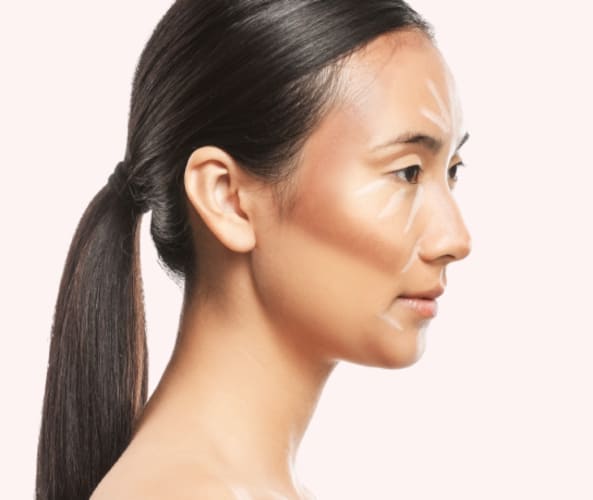 About facial reconstructive surgery
Statistics show that 64% of facial reconstructions are the result of a fall or blunt-force trauma, with severe laceration composing 50% of facial mishaps.
Appearance can be affected by trauma, cancer surgery, and third-degree burns. Facial damage can affect your capacity to blink, smile, talk or eat. Dr. Saber's expertise as a facial plastic surgeon not only increases your comfort with your appearance but also improves your facial function.
Facial reconstructive procedures performed by Dr. Saber include:
Burn reconstruction
Many times, after the initial burn trauma has healed, Dr. Saber's facial plastic and reconstructive surgery expertise is called on to reduce the scar tissue.
Reconstructive burn surgery aims to correct the function and cosmetic appearance of burn scars. Treatments for scar tissue often take several months to be effective, and new scar contractures can appear long after these injuries have occurred, especially in young patients who are still growing.
Ear injuries (lacerations, drainage, reconstruction)
Traumatic ear lacerations can put Dr. Saber's skills to the test. Ear reconstruction involves working with multiple folds of cartilage that can be hard to recreate. Moreover, the intricate folds assist with the amplification of sound, so a misshapen ear can affect the patient's overall hearing.
Ear lacerations should be repaired within 12 hours to prevent infection, necrosis, or deformities such as "cauliflower ear."
Lip injuries (repair injuries, correction of asymmetry)
Facial flap surgery, usually for a lip injury, represents healing in both an aesthetic and functional sense. The key to effective plastic surgery procedures for lip injuries is allowing a patient to effectively produce speech.
The complicated surgery involves, obviously, the lips, which are all muscle and receive a blood supply from the facial artery. Injectable fillers can also be utilized to restore lip volume after injury or loss of tissue.
Medical and surgical treatment of infection
While only 3% of the 27 million surgeries in the US develop an infection, they can be very serious. It is common for infected surgical wounds to remain open and heal in an unsightly fashion.
Dr. Saber manages colonized or infected open wounds using a couple of surgical steps:
Removal of foreign matter from the wound
Loosening and cutting the soft parts around the wound to permit pus to flow out
Excision of dead tissue – also known as debridement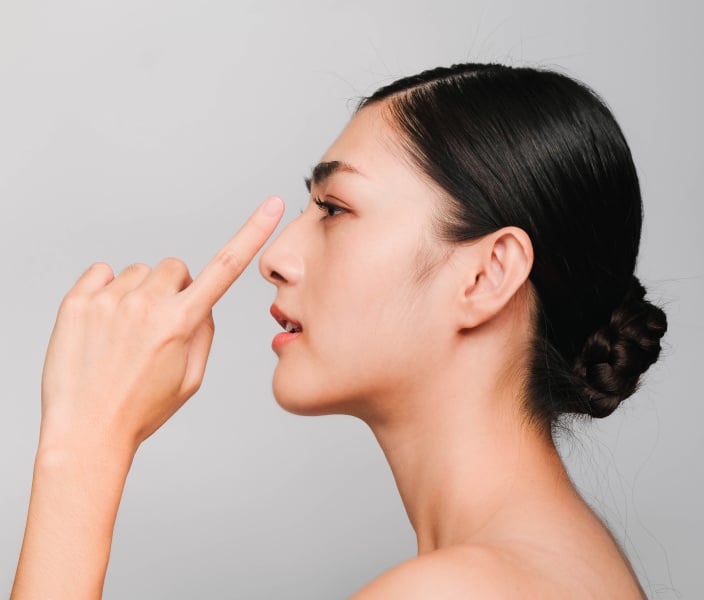 Nasal fractures
Because the nose is the cornerstone of the face and the entrance to our respiratory system it is especially impactful. The nose is highly susceptible to injury from sports, assaults, and motor vehicle collisions; in fact, the nasal bones are the most frequently injured bones of the face.
One of the most common complications of nasal bone fractures is an injury to the nasal septum. This injury may include septal dislocation, fracture, or hematoma. Dislocation and fracture of the septum may require reduction depending on displacement and degree of functional deficit. It should be noted that concomitant septal fractures are associated with worse functional outcomes after closed nasal bone reduction.
A botched nose job can not only negatively impact appearance but inhibit the patient's ability to breathe through their nose. As a board-certified facial plastic surgeon, Dr. Saber is also skilled in revision rhinoplasty – restoring confidence and quality of life to her patients.
Neck contracture release and resurfacing surgery
Head and neck surgery is always delicate, but reconstruction of the neck after burn injuries presents a considerable challenge. Specifically, releasing the burn tissue so the neck can turn properly on its axis.
For this procedure, Dr. Saber's success lies with her understanding of the anatomy and functionality of the neck and how it needs to heal. The doctor exhibits sound judgment and considerable technical expertise to accomplish her goal.
By treating the burn quickly with early excision and grafting, the reconstructive surgeon can often prevent neck burn contractures altogether.
Skin cancer defect closures
Skin cancer reconstructive surgery is a procedure where cancer (especially on the face) is excised without creating more scarring.
Even if the cancer is small, the surgery is challenging because of proximity to the eyes, nose, and mouth. The closure is a combination of skin grafts and flaps. With advancements in surgical techniques, facial reconstruction can match the natural contours of the face.
Skin flaps and local tissue rearrangement for large open wounds
Facial reconstruction surgeons typically use local skin flaps when working on soft tissues. With this technique, they can blend the skin of a similar color, thickness, and texture.
Successfully reconstructing the facial features requires an expert understanding of vascular anatomy, skin biomechanics, and soft tissue. Dr. Saber makes a meticulous pre-operative analysis of the skin defect, forms a precise plan, and determines what surgical technique she will use.
Skin grafts
Facial reconstructive surgery on burn victims often requires skin grafts. A skin graft is an area of skin that is taken from one part of the body (the donor site) and attached to another area.
Usually performed under general anesthesia, that area of healthy skin is taken from the top two layers of skin. The healthy skin can be anywhere on the body but is most often the buttock or upper thigh and generally has natural-looking results.
After the healthy skin has been removed, it is transplanted then held down with gentle pressure. The grafted skin is either stapled or stitched down, healing in about three to five days.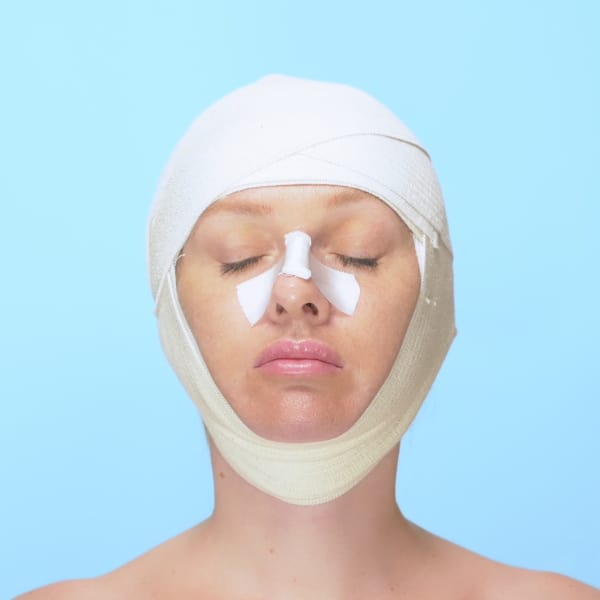 Surgical repair and reconstruction of severe cuts, accidents, or trauma
Cosmetic procedures may be indicated after a dramatic car crash. Often the affected areas include the lips, eyebrows, forehead, cheeks, chin, and jaw. Left untreated, these wounds can lead to unsightly facial scars and impaired function.
Dr. Saber specializes in broken nose surgery and nasal reconstruction and can restore the delicate aspects of your face with little to no scarring.
Tongue lacerations
The tongue is of particular importance because it is essential for jaw articulation, taste, manipulation of food, swallowing, and the production of speech.
The mouth is rife with bacteria so the plastic surgeon must act quickly and efficiently to close the wound. Until recently, sutures were used for tongue laceration repair, but, more recently, doctors work at sterilizing the area and working to let the wound heal with ample antibiotics.
Treatment of dog bites
Over 4 million Americans are involved in dog bites every year, about half of them being children between ages 5 and 9. About one out of every five dog bites results in an injury that requires medical attention.
Facial reconstruction surgery is often required after a serious dog bite. Reconstructive surgery after a dog bite can be especially serious because facial tissues may be torn off.
Dr. Saber's specialties for dog bite surgery include:
Surgery at the time of injury
Follow-up surgery months or years after the primary injury
Removal of scars
Laser to smooth out the affected area
Facial skin flap surgery
Why Dr. Saber is the best plastic surgeon for Facial Reconstruction in Los Angeles?
Dr. Sepideh Saber, MD, FACS, offers a more sensitive, female perspective for patients of all ages, genders, and orientations. Patients from all walks of life have praised not only their final outcomes but her caring, thoughtful approach to all types of appearance and health-related matters.
Dr. Saber graduated from Stanford University's world-renowned medical school and did her reconstruction and plastic surgery residency at the University of Southern California (USC). She then completed a fellowship at New York University (NYU) in the extremely challenging and delicate area of hand surgery, as well as microsurgery.
To request a free consultation, call (877) 205-4100 or schedule a consultation online.
Dr. Saber takes her patients' safety very seriously. Her facility's Covid-19 patient safety procedures exceed all CDC and World Health Organization recommendations. Masks are required in our office at all times during the coronavirus pandemic.
The practice of Dr. Saber is located in Encino, CA for patients throughout the Los Angeles area. We are also convenient to Encino, Woodland Hills, Sherman Oaks, Calabasas, Burbank, Glendale, Hidden Hills, Agoura Hills, Northridge, North Hollywood, Malibu, Topanga, Canoga Park, Reseda, Valley Glen, Chatsworth, West Hills, Winnetka, Universal City, Bel Air, Beverly Hills, Downtown Los Angeles, Silverlake, and Echo Park.
What patients say about
Dr. Saber

…

I LOVED DR SABER!!! There are a few reasons why I chose her. One was because she's a female Doctor that was my goal who also did a good job (which I was able to confirm with all her before and after photos) and what sold me was my safety in mind. She made me feel like I was in the best hands ever along with Marlene who coordinated everything THANK YOU LADIES!
Dr Saber helped me get back the body I have always desired. I had a lot of stomach fat from weight gain and I lost weight so a lot of my weight was in my front lower and upper abdomen.
Now I have a super beautiful curvy body like an hourglass after a tummy tuck and lipo she did. She understood the assignment hahaha . I'm 32 years old no kids just wanted to enjoy my younger body looking and feeling beautiful and she really took good care of me. Even after hours I had an emergency due to my fault but she was there and got back to me very quickly and I'm very grateful. I also think her work says a lot because I stopped taking pain medication on the 3rd day after surgery and was fine with very minimal pain I was able to tolerate the healing process. Highly recommend going with her I just had a wonderful experience and would do it all over again if I had too. Maybe after I have kids. Thanks Dr Saber and team