What is breast revision surgery?
Breast reconstruction aims to restore a patient's breasts' shape, appearance, and symmetry. There are several reasons why reconstruction may be desired. They can include a poor outcome from prior breast implant surgery, absence of breasts after treatment for cancer, or breast trauma, to name just a few.
While some patients are happy to carry on following the removal of their natural breasts or to use a prosthesis (a special bra that creates the appearance of breasts), many prefer the option of a reconstructed breast and seek surgery to restore their breasts' appearance.
Here are some of the leading reconstruction procedures that bring patients to see Dr. Saber for breast reconstruction surgery.
Correction of prior unsuccessful breast surgical intervention
If you have had previous unsuccessful breast surgery, Dr. Saber, one of the top breast reconstruction surgeons in Los Angeles, may be able to correct it. Breast revision surgery is a relatively new procedure offered by a few select surgeons and has shown very promising results.
Corrective breast reduction, lift, or augmentation
There are various reasons why people may choose to have a corrective breast reduction, lift, or augmentation surgery. Maybe their breasts have become heavy or deflated and saggy, or the breast shape is lopsided from weight fluctuations or nursing children. Perhaps they never developed much in the way of breasts, to begin with. Or maybe they have suffered injury or trauma to the area that has resulted in changes.
Whatever the reason, this type of surgery can be life-changing and empowering for patients. Dr. Saber is an experienced board-certified plastic surgeon who takes great care in helping her patients achieve their desired results.
Correction of congenital breast deformity
For people born with breast abnormalities, corrective surgery can improve the breasts' appearance. This surgery can involve various techniques, depending on the individual case.
People seeking breast reconstruction for genetic conditions often have one or more of the following: asymmetry, underdeveloped or overdeveloped breast structures, missing breast structures, and dysphoria.
Congenital breast conditions can include:
Mammary hypoplasia (insufficient breast development)
Amastia (absence of breast and nipple)
Amazia (absence of breast with the presence of nipple)
Accessory nipple
Juvenile breast hypertrophy
Macromastia or gigantomastia (excessive breast development)
Gynecomastia (excessive glandular breast tissue development in genetic males)
Constricted or tuberous breast deformity (hypoplastic and cylindrical deformity of the breasts)
Poland's syndrome (abnormalities of the breast, chest, and sometimes upper extremity)
If you are considering reconstructive breast surgery, it is important to understand what will be involved and your options. Schedule a consultation with Dr. Saber to learn more about the correction of congenital breast surgery.
Post-cancer breast reconstruction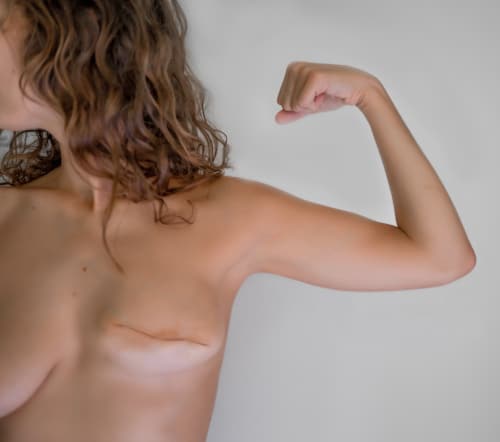 According to the American Cancer Society, about 287,000 women will be diagnosed with invasive breast cancer. One of the many challenges breast cancer survivor faces in rebuilding their lives after treatment. This often includes dealing with the physical and emotional effects of the disease, its treatment, and breast cancer surgery. Whether one chooses immediate reconstruction or delayed reconstruction surgery, the mental toll cancer patients face cannot be overstated.
Post-cancer breast reconstruction after mastectomy can be an important part of your cancer treatment recovery for women who have undergone a partial or complete mastectomy. For an increasing number of patients, post lumpectomy or mastectomy breast reconstruction is, in fact, an integral part of their cancer treatment plan. It is important to note that all post-cancer reconstructive surgeries are covered by insurance, as are all symmetrization procedures on the non-cancer breast side.
There are several types of breast reconstruction options for reconstruction (such as breast reconstruction flap vs. implant), and Dr. Saber can help you choose the best one for you. Breast reconstruction surgery after mastectomy can improve your self-image and quality of life after breast cancer treatment.
Post-trauma reconstruction
Trauma and injury can impact the appearance of the breasts. Post-trauma reconstructive breast surgery can be performed on patients who have suffered from burns, radiation therapy, accidents that have left them with breast deformity and scarring, silicone injections, prior surgeries that have had a poor outcome, or other types of injuries.
Post-trauma breast reconstruction aims to restore the appearance of the breasts and improve the patient's quality of life. Many different techniques can be used in post-trauma breast reconstruction, and the choice, of course, will depend on the individual patient's needs and preferences.
Removal of infected breast implants
Sometimes breast implants can become infected; Dr. Saber can perform breast implant removal surgery if this happens to you. This procedure can also address capsular contracture – scar tissue that forms around the implant.
Exposure to bacteria at the time of the operation is exceedingly rare. Your board-certified plastic surgeon will use a sterile technique, use antibiotic solutions around the implant, and minimize implant handling during placement into the breast pocket. However, an infection can occur during recovery if the surgical site becomes contaminated.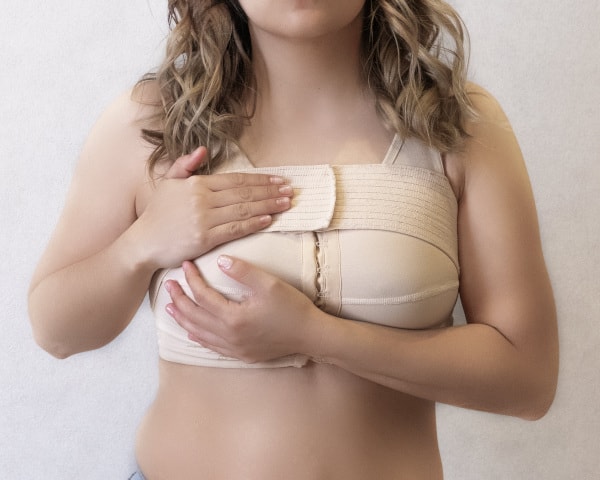 Unsterilized piercings or even tattoos around the surgical sites can easily lead to infections that travel into the deeper tissues around the breast implants. In some cases, a breast implant infection occurs years after implant placement, and this may be due to an infection in your blood or a disease that has spread from another area of your body.
In cases of minor superficial infection, the implant can sometimes be salvaged if the condition is immediately detected and treated with oral or intravenous antibiotics. However, if the infection involves the tissues around the breast implant, breast implant removal surgery is performed, during which the breast pocket is thoroughly washed out. In most cases, patients are advised to wait approximately six months, after which a new implant can be safely placed if so desired.
Signs of infection can include redness, breast pain, swelling, high fevers, drainage from the incision sites, the opening of the wound, and exposure to the breast implant. It is important to contact your doctor immediately at the earliest concern that you may have an infection.
Removal of infected/ingrown piercings
If you've ever had an infected or ingrown piercing, you know how painful and frustrating it can be. You can avoid infections of your own tissue by getting your piercings in clean, reputable studios and cleaning them properly. However, if you encounter piercing problems, Dr. Saber has treatments to help you without any side effects.
Ruptured Implant removal with or without replacement
A ruptured implant, whether saline or silicone, is usually not a medical emergency; however, it can lead to complications and should be addressed as soon as possible. A breast implant rupture can have various causes such as a direct impact on the breast, surgical error during implant placement, wear and tear that naturally occurs over time, or, although quite rare, pressure applied during a mammogram.
If you have a ruptured implant, you will need to have it removed as soon as possible. There are two main options for treatment: implant removal with or without replacement. Each option has its benefits, so discussing with Dr. Saber to determine what is best for you. If you have a ruptured implant, don't wait!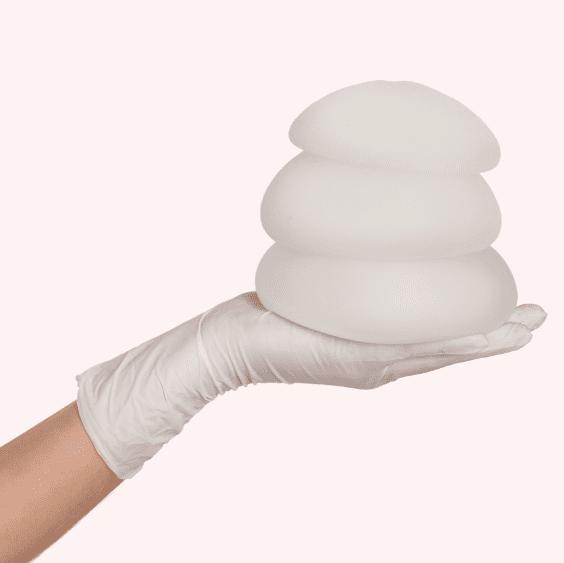 Saline Implants
Saline implant ruptures result in fluid leakage over a short period, causing the breast to change its appearance accordingly. While the body naturally absorbs the leaked saline solution without posing any health risks, the affected breast typically decreases in size and may appear droopy and deflated.
Some patients experience breast pain and feel the pointy edges of the ruptured implant shell. Breast pain can also occur due to capsular contracture, forming a constrictive scar. If you believe you may have a ruptured saline implant, it is best to schedule an appointment as soon as possible.
Most patients seek removal and replacement of the implant with a new one. This procedure is best performed shortly after implant rupture to prevent scar formation around the shell of the old ruptured implant.
Silicone Implants
Silicone implant ruptures can be much more difficult to detect because the silicone gel does not typically leak over a short period. If you start noticing breast pain, tenderness, firmness, or changes in the contour of your breast, it is important to schedule an appointment right away. Your doctor will obtain an MRI for further evaluation.
However, asymptomatic implant ruptures – called silent implant ruptures – may go unnoticed by patients and doctors. Dr. Saber, therefore, follows the FDA's recommendations that a person with silicone gel breast implants should receive an MRI three years after initial placement and every two years after that. Should there be a small rupture without any symptoms, you will have the option to remove and replace the implant immediately with minimal recovery time or wait. If you do have symptoms,
It is recommended to remove and replace the implant. Some patients will opt to remove both implants and not replace them, although this procedure is often accompanied by a mastopexy (breast lift) surgery to prevent the breasts from appearing deflated.
Treatment of Breast Implant-Associated Anaplastic Large Cell Lymphoma (BIA-ALCL)
Since the early 1990s, a specific type of breast implant, namely textured breast implants, has been linked to a rare kind of cancer called anaplastic large cell lymphoma (ALCL). Thankfully, most textured implants are no longer on the market as they have been recalled, and the majority of plastic and reconstructive surgeons no longer use this type of implant. While the overall risk of ALCL is very low, it's important for women with previously placed textured breast implants to be aware of the symptoms and seek medical attention if they experience any abnormalities.
Symptoms of BIA-ALCL include:
Unexplained breast enlargement
Breast asymmetry
Fluid buildup
Lump in the breast or armpit
Breast hardening
Skin rash
Breast Implant Illness Treatment (Capsulectomy, Implant Removal)
Breast implant illness can include fatigue, joint pain, and cognitive dysfunction. If you have any of these symptoms, it's critically important to see your doctor, exclude all other potential reasons that may contribute to your symptoms, and discuss whether breast implants may be the cause.
While there is still research on this topic, current evidence suggests that removing the breast implants and the breast implant capsule, a procedure called capsulectomy, maybe the best way to treat this illness.
Suppose the implants were previously placed for cosmetic or augmentation purposes. In that case, the implant removal and capsulectomy procedure may sometimes be followed either immediately or later by a mastopexy (breast lift) to obtain the most aesthetic results. Suppose the implants were placed for reconstructive purposes, such as after a mastectomy for breast cancer treatment. Some patients may opt for fat grafting after implant removal, while others may seek a flat aesthetic closure.
So, if you're feeling concerned about your implants, please schedule a consultation with Dr. Saber.
What happens in reconstruction breast surgery?
While the specifics of your reconstruction surgery will vary based on your exact situation, there are a few common options.
Fat grafting breast reconstruction
For fat grafting, fat is extracted via liposuction from another body part and then injected into the breast area to fill out any hollows, divots, or irregularities. In some cases, an entirely new breast mount can be aesthetically reconstructed by fat transfer, although this may take more than one round of transfer.
Flap Reconstruction Surgery
Many people prefer flap surgery over implants because it uses autologous tissue (the patient's tissue). The tissue, muscle, and blood vessels can either be transferred via pedicle flap surgery – some of the blood vessels are kept intact, and the tissue is moved under the skin to the new breast mound – or free flap surgery – the tissue flap is completely cut off from the blood supply, moved, and then attached to the new blood vessels.
There are several different types of flap surgery:
TRAM flap
A Tram flap is where lower abdominal tissue and muscle are transferred to the breast.
DIEP flap
A DIEP flap is when skin and fat are taken from the lower abdomen leaving the muscle
SIEA flap
The SIEA flap is less invasive; tissue and blood vessels from less deep in the abdomen are used.
Latissimus dorsi flap
The Latissimus dorsi flap is when skin, fat, and muscle from the upper back are moved to the breast area.
Gluteal flap
The Gluteal flap is a free flap procedure that takes tissue from the buttocks for use in the chest.
TUG flap
The TUG flap is a newer option; muscle and tissue from the inner thigh are used to rebuild the breast.
Nipple reconstruction
Some surgical procedures can leave the nipple intact, so consult with your oncologic breast surgeon to see if you'll keep your nipple or need a new one. Nipple and areola reconstruction can be performed either surgically or with medical tattooing. Sometimes, a combination of both surgery and tattoo artistry is used.
Why choose Dr. Saber for breast reconstruction surgery in Los Angeles?
Dr. Sepideh Saber, MD, FACS, and the Valley Institute of Hand & Reconstructive Surgery offer a more sensitive, female healthcare perspective for patients of all ages, genders, and orientations. Patients from all walks of life have praised their outcomes and their caring, thoughtful approach to all types of appearance and health-related matters.
A plastic and reconstructive surgeon, Dr. Saber earned her medical degree from Stanford University's world-renowned medical school. She did her reconstruction and plastic general surgery residency at the University of Southern California (LAC + USC Medical Center and the Keck School of Medicine), then completed a fellowship at New York University (NYU) in the Division of Plastic and Reconstructive Surgery in the extremely challenging and delicate area of hand surgery and microsurgery. She also did her clinical research in the Department of Surgery at Stanford Medical School.
To request a consultation, call (877) 205-4100 or click here to schedule a consultation online.
The Valley Institute of Hand & Reconstructive Surgery and Dr. Saber is located in Encino, CA, for patients throughout the Los Angeles County area. We are also convenient to Encino, Woodland Hills, Sherman Oaks, Calabasas, Burbank, Glendale, Hidden Hills, Agoura Hills, Northridge, North Hollywood, Malibu, Topanga, Canoga Park, Reseda, Valley Glen, Chatsworth, West Hills, Winnetka, Universal City, Bel Air, Beverly Hills, Westwood, Downtown Los Angeles, Silverlake, and Echo Park.
The Valley Institute of Hand & Reconstructive Plastic Surgery also specializes in outpatient microsurgical reconstruction, upper extremity reconstruction, reconstructive microsurgery, breast reconstruction, extremity salvage, foot reconstruction, and microvascular surgery, to name a few.
What patients say about
Dr. Saber

…

I LOVED DR SABER!!! There are a few reasons why I chose her. One was because she's a female Doctor that was my goal who also did a good job (which I was able to confirm with all her before and after photos) and what sold me was my safety in mind. She made me feel like I was in the best hands ever along with Marlene who coordinated everything THANK YOU LADIES!
Dr Saber helped me get back the body I have always desired. I had a lot of stomach fat from weight gain and I lost weight so a lot of my weight was in my front lower and upper abdomen.
Now I have a super beautiful curvy body like an hourglass after a tummy tuck and lipo she did. She understood the assignment hahaha . I'm 32 years old no kids just wanted to enjoy my younger body looking and feeling beautiful and she really took good care of me. Even after hours I had an emergency due to my fault but she was there and got back to me very quickly and I'm very grateful. I also think her work says a lot because I stopped taking pain medication on the 3rd day after surgery and was fine with very minimal pain I was able to tolerate the healing process. Highly recommend going with her I just had a wonderful experience and would do it all over again if I had too. Maybe after I have kids. Thanks Dr Saber and team
Stories

from Our Blog We Think You'll Like