Worried About Dad Bod?
Learn About Daddy Makeover Plastic Surgery
Dad bod has been a popular term for a while, used to describe a male with an often slim but not quite toned figure or a man with a bit of a beer belly. While some men are content with this body type, others may want a fitter, leaner, more sculpted appearance that makes them look younger.
One solution? A daddy makeover (or daddy do-over): a collection of male plastic surgery procedures to improve your appearance and reverse some of the effects of aging.
What is a daddy makeover exactly?
You might have heard of a "mommy makeover," a combination of plastic surgery procedures commonly used to reverse some of the signs of pregnancy and aging.
A daddy makeover takes the same idea but applies it to a masculine body type. Men generally have different appearance goals than women patients, but plastic surgery has been growing in popularity among men. In general, our daddy makeover patients are seeking a flatter, more toned abdomen and chest, help losing stubborn areas of fat or excess skin, and something to smooth out the fine lines and wrinkles of aging.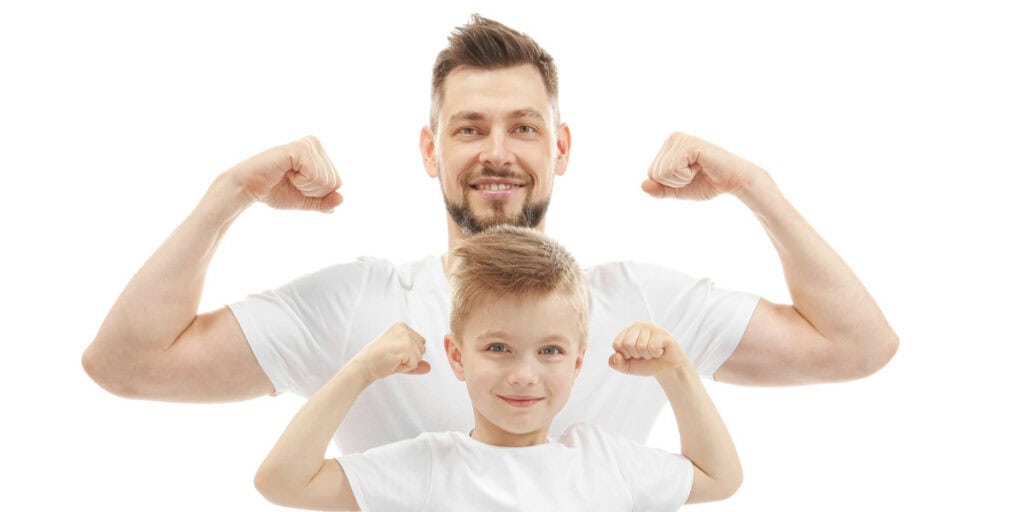 Daddy makeover procedures and cosmetic surgery for men
While we customize our daddy makeovers for each patient's individual goals, there are some procedures that are commonly chosen:
Tummy tuck
It can be frustrating to spend your free time at the gym and not see a six-pack or toned abs when you look in the mirror. Unfortunately, while exercise can help you work off the excess weight, you've probably experienced weight fluctuations that have stretched out the skin and decreased its elasticity.
As a result, you may have excess skin hiding the results of all those gym hours. Fortunately, a tummy tuck can help you enjoy a slimmer, more toned midsection.
Professionally known as an abdominoplasty, this procedure tightens your core and removes stubborn excess skin that can remain after weight loss. The result is a more contoured middle with improved muscular definition. Finally, all your efforts in the gym and kitchen will be on display, helping to increase your confidence!
To further enhance a classic tummy tuck, some dads add "abdominal etching" to their package to help their six-pack abdominal muscles stand out.
Liposuction
You've put in the sweat and counted all the calories, yet you still have areas of stubborn fat that refuse to shrink. It may not be any fault of your own, but instead, because some areas of the body don't respond well to changes in diet and exercise. These fat deposits may benefit from liposuction.
Liposuction for men is a procedure that removes excess fat from any areas of your body that you would like to be slimmer. This procedure uses suction to get rid of stubborn fat deposits from areas of the body that tend to hold onto them more easily. Popular areas liposuction targets can include your midsection, back, upper arms, thighs, neck, and love handles.
The result is often total body contouring that helps shape and define portions of your body you may feel self-conscious about. While liposuction isn't intended to help you drop pounds or act as a substitute for a healthy lifestyle, it can help you get over that last hurdle between you and a toned physique.
Gynecomastia surgery
A broad, flat chest is commonly associated with masculinity. While some men try to resolve this with pectoral implants, others benefit from some male breast reduction and contouring. Some men experience so-called "man boobs" due to normal weight gain or are left with excess skin after weight loss. Others may have a condition known as gynecomastia.
Gynecomastia is a condition in which glandular tissue is found around the nipple area, sometimes resulting in an appearance similar to breasts. Unlike fat deposits, this type of male breast tissue can't be decreased through weight loss.
Typically, hormonal fluctuations contribute to gynecomastia, although certain medications can also be responsible. Regardless of the cause, a buildup of tissue, unwanted fat, or excess or loose skin may detract from your desired muscular physique.
Male breast reduction targets glandular tissue, fat, and excess skin to create a flatter chest. Our plastic surgeon can also contour the chest wall to create the traditional masculine appearance that most men seek.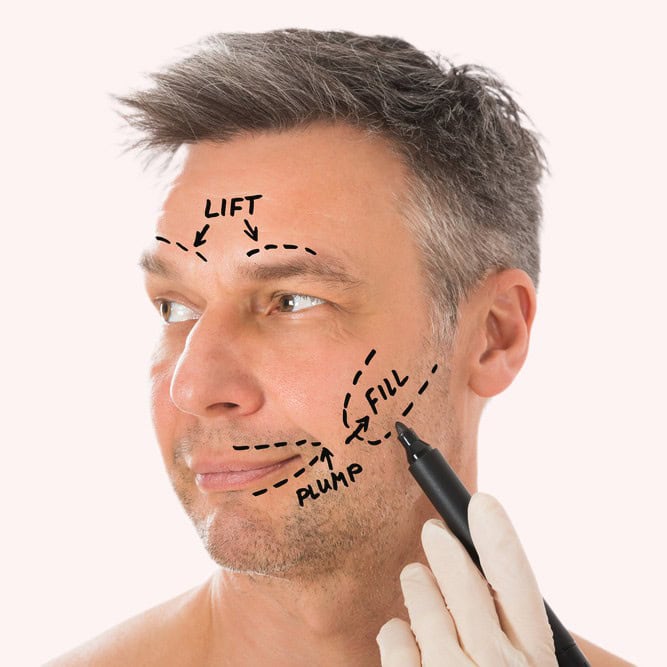 Male facial rejuvenation
While the media focuses more on women's facial cosmetic procedures, men can also benefit from facial rejuvenation. A male facelift works to help rejuvenate your appearance, helping you feel younger, fresher, and more virile. It is often a go-to for men looking to fight signs of aging.
There are a variety of procedures that you can select from. Facial plastic surgery for men may include:
Jawline surgery can create a more masculine appearance and may include a male chin implant for a stronger-looking aesthetic.
Male rhinoplasty, better known as a nose job, helps to shape and sculpt the nose.
Eyelid surgery, or blepharoplasty, can repair droopy upper eyelids or puffy lower eyelids caused by aging and lack of collagen.
A neck lift usually includes liposuction of the neck area and is excellent for reducing the double chin and softening creases.
A brow lift helps to remove excess skin found on the forehead, fix droopy eyelids, and return the brows to their previous position.
All these procedures and a few more generally make up a rhytidectomy (or facelift) that helps to restore your former youthfulness and add the final touches to your dad bod makeover.
Botox and dermal fillers for men
Though not generally considered part of a daddy makeover, Botox and dermal fillers are cosmetic injections that can be sought independently or in addition to surgery to smooth out your facial features, creases, or fine lines from natural aging.
Unlike surgical procedures, Botox usually lasts three to six months and requires follow-up injections. Dermal fillers can last up to a year.
Is a daddy makeover right for you?
Daddy makeover plastic surgery is a way to help you feel refreshed, youthful, and more confident in your appearance. By creating a custom package, you can rejuvenate many areas of your body, better aligning them with your desired aesthetic appearance. Thanks to increased accessibility to plastic surgery, enhancing your physical features has never been easier. Whether you've lost a lot of weight or just want to feel like yourself again, a dad bod makeover may be able to help you achieve your physique goals!
Why do men choose Dr. Saber for their Plastic Surgery needs in the Los Angeles area?
Dr. Sepideh Saber, MD, FACS, is a board-certified plastic surgeon and one of Los Angeles' leading plastic surgeons for male plastic surgery.

She offers a more sensitive female perspective for patients of all ages, genders, and orientations who desire beautiful results and minimal downtime. Patients from all walks of life have praised their outcomes and her caring, thoughtful approach to all types of appearance and health-related matters.
Dr. Saber trained at Stanford University's world-renowned medical school. She took her plastic surgery residency at the University of Southern California (USC). She then completed a fellowship at New York University (NYU) in the extremely challenging and delicate areas of hand surgery and microsurgery. Dr. Saber is a member of ‌the American Society of Plastic Surgeons.

Please call (877) 205-4100 or schedule your consultation online.
The practice of Dr. Saber is located in Encino, CA, for patients throughout the Los Angeles area. We are convenient to patients in Encino, Woodland Hills, Sherman Oaks, Calabasas, Burbank, Glendale, Hidden Hills, Agoura Hills, Northridge, North Hollywood, Santa Monica, Beverly Hills, Malibu, Topanga, Canoga Park, Reseda, Valley Glen, Chatsworth, West Hills, Winnetka, Universal City, Bel Air, Beverly Hills, Downtown Los Angeles, Silverlake, and Echo Park.

Latest posts by Dr. Sepideh Saber
(see all)