How to Provide Care for a Loved One
After Plastic Surgery
Cosmetic surgery can drastically improve someone's confidence and self-image. But it is still surgery and requires special post-operative care and limitations. Most plastic surgery patients will need help from a friend or family member during the first few days of recovery.
If your loved one is getting ready for plastic surgery and you want to help their recovery: this guide is for you!
What can a helper expect during the plastic surgery recovery process?
The exact care and assistance your loved one needs will vary depending on their surgical procedure. To figure out what they need, you should go over the post-operative instructions from the doctor.
These instructions will explain the procedure's expected recovery time, any activity restrictions, instructions for wound care, and any other instructions necessary for efficient healing. Following this care plan can help make the healing process easier for your loved one and ensure their speedy recovery.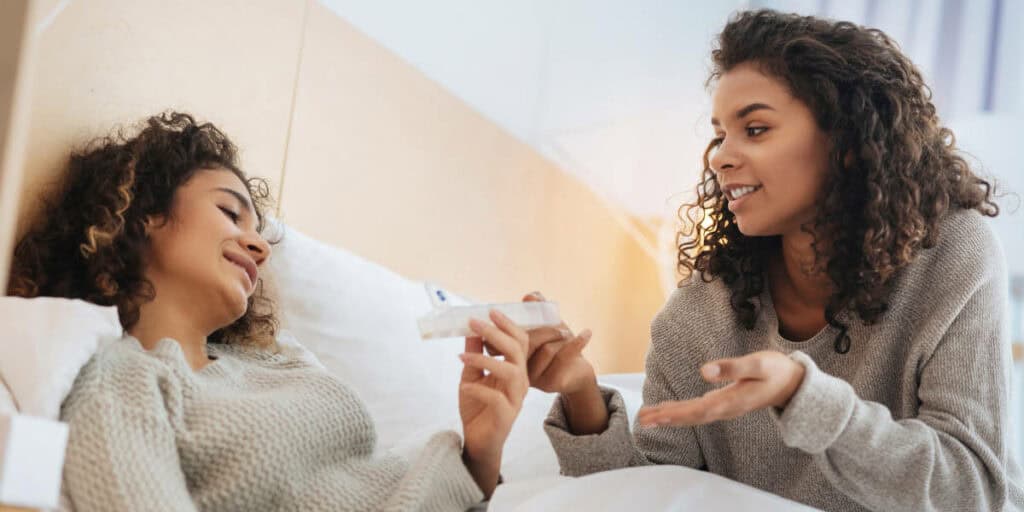 How can I provide my loved one the best care after plastic surgery?
The recovery process is challenging and full of discomfort. Many patients also get frustrated at being unable to immediately resume normal activities. The best way to streamline the healing process is to review the surgeon's post-op recovery instructions and go over an aftercare plan with your loved one before their surgery.
Here are some tips from a board-certified plastic surgeon on how to provide the best care for your loved one during their recovery period.
1 – Follow the doctor's instructions
Plastic surgery procedures have post-operative rules and recovery tips just like any other surgery. It can be tempting to rush the recovery period and get back to normal activities, but that can result in pain, swelling, less-than-ideal results, or, in the worst case, infection.
Make sure your loved one is taking medications as directed, only taking approved pain medication, wearing their compression garments, cleaning drainage tubes if necessary, and avoiding strenuous activity.
2 – Prepare the recovery space
When your loved one gets home, they'll be sleepy from the procedure and relieved that it's over. The first thing on their agenda will be to "jump" into bed. To avoid stress, it can help to prepare the house for recovery before they get home.
If possible, set up the recovery space on the first floor. At a minimum, make sure it's on the same floor as a bathroom.
The room should be clean and organized.
Arrange the bed with soft pillows and extra blankets. Depending on the type of surgery, the patient may have to elevate their head or legs or need extra support.
Place essential items at the bedside for easy access — plenty of water, ice packs, medication, snacks, charging cables, the TV remote, etc.
3 – Prepare food
Many patients lose their appetite after surgery so having soft, soothing foods (soup, crackers, apple sauce) available will be helpful. After surgery, your friend/family member may suffer from nausea and constipation.
Eating a healthy diet promotes healing and minimizes complications and side effects. You can assist with meal preparation before surgery and freeze extra servings if necessary.
4 – Help around the house
For at least the first three to five days post-surgery, your loved one is going to have to take it easy. They'll also need to avoid heavy lifting and strenuous activity for multiple weeks. For breast augmentation procedures, they won't be allowed to lift their arms over their head for up to two weeks!
Your loved one may need help getting things down from shelves, doing dishes, grocery shopping, or wrangling children.
5 – Monitor for signs of infection
The surgical site needs to be watched for signs of infection and to monitor healing progress. Have Dr. Saber's office phone number available in case you see any signs of infection around the wound, as this may require an emergency room visit. Some things to look out for:
Pain is worsening
Redness or swelling
Bleeding or oozing pus
Bad odor
Increasing wound drainage
The incision is larger, deeper, and dried out
Body temperature increases above 100° F for more than four hours.
6 – Assist with incision care
To avoid infection, you may have to help your loved one properly care for their surgical incision.
A gentle wash with soap and water is the only care the incision needs unless otherwise directed by the surgeon.
Scabbing is normal around surgical staples so don't pick at them! Removal of scabs slows down the healing process.
Soaking the incision is harmful because it can weaken the suture line. Therefore, many surgeons recommend showers instead of baths following surgery. Check with the surgeon for special instructions.
Keep the incision clean. Don't use any lotions or moisturizers on the surgical site until it has fully healed. After a facelift, avoid makeup for three to five days.
7 – Keep the patient moving
Remaining mobile is one of the most important things to do for recovery. While they'll have to avoid strenuous activity, movement is important to promote healing and prevent blood clots.
A gentle walk around the house a few times a day will keep the blood moving and slowly transition back into normal activities.
8 – Follow up with the surgeon
Your loved one will have at least one follow-up appointment with their plastic surgeon. This appointment will be to monitor the healing and check the results. Depending on when the appointment is and how your friend is feeling, you may have to be the one to drive them to this appointment.
Why choose Saber Plastic Surgery?
Dr. Sepideh Saber is a board-certified plastic surgeon providing cosmetic procedures and surgeries from a more sensitive, female perspective for patients of all ages, genders, and orientations. She ensures that all questions are answered so that each patient can make a truly well-informed decision.
Keeping her patients safe remains her top priority. She employs the latest state-of-the-art techniques and performs her procedures in the top surgical centers and hospitals, where she enjoys full admitting privileges.
To request a consultation, please call (877) 205-4100 or click here to schedule a consultation online.
Dr. Saber is located in Encino, CA for patients throughout the Los Angeles area. We are also convenient to Encino, Woodland Hills, Sherman Oaks, Calabasas, Burbank, Glendale, Hidden Hills, Agoura Hills, Northridge, North Hollywood, Malibu, Topanga, Canoga Park, Reseda, Valley Glen, Chatsworth, West Hills, Winnetka, Universal City, Bel Air, Beverly Hills, Downtown Los Angeles, Silverlake, and Echo Park.

Latest posts by Dr. Sepideh Saber
(see all)