The Amazing History of
Botox
As we noted in a recent blog, Botox (botulinum toxin type a) has demonstrated unparalleled versatility during its relatively brief tenure as a recognized medical treatment. The New York Times has called Botox "medicine's answer to duct tape."
The American Society of Plastic Surgeons estimates that in 2018 more than 7 million people received Botox injections for therapeutic use, effectively treating a myriad of conditions.
What are the current uses of Botox?
Botox injections (as well as their cousins Dysport and Xeomin) are currently used for aesthetic erasure of facial wrinkles and fine lines around the eyes. But we also use them (with minimal side effects) to address medical conditions including (but not limited to):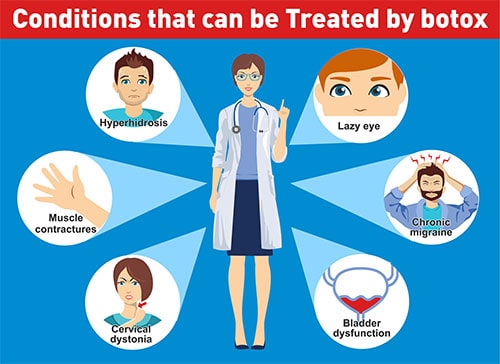 Chronic migraines
Spasticity
Muscle disorders of the neck (cervical dystonia) for patients with Parkinson's
Blepharospasm (an eye muscle that remains involuntarily closed)
Hyperhidrosis (excessive sweating usually in the underarms and palms)
Drooling
An overactive bladder (urinary incontinence)
The current primary use of Botox, like many other ultimately successful medications (Viagra began as a hair growth stimulant, Propecia for hair growth was used to constrain prostate growth), was discovered by accident.
How was Botox discovered?
I'm glad you asked because we've got a great answer! After playing at a Belgian funeral on December 14, 1897, a group of 34 musicians dined on some tainted ham. They promptly developed the double vision and stomach pain characteristic of the bacterial poisoning known as botulism. Three of them died.
The remaining ham was sent to Emil van Ermengem, a professor of bacteriology at the University of Ghent. He isolated the responsible neurotoxin and named it bacillus botulinum after botulas, the Latin word for sausage.
Notable Botox events along the way include:
During World War I
Chemists serving in the United States Army attempted to weaponize the bacterium clostridium botulinum, but they repeatedly failed to produce a compound stable enough for use in the field.
In World War II
Various scientists experimented with botulinum toxin, but it remained only a biological curiosity for decades.
In the 1970s
A San Francisco ophthalmologist named Alan B. Scott discovered that botulinum toxin injections were effective in controlling the muscle weakness that causes strabismus, i.e., crossed or wandering eyes.
Dr. Scott gained approval from the Food and Drug Administration (FDA) for botulinum toxin as a treatment for ophthalmological conditions.
In 1987
Dr. Jean Carruthers, a Vancouver, BC ophthalmologist who had worked with Dr. Scott in San Francisco, successfully used botulinum toxin to treat a patient's blepharospasm (involuntarily closed eyelid). Then the patient came back for another appointment.
The patient demanded another injection in her glabellar lines (the area between a person's eyebrows). "But your eye is open," said Dr. Carruthers.
"I know, but that shot took away my frown lines, and it made me look like I don't have any worries," said the patient.
Dr. Carruthers, together with her dermatologist husband, began the use of botulinum toxin as an aesthetic cosmetic treatment.
The news of injecting botulinum toxin traveled fast!
That moment is recognized as Botox's pivot point from an obscure treatment for rare ophthalmological conditions to an ever-expanding multi-billion-dollar medical juggernaut for cosmetic purposes.
In 1991, Dr. Scott sold his patent rights to the pharmaceutical giant Allergan for $9 million and Allergan changed the name to Botox. In 2002, Botox was granted FDA approval for cosmetic purposes. Much to the delight of Allergan and its shareholders, Botox has continued to expand in a myriad of treatment modalities.
Even though botulinum toxin was for conditions affecting the muscle contractions that control eye and eyelid movements, the Carruthers' off-label cosmetic use was perfectly legal. It was well within the ethical constraints that informally control new uses for established medications.
Doctors continue to notice, and their patients continue to report, an ever-expanding galaxy of new beneficial results [of Botox].
How does Botox Cosmetic work for cosmetic procedures?
Acetylcholine is a combination of choline and acetic acid that serves as a substance to control nerve impulses within the human nervous system. It's a neurotransmitter that can activate muscle spasms. Botox (or its near-identical cousins Dysport and Xeomin) weakens muscle contractions by interfering with the production of acetylcholine.
So, Botox begins its facial cosmetic work by weakening, to the point of near-paralysis, a muscle group known as corrugators by blocking the production of acetylcholine.
These corrugator facial muscles are located at ground zero for frowns: the area between the eyes and above the nose. At this injection site, Botox erases frown lines and gives the brow a lift. Botox injected around the mouth improves lip and laugh lines. When injected around the eyes, it erases eye creases and crow's feet.
How does Botox help migraines?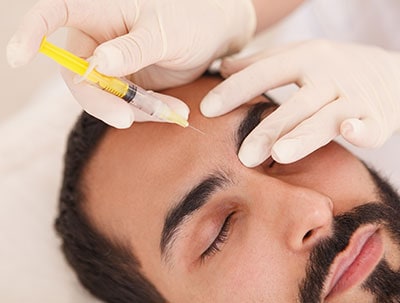 We now know that Botox injections for migraines work well in curbing their terrible pain, and it was FDA-approved for that purpose in 2010. The origin of migraines is a mystery, so it is only natural that how Botox intervenes to help chronic migraines also remains mysterious. However, researchers suspect that Botox enters the nerve endings in the injection site and blocks the release of neurotransmitters that convey pain signals.
Botox is effective against chronic migraines, but it takes some time; it becomes more effective after the second and third treatments. Patients report that two Botox treatments reduce the number of headache days by about 50%.
Are there any limits to the effectiveness of Botox?
It doesn't seem so. Doctors continue to notice, and their patients continue to report, an ever-expanding galaxy of new beneficial results.
Our earlier story reported on the encouraging results of large-scale clinical trials regarding the effectiveness of Botox and Dysport as a treatment for depression. Another, much smaller, report reviewed six cases where the use of injectable Botox appears to have caused a substantial reduction in the symptoms of borderline personality disorder. It is still theoretical, but the authors of the report ask:
"Could it not be that the glabellar injection of botulinum toxin does not specifically relieve depression, but rather globally attenuates negative emotions associated with many psychiatric disorders?"
In other words, the active ingredient in a bunch of tainted sausages may provide a never-ending cornucopia of relief to those suffering from both physical and mental disorders.
Why choose Saber Plastic Surgery for Botox in Encino?
Dr. Sepideh Saber, MD, FACS is an American Board of Plastic Surgery-certified Los Angeles California plastic surgeon practicing in the Encino and Pasadena area.
She graduated from Stanford University's world-renowned medical school and did her plastic surgery residency at the University of Southern California (USC). She then completed a fellowship at New York University (NYU) in the extremely challenging and delicate area of hand surgery as well as microsurgery.
Dr. Saber offers a more sensitive, female perspective for patients of all ages, genders, and orientations. Former patients of all ages and from all walks of life have praised not only their outcomes but her caring, thoughtful approach to all types of appearance and health-related matters.
To request a consultation, call 818-643-6939 or schedule a consultation online.
Dr. Saber takes her patients' safety very seriously. Her facility's Covid-19 patient safety procedures exceed all CDC and World Health Organization recommendations. Masks are required in our office at all times during the coronavirus pandemic.
The practice of Dr. Saber is located in Encino, CA for patients throughout the Los Angeles area. We are also convenient to Encino, Woodland Hills, Sherman Oaks, Calabasas, Burbank, Glendale, Hidden Hills, Agoura Hills, Northridge, North Hollywood, Malibu, Topanga, Canoga Park, Reseda, Valley Glen, Chatsworth, West Hills, Winnetka, Universal City, Bel Air, Beverly Hills, Downtown Los Angeles, Silverlake, and Echo Park.

Latest posts by Dr. Sepideh Saber
(see all)