Can You Downsize Breast Implants?
When Bigger Isn't Better
Breast augmentation surgery has long been one of the most popular cosmetic surgeries. However, according to Google Trends, the number of people searching for "breast reduction surgery" has risen steadily since early 2020.
In the US and the UK, the demand for breast reduction procedures grew 6% from 2018 to 2019. Since the mid-2010s, women have been seeking breast augmentation revisions to remove implants or reduce implant size.
Women who want to replace implants with a smaller size usually do so much later in life. It's not that they regret the large implants placed in years past; many people desire smaller-sized implants due to lifestyle changes, changes in tastes, and changes in the body due to aging.
Breast implants are not permanent products. Over time, an implant may rupture or change shape. Sometimes the tissue around the implant hardens, causing capsular contracture. The average lifespan of a breast implant used to be about 10 years. Now, due to technological improvements, it's closer to 15 years. Many patients return in their 40s to have their implants replaced with a new, smaller implant or just have the larger ones removed. Both procedures may require a breast lift to tighten the breast envelope.
Evolution of breast implants
Breast implants were introduced over 50 years ago. Today, after many years of research and development, breast implants are the safest and most natural they have ever been.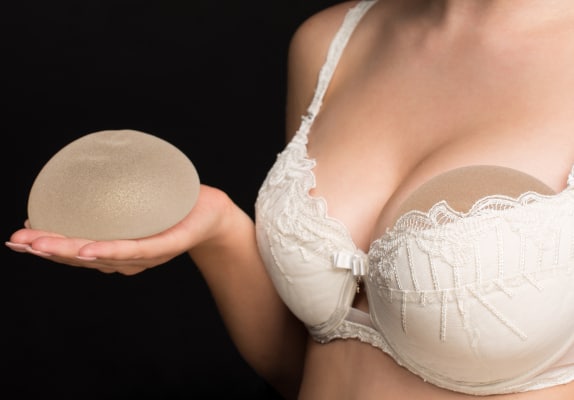 In the first half of the 20th century, there were many ill-fated attempts at breast augmentation due to unsafe materials and procedures.
Saline implants were introduced at the same time as silicone implants. Even though saline breast implants looked and felt less natural than silicone implants, they were inserted using a less invasive procedure resulting in less scar tissue. Also, they were safer in the event of a rupture.
In 1992, many women began having complications with breast implants, including leakage of silicone, infection, and capsular contracture. The widespread backlash led the Food and Drug Administration (FDA) to call for a voluntary moratorium on the use of silicone implants until more studies could be done to confirm their safety.
In 2006, the FDA fully re-approved silicone breast implants. The implant manufacturers introduced textured breast implants, a wider variety of implant shapes and profiles, and experimented with the thickness of the outer shells and the density of the filler material.
Currently, there are over 240 styles and 8300 models of silicone gel breast implants manufactured in the United States alone.
Even with all the options and hype, many women are now choosing to have smaller breast implants placed.
When to replace breast implants
Age is a large contributor to breast implant removal or reduction. After menopause and during pregnancy, people often gain weight. The additional weight may cause an increase in breast sagging and move implants, causing an unnatural look. Large weight fluctuations lead to changes in size, shape, texture, and asymmetry of the breasts.
Larger implants and increased weight may cause neck, shoulder, and back problems, as well as increased difficulty while exercising. These issues affect the quality of life and physical health. A decision that previously enhanced self-confidence and quality of life is now unintentionally diminishing it. But it is fixable with replacement or removal of the breast implant.
What happens when breast implants are removed and not replaced?
Removing implants but not replacing them (or even replacing them with a smaller implant) may result in decreased elasticity and sagging breasts. If you want to return to your natural breast size, a breast lift can be performed after implant removal.
A breast lift does exactly what it says: tightens breast tissue and lifts sagging breasts to a perkier, more youthful appearance. This procedure is also useful for correcting any asymmetry that may occur after implant removal.
Why are people downsizing breast implants?
By 2010, breast augmentation was the most popular form of plastic surgery in the US. It eclipsed liposuction with over 300,000 procedures performed that year. Ruth Holliday, a professor of gender and culture at Leeds University, attributed the popularity to shifting attitudes toward gender politics.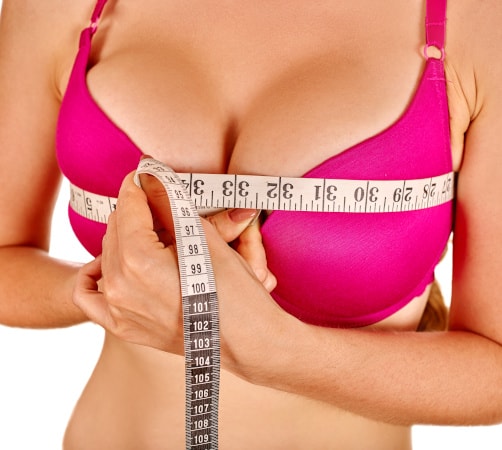 Holliday explained that today, large fake breasts are no longer a signifier of sexual liberation or individuality.
Gemma Sharp, a clinical psychologist and senior research fellow from Australia, attributes the choice for smaller implants to the rise in popularity of a more athletic look and the 'strong woman' ideal.
As women move forward in life, their tastes and priorities shift. A decision a woman made in her 20s may not be the look she wants in her 40s and 50s. Women may choose different types of breast implants at different stages in their lives to meet changing aesthetic ideals as their tastes evolve.
Choose a board-certified plastic surgeon
According to the American Society of Plastic Surgeons (ASPS), breast revision surgery is not a routine procedure and needs to be tailored specifically to the patient's needs, desires, and goals. Therefore, this surgery should be performed by a board-certified plastic surgeon who is well-trained and experienced in all types of breast surgery. The surgical plan will specifically address all the issues at the time of surgery.
Whether it's due to health concerns, reducing breast volume, and/or changing breast shape to achieve a more natural look, breast implant revision procedures should always be performed by a plastic surgeon.
Why is Dr. Saber the best choice for breast implant removal?
Dr. Sepideh Saber, MD, FACS offers a more sensitive, female perspective for patients of all ages, genders, and orientations. Patients from all walks of life have praised not only their outcomes but her caring, thoughtful approach to all types of appearance and health-related matters.
Dr. Saber graduated from Stanford University's world-renowned medical school and did her plastic and reconstructive surgery residency at the University of Southern California (USC). She then completed a fellowship at New York University (NYU) in the extremely challenging and delicate area of hand surgery, as well as microsurgery.
She not only offers expertise and care in breast augmentation, but also tummy tucks, liposuction, facelifts, Botox, and many other popular cosmetic procedures.
To request a consultation, call (877) 205-4100 or schedule a consultation online.
Our practice takes our patients' safety very seriously. Our facility's Covid-19 patient safety procedures exceed all CDC and World Health Organization recommendations. Masks are required in our office at all times during the coronavirus pandemic.
The practice of Dr. Saber is located in Encino, CA for patients throughout the Los Angeles area. We are also convenient to Encino, Woodland Hills, Sherman Oaks, Calabasas, Burbank, Glendale, Hidden Hills, Agoura Hills, Northridge, North Hollywood, Malibu, Topanga, Canoga Park, Reseda, Valley Glen, Chatsworth, West Hills, Winnetka, Universal City, Bel Air, Beverly Hills, Downtown Los Angeles, Silverlake, and Echo Park.

Latest posts by Dr. Sepideh Saber
(see all)