Botox or Fillers:

Is There Actually a Best Choice?
What is Botox?
If you've missed our previous talks about it, Botox is the brand name of a protein made by the bacterium Clostridium botulinum. Botox is a neurotoxin but, when used appropriately and in a therapeutic context, it has many benefits. In addition, in very small doses it is safe and has few side effects.
Botox treatment is an injectable cosmetic procedure. When applied to areas of the face it erases or greatly reduces fine lines and wrinkles. The FDA has approved botulinum toxin under the brand names Botox, Dysport, Xeomin, and Jeauveau for treatment of facial wrinkles
Dynamic wrinkles caused by muscle activity associated with facial expressions are best treated with Botox. The most common areas for facial wrinkles are around the eyes and mouth, between the eyebrows, and on the forehead. Dynamic wrinkles are often referred to as "expression lines" including frown lines, crow's feet, forehead lines, and '11s' between the eyebrows.
When injected in the muscles, Botox blocks nerve signals. The affected muscle is temporarily paralyzed or weakened. Without movement in these muscles, wrinkles are softened, reduced, or even removed.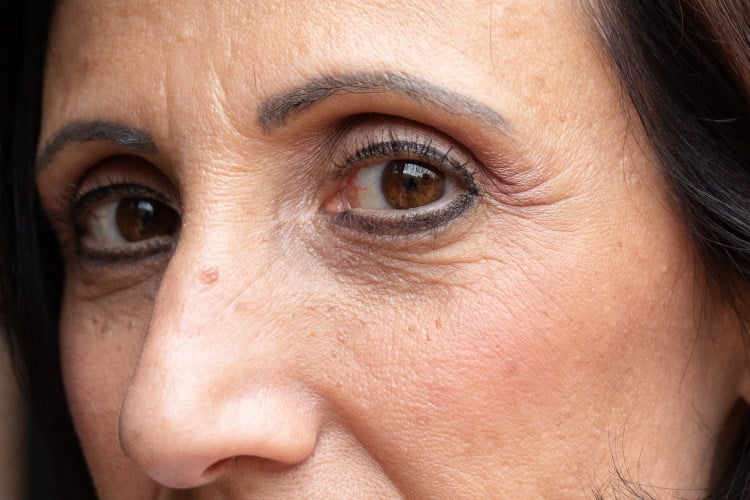 Does Botox treatment work?
Most people see positive results after Botox injections. Effects can be seen after 2-10 days and last about three to four months. After that, additional treatments are necessary to maintain results.
A major benefit of Botox is there is no downtime, so daily activities can resume after treatment.
Non-cosmetic uses for Botox are incredibly popular as well:
If you have a medical condition, the full effect of Botox injections may be limited. During your consultation, Dr. Saber will review your medical history as well as any current medications or conditions.
What are dermal fillers?
Dermal fillers are gel-like cosmetic injectables introduced under the skin to diminish fine lines, replace lost volume, and restore the overall youthful appearance of the face.
Due to the breakdown of collagen, elastin, and fat loss in the face as we age, the skin becomes less tight, and static wrinkles form. Static wrinkles are caused by loss of volume, not due to the movement of muscles. Fillers add volume, making them a great non-surgical option for static wrinkles.
As we age, our faces naturally lose subcutaneous fat as well as skin elasticity. This process can be sped up or made worse by sun exposure, lifestyle, and heredity.
Dermal filler treatments are used for:
plumping thin lips
smoothing lip lines
softening facial creases
enhancing shallow contours
treating smile lines
improving the appearance of recessed scars
decreasing or removing the shadow of the lower lids
What types of aesthetic fillers are there?
The FDA has approved four materials for cosmetic fillers.
1. Calcium hydroxylapatite (CaHA)
Sold under the brand name Radiesse, CaHA lasts about 18 months. It's primarily used to:
Soften or remove moderate-to-severe creases such as nasolabial folds, marionette lines, and frown lines
Enhance fullness of the cheeks and other facial contours
Increase volume
2. Hyaluronic acid (HA)
Sold under the brand names Juvederm and Restylane, hyaluronic acid fillers last 6 to 12 months and are often used for:
Acne scars
Cheek depressions
Crow's feet
Deep smile lines running from the side of the nose to the corners of the mouth (nasolabial furrows)
Frown lines between the eyebrows
Marionette lines at the corners of the mouth
Redefining lip border
Scars, including burns, acne, and those caused by wounds
Smoker's lines; vertical lines on the mouth
Facial scars
Forehead lines
3. Poly-L-lactic acid (PLLA)
Sold under the brand name Sculptra, PLLA stimulates your body's natural collagen production. PLLA lasts about two years and is very useful in the lower half of the face for:
Filling in laugh lines
Plumping thin lips
Treating deep nasolabial folds
Poly-L-lactic acid is unlike other dermal fillers because it doesn't produce immediate results. It stimulates your own body's collagen production, so results appear gradually over a few months.
4. Polymethyl methacrylate beads (PMMA)
Considered a semi-permanent filler, PMMA is most often used to treat medium-to-deep wrinkles, folds, and furrows. It also offers a more permanent solution to facial wrinkles and can be used to fill out pitted scars and augment thin lips.
Botox vs Fillers: What's the difference?
There were about 7.4 million injections of Botox and 2.6 million dermal filler injections in 2018, according to the American Society of Plastic Surgeons. Together, these are the top two minimally invasive procedures in the United States.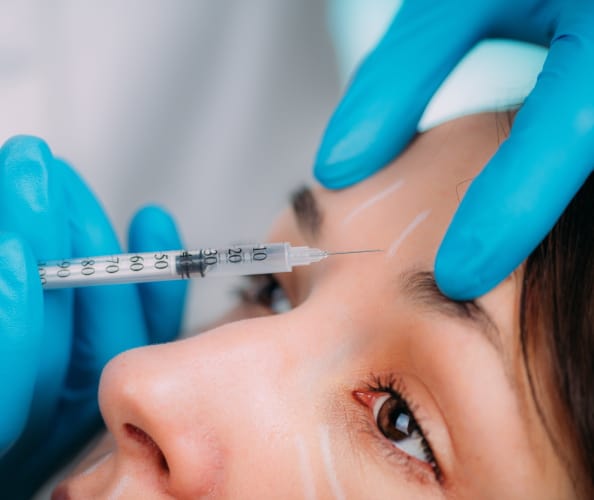 Botox and fillers are both anti-aging agents used to treat unwanted changes in the face brought on by aging. They are injectable, minimally invasive cosmetic treatments, meaning they do not involve surgery or downtime. While they can both provide a more youthful look, the results may not be as powerful as having a surgical procedure, such as a facelift.
Botox and fillers can also be used together, combining their strengths. However, they work differently and are used on different lines. The key differences between Botox and fillers are:
Botox "freezes" facial muscles to lessen creases and wrinkles caused by facial expressions, known as dynamic wrinkles. These wrinkles are typically found in the upper face, such as the forehead and around the eyes.
Dermal fillers use substances to "fill in" or plump areas that have lost volume and smoothness; this includes wrinkles around the mouth, thin lips, and cheeks that have lost fullness. They can also be used on forehead wrinkles, scars, and other areas that need extra volume.
Botox results last about three to four months. Dermal filler results vary, depending on the type of filler.
Are cosmetic injectables safe?
A study in JAMA Dermatology found that Botox and filler procedures are very safe when performed by experienced board-certified professionals. Side effects occurred in less than 1% of patients, and most of these were minor. While minimally invasive, injections still carry some risk. You should be aware of all possible risks and benefits before having any treatment.
As a board-certified plastic surgeon, Dr. Saber is properly trained to perform injectable procedures as well as manage any complications that may arise. She can also advise on what procedures will best provide your desired results
Trust Saber Plastic Surgery with your cosmetic goals
Sepideh Saber, MD, FACS, is a board-certified plastic surgeon providing cosmetic procedures and surgeries from a more sensitive, female perspective for patients of all ages, genders, and orientations. She ensures that all questions are answered so that each patient can make a truly well-informed decision.

Keeping her patients safe remains her top priority. She employs the latest state-of-the-art techniques and performs her procedures in the top surgical centers and hospitals where she enjoys full admitting privileges.
Dr. Saber takes her patients' safety very seriously. Her facility's Covid-19 patient safety procedures exceed all CDC and World Health Organization recommendations. Masks are always required in our office during the coronavirus pandemic.
Dr. Saber is located in Encino, CA for patients throughout the Los Angeles area. We are also convenient to Encino, Woodland Hills, Sherman Oaks, Calabasas, Burbank, Glendale, Hidden Hills, Agoura Hills, Northridge, North Hollywood, Malibu, Topanga, Canoga Park, Reseda, Valley Glen, Chatsworth, West Hills, Winnetka, Universal City, Bel Air, Beverly Hills, Downtown Los Angeles, Silverlake, and Echo Park.
To request a consultation, please call (877) 205-4100 or schedule a consultation online.

Latest posts by Dr. Sepideh Saber
(see all)