When Is the
Best Time To Get a Mommy Makeover?
What is a "mommy makeover"?
During pregnancy, your body undergoes many changes, both internal and external. After giving birth to your child, you may be unhappy with these changes and want to regain the body you had before becoming pregnant. A board-certified plastic surgeon can perform a mommy makeover, helping you achieve your goal.
A mommy makeover after pregnancy consists of a combination of procedures that can restore your pre-baby body. Physical changes my clients come to me for help with after pregnancy include:
Sagging breasts
Decreased breast volume
Loose, excess skin around the abdomen
Stretch marks on the breasts and abdomen
Loose skin above a C-section scar
‌Stubborn fat deposits
Will diet and exercise be enough to get my pre-baby body back?
Eating healthily and exercising regularly will help anyone's body recover from pregnancy. Sometimes that is all that you'll need, but every woman is different.
There is only so much diet and exercise can do for excess skin or stubborn fat deposits. For many of my mommy makeover patients, the makeover surgical procedures are an important part of their self-care and help them regain self-confidence.
All mommy makeover procedures are designed to suit the patient's specific aesthetic goals and can include several cosmetic surgeries and body contouring procedures such as:
Tummy tucks (abdominoplasty) 
Breast surgery, including breast implants, breast lifts, and reduction
Liposuction (to remove pockets of fat)
Brazilian butt lifts
Labiaplasty
When is the best time for mommy makeover?
I get asked a lot when can I get a mommy makeover? First, it's essential to allow your body enough time to heal after childbirth. Some doctors advise waiting a year after you finish breastfeeding, but you may be recovered sufficiently in as little as six months after your last pregnancy. It's important to give your body time to recover from the stress of pregnancy and labor before undergoing surgery.
Many factors influence the "right time" for a mommy makeover, including what procedures you want. For example: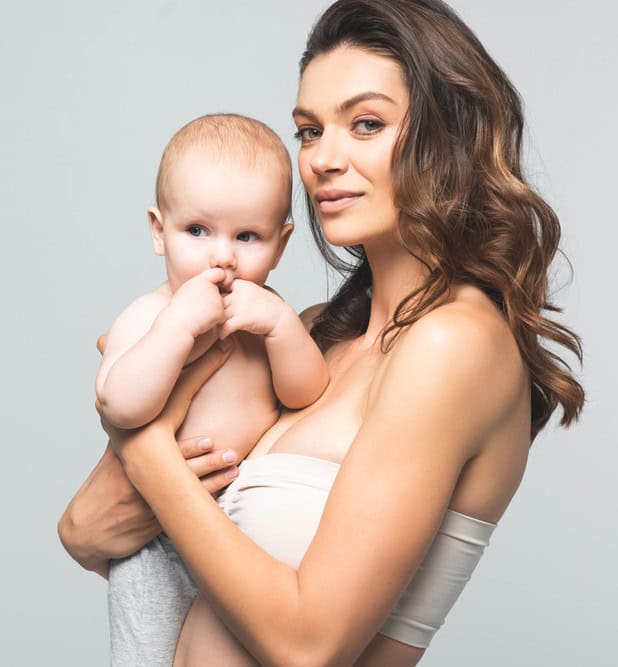 Breast enhancement
If your breasts have lost volume from pregnancy weight fluctuations or breastfeeding, you might consider a breast augmentation, which involves saline or silicone implants or fat grafting. Some patients benefit from a breast lift or a breast reduction if their breasts have become too large and uncomfortable.
Your breasts will continue to change for several months after giving birth, so it's best to wait until they have stabilized. This can take three to six months after finishing breastfeeding or the same after giving birth if you're not breastfeeding.
Tummy tuck
Tummy tuck surgery not only removes excess skin from the abdomen, it can repair abdominal muscles damaged during pregnancy. It can also help if you're suffering from lower back pain or urinary incontinence.
Six months after giving birth, your abdominal muscles and skin will still be healing, so you may need to wait up to a year before having this procedure. If you have had multiple pregnancies within a year of each other, then you may need to wait over a year. During your consultation, we'll evaluate the condition of your abdomen
Liposuction
Liposuction removes the excess fat that can develop when you're pregnant due to changes in your hormones. Your hormone levels change drastically when you're pregnant, after giving birth, and when breastfeeding. These changes can lead to excess fat on your abdomen and breasts, both of which can be targeted with liposuction.
It can take up to a year after giving birth for your hormones to stabilize, but it may be possible to have liposuction before that.
Labiaplasty
Childbirth can stretch out or enlarge the labia, which can make exercise or sex uncomfortable or painful. Labiaplasty removes the excess labial tissue, reducing discomfort and enhancing the appearance of your labia minora.
It would be best to wait six months to a year after giving birth for this procedure.
Weight fluctuations and mommy makeover timing
A mommy makeover will yield the best results if you're close to your target weight. So, if you still want to lose or gain weight, do that first. If your weight has been stable for at least six months, you have the best chance for a successful outcome.
Family planning and mommy makeover planning
If you plan to have more children or are uncertain if you will, a mommy makeover may not be right for you. The physical changes of pregnancy can counter your mommy makeover benefits.
Mommy makeover recovery time and childcare
After childbirth, taking care of your baby becomes your top priority. Mommy makeover recovery time is several weeks. During this time, you'll have to go easy on your body, get lots of rest, and avoid any heavy lifting. This means no chasing after or carrying your children.
Because you will also need extra support during your recovery from surgery, it may be necessary to arrange other childcare. Some patients wait until their children are older to undergo surgery.
Why choose Saber Plastic Surgery for your mommy makeover?
Dr. Saber is a leading board-certified plastic surgeon who brings a female perspective to cosmetic procedures and surgeries for patients of all ages, genders, and orientations. She is one of the best plastic surgeons in Los Angeles and is well known in her profession for her exceptional skills and excellent track record. She employs state-of-the-art techniques and operates in the best surgical centers and hospitals, where she has full admitting privileges.
At your consultation, she will discuss your goals and concerns and answer all your questions, enabling you to make the right decision. She will then create your personalized treatment plan.
To book a consultation, please call (818) 770-7050 or schedule a consultation online.
Saber Plastic Surgery is located in Encino, CA, for patients throughout the Los Angeles area. We are also convenient for patients in Woodland Hills, Sherman Oaks, Calabasas, Burbank, Glendale, Hidden Hills, Agoura Hills, Northridge, North Hollywood, Malibu, Topanga, Canoga Park, Reseda, Valley Glen, Chatsworth, West Hills, Winnetka, Universal City, Bel Air, Beverly Hills, Downtown Los Angeles, Silverlake, and Echo Park.

Latest posts by Dr. Sepideh Saber
(see all)