Is Liposuction Safe?
How to Reduce Your Risk of Complications
To say that liposuction (lipoplasty) is popular would be an understatement. According to the American Society of Plastic Surgeons, liposuction was the most popular plastic surgery procedure last year.
Liposuction (or lipo) is so popular because it's such a versatile cosmetic surgery. The plastic surgeon uses a long, thin tube called a cannula to remove excess fat deposits and improve body contours. This technique can be used on just about any area of the body, including:
abdomen
calves and thighs
buttocks
neck and chin
upper arms
hips and "love handles"
What are the different types of liposuction?
Liposuction has been around since the 1980s, meaning there has been plenty of time for this cosmetic procedure to evolve. The type of liposuction surgery you receive will depend on your individual goals as well as the preference of the plastic surgeon you work with. Most of these surgeries are performed outpatient — meaning you won't have to spend the night in the hospital. Dr. Saber's office uses the PAL Lipo Machine for optimum patient safety and minimal recovery time.
Each of these liposuction techniques has its own benefits and risks.
Tumescent liposuction
Tumescent liposuction is the most common form of liposuction. It is safe, effective, and has a short recovery time. This procedure starts with an injection of local anesthetic and epinephrine into the treatment area. The solution makes the fatty layer firmer and easier to sculpt and constricts the blood vessels to reduce blood loss.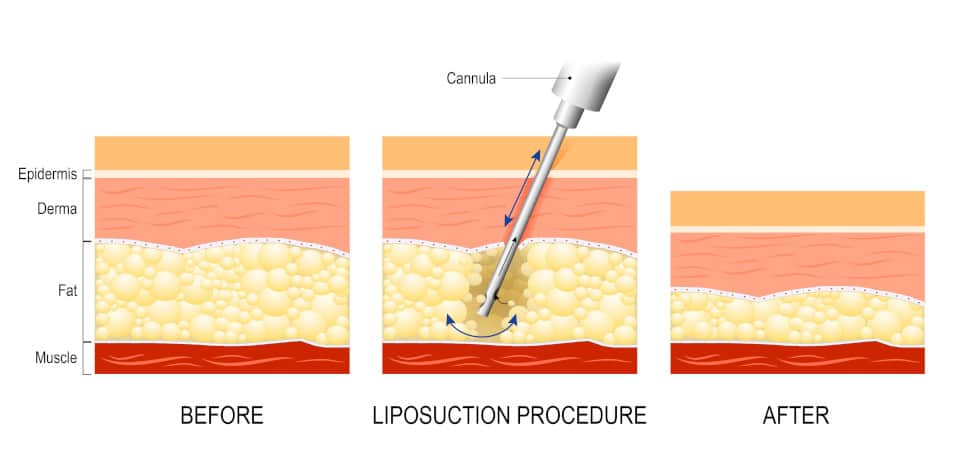 Power-assisted liposuction
The surgeon uses a special cannula that moves in a quick back-and-forth motion to break down the fat cells before suctioning them out. The advantage of this procedure is the smaller incision that targets the specific areas of the body without damaging the surrounding tissue. Unlike traditional suction-assisted liposuction, the cosmetic surgeon does not have to manually move the cannula; this makes the procedure faster and more efficient.
Dr. Saber now uses a PAL Lipo Machine in-office, eliminating the need and expense of a procedure being done at a surgery center.
Ultrasound-assisted liposuction
Sometimes used in conjunction with traditional liposuction, ultrasound-assisted liposuction (or ultrasonic liposuction) utilizes sound waves to break down fat cells in the target area. This makes the fat easier to extract.
While this type of liposuction is precise, it does have an increased risk of scarring.
Laser-assisted liposuction
This procedure uses a high-intensity laser inserted through a small access site to break down body fat. The laser energy liquefies fat deposits without damaging the surrounding tissue. When the fat is liquified, removing it is easy.
Is liposuction safe?
Liposuction is generally safe for most people. During your initial consultation, we will review your medical history, goals, any current medical conditions, and potential risks of liposuction.
To avoid complications, the following people should avoid liposuction:
smokers
patients with weakened immune systems
people with saggy or excess skin
patients on blood thinning medications
people with a history of cardiovascular disease, deep vein thrombosis, diabetes, or seizures
Good candidates for liposuction will be within 30% of their ideal weight and have good skin elasticity. Liposuction is not a weight loss procedure and cannot treat loose skin, cellulite, or stretch marks.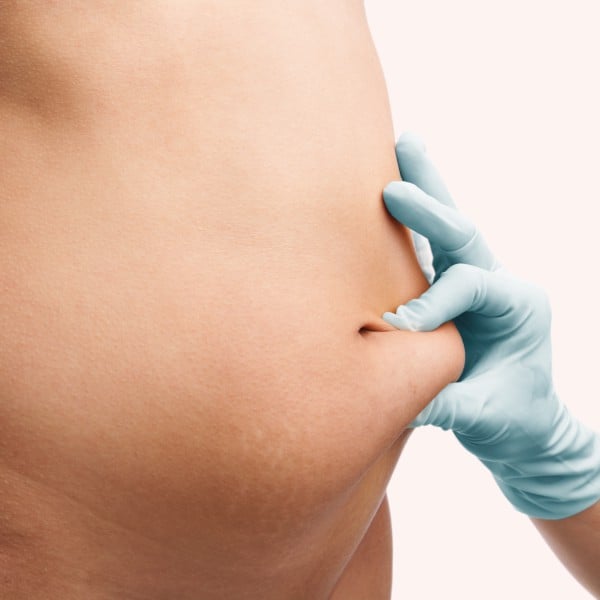 What are liposuction risks and complications?
Make no mistake, liposuction carries risks just like any other surgical procedure. Working with a highly-qualified, board-certified plastic surgeon can help mitigate your risk and decrease the likelihood of serious side effects.
Potential complications include:
Bleeding – in rare cases, a blood vessel may be damaged, resulting in post-procedure bleeding.
Reaction to anesthesia – while some liposuction procedures can be performed under local anesthesia, more invasive procedures may call for general anesthesia, which some patients are sensitive to.
Contour irregularities – skin elasticity is important as it decreases your risk of irregularities. Irregular contours can occur as a result of uneven fat removal or poor healing.
Fluid accumulation (seroma) – fat removal can create pockets under the skin which fill with fluid. If this occurs, we can remove the fluid with a needle.
Changes in skin sensation – you may experience some decreased skin sensation or numbness around the treated area. In rare cases, this can indicate nerve damage.
Fat embolism – another rare but severe side effect, loosened fat can break away and enter a blood vessel. From there, fat can enter the heart, lungs, or brain and cause a medical emergency.
How do I make sure liposuction is safe?
The first step to ensure your personal safety during this surgical procedure is to work with a skilled, trusted surgeon. Dr. Saber is a board-certified plastic surgeon with admitting privileges at area hospitals. This means that in the rare case of a complication, she can quickly and easily get you any additional care you need. When getting liposuction at a medspa or from a non-certified surgeon, you would have to go to the emergency room on your own in the case of a complication.
To ensure your safety, Dr. Saber will never remove more than the safest amount of fat possible. While it would be nice if liposuction was a miracle surgery that could remove all your excess fat, that just isn't feasible.
After your procedure, you will be equipped with compression garments to reduce swelling and maximize your results. During your recovery period, you will also be instructed to walk a little bit every day. Keeping your body moving will reduce your risk of blood clots.
Why trust Dr. Saber for liposuction in the Los Angeles area?
Some cosmetic and plastic surgery procedures are effective, while some are non-surgical or not invasive. Yet there are always risks to be considered.
Any facial plastic surgery or cosmetic body procedure should be left only to trained professionals. Being a board-certified plastic surgeon with years of experience means you're not only extraordinarily well trained but also have admitting privileges at a local hospital should rare complications arise.
Whenit comes to your health and appearance, only work with someone you trust and know is qualified.
Have questions about liposuction? Call us at (877) 205-4100 or schedule a consultation online.
The practice of Dr. Saber is located in Encino, CA for patients throughout the Los Angeles area. We are also convenient to Encino, Woodland Hills, Sherman Oaks, Calabasas, Burbank, Glendale, Hidden Hills, Agoura Hills, Northridge, North Hollywood, Malibu, Topanga, Canoga Park, Reseda, Valley Glen, Chatsworth, West Hills, Winnetka, Universal City, Bel Air, Beverly Hills, Downtown Los Angeles, Silverlake, and Echo Park.

Latest posts by Dr. Sepideh Saber
(see all)