How to Restore Collagen in the Face:
4 Treatments That Work
A sizeable chunk of the skincare industry is built around the promise of "restoring collagen production." But can collagen really be restored? With so many collagen restoration treatments available, it's worth discovering what works, how it works, and whether it will be worth your time.
Collagen and skin aging 101
Collagen is the secret, natural ingredient that joins together dermatology and plastic surgery. Whether looking to rejuvenate, prevent signs of aging, or erase scars, many of our interventions return to collagen.
What is collagen?
Collagen is a type of natural structural protein. It comprises tiny, stiff fibers (or fibrils) that the body uses to keep different tissues in shape. Collagen plays a role in the health and healing of all your connective tissue, including:
Tendons
Joints
Cartilage
Skin
Blood vessels
Approximately one-third of all the protein in your body – and three-quarters of your skin – is made up of collagen.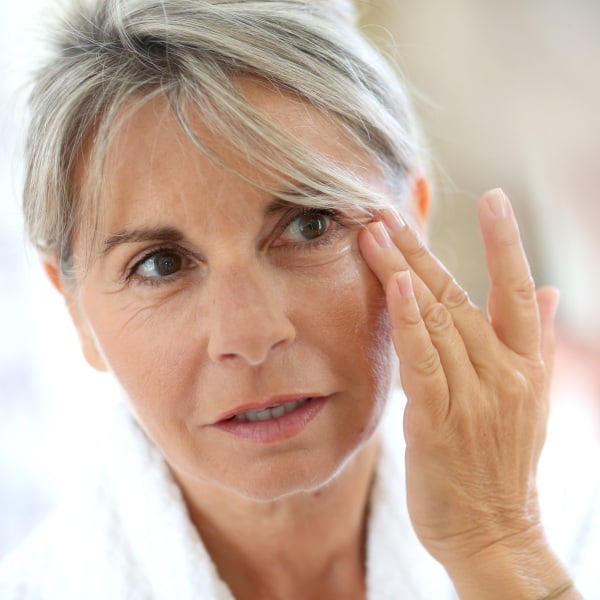 Collagen ensures your skin cells remain bouncy and supple, providing them with elasticity and hydration. Try stretching the skin beneath your forearm with your fingers: as soon as you let go, you'll see it snap back into place – that's collagen in action. If you get any wound – be it a large surgical incision or a sunburn – collagen will help the skin heal.
Your body produces collagen naturally and, at least at first, it needs little help to do so. As we age, collagen production decreases, and existing collagen fibers become progressively thinner and weaker.
What happens when you lose collagen?
Due to the many crucial roles that collagen plays in your body, when its levels start to dwindle, the effects will also be far-reaching. Low production of collagen will impair your ability to repair your muscles and joints from everyday wear-and-tear, heal from bruises, or keep your hair growing.
Before any of this happens, the effects of low collagen will be seen in your skin as straightforward signs of aging.
The first things you'll notice as your collagen levels dwindle include:
Dry skin
Thinner skin
Wrinkles and fine lines
Thinner hair
Sagging or "crepe-like" sections of skin
Loose teeth
The appearance of sun spots and slow-healing sunburns
Can collagen be restored?
Overall collagen production levels slow down progressively, but by tweaking your lifestyle, you can slow down this process.
And what about restoring what's already been lost? Can skin collagen be restored naturally? The answer is yes. Currently, many treatments can temporarily boost collagen production.
Results from these treatments will be localized: that is, they won't affect your entire body. However, they should last long enough for your skin to undo the damage that has already been done. Afterward, it will be up to you to protect those results!
4 treatments to restore collagen
Not everything labeled as "collagen boosting" will erase wrinkles instantaneously. Plus, many other widely-advertised treatments work sometimes, but their effects haven't resisted the rigorous eye of laboratory research.
Below are four treatments that work, arranged from least to most invasive.
1. Retinoid creams
The skincare industry is full of complex labels and bold promises – and most skincare products include "anti-aging" in their laundry list of benefits. But how many of these really work?
For this answer, you will need to look at the ingredient list. So far, only one ingredient has been shown to directly stimulate the production of collagen fibers in the skin: tretinoin. This prescription-only cream is a synthetic form of vitamin A and belongs to a class of medications known as retinoids.
Topical tretinoin is commonly sold as Retin-A cream and is widely used to treat severe acne. It can both directly speed up the production of collagen and slow down collagen breakdown, so dermatologists use it to reverse sun damage, smooth out expression lines and fine wrinkles, and erase stretch marks.
Now, all this magic is neither painless nor instant. Tretinoin can easily irritate the skin, and even when used against acne, it tends to make it worse before it begins healing.
As we age, collagen production decreases, and existing collagen fibers become progressively thinner and weaker.
Occasionally, it can cause swelling and blisters, and it can take six to eight weeks before the benefits become noticeable. Afterward, you will need to continue using it indefinitely, as its effects wear off shortly after you stop.
If you are willing to try your luck with tretinoin, you'll need to:
See a dermatologist for a check-up and a prescription
Start using the lowest-possible concentration first
Use only a dime-sized amount of cream every other night or even every three nights before you go to bed
Wear broad-spectrum sunscreen religiously, of at least SPF 30, before going out in the sun.
If you have very sensitive skin or are prone to redness or rosacea, you can try a non-prescription retinol cream instead. Retinols are generally less potent than retinoids, and their effects are much slower, but they are also much gentler on your skin.
Pretty much every skincare brand offers at least one retinol night cream. Many of these are not standardized, and their retinol content may be too low or too fragile to have a significant effect.
Look for a cream that contains liposomal retinol (that is, a small bubble of oil protects the retinol). You can also combine it with a cream that contains hyaluronic acid: this compound can boost the production of fibroblasts, which help make new collagen more resilient.
2. Sculptra® fillers
Sculptra® is a dermal filler initially designed to help people with HIV. HIV often damages fat deposits around the face (facial lipoatrophy), leaving behind a saggy or gaunt look.
As of 2009, Sculptra is now approved for cosmetic use. It consists of a series of injections of poly-L-lactic acid (PLLA), a collagen biostimulator. Usually, a Sculptra "cycle" will consist of three injections, applied once a month.
Unlike most cosmetic dermal fillers, Sculptra is injected deep into the skin tissue, below any skin lines or wrinkles. There, it will stimulate skin cells to produce a "burst" of collagen in the area. Results are often noticeable before the second injection and can last up to two years.
3. Radiesse® fillers
Radiesse® fillers are a faster-acting alternative to Sculptra, although their results don't last as long.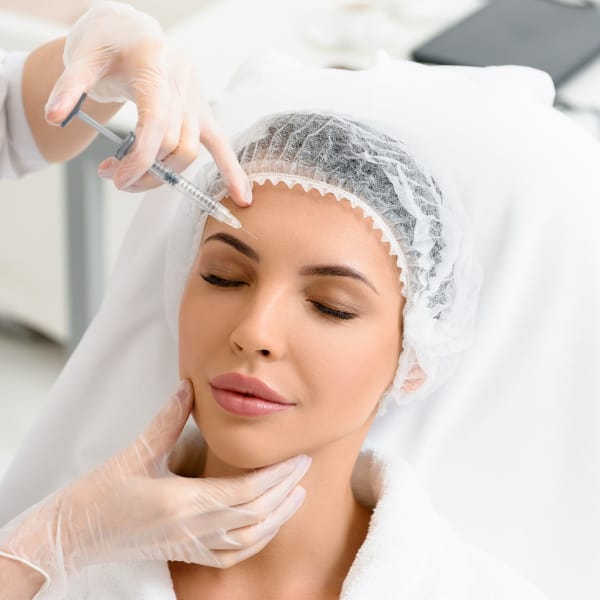 These fillers contain Calcium Hydroxylapatite or CaHA. This compound is naturally produced by the body and stored in the bones and enamel tissue (nails and hair). In Radiesse injections, small microbeads of CaHA are suspended in a gel-like fluid, where they immediately "fill up" any deep creases or wrinkles.
However, this gel is eventually absorbed by the surrounding skin cells, leaving just the CaHA microbeads behind. These then boost collagen formation and help the skin regenerate.
Radiesse treatments usually require only one injection, and results are visible within a week. Results will last a year, although this can be prolonged if combined with hyaluronic acid injections.
These injections must be applied deep into the skin – the forehead, cheeks, nose, or around the lips. However, they cannot be applied directly to the lips or close to the gums – this can cause small granules, or hard balls of tissue, to form.
4. Microneedling
An older treatment that can also help the skin regenerate, microneedling involves slightly hurting the skin to boost collagen production.
Microneedling is usually done with a special pen-like device, which uses tiny needles to make microscopic holes directly in the skin surface. These holes are supposed to be small enough to be invisible and avoid creating new scars.
Instead, they will cause a moderate amount of inflammation. Your skin will feel injured and produce extra collagen to help heal. The procedure is not painful, as most doctors use a local anesthetic or numbing cream before the treatment. However, you can expect some side effects immediately after a microneedling session, which may include:
Redness
Irritation
A warm feeling in the treated area
Mild swelling
Dryness of skin flaking
Very rarely, mild bleeding
These symptoms usually clear out after a few days, leaving behind a reenergized, taut skin layer.
Microneedling treatments are much cheaper than Radiesse or Sculptra fillers, but they are not suitable for all skin types. If you have a history of severe acne, keloid (raised) scars, or are prone to acne breakouts or skin infections, then the risk of inflammation may not be worth it.
How to preserve collagen production
No matter which method you choose to rebuild collagen levels, the key to preserving existing collagen levels lies in your day-to-day choices rather than cosmetic treatments.
Collagen synthesis is an essential part of your body's functions and will reflect your overall wellness – just like healthy skin!
These tips will help you protect your skin elasticity for longer – at least until your next appointment.
Add lean protein to your diet
To stay healthy, your body needs to receive the whole gamut of all nine essential amino acids. However, three of these will have an extra impact on your natural collagen production, as they are the building blocks for it:
Glycine, found in most red meat cuts, as well as seeds, peanuts, and salmon
Lysine, found in cheese, eggs, soybeans, and cold water fish
Proline, which is found in chicken wings, bone broth, and gelatin
Top up your vitamin C levels
The amino acids above may be the main ingredients for collagen, but they still need something else to "bind" them together. The secret ingredient here is vitamin C: the body uses it both while creating new collagen and strengthening the existing collagen fibers.
As an added bonus, vitamin C is generally superb for overall skin health. It's a known anti-oxidant, reducing the number of free radicals that would speed up age-related damage.
Fortunately, vitamin C-rich foods are also easy to find. Just grab nearly any fresh fruit for a quick dose – although citrus fruits, such as oranges, grapefruits, and lemons, have the highest concentrations.
Try collagen supplements
When it comes to collagen pills or capsules, the evidence gets murkier. Some studies show oral collagen supplements can improve skin elasticity and even boost joint health among athletes.
Do remember that not all supplements are made the same way or are equally effective. Some brands of collagen are not easily absorbable by our digestive system, causing most of your intake (and money) to pass straight into your toilet bowl.
If you want to play it safe, look for a high-quality formulation with low molecular weight collagen peptides.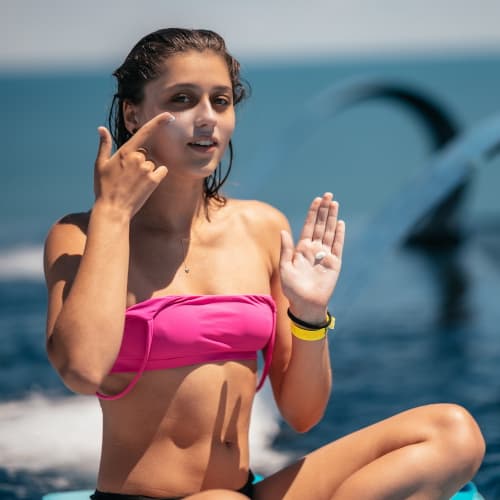 Wear sunscreen
There are many reasons why sunscreen should be a part of your everyday skincare routine – from preventing skin cancer to delaying the skin aging process. But here's another one: the UV rays from direct sun exposure will make collagen and elastin (another skin protein that also helps the skin stay firm) frailer.
If you recently invested in a dermal filler or microneedling session, then think of sunscreen as protecting your investment; you can slow down collagen loss by adding this quick step before you apply moisturizer.
Why Choose Dr. Saber for your collagen restoration treatments?
The guidance and expertise of an experienced plastic surgeon will help you find the best way to restore collagen. No matter which method you choose, you will want someone who understands how the body works and the most efficient spots to treat.
This is particularly important when it comes to dermal fillers. These are minimally invasive, non-surgical procedures, yet much finesse is necessary to secure the best possible results.
As a Stanford University Medical School graduate, Dr. Saber began her career with the right foot, and the strict discipline of her professors became embedded into her practice. She followed her basic training with fellowships at USC and NYU, where she acquired direct experience in microsurgery.
The results? A caring physician can provide the highest level of training, no matter which aspect of the human body she is treating. She will examine your medical and personal history, as well as your facial structure and skin type, to determine which treatment will offer the best chance of success.
The practice of Dr. Saber is located in Encino, CA, for patients throughout the Los Angeles area. We are also convenient to Encino, Woodland Hills, Sherman Oaks, Calabasas, Burbank, Glendale, Hidden Hills, Agoura Hills, Northridge, North Hollywood, Malibu, Topanga, Canoga Park, Reseda, Valley Glen, Chatsworth, West Hills, Winnetka, Universal City, Bel Air, Beverly Hills, Downtown Los Angeles, Silverlake, and Echo Park.
To request a consultation, call 818-818-2939 or schedule a consultation online.

Latest posts by Dr. Sepideh Saber
(see all)