A Grandmother Makeover is the Perfect Gift To Yourself
You have likely heard of a "mommy makeover," which includes a combination of plastic surgeries that can help postpartum women feel rejuvenated and more confident. Similarly, daddy makeovers are gaining popularity, with men looking to slim down and tone up. But there's one very deserving family member we're leaving out – grandmothers!
A grandma makeover is a custom-picked selection of surgeries designed to help more seasoned women look and feel great. While we love a great makeup transformation that turns a grandma into a glam-ma, sometimes a makeup artist and their tools can only do so much.
Grandma makeover surgery can include liposuction, a mini facelift, breast augmentation, or even a Brazilian butt lift (BBL). This type of comprehensive makeover is tailored to women over 50, addressing common cosmetic concerns while being mindful of recovery times for older individuals. If you're young at heart and want the outside to match the inside, why not consider a grandmother makeover?
Customizing your comprehensive makeover surgery
Grandmothers can be called a variety of names, from Noni to Meemaw. Similarly, they can wear a variety of hats as the matriarch of the family. Just as no grandmother is identical, grandma makeover surgeries aren't identical.
During your initial consultation with Dr. Saber, she'll go over your aesthetic goals and what cosmetic surgery procedures would best suit you.
Rejuvenating the face can do wonders for making you look younger.
How old is too old for a facelift?
The saying goes that age is just a number, and there isn't an exact age that's too old for a facelift. As long as you are physically healthy and mentally prepared to undergo surgery, facial rejuvenation procedures are likely an option.
Skincare, makeup products, and sun protection have come a long way, keeping many women looking younger for longer, but time still takes a toll. You might look in the mirror and notice sagging skin, wrinkles, and a less youthful appearance. Getting a facelift after 60 can be an excellent way to return to the woman you once were.
Common grandma makeover facial surgeries include chin liposuction, neck liposuction, a facelift, an eyebrow lift, blepharoplasty (lower eyelid surgery), and facial fillers. Most plastic surgeons recommend a neck lift and facelift together as the neck is prone to aging quickly. However, you can tailor your makeover to suit your specific desires and concerns.
Does facial fat grafting last?
Sometimes, sagging skin can benefit from being filled instead of just lifted. As we age, we lose some of the fat deposits on our face, leaving our skin hollow and sagging. Facial fat grafting, or a facial fat transfer, is when fat from your body is used instead of fillers to define your features, add firmness, and smooth the skin.
Because it is your own fat cells being transferred, the risk of an allergic reaction is generally lower. Additionally, your fat cells may help to stimulate collagen production. Therefore, facial fat grafting will last for years and continuous cell rejuvenation is nearly permanent.
Are there less invasive cosmetic surgeries for those over 50?
Some women worry about downtime after a grandma plastic surgery makeover, as the body may not bounce back as readily. If you're worried about your recovery time, you may want to consider a mini facelift. It is a less invasive form of a traditional facelift, involving smaller incisions and less cutting of the tissues beneath the skin. Alternatively, dermal fillers or Botox may also help to ease wrinkles and increase skin firmness with no surgery required.
What body procedures are involved in a grandma makeover?
Just as mothers undergoing a mommy makeover hope to tighten their stomachs, perk up their breasts and butt, or shed stubborn fat, women at any age can have the same goals. Various body procedures are available for women over 50 to pick from.
Can a grandmother have breast augmentation?
Raising a family, having an amazing career, and time, in general, can negatively affect your body. One of the most common areas of concern for women is their breasts. More mature individuals can deal with a lack of fullness and sagging or too much breast tissue. Based on your needs and goals, there are different types of breast augmentation your surgeon may recommend.
A breast reduction removes skin and tissue from the breasts. Usually, the goal is to decrease their size and weight, but it's usually combined with a breast lift. The result is lifted breasts, which are more proportionate and less problematic for your back and shoulders.
A breast lift can also improve fullness on its own or alongside breast implants to increase size.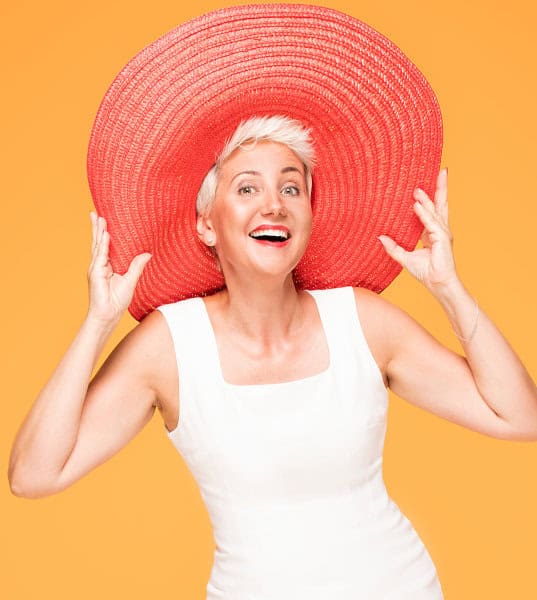 Alternatively, those who are more advanced in age might want a breast augmentation using a fat transfer to help decrease excess fat in other body parts while addressing their chest concerns. Breast augmentation using fat transfer can be one way to achieve more natural-looking breast enhancement.
If this makeover isn't your first time and you previously had breast implants, it may be time for breast implant replacement. It's best to talk to your surgeon about whether or not your implants need to be replaced or removed.
Does a grandma makeover address the stomach?
Some grandmothers may want to get rid of hard-to-lose fat and create a more sculpted look through their midsection. Liposuction, a tummy tuck, or body contouring can be an excellent choice for these patients.
Liposuction is often combined with other body contouring techniques. We can remove excess fat from one part of the body (for example, the abdomen) and use it to plump up your breasts, butt, or curves.
A tummy tuck (abdominoplasty) removes fat from the midsection while removing excess skin and tissue too. Furthermore, we can tighten the abdominal muscles, leaving you with a slimmer, fitter midsection.
Body contouring usually refers to a blend of procedures. Depending on the surgeries you select, you can reshape and tone your arms, thighs, back, or butt. Sagging skin is unavoidable, but cosmetic surgery can remove and recontour problem areas. A body-contoured grandma with a BBL, Brachioplasty (arm lift), and thigh lift will often be surprised by how much more comfortable and confident she feels in her clothes.
What about vaginal rejuvenation for a grandmother makeover?
"Vaginal rejuvenation" can refer to a few things. Some women are looking for a remedy for vaginal dryness or discomfort brought on by menopause. That is beyond the scope of cosmetic surgery.
However, vaginal rejuvenation surgery can also refer to labiaplasty. Older women who have had children or simply felt the effects of aging might desire to reshape their labia. Not only for aesthetic purposes but also because longer labia minora can cause irritation if they rub on clothing.
Women over 50 can receive labiaplasty, and it may not be as uncommon as you think. The procedure involves trimming the labia minora and is sometimes combined with a clitoral hood reduction to further balance and enhance the appearance of the vagina.
What can't plastic surgery do?
It's important to note that while plastic surgery may relieve physical discomfort, it often isn't a remedy for functional problems. For example, older women might experience incontinence or vaginal dryness, and labiaplasty isn't designed to remedy these issues.
Therefore, it's advised that if you have functional problems impacting your daily life, you should discuss these with your primary care doctor or OB/GYN.
What happens to plastic surgery when you get old?
Of course, you don't have to be a grandma to get a grandma makeover, it simply indicates a combination of procedures performed on an older patient. Whether or not you have grandchildren is less important to your results than the side effects of aging.
Women over 50 might recover and heal just as fast as younger women, but in general, recovery time increases as you age.
The physiological changes you experience as you get older can impact how quickly you return to normal life after cosmetic surgery. Your skin typically doesn't rejuvenate or create new skin cells as rapidly and has less collagen and elasticity. Similarly, your muscles and tendons may have a reduced ability to heal the older you are.
Finally, the risk of complications may be increased for more mature individuals. However, a recent American Society of Plastic Surgeons study found that plastic surgery is just as safe for older people as it is for the young. Still, many of these factors depend on your current health, medical history, and lifestyle. Dr. Saber will cover the risks and benefits during your consultation.
Have questions about a grandmother makeover? Talk to Dr. Saber
Dr. Sepideh Saber, MD, FACS offers a more sensitive female perspective for patients of all ages, genders, and orientations. As a board-certified plastic surgeon, Dr. Saber brings years of specialized experience, guaranteeing patient safety and satisfaction.
Dr. Saber graduated from Stanford University's world-renowned medical school and did her reconstruction and plastic surgery residency at the University of Southern California (USC). She then completed a fellowship at New York University (NYU) in the extremely challenging and delicate areas of hand surgery and microsurgery.
To request a consultation, call (877) 205-4100 or schedule a consultation online.
The practice of Dr. Saber is located in Encino, CA for patients throughout the Los Angeles area. We are also convenient to Encino, Woodland Hills, Sherman Oaks, Calabasas, Burbank, Glendale, Hidden Hills, Agoura Hills, Northridge, North Hollywood, Malibu, Topanga, Canoga Park, Reseda, Valley Glen, Chatsworth, West Hills, Winnetka, Universal City, Bel Air, Beverly Hills, Downtown Los Angeles, Silverlake, and Echo Park. Online consultations are also available.

Latest posts by Dr. Sepideh Saber
(see all)