Are Gummy Bear Implants the Best Choice for You?
Breast implants aren't new in the world of cosmetic surgery. However, there is one type of breast implant that is receiving a lot of attention. Gummy bear breast implants are an alternative to saline breast implants and other silicone gel breast implant options. Made from silicone gel, they have distinct advantages compared to older styles used during breast augmentation surgery.
Many plastic surgeons are pleased to offer silicone gummy bear implants to their clients during augmentation breast surgery or breast reconstruction. Read on to learn more about what sets gummy bear implants apart and whether you may be a good candidate.
What are gummy bear implants?
"Gummy bear" is the more common term for a cohesive silicone gel implant or form-stable breast implant. The name allegedly originated when a plastic surgeon cut one in half and discovered that the implant still held its original shape — much like a gummy bear. When not halved, the implant shape more closely resembles a teardrop.
Gummy bear teardrop implants can help add volume to your breasts while retaining a natural shape. These shaped implants have two components: an outer silicone shell and an inner gel silicone filling.
Gummy bear implants can go over or under the breast tissue and muscle. Placing a gummy bear implant on top of muscle is less invasive and can be an easier surgery. Under the muscle may be preferred because it can give a more natural look. It's important to note that breastfeeding issues are more common with under-the-muscle implants than over the muscle. Regardless of where you place them, the implants themselves have some inherent pros and cons.
What are the pros & cons of gummy bear implants?
Gummy bear implants are gaining popularity for a good reason. There are many advantages to this type of implant.
Do gummy bear breast implants feel real?
One of the primary benefits of gummy bear implants is that they look and feel real. Their gel filling is cross-linked, allowing them to hold their soft, teardrop shape.
Almost all gummy bear implants are pliable, but the level of squishiness can vary with gel thickness. Allergan's Natrelle gummy bear implants offer a range of implant sizes to achieve your desired breast shape, level of fullness, and feel. Few individuals note that the gel in a gummy bear implant can feel a bit too firm. During your initial consultation, Dr. Saber will discuss your size and firmness goals to select the best implant for you. While we primarily use Natrelle implants, Dr. Saber has also worked with Sientra and Mentor gummy bear implants.
Do gummy bear implants change shape?
Gummy bear implants themselves won't change shape. But their movement inside the breast tissue can change the breast shape. When round implants rotate, you won't often notice a difference in shape. The same cannot be said for gummy bear implants which are fuller at the bottom and narrower toward the top.
Unlike saline, gummy bear implants are also firmer and less likely to wrinkle.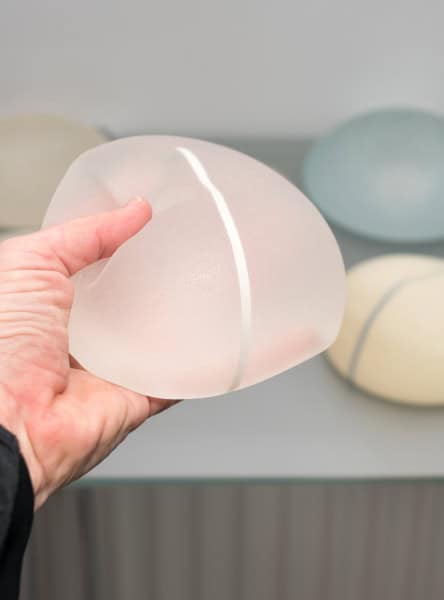 Are gummy bear implants textured?
While silicone implants used to have a textured surface allowing the surrounding tissue to adhere better and prevent unwanted rotation, many of these are now off the market due to the discovery of a rare cancer called breast implant-associated anaplastic large cell lymphoma (BIA-ALCL).
How long do gummy bear implants last?
Gummy bear implants last about 20 years and maybe even longer in some cases. This lifespan is typical of silicone breast implants. In contrast, the FDA usually gives saline implants a 10- to 20-year lifespan rating. Still, it all depends on the patient's body and whether or not proper care is taken.
Are gummy bear implants safe?
Introduced in the mid-2000s, gummy bear implants are FDA-approved and considered safe. Compared to older silicone and saline implants with a higher risk of implant rupture and leakage, gummy bear implants are stronger and pose less of a leak risk. In the rare case that the implant shell ruptures, the form-stable silicone gel won't leak into the surrounding tissue.
That being said, it may be harder to tell if there is a leak due to the thickness of the gel. Generally, screenings can help mitigate this risk. Nevertheless, all breast implants come with a small risk of breast implant illness or capsular contracture.
How bad is gummy bear implant scarring?
One drawback to gummy bear implants in particular, is that the incision may have to be slightly larger than with saline or soft silicone implants. The firm shape of gummy bears, which makes them form-stable, means they can't compress as much during insertion. The incision is generally longer for a gummy bear implant than a soft saline one. But with strategic placement, we can limit the visibility of the scar. 
Saline vs. silicone vs. gummy bear implants
If you are considering a breast augmentation procedure, you may be curious about which type of implant is best for you.
Silicone implants have a silicone shell filled with a silicone gel while saline implants have a similar shell, but are filled with sterile salt water. A gummy bear implant is one type of silicone implant. The consistency of the filling changes the look and feel of the implant. Generally, silicone implants are thought to better mimic a natural breast while saline ones can have an overexaggerated shape.
Due to their composition, saline implants are more compressible, meaning that they can be squished down during insertion, requiring a smaller scar than silicone ones. Additionally, your doctor may be able to adjust the size of your saline implants if there is a valve installed that can be accessed using a fine needle. Silicone implant changes typically require another surgery. When a saline implant leaks or ruptures you'll likely be able to tell rather quickly. Leakage or rupture of a silicone implant can be much harder to detect. However, both types of implants are still widely used and are FDA-approved.
Silicone implants have been touted as looking and feeling more natural. One of the more modern types of silicone implant is the gummy bear implant. What sets it apart from traditional silicone implants is its tapered shape, giving the breast a gentle slope and more fullness on the lower part. Aside from the less extreme shape, gummy bear implants are popular because they keep their shape thanks to the strength of their filling. Despite the filling thickness, gummy bear implants stay soft to the touch; yet another reason why many women prefer them.
If you're considering saline or gummy bear implants or another silicone type, it's important to discuss the advantages and disadvantages of each with your surgeon. Learning about the pros and cons of different implants can help you decide if gummy bear implants are the best choice for you.
Curious about gummy bear implants? Talk to Dr. Saber
Dr. Sepideh Saber, MD, FACS is one of LA's leading plastic surgeons. Stanford-trained and board-certified, she combines an empathetic approach to her patients with a deep knowledge of plastic surgery techniques and the latest research in the field.
Dr. Saber also proudly offers top surgery, breast reductions, and breast lifts in addition to breast implants.
To get in touch, call (877) 205-4100 or schedule a consultation online.
The practice of Dr. Saber is located in Encino, CA for patients throughout the Los Angeles area. We are also convenient to Encino, Woodland Hills, Sherman Oaks, Calabasas, Burbank, Glendale, Hidden Hills, Agoura Hills, Northridge, North Hollywood, Malibu, Topanga, Canoga Park, Reseda, Valley Glen, Chatsworth, West Hills, Winnetka, Universal City, Bel Air, Beverly Hills, Downtown Los Angeles, Silverlake, and Echo Park.

Latest posts by Dr. Sepideh Saber
(see all)