What Causes Cellulite?

Researchers Find Cause of Cellulite Dimples

Cellulite is a mystery that researchers are close to solving. That cottage cheese texture on hips and thighs can show up regardless of weight and shape, leaving patients wondering where it came from and why.

In September of 2021, Plastic and Reconstructive Surgery, the official medical journal of the American Society of Plastic Surgeons, published research on what causes cellulite. Knowing where cellulite comes from brings us one step closer to properly treating that unwanted dimpled skin.
What is cellulite?
First, let's understand what cellulite is. Cellulite is the name for fat that pushes against the connective tissue beneath the skin. Often showing up on thighs, buttocks, and the abdomen, cellulite makes the surface of the skin look dimpled and lumpy. 
Everyone has a natural layer of fat throughout the body; collagen fibers divide these fat deposits into multiple compartments. Fat buildup pushes on the outer layer of skin while the connective fibers pull down on it, creating cellulite dimples.
Cellulite and its cottage cheese or orange peel appearance can be a pain, but it's not painful. This cosmetic condition is different from lipedema, a painful medical condition that causes excess fat to accumulate in the lower part of the body.
Is cellulite bad?
Cellulite isn't harmful, but those with cellulite usually want to make it disappear. It's an aesthetic condition that doesn't affect health and is most common in women (who naturally have multiple layers of fat around the thighs and buttocks and older people (who've lost skin elasticity). The amount of cellulite can range from a few dimples to severe cases with the appearance of large lumps.
…you might care more about how to get rid of cellulite dimples than what causes them.
How common is cellulite?
If you have cellulite, you're not alone. About 80 to 90% of women who have reached puberty have cellulite. Men can get cellulite, too, but it's less common – less than 10% of men have cellulite. Cellulite also becomes more common after menopause, as decreased estrogen slows collagen production – collagen is necessary for skin condition and quality.
Risk factors for cellulite include genetics, sex, body fat, and skin thickness. Age can play a role, too, since skin loses its elasticity over the years and collagen production slows down. This loss of elasticity can make cellulite more noticeable.
Living an active lifestyle can make a difference in the appearance of cellulite. Improved muscle tone can lessen the appearance of cellulite.
Cellulite is not related to weight. Weight gain can make cellulite more visible, but weight loss can also leave stretched-out, thin skin and visible cellulite.
Where does cellulite come from?
Researchers have focused their studies on getting rid of cellulite, but they've also studied what causes cellulite dimples. One study found that more than 97% of those with cellulite dimples had irregularly tight fibrous bands.
If you wonder, "why do women get cellulite?" this could be an answer. This theory holds that these connective bands criss-cross in men but are parallel in women. The parallel fibrous bands in women may show the puckering of cellulite better than the criss-cross fibrous bands.
The researchers also determined that ultrasound imaging was an ideal way to analyze the fibrous bands causing cellulite. They concluded that ultrasounds "can help guide surgeons in real time to improve outcomes and minimize complications while performing cellulite treatments."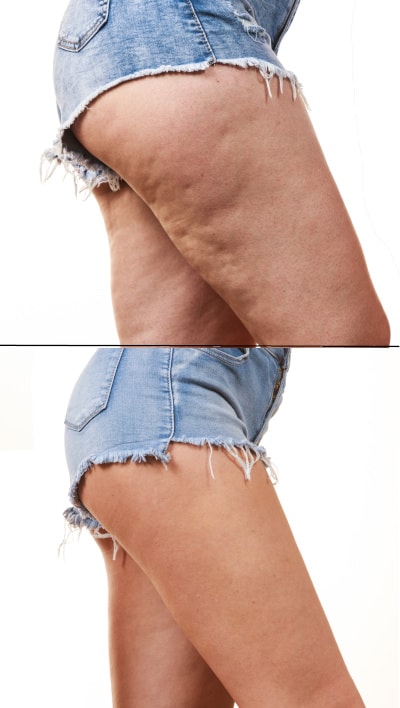 How to reduce cellulite
If you have cellulite, topical treatments like retinol creams and skincare products may decrease cellulite's appearance, but won't make it go away. If you're searching the internet for "treatment for cellulite near me" for cellulite on legs, body contouring procedures can help reduce cellulite's appearance.
Surgery for cellulite removal can include thigh lifts that reshape the thigh and tighten skin that has lost elasticity. While thigh lifts are sometimes paired with liposuction, removing fat cells alone won't affect skin elasticity.
Cosmetic surgery doesn't always address the underlying cause of cellulite – the tight subcutaneous bands – but can reduce the appearance while also improving the overall appearance of the thighs.
Other cellulite treatments
There are many less-invasive treatment options for cellulite. Because these cellulite treatments are less invasive, they have a shorter recovery time. However, the results also last for a shorter time. Some of these techniques may also require multiple sessions for optimal treatment of cellulite.
Injectable Treatments
Injectable treatments – such as QWO, the FDA-approved cellulite injection – have enzymes to break down the bands that cause cellulite. These treatments also redistribute fat cells under the skin and promote collagen growth. These treatments bring results that can last for several years.
Dr. Saber offers a more sensitive, female perspective for patients of all ages, genders, and orientations.
Acoustic wave therapy
A dermatologist uses a handheld device to blast the tight, cellulite-causing bands with radiofrequency energy. The results of acoustic wave therapy can last from a few months to a few years.
Laser treatments
Laser treatments such as Cellulaze will reduce the look of cellulite on legs, giving legs a smoother, toned look. Cellulite dimples will return over time, though. Most laser treatments for cellulite last about six months to two years.
Subcision
Subcision is a treatment that involves a dermatologist inserting a needle just under the skin to break up the fibrous bands that cause cellulite dimples. Known as Cellfina, the procedure is popular and patients often see a reduction in cellulite that lasts two years or longer.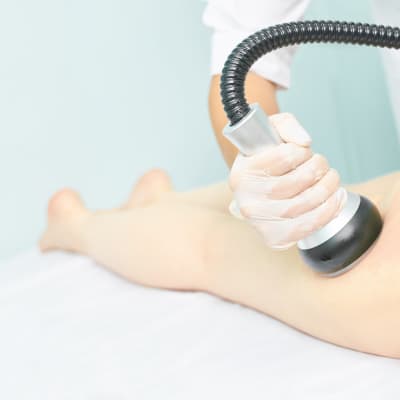 Vacuum-assisted precise tissue release
In this procedure, a dermatologist cuts the bands that cause cellulite dimples with small blades. This releases the tissue, causing it to move upward and fill out the thigh. The results of vacuum-assisted precise tissue release will last about three years or more.
Carboxytherapy
Early studies show that carboxytherapy can slightly decrease the appearance of cellulite. In this procedure, carbon dioxide gas is injected under the skin. Study participants saw results after eight treatments.
Bad cellulite treatment options
Some treatment options have not been proven to work and the American Academy of Dermatology does not recommend them. These techniques include:
Mesotherapy – Hormones, caffeine, or other supplements are injected into the area. While there isn't evidence this procedure works, there is evidence of its many negative side effects.
Cryolipolysis – This procedure freezes unwanted fat. While this can get rid of fat cells, there's no evidence it helps cellulite.
Supplements – Some people claim supplements like grape seed extract or gingko biloba can reduce cellulite's appearance by increasing blood flow.
So, what should I do about cellulite?
If you're seeing cellulite on your bottom, thighs, hips, or other areas, you might care more about how to get rid of cellulite dimples than what causes them. It's important to know what researchers say may cause cellulite so you can pick the most effective cellulite treatment method.
Surgical solutions to cellulite on legs, such as thigh lifts and liposuction, are the best answer to getting rid of cellulite dimples and cottage cheese appearance on thighs. Liposuction removes fat cells while thigh lifts tighten and tone skin for a smooth look.
While there are other options to treat cellulite, a consultation with a skilled plastic surgeon will reveal more about the best type of cellulite treatment for you. During a consultation with Dr. Saber and her skilled team, you'll discuss your appearance goals and medical history and set realistic expectations.
Why choose Saber Plastic Surgery?
Dr. Sepideh Saber is an American Board of Plastic Surgery-certified plastic surgeon practicing in the greater Los Angeles area.
She graduated from Stanford University's world-renowned medical school and did her plastic surgery residency at the equally lauded University of Southern California (USC). She then completed a fellowship at New York University (NYU) in the extremely challenging and delicate disciplines of hand surgery and microsurgery.
Dr. Saber offers a more sensitive, female perspective for patients of all ages, genders, and orientations. Former patients from all walks of life have praised not only their treatment outcomes but her caring, thoughtful approach to a wide array of appearance and health-related matters.
To request a consultation, call 818-818-2939 or schedule a consultation online.
Dr. Saber takes her patients' safety very seriously. Her facility's Covid-19 patient safety procedures exceed all CDC and World Health Organization recommendations. Masks are required in our office at all times during the coronavirus pandemic.
The practice of Dr. Saber is located in Encino, CA for patients throughout the Los Angeles area. We are also convenient to Encino, Woodland Hills, Sherman Oaks, Calabasas, Burbank, Glendale, Hidden Hills, Agoura Hills, Northridge, North Hollywood, Malibu, Topanga, Canoga Park, Reseda, Valley Glen, Chatsworth, West Hills, Winnetka, Universal City, Bel Air, Beverly Hills, Downtown Los Angeles, Silverlake, and Echo Park.

Latest posts by Dr. Sepideh Saber
(see all)